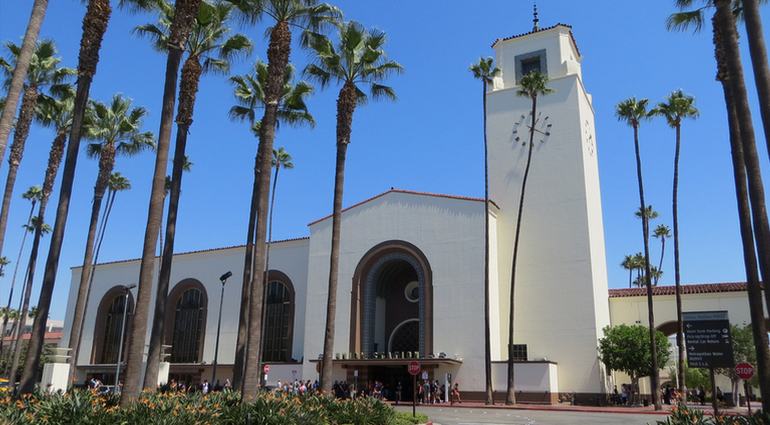 Opened in 1939, Union Station was designed by John Parkinson and Donald B. Parkinson, with an assist from Dutch architect Jan van der Linden. Its ornate styling blended Mission Revival and Streamline Moderne styles and is considered to be one of the last great railway stations in the country.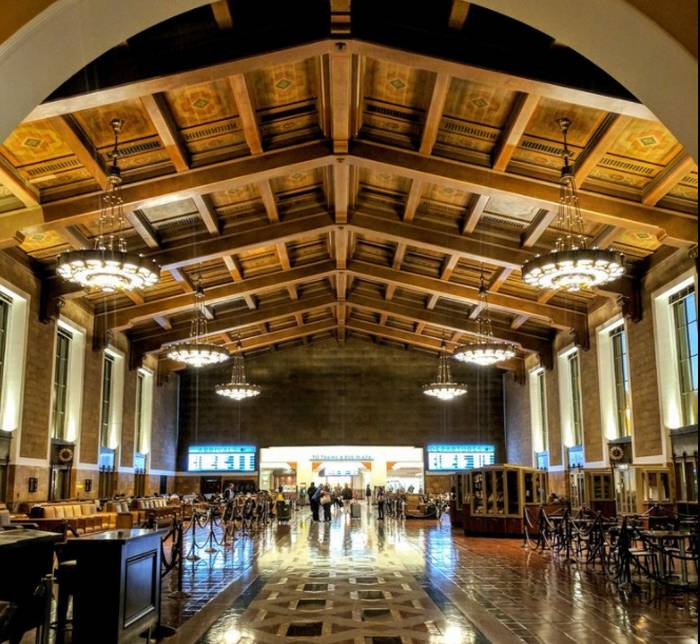 Union Station was placed on the National Register of Historic Places in 1980. Since February 2011, ownership of the station has been controlled by Los Angeles County Metropolitan Transportation Authority.
Union Station is a hub of activity with Metro and Amtrak trains arriving hourly. Passenger trains depart hourly South to San Diego and North to Santa Barbara and points beyond.
The Metro Rail (Red Line) subway's starting point is directly underneath the station and it's just a short escalator trip to the Red Line Station. Metro Gold Line also departs from Union Station taking passengers all the way to Pasadena.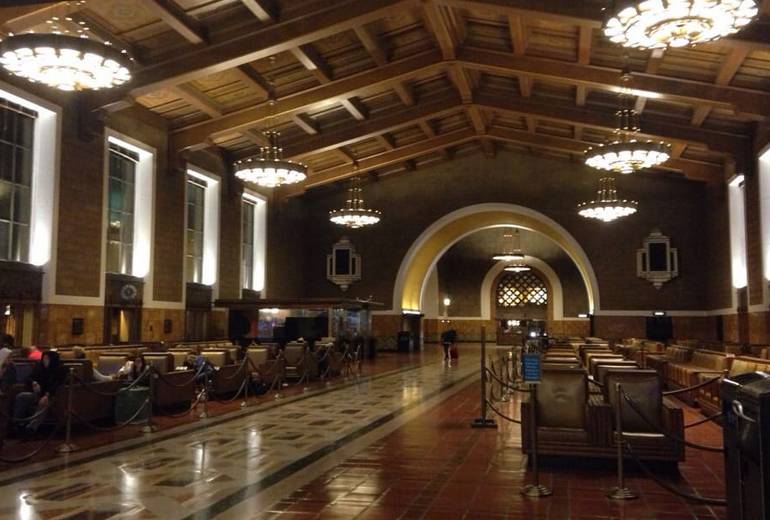 Union Station is beautifully restored and looks like it just opened instead of being over 75 years old. Inside you will find dining options from fast-casual to sit down dining at Traxx Restaurant, Union Station Los Angeles. Docents led the tours of the station that include areas not open to the public are free on the second Sunday of each month starting at 10:30 am.
Parking at Union Station starts at $8.00 for a full day (24 hours) at the East Lot. Tip. Parking is cheaper at the station than lost across the street Olvera Street. Even if you don't plan to take a train you can still park at the station and save a few bucks.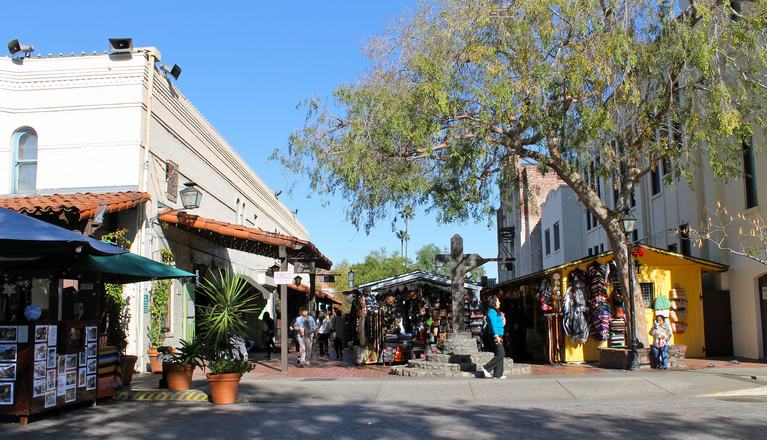 Things to do Near Union Station  Los Angeles
Olvera Street Los Angeles
Just a short walk across the street from the station is historic Olvera Street and El Pueblo de Los Angeles State Historic Park. Olvera Street is somewhat a tourist trap with busses dropping off hundreds of cell phone-toting visitors from around the world but is still well worth a look because of its historical significance to the city of Los Angeles.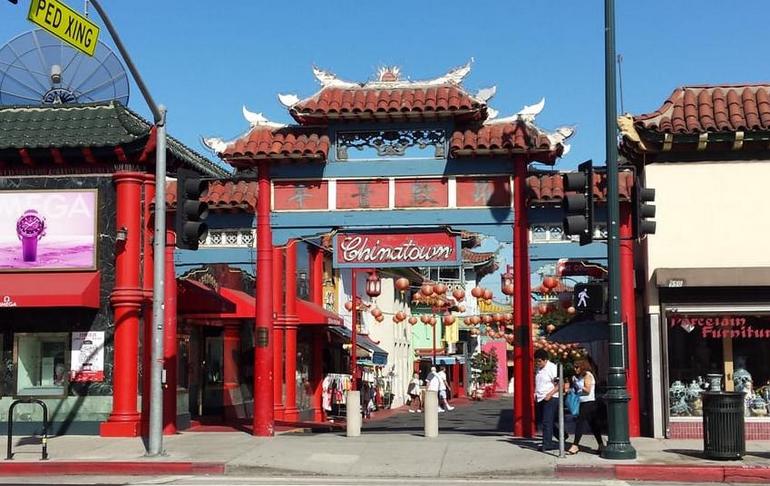 Chinatown Los Angeles
Chinatown is less than a mile away and can be reached by a quick trip on the Metro Gold Line. There are loads of little shops to explore plus some interesting places to dine in Chinatown LA. Chinatown is within walking distance of Olvera Street so why not see them both in one day.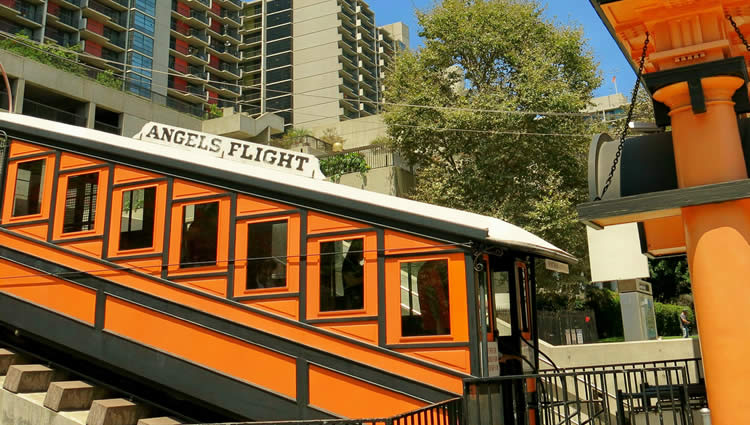 Angels Flight Railway
A nice rail trip from Union Station is Angels Flight Railway which is on a couple of stops down the line on the underground metro line. Take the metro from the underground station inside Union Station and you will be there in less than fifteen minutes.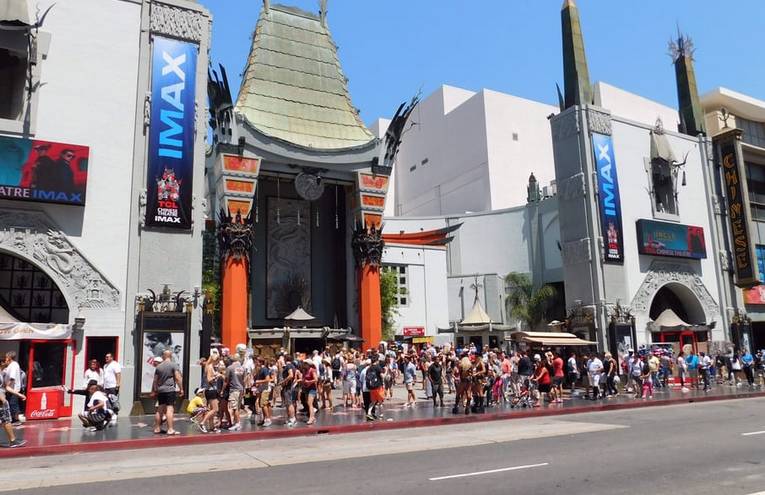 Hollywood Boulevard
The red line from Union Station has stops in downtown Los Angeles, Hollywood, and Universal Studios.
You can park your car at Union Station and take a day trip by rail to just about any place in Southern California. Rail services include Amtrak, Metrolink, Metro Rail Red Line, Purple Line, and Gold Line.
Union Station is located in Downtown Los Angeles, bounded by Alameda Street, Cesar Chavez Avenue, Vignes Street, and the Hollywood Freeway.