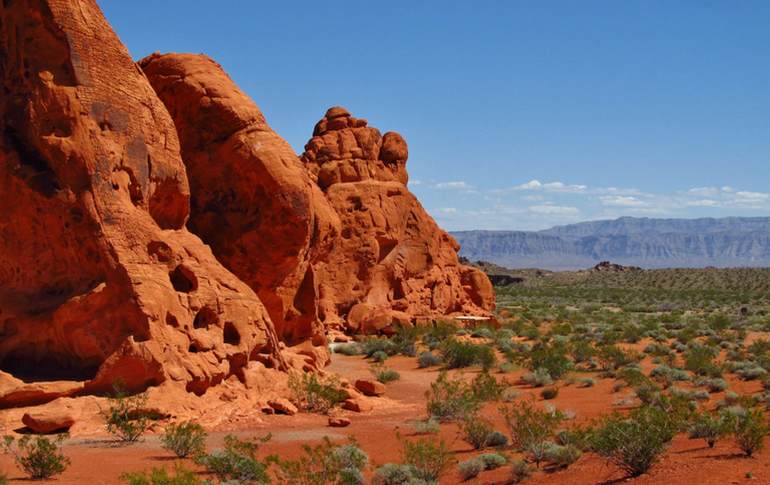 Nevada's Valley of Fire State Park is straight out of a science fiction movie. Nowhere in this world can you find as many stunning red sandstone formations as there are in the Valley of Fire.
Located 60 miles northeast of Las Vegas, Valley of Fire is one of Nevada's most visited attractions. Day-trippers, tour buses, nature lovers, and campers, escape the urban sprawl of Las Vegas at Valley of Fire State Park.
After paying the modest entrance fee first-time visitors should start their trip to the Parks visitor center. Here you can pick a map and learn about the geology and history of Valley of Fire.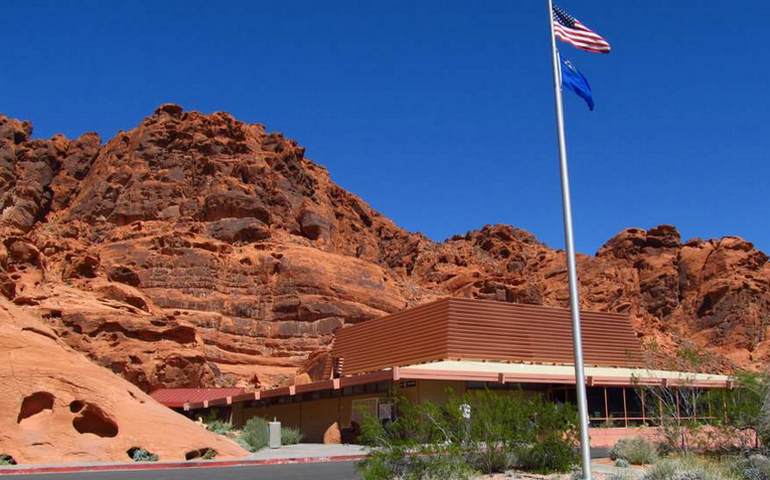 Most folks only visit for a day. If you want more time to explore the Valley of Fire has two campgrounds Arch Rock 29 sites and Atlatl Rock Campground with 44 sites. All campsites are first-come-first-serve. RV sites with hookups are available for an extra fee.
Valley of fire road runs east to west and is just under 11 miles long. Most of the parks most popular attractions are located on or near the main road.  White Dome Road (from the visitor center) leads to Rainbow Vista, Fire Wave, and White Domes.
During the summer, temperates can reach 100 degrees plus so we suggest if you plan on visiting early in the day. Valley of Fire State Park is open from 8:30 am to 4:30 pm. After that only people camping are allowed to stay in the park. Spring and fall are the best times to visit.
Things to do Valley of Fire State Park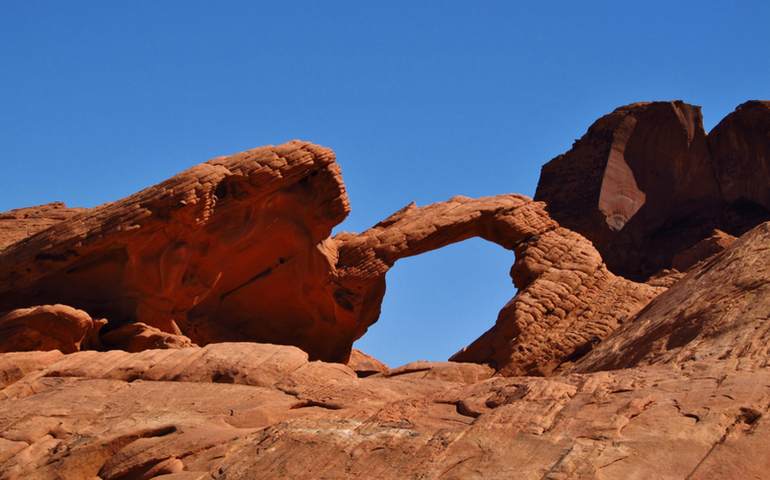 Valley Of Fire State Park Arch Rock
Arch Rock is very easy to get to and can be seen from the scenic loop road. Climbing on the arch is prohibited due to the fragile nature of the sandstone.  Winds and rain have taken several thousand years to create this natural arch and eventually, it will collapse. Climbing on the rock will only hasten its demise. Arch Rock campground is located nearby on the scenic loop road.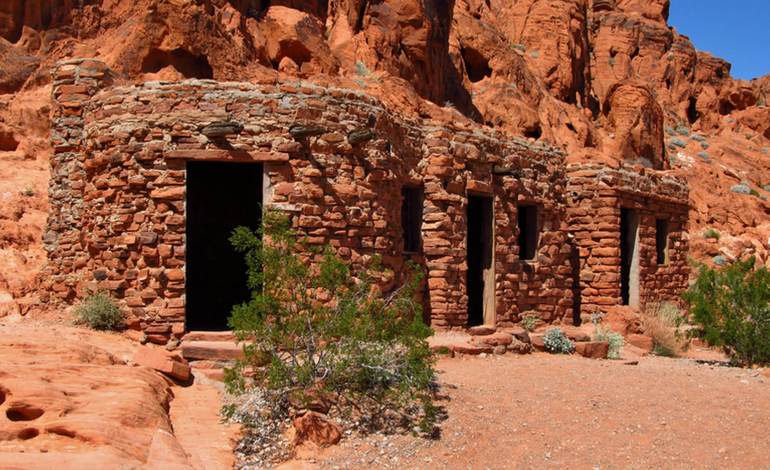 Valley of Fire Cabins
These stone cabins are not as old as they appear.  The cabins were built in the 1930s by the Civilian Conservation Corps. Each cabin has a  fireplace and window, and not much else. Constructed with native sandstone the cabins were used as by tourists visiting the Valley of Fire. Today the Cabins a picnic area and a great place to take photos. Located near the east entrance to the park.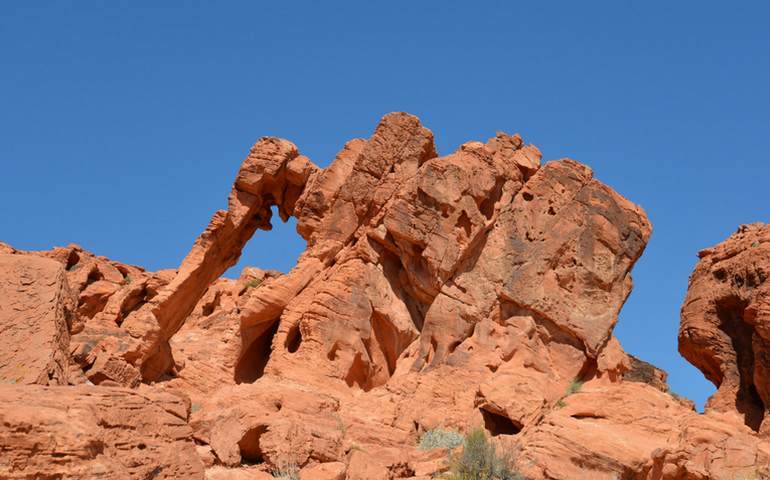 Elephant Rock Valley of Fire
This is probably the most popular attraction in the park. Located near the Lake Mead entrance you can see the rock formation from Valley of Fire Road. Most visitors park in the nearby parking area and take the short hiking trail for an up-close look at Elephant Rock.

Fire Wave Valley of Fire
Amazing sandstone formations that look like flowing lava. Fire Wave is located near the end of White Domes Road and can be reached via a half-mile trail starting at parking lot 3. There is no shade on the Fire Wave trail so bring plenty of water. This hike is not recommended during the summer season unless you get an early start.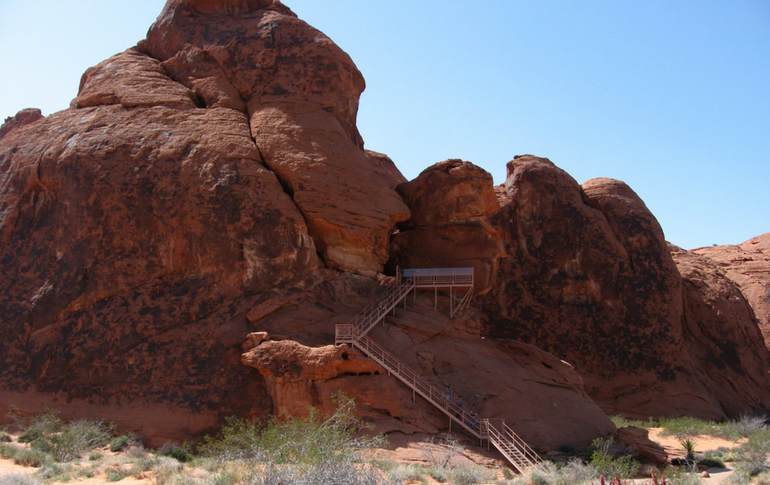 Atlatl Rock Valley of Fire
Atlatl Rock is a great place to view petroglyphs (ancient Indian rock art.) Visitors climb a staircase to view a wall covered petroglyphs What most visitors don't know is that they can view more petroglyphs by walking around the base of Atlatl Rock.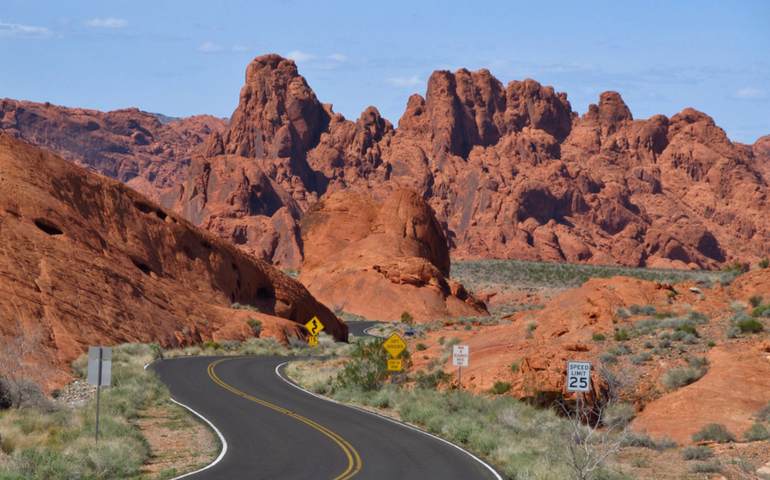 Getting to Valley Of Fire State Park
Valley of Fire is located about 60 miles from Las Vegas. From the Las Vegas Strip:  Take the I-15 North. Take Exit 75 and head East toward Valley of Fire.  From here it is  17 miles to the West Entrance Station.
Scenic route. Take the I-15 North to Lake Mead Blvd. Turn Right and head East to Lakeshore Road (NV-166). Turn Right onto NV-167 and follow to the east entrance. Valley of Fire State Park address is 29450 Valley of Fire Road Overton, Nevada 89040 Phone: 702-397-2088
Nearby Valley of Fire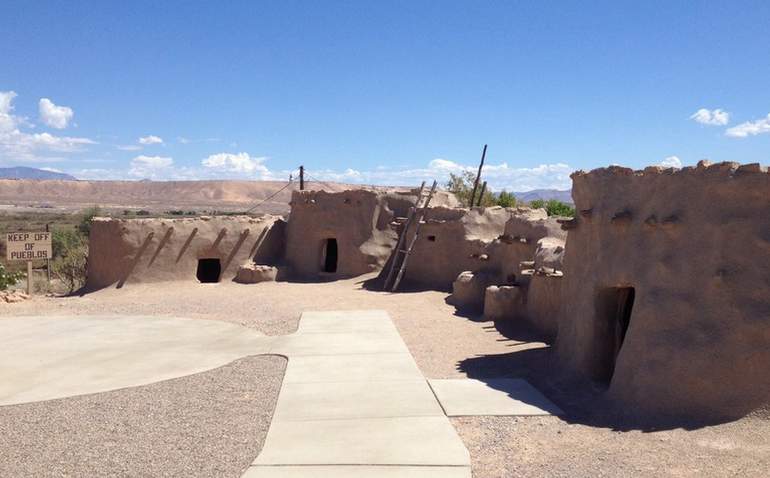 Lost City Museum is a fascinating place to visit with the highlight being the replica Anasazi Pueblo Grande de Nevada. Also, on display are Indian artifacts that were excavated from the Moapa Valley to save them from the waters of Lake Mead as it was filled up.