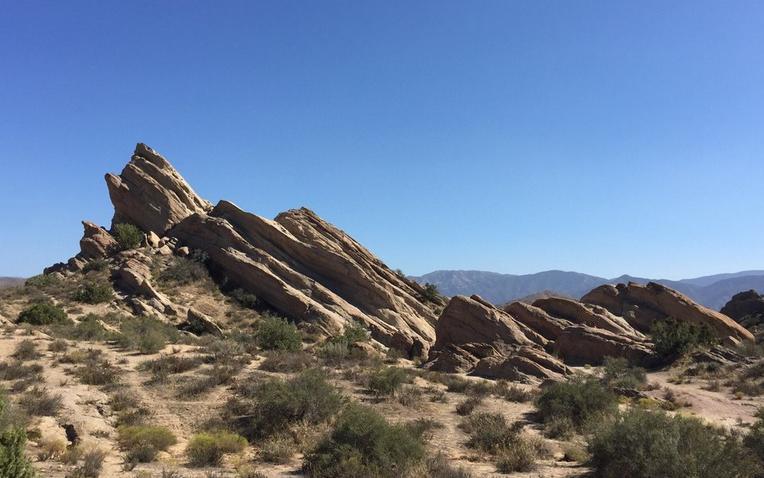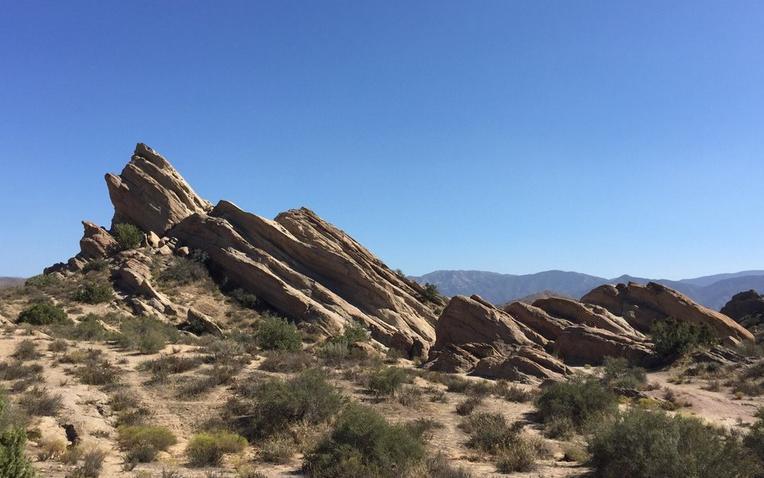 If you are a film and television buff, Vasquez Rocks Natural Area Park is the perfect day trip for you. When driving along the 14 freeway, most travelers pass by without knowing the history and beauty, just a quick exit away.
The Vasquez rocks area has always been a popular backdrop for Hollywood studios due to Los Angeles. While it's impossible to list them all, some of the most popular productions filmed at Vasquez Rocks are listed below.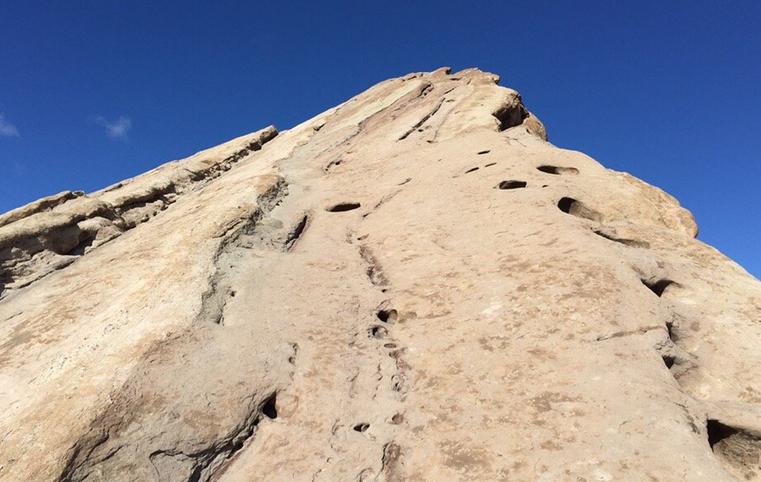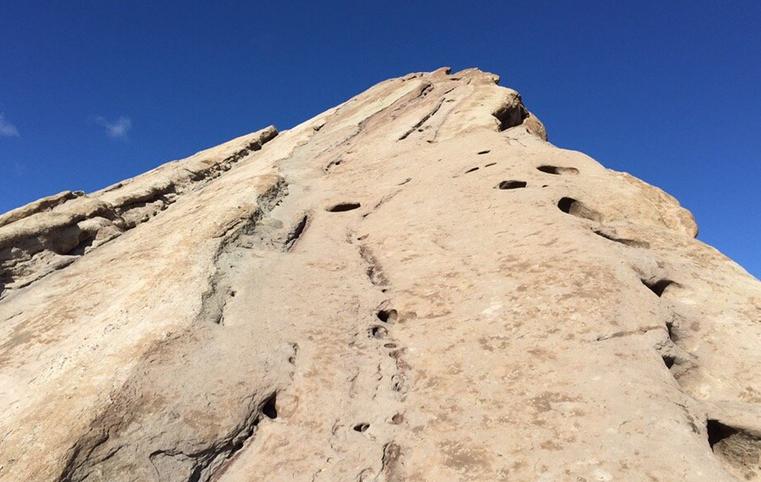 Television series which have used the Vasquez Rocks include all Star Trek series, CSI: Crime Scene Investigation, The Twilight Zone Airwolf, Bonanza, Buffy the Vampire Slayer, Mighty Morphin Power Rangers, Hunter, MacGyver, Charmed, Friends, Fear Factor, Dinosaurs, and The Big Bang Theory.
Some of the movies filmed at the rocks include Blazing Saddles, the Star Trek movie series, Little Miss Sunshine, the Disney movie Holes with Shia LaBeouf, Joe Dirt, Jay and Silent Bob Strike Back, Planet of the Apes, Bubble Boy, Austin Powers: International Man of Mystery, Flintstones, Army of Darkness, My Stepmother Is an Alien and Short Circuit.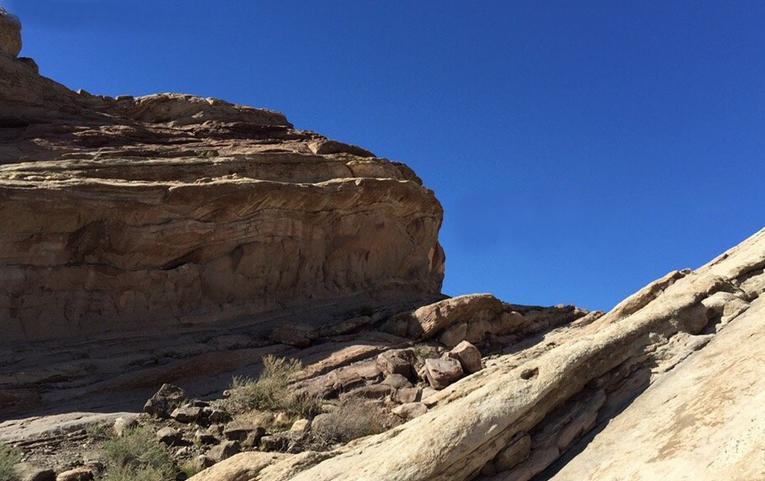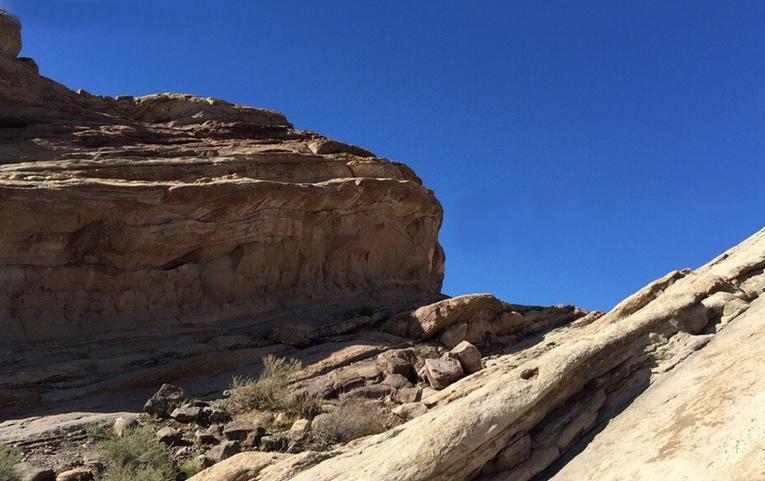 Music video artists filmed locally include Michael Jackson for his "Black or White" video, Rihanna's "Rehab," Marilyn Manson, Enrique Iglesias, Tom Petty, and the Heartbreakers.
Vasquez rock formations were created before our time by the San Andreas Fault. The notorious bandit Tiburcio Vasquez used these area rock formations to elude law enforcement between 1873 and 1874, hence its name.
The county government acquired the Park in the 1970s and added it to the National Register of Historic Places in 1972 due to its significance as a prehistoric site for the Shoshonean and Tataviam peoples. This is a fabulous place to take the whole family for an outdoor day trip.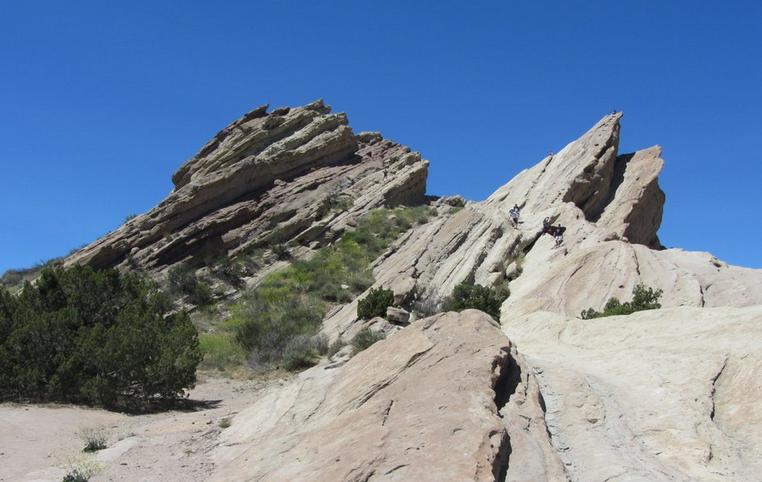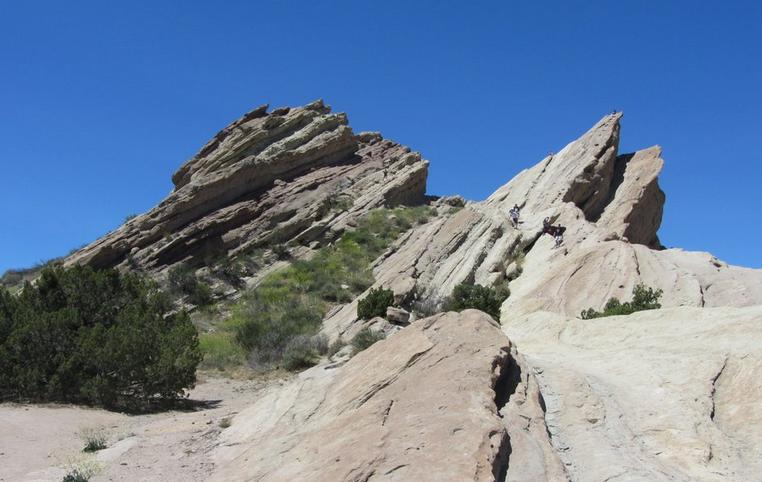 Climbing Vasquez Rocks Natural Area
The beautiful multi-hued sandstone slabs rise 150 feet or more into the air. While there is no defined trail system in the Park, the maze of paths leading around the rock formations makes it easy to find your adventure.
The rocks are a pretty easy climb for beginners, while more experienced explorers can find something to enjoy as well. Bring a good pair of hiking shoes and plenty of water since no source is available on site. Be sure to pick out a landmark as a point of reference before heading off.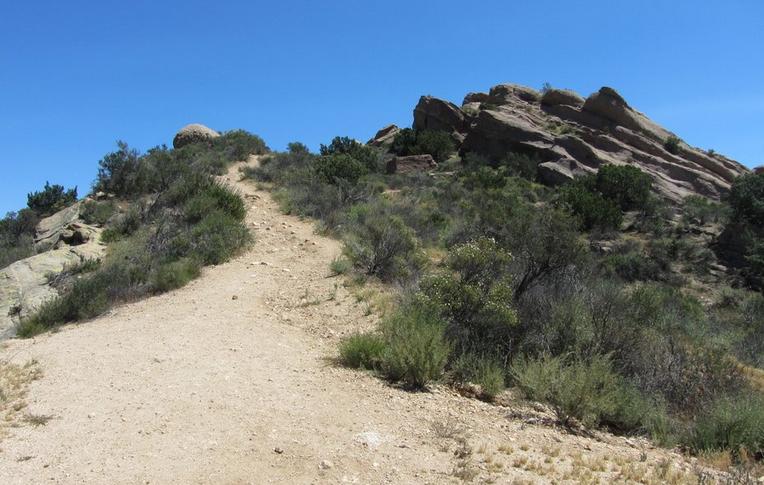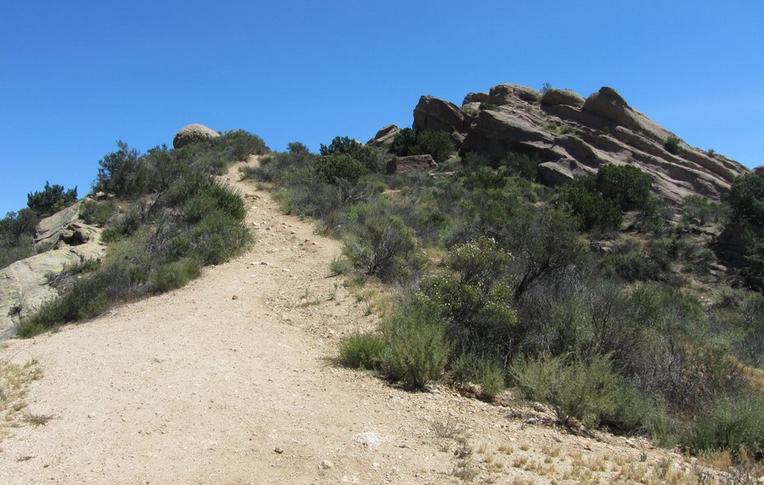 Hiking Vasquez Rocks Natural Area
Many artists are known to set up for a day and shoot photographs or paint. Equestrian trails are all around, and many geological studies are conducted in the region.
One-hour Lone Ranger-guided hikes are offered for small and large groups at little or no charge. School or scout groups can be accommodated. Call ahead for reservations.
Power walks and animal presentations are offered in the cooler months, and star parties are provided quarterly for the amateur astronomer. The Birds of Prey presentation gives you the chance to see birds, snakes, and a rattlesnake skeleton while enjoying a healthy hike.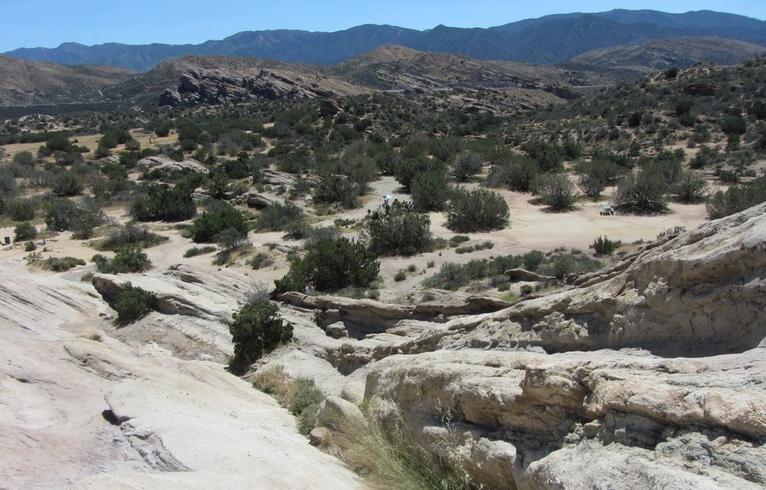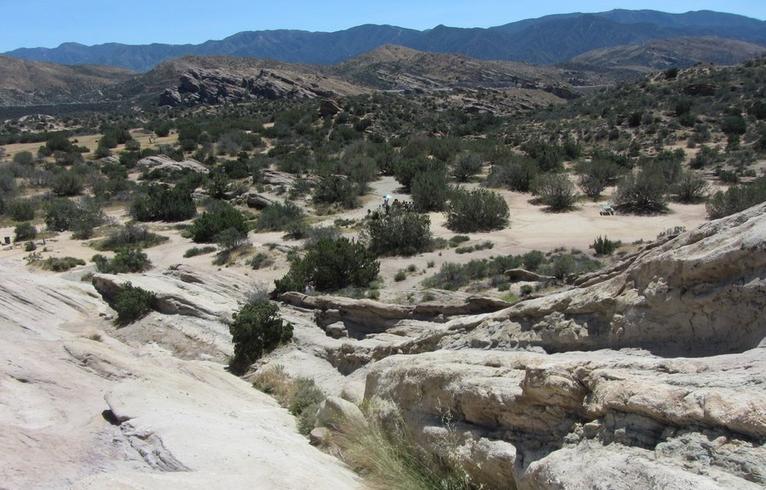 When exploring, please be careful. While wild animals are rare, a mountain lion or two has been known to wander the area. Snakes are bound to be seen, especially on warmer days.
The Southern Pacific Rattlesnake is common, and the more dangerous Green Mojave has been spotted recently. Please note that the only emergency center with anti-venom in the Santa Clarita Valley is Henry Mayo Hospital.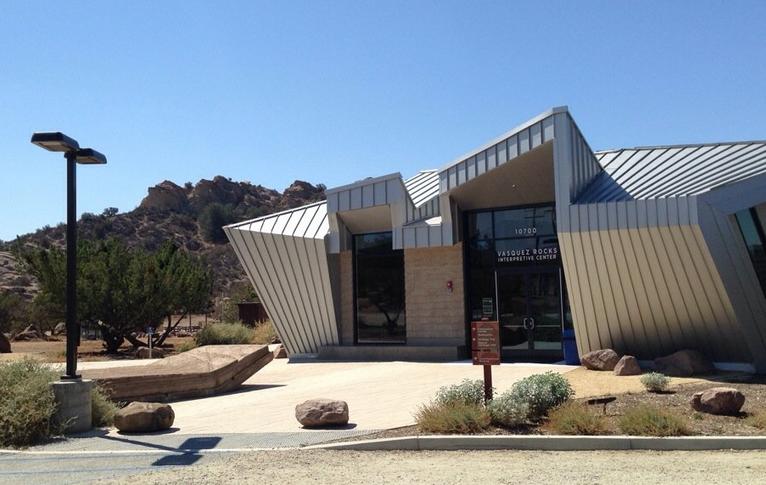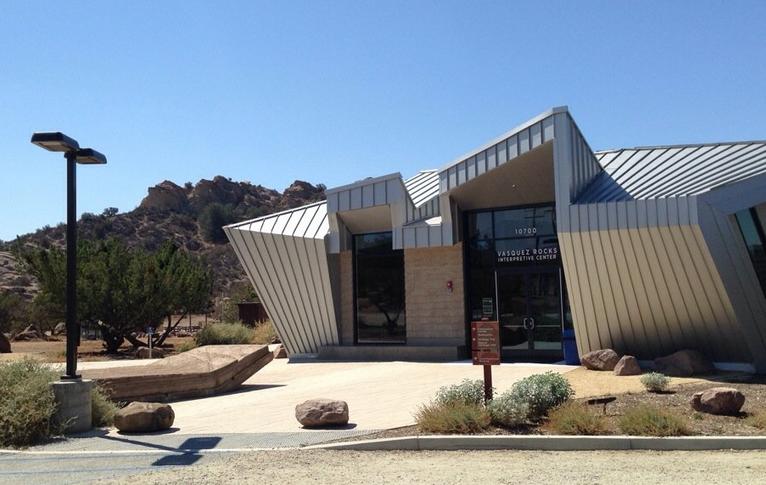 Where is Vasquez Rocks Natural Area
Cell phone coverage at Vasquez Rocks is not always available, so please consider bringing a buddy to explore in case of an emergency. Vasquez Rocks Natural Area and Nature Center are located at 10700 West Escondido Canyon Road in Agua Dulce, CA 91390.
The drive to Vasquez Rocks will take you about an hour from the San Fernando Valley, a little longer from downtown Los Angeles. Allow about an hour and a half from Orange County, traffic permitting.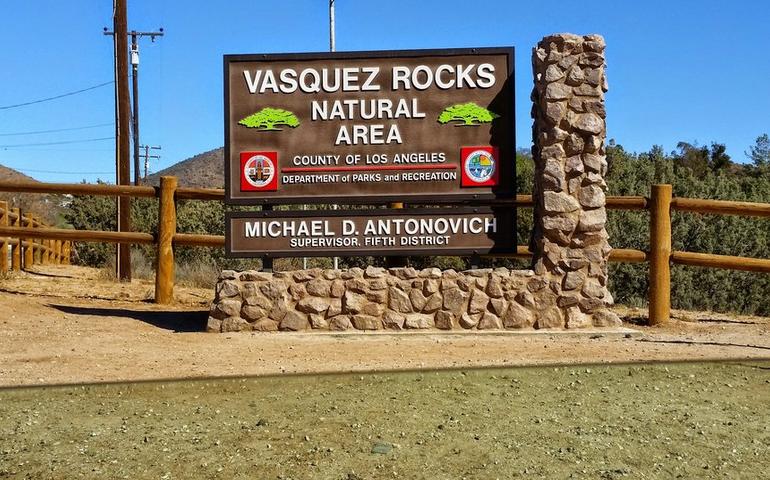 The Park is open May 1 through September 30, 8:00 am – 8:00 pm, and October 1 through April 30 from 8:00 am – 5:00 pm. The area has a desert climate, and extreme heat can affect park hours; check weather conditions before making this trek.
You Might Like These Trips