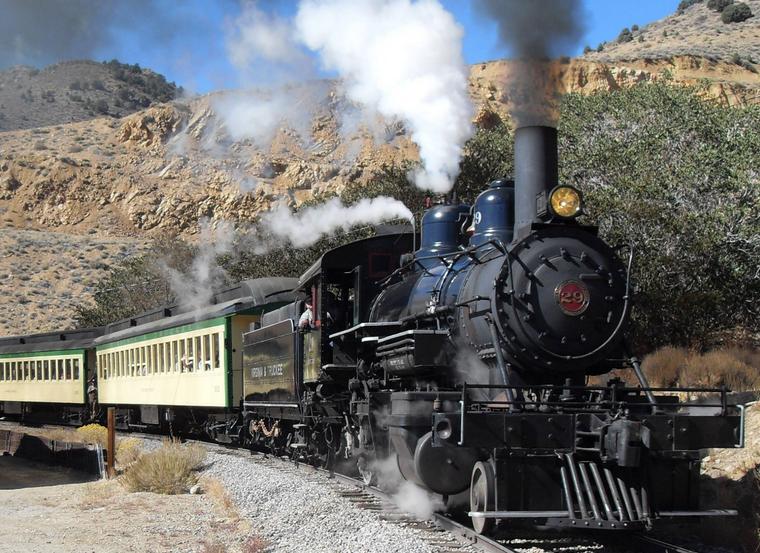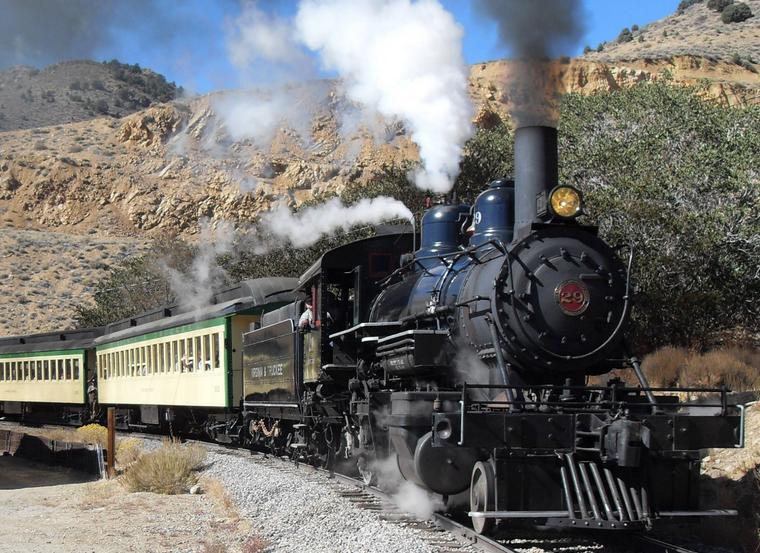 The Virginia Truckee Railroad offers visitors three trip options. Two short lines and one all-day train excursion. Most visitors take the 35-minute journey from Virginia to Gold Hill. If you have more time, then the 24-mile round trip from Carson City is defiantly the best choice.
Sit back and relax while your conductor tells the story of the Comstock mines and how the railroad played its part to make Virginia City the most famous boomtown of the Old West.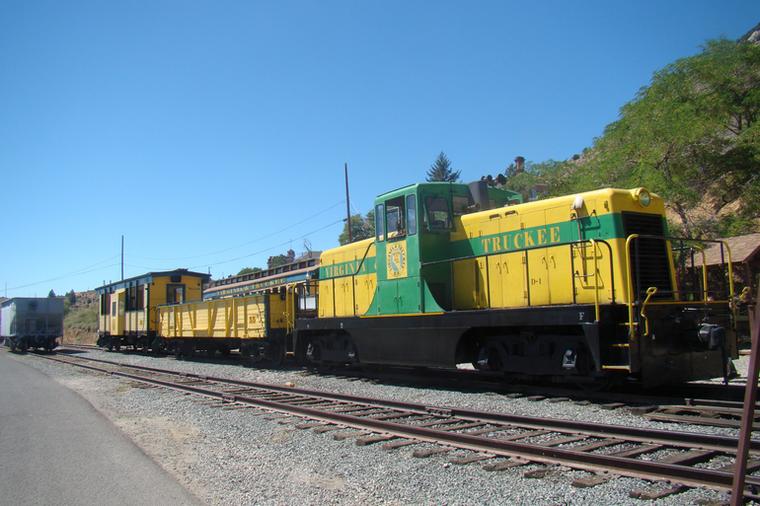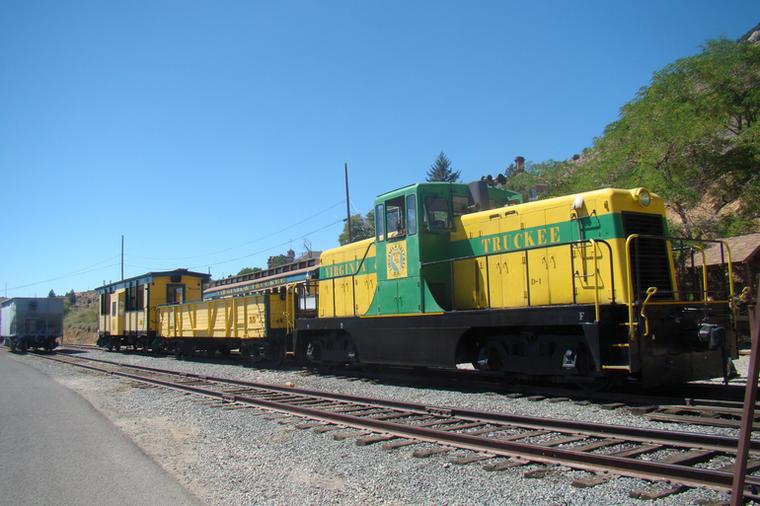 Virginia City-Gold Hill Train
Departing from Virginia City, visitors take a 30-minute trip back in time aboard one of the most famous American short line railroads. Travel past long-closed silver mines, through one of the original tunnels, and on to Gold Hill train station.
Riders can depart for a few minutes at Goldhill while the engine moves to the front of the train for the return trip. Trains depart hourly during the summer season with steam trains on weekends.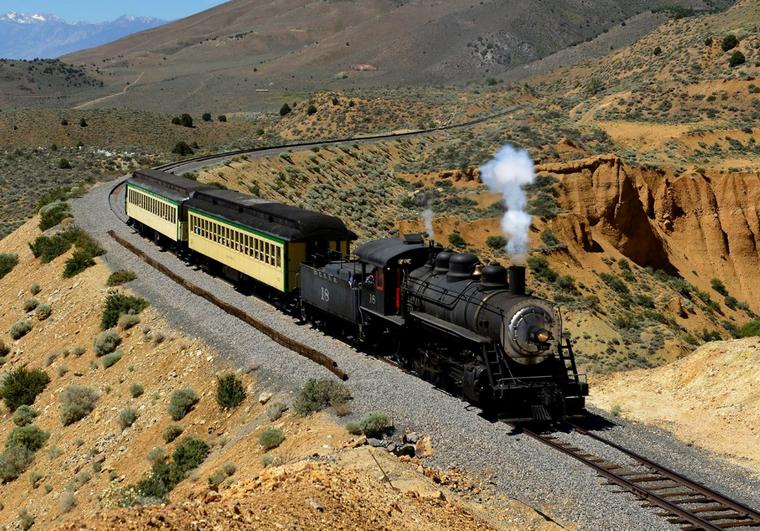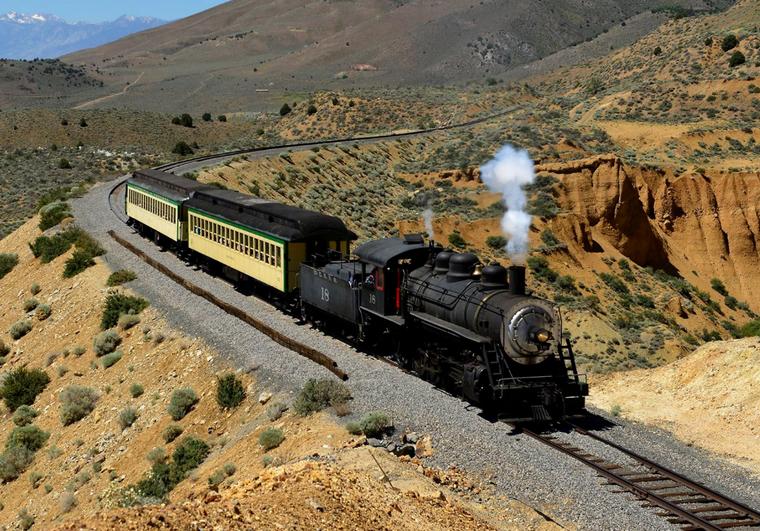 Carson City-Virginia City Train
The Virginia Truckee Railroad line is restored from the outskirts of Carson City to Virginia City. Enjoy magnificent views while traveling the historic route of the Virginia & Truckee Railroad.
This excursion is a 24-mile round trip. Travel time to Virginia City is 1.5 hours. The stop in Virginia City is a little over three hours.
The return trip to the Carson City Depot is all downhill and takes one hour and fifteen minutes. If you choose this train trip plan on a full day riding the rails and visiting Virginia City.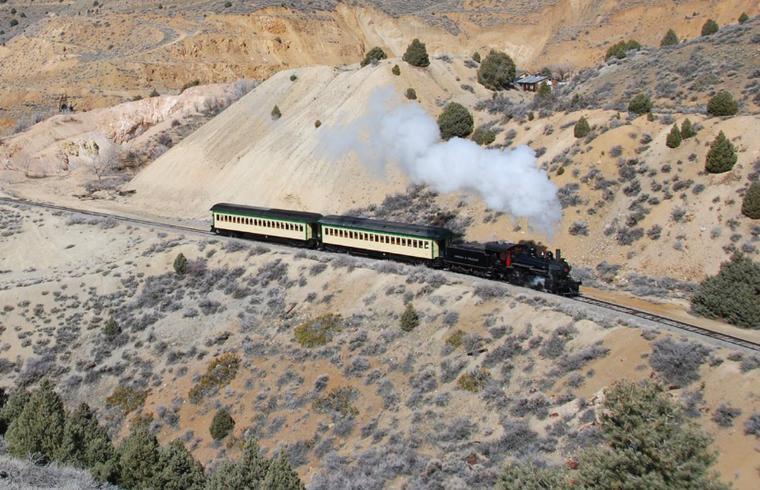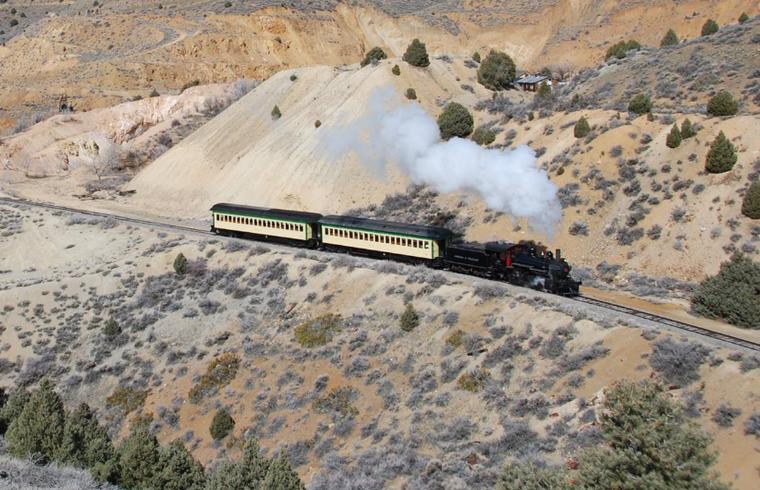 Carson River Canyon Train
The River Canyon run takes about 45 minutes and follows the original Virginia Truckee Railroad line along the Carson River. This trip runs during the summer season on weekends.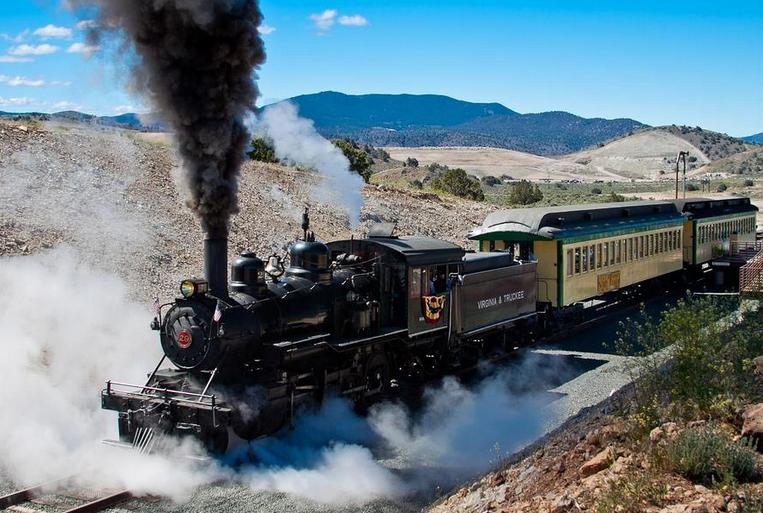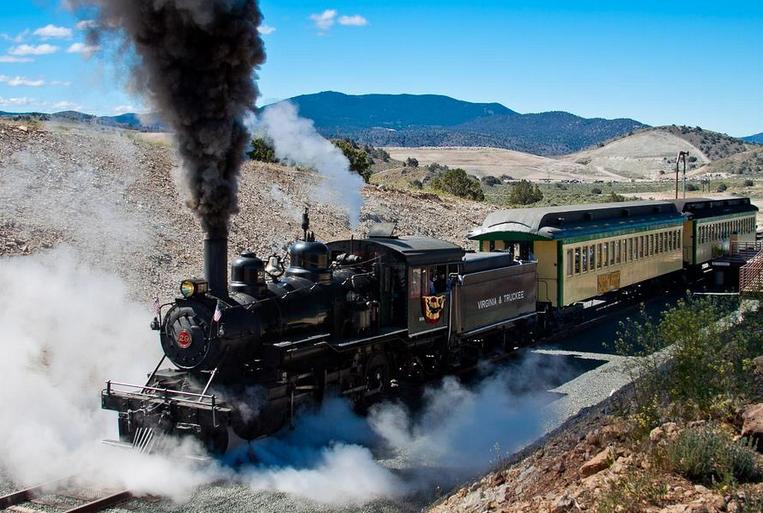 History of the Virginia Truckee Railroad
The Virginia Truckee Railroad began operation in 1870. Its primary mission was to haul silver ore from the mines to the stamp mills located 10 miles south of Virginia City on the Carson River.
At its height, the railroad's route ran from Reno south to Carson City, Nevada. In Carson City, the mainline split into two branches. One branch continued south to Minden, while the other ran east to Virginia City.
The trains ran for more than eighty years before the Virginia & Truckee Railroad ceased operation. The last official train operated on May 31, 1950, between Reno, Carson City, and Minden.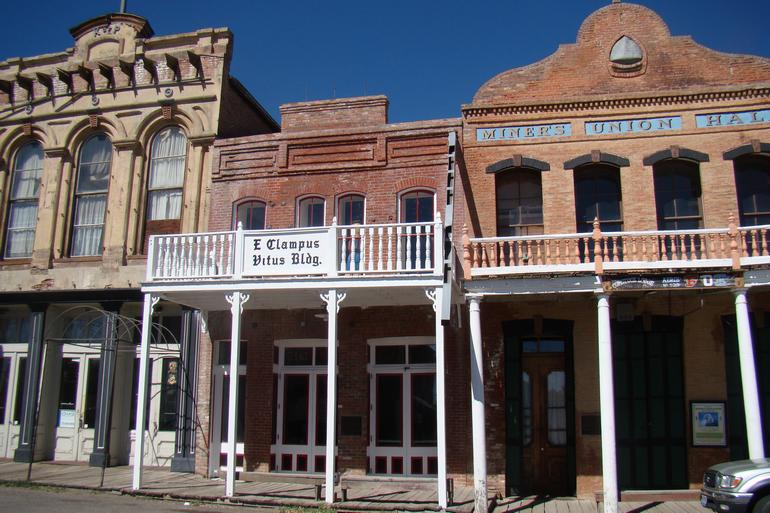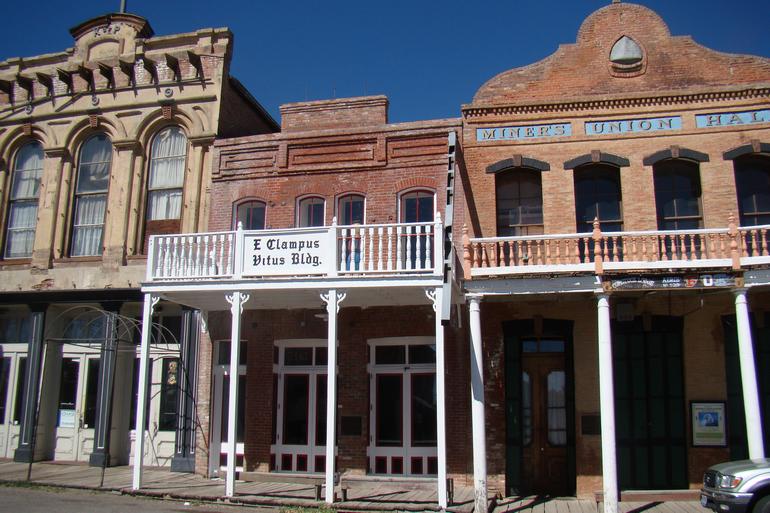 Virginia City, Nevada, is a beautiful historic place to visit and should be on the top of your list of places to see in the Reno/Carson City area of Nevada. No trip to Virginia is complete without a ride on the historic Virginia & Truckee Railroad.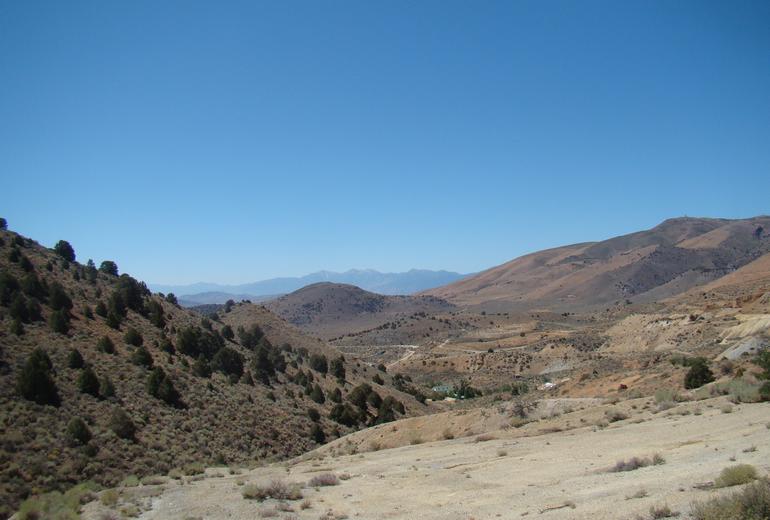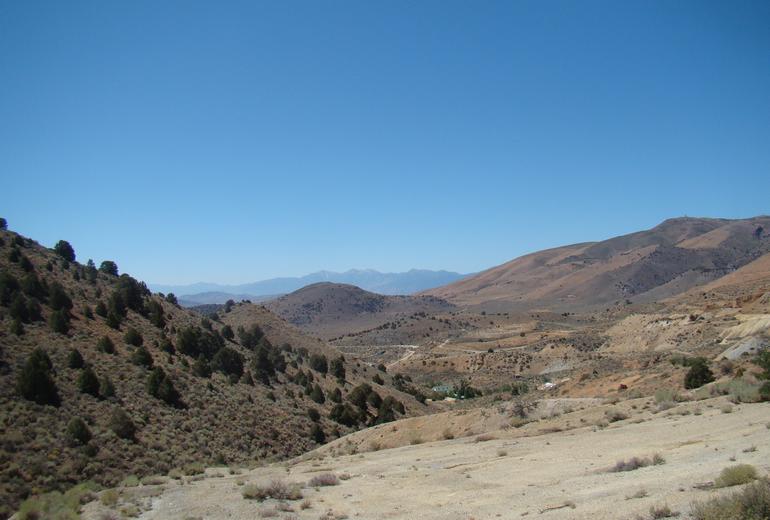 Train Tickets and Information
For more information, train schedules, and ticket information, please visit the website of the Virginia & Truckee Railroad. Or call 877-724-5007.