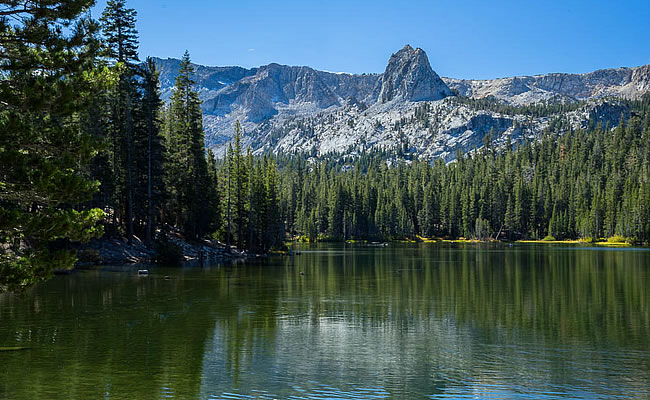 For over 100 years, Mammoth Lakes has drawn thousands of visitors each summer to enjoy the area's spectacular natural beauty. In addition to the town's proximity to the stunning Yosemite National Park, the area surrounding Mammoth offers endless hiking, biking, fishing and camping options for the outdoors enthusiast.
Mammoth Mountain is one of the largest ski resorts in the US and attracts droves of skiers and snowboarders every year with its challenging terrain, gorgeous views and huge amounts of snow that keep the resort open well into the summer months.
Before it became at a summer retreat and winter playground, however, Mammoth Lakes was a mining town. Thousands of prospectors descended on the Mammoth Lakes area from 1877-1879 to find their fortune.
Unfortunately for them, the abundant riches that were expected never materialized, mining stopped in 1880.
By the early 1900s, Mammoth Lakes became a summer destination for families from Bishop and Los Angeles drawn by the area's natural beauty. It wasn't until Highway 395 was built in 1937, however, that Mammoth became more than a sleepy little summer retreat.
In the 1930s, the first ski lift built on McGee Mountain attracted a few enthusiastic skiers – one of which was Dave McCoy.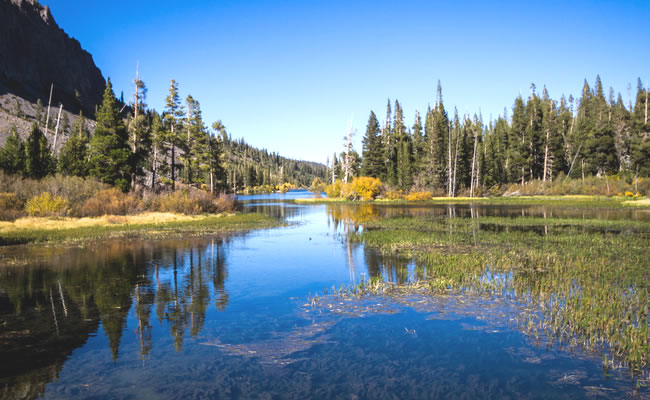 A ski bum at heart, McCoy bought the Mammoth ski lift in 1938 and set up a portable rope tow. After World War II, McCoy built a permanent rope tow, followed by the Main Lodge in 1947 and then the first chairlift in 1955.
Today Mammoth Mountain is one of the largest ski resorts in the area with four lodges, three gondolas, 25 other chairlifts and 150 named trails. With an 11,053 foot summit, 3,500 acres of skiable terrain and an average of over 400 inches of snowfall a year, Mammoth Mountain is often able to stay open well into the summer months.
Starting in April, visitors are able to ski or snowboard in the morning and golf, fish, mountain bike or hike in the afternoon. This unique mixture of winter and summer attractions has made Mammoth Lake the perfect family vacation spot all year round.
For those visitors not interested in downhill skiing or snowboarding, Mammoth Lakes offers a multitude of other ways to enjoy the snow-covered winter wonderland.
The Tamarack Cross Country Ski Center and Mammoth Lakes Nordic Trail System provide miles of groomed trails around the Twin Lakes and Mammoth Lakes Basin.
The Inyo National Forest also has a great winter trail system to park destinations such as Inyo Craters, Obsidian Dome, and Hot Creek.
Snowmobiling on Mammoth Lakes' 80-mile system of trails and 75,000 acres of open area is a great way to explore the Eastern Sierra's unique wintertime beauty without any physical exertion.
Summertime in Mammoth Lakes offers visitors a whole array of activities, attractions, and events.
The town's Sierra Summer Festival, Blues, Mammoth Festival and Taste of Mammoth represent only some of the crowd-pleasing events of the summer. Mammoth Lakes' proximity to gorgeous hiking, biking, fishing and camping spots have drawn visitors for over 100 years.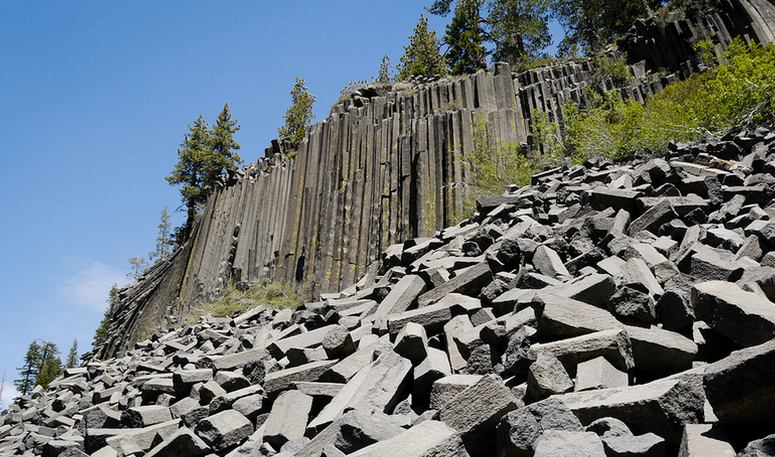 The gorgeous five lakes in Mammoth Lakes Basin is only a ten-minute drive from town while the spectacular trails system and landmark Half Dome of Yosemite National Park is only a 45-minute drive north.
Mammoth Mountain's hiking and mountain biking trails and scenic rides up the gondola are just some of the ways to enjoy the resort after the snow melts.
Ten miles past Mammoth Mountain lies the trailhead for a short hike to the unique formations of Devils Post pile National Monument and the 101-foot Rainbow Falls, so named for the rainbows seen in the mist when the sun is at its highest.
Bodie State Historical Park was one of the wildest mining camps in the area but is now a ghost town that will fascinate the entire family.
To the south of Mammoth Lakes lies the Hot Creek Geologic Site and Hot Creek Fish Hatchery, as well as Convict Lake – the scene of an 1871 gun fight and home to some of the oldest rocks in the Sierra Nevada Mountains.
Campgrounds in and around Mammoth Lakes. Pine Glen Group campground Mammoth Lakes, New Shady Rest Campground Mammoth Lakes area and Old Shady Rest Campground near Mammoth Lakes.
Mammoth Lakes is located on Highway 203 off of Highway 395 about six hours from Los Angeles, three hours from Lake Tahoe and five to seven hours from the Bay Area.
From the Los Angeles area, take 405 North to 14 North to 395 North. Leaving from Lake Tahoe, take 395 South all the way to 203. Consult local resources for road conditions to determine the best route to Mammoth Lakes from the Bay Area.
If you don't want to drive Alaska Airlines and United Airlines offer flights from LAX to Mammoth Lakes.