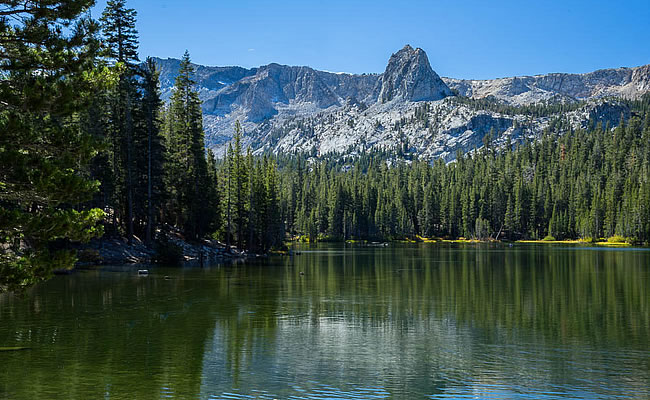 For over 100 years, Mammoth Lakes has drawn thousands of visitors to enjoy the area's spectacular natural beauty. In addition to the town's proximity to the stunning Yosemite National Park, the area surrounding Mammoth offers endless hiking, biking, fishing and camping options for the outdoors enthusiast.
Mammoth Mountain is one of the largest ski resorts in the US and attracts droves of skiers and snowboarders during the winter season with its challenging terrain, gorgeous views and huge amounts of snow that keep the resort open well into the summer months.
Things to do in Mammoth Lakes California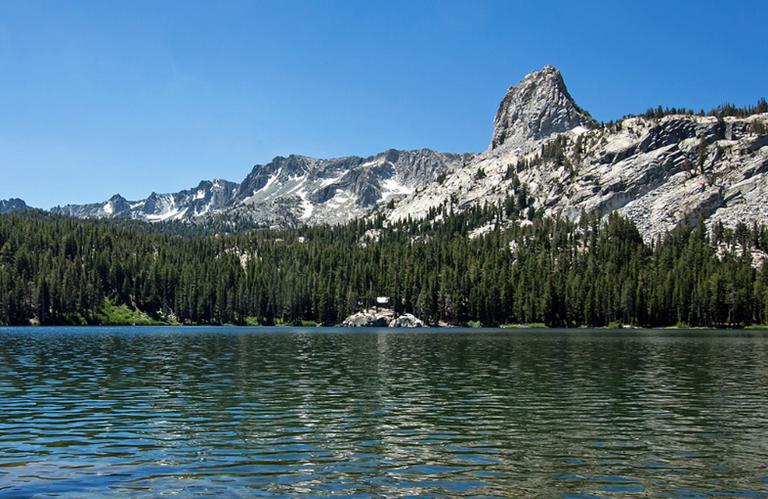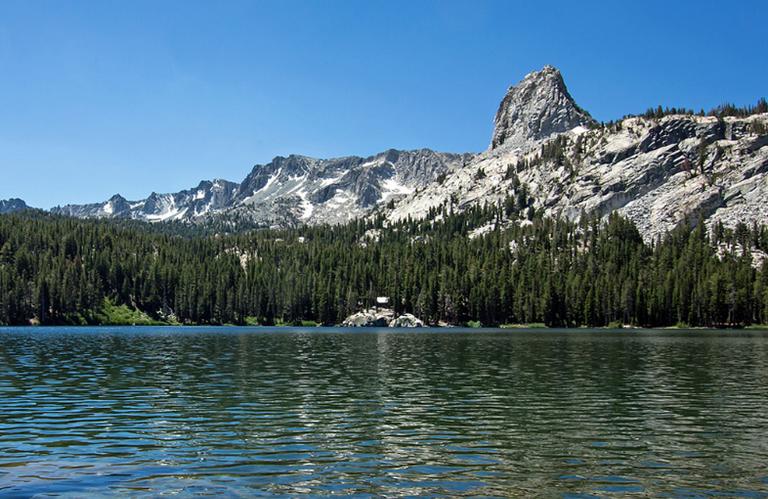 The Lakes of Mammoth
The gorgeous five lakes in Mammoth Basin, Twin Lakes, Lake Mary, Lake Mamie, Lake George, and Horseshoe Lake, are all a short drive from town. Fishing and sightseeing are the most popular activities at the lakes. The Department of Fish and Game stocks the lakes 2 to 5-pound trout. Lake Mary and Lake George have marinas that offer fishing boat rentals although the fishing is pretty good from shore.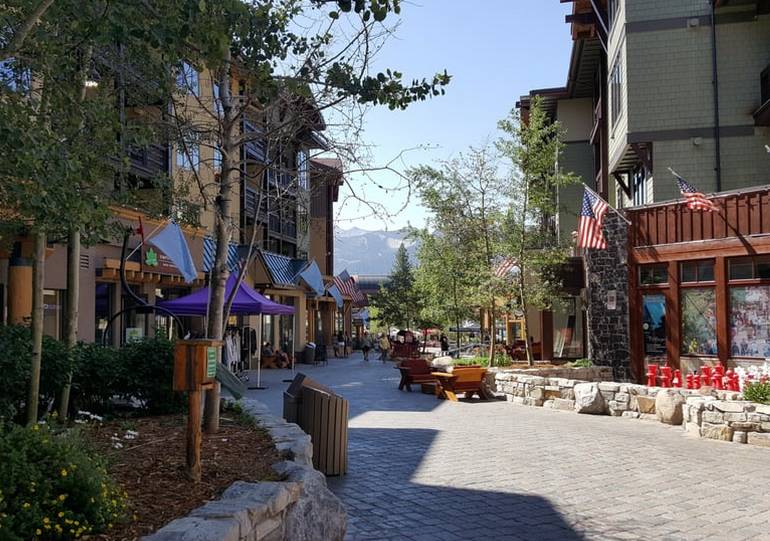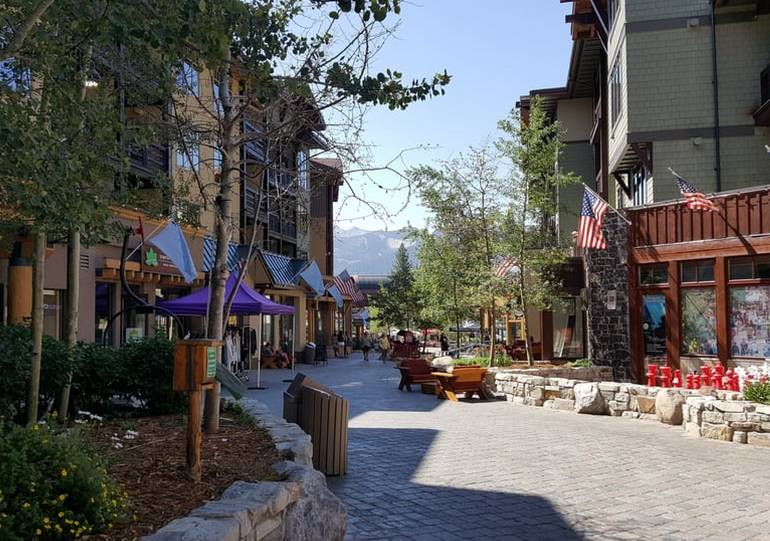 Village at Mammoth Lakes
The village feature restaurants, shops, and two excellent hotels. Westin Monache Resort and the Village Lodge. Dining options range from pizza to upscale dining. Stores in the village feature clothing and gifts. The Village Gondola Station offers quick access to the slopes of Mammoth Mountain Ski Area.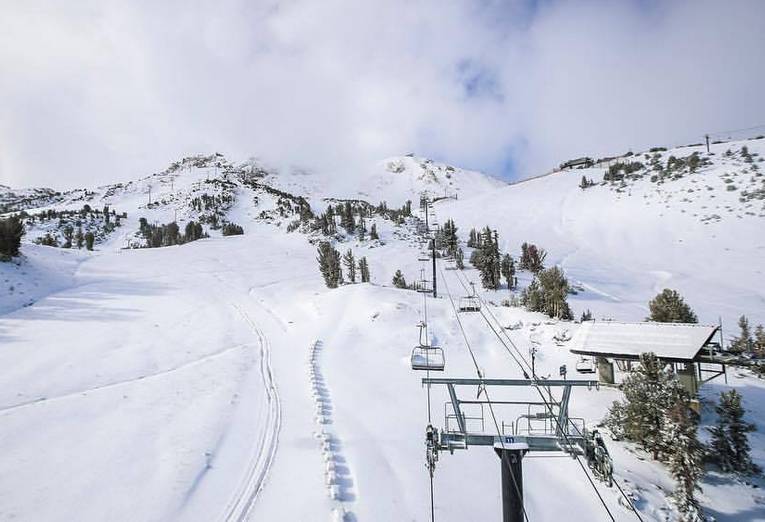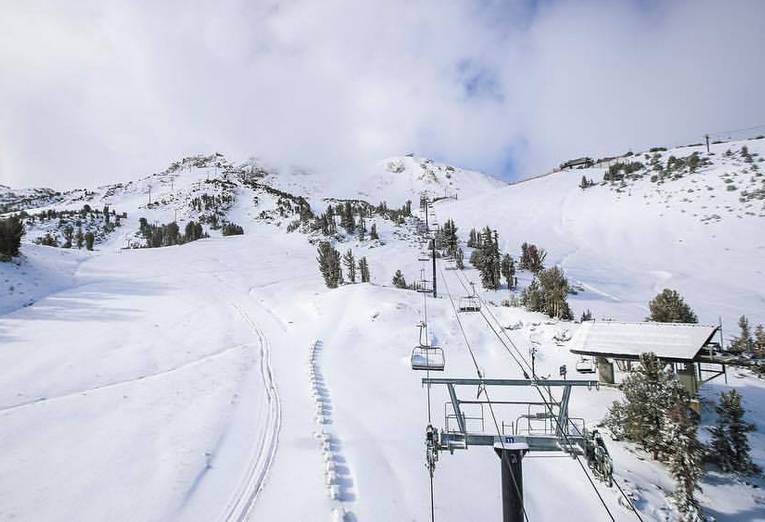 Mammoth Mountain Ski Area
Mammoth Mountain is one of the largest ski resorts in the area with lodges, gondolas, chairlifts and over 100 trails. With an 11,053 foot summit, 3,500 acres of skiable terrain and an average of over 400 inches of snowfall a year, Mammoth Mountain is often able to stay open well into the spring. After the snow melts. Mammoth Mountain's hiking and mountain biking trails open making Mammoth a perfect family vacation spot all year round.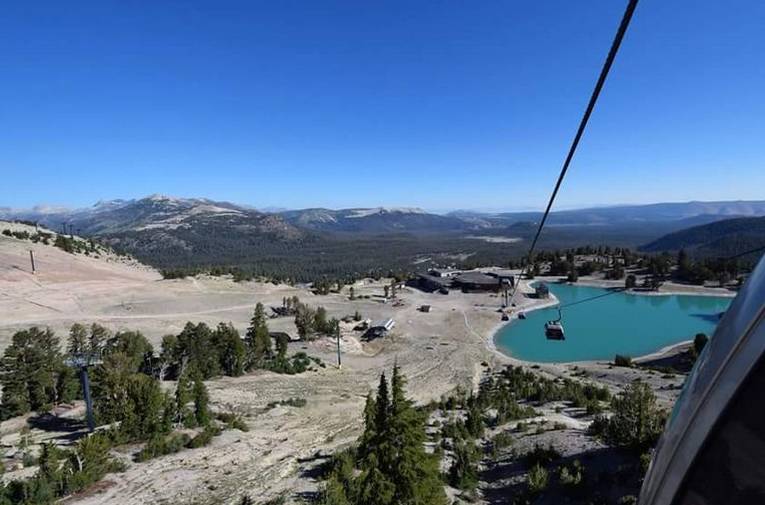 Mammoth Mountain Gondola
Take a thrilling ride 11,000 ft. ride to the top of Mammoth Mountain. Enjoy amazing 360-degree views of the Sierra Nevada Range from this lofty mountain peak. Top of your Gondola adventure with lunch at 11,053 feet high Eleven53 Cafe. Mammoth Mountain Gondola is open both summer and winter season.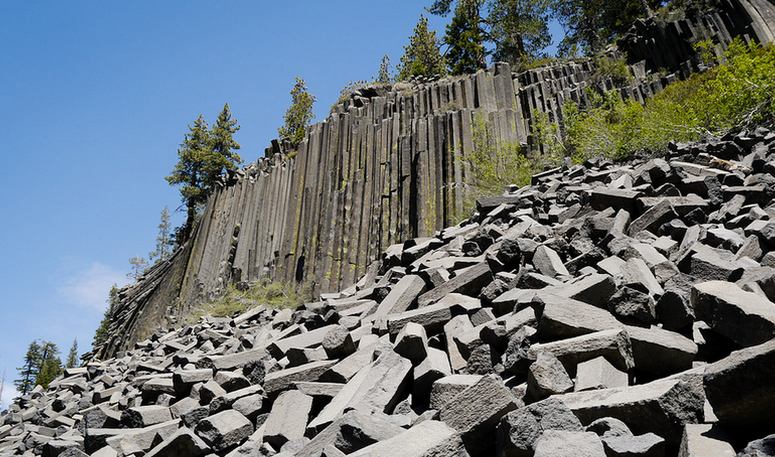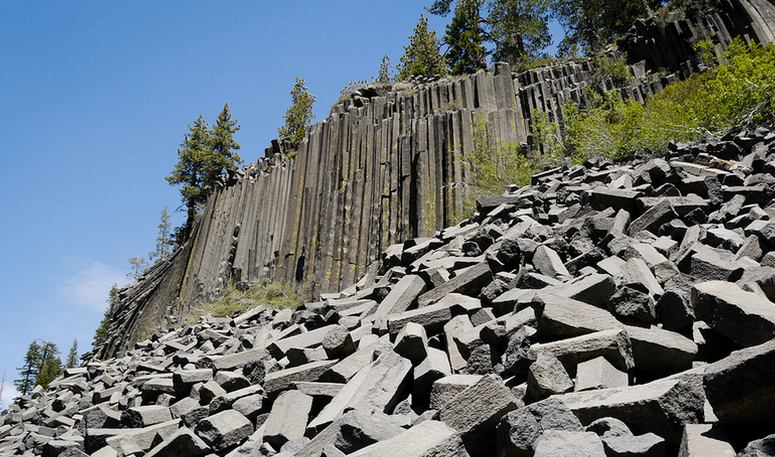 Devils Postpile National Monument
Ten miles past Mammoth Mountain lies the trailhead for a short hike to the unique formations of Devils Post Pile National Monument and Rainbow Falls, so named for the rainbows seen in the mist when the sun is at its highest. Devils Postpile National Monument is open during the summer. Shuttle buses run from Mammoth Mountain Bike Park to Devils Postpile and Rainbow Falls trailheads.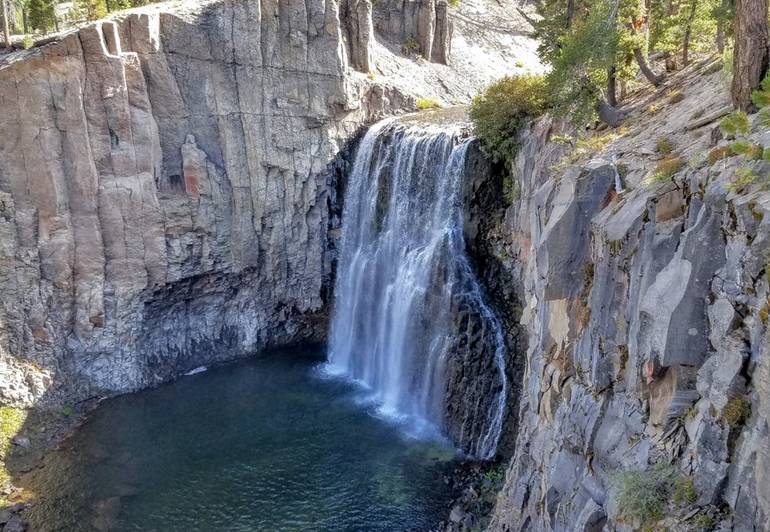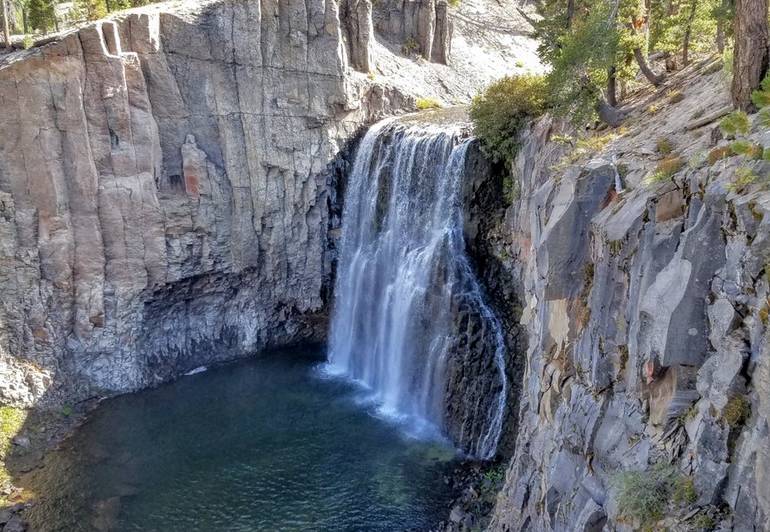 Hike to Rainbow Falls
Rainbow Falls is a beautiful 100-foot high waterfall along the San Joaquin River. Access to the falls is via a 2.5-mile trail. Be warned the trail to the falls is all downhill. The return trip back to the shuttle stop (Shuttle Bus Stop 9) is an exhausting uphill climb. Allow plenty of time and water for the return trip.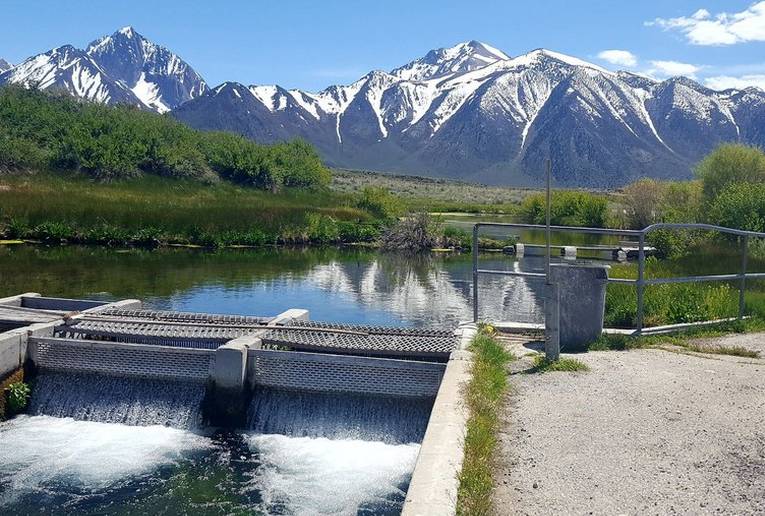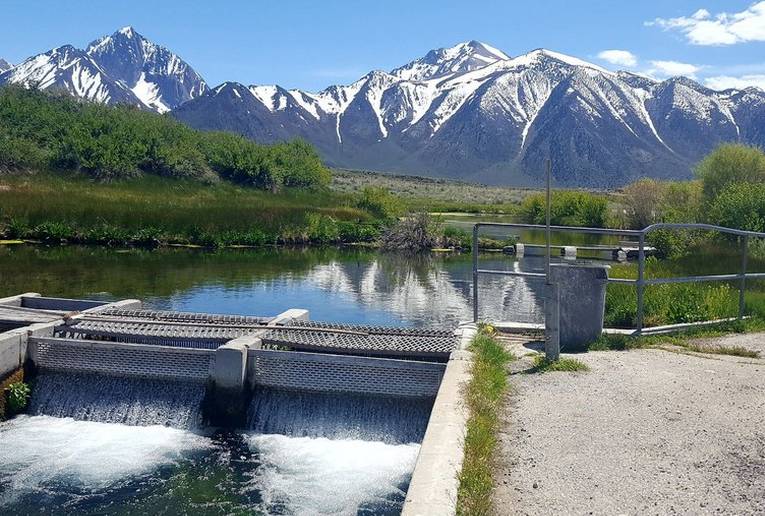 Hot Creek Fish Hatchery
Hot Creek Fish Hatchery is the main source for replacing the stock of fish for Mammoth Lakes and the surrounding area. There is not too much to see here except for long rearing ponds full of trout. They range from small stockers to huge lunkers. After visiting the Hatchery its a short drive to Hot Creek Geological Site.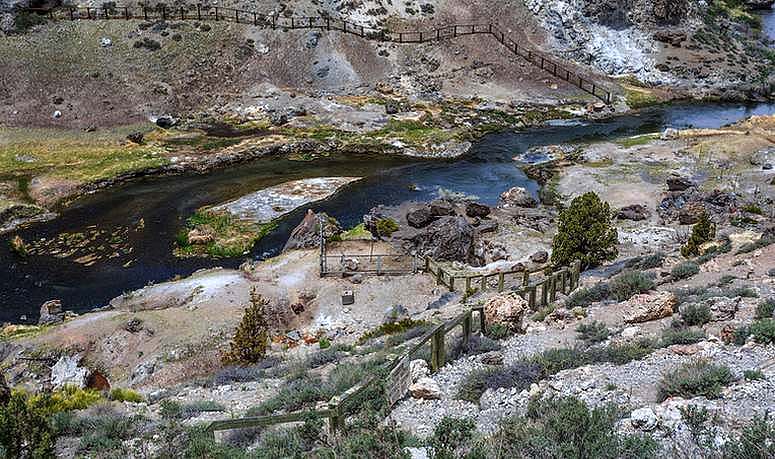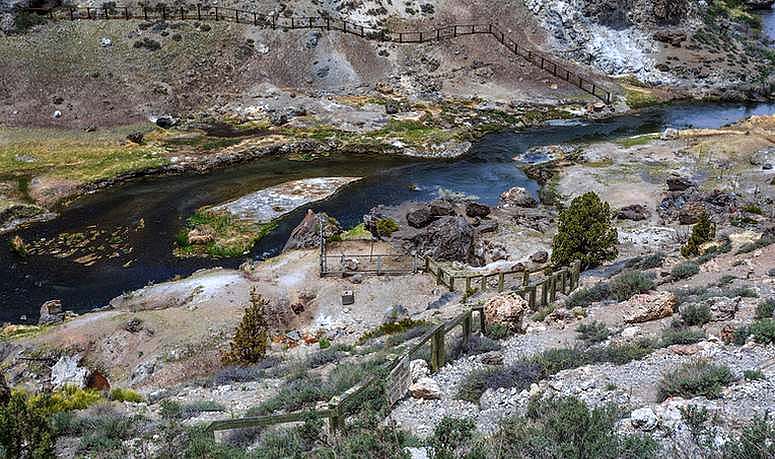 Hot Creek Geological Site
In this area of Hot Creek, there are numerous bubbling hot spring in and around the stream bed. A trail winds down from the parking area to the creek where visitors can view this natural wonder. Swimming and bathing in the creek are prohibited as some of the hot springs here are hot enough to cause severe burns. Hot Creek Geologic Site can be found along Hot Creek Hatchery Road in Mammoth Lakes, CA.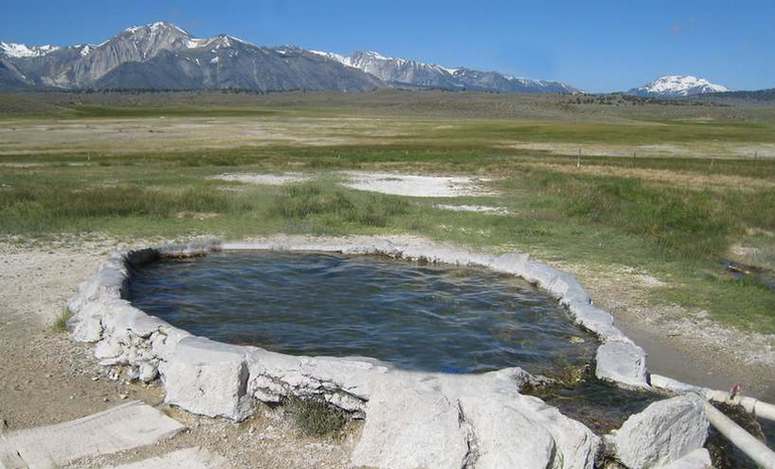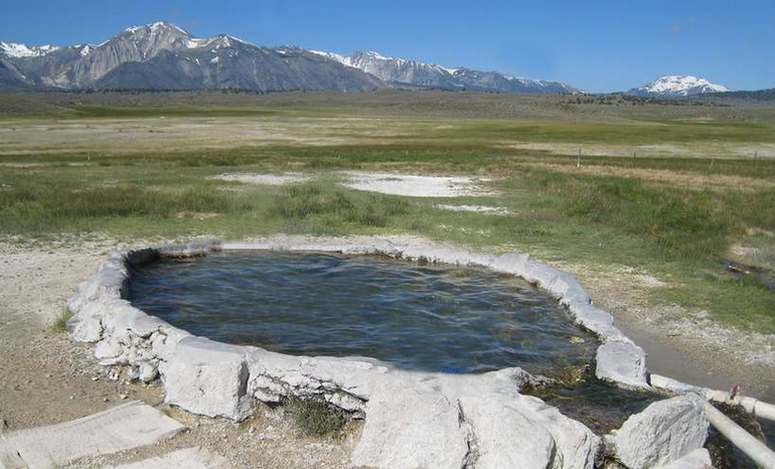 Mammoth Lakes Hot Springs
The area around Mammoth Lakes features numerous natural hot springs. Some are developed many are primitive hot springs that are maintained by locals. Hot springs temperature can run up to 110 degrees so always check before dipping into a pool. Clothing optional is the norm for the more primitive hot springs. California Eastern Sierra Hot Springs Guide.
Nearby Mammoth Lake Attractions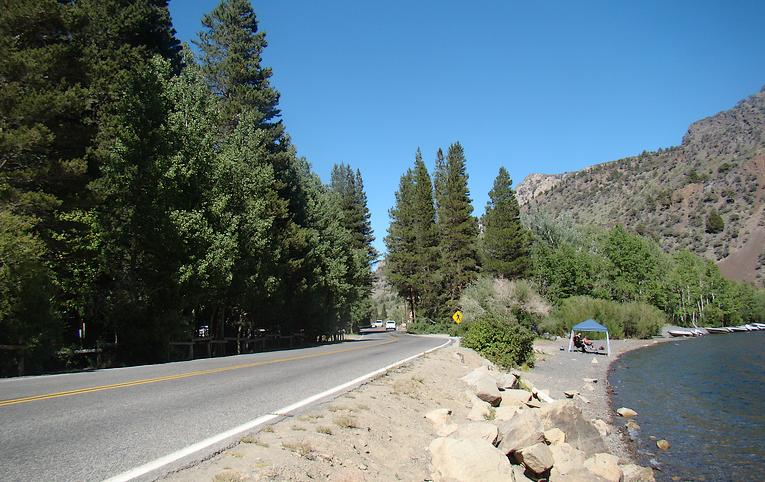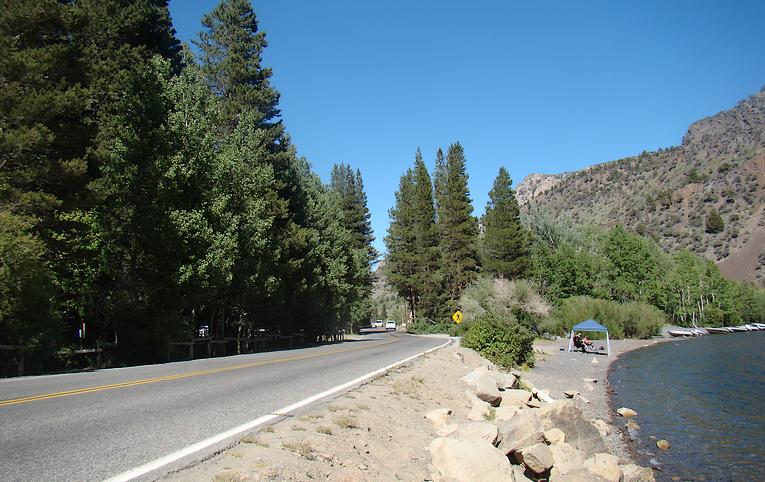 June Lake Loop
Much like the nearby Mammoth Lakes, the June Lake Loop is home to incredibly gorgeous vistas and countless opportunities for outdoor activity. From skiing during the winter at June Mountain to fishing in the lakes during the summer, June Lake Loop has plenty to offer the nature enthusiast.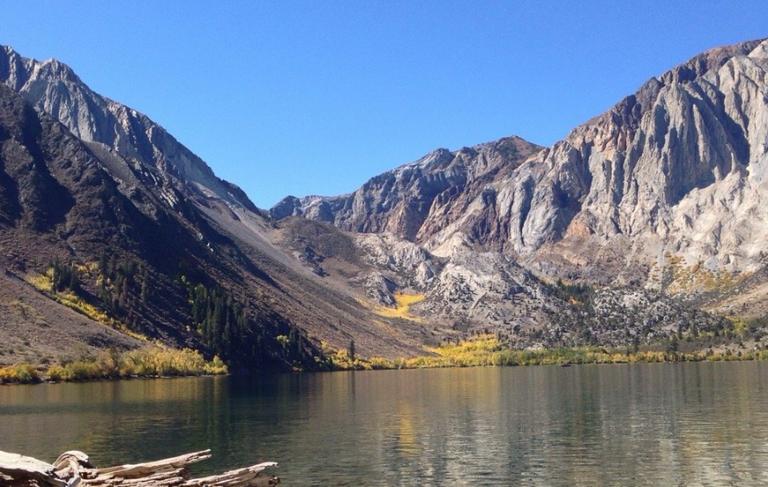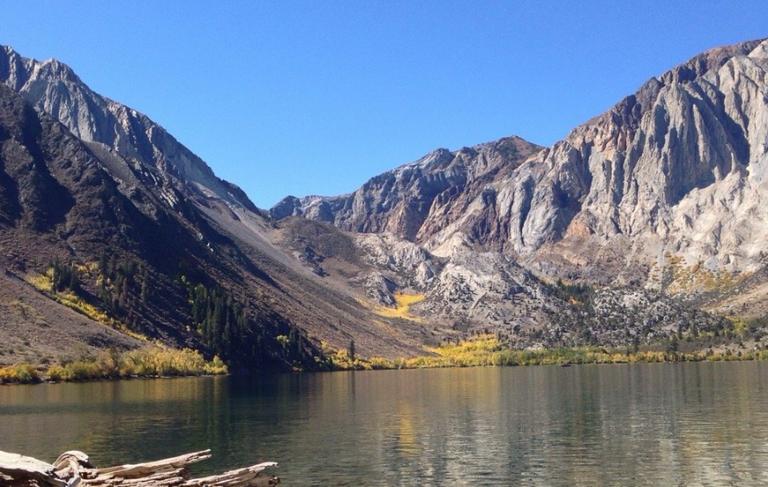 Convict Lake
11. To the south of Mammoth Lakes lies Convict Lake – the scene of an 1871 gunfight and home to some of the oldest rocks in the Sierra Nevada Mountains. There is plenty to do at Convict Lake, but fishing is probably the most popular activity among visitors. Convict Lake is 13 miles south of Mammoth Lakes along Highway 395.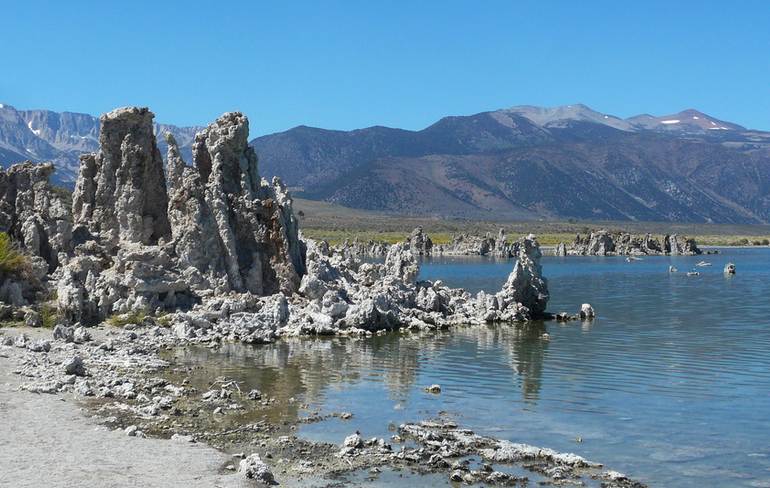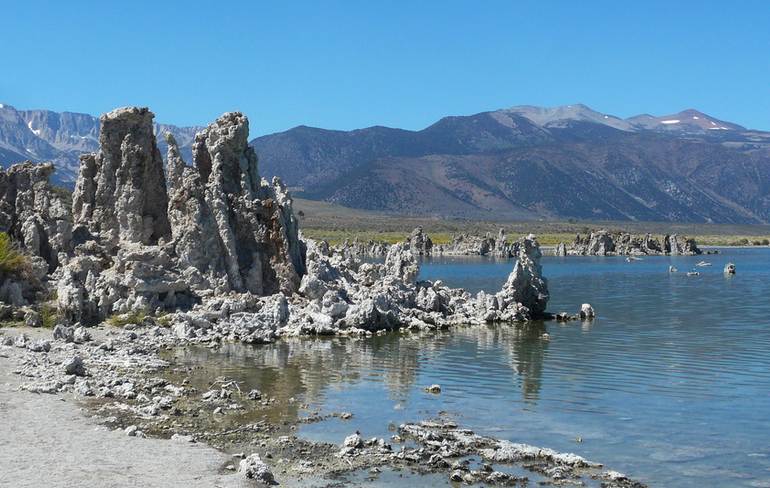 Mono Lake
Formed over one million years ago, Mono Lake is one of North America's oldest lakes. Since it was formed, the lake has supported a unique ecosystem that includes algae, brine shrimp and millions of migratory and nesting birds. Mono Lake is situated 33 miles north of Mammoth Lakes along Highway 395.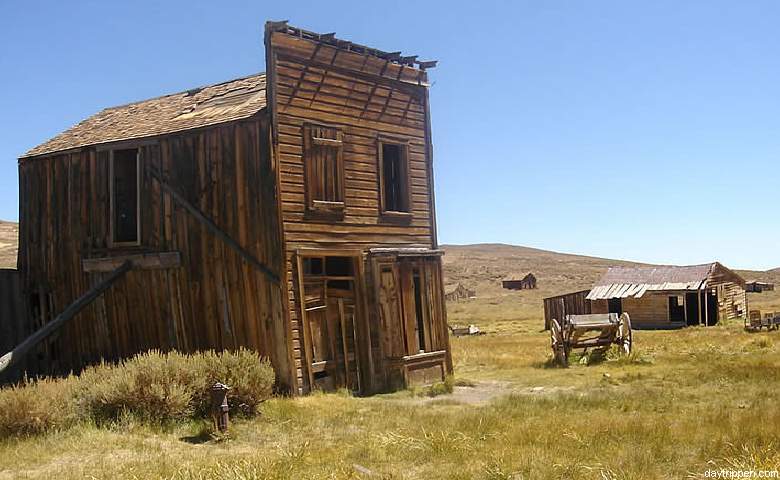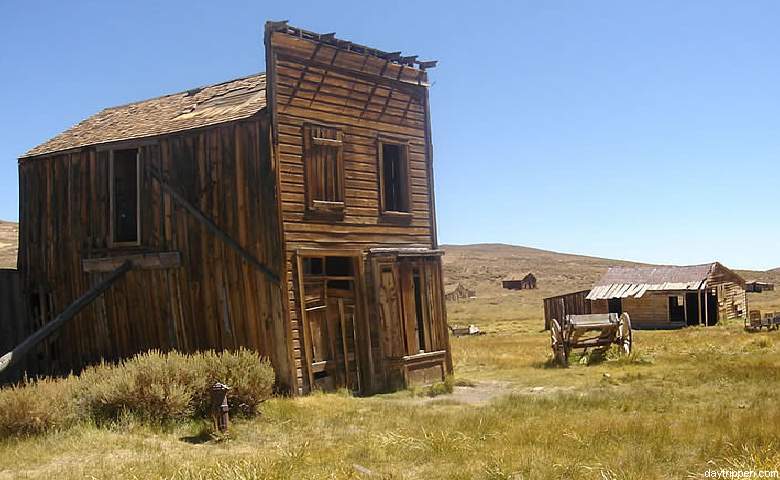 Bodie Ghost Town
Bodie State Historical Park was one of the wildest mining camps in the area but is now a ghost town that will fascinate the entire family. Bodie is California's official state gold rush ghost town. There are about 200 buildings in various stages of decay to explore and take photos of. Located in the high desert at elevations of 8375 feet Bodie State Historic Park is 60 miles north of Mammoth Lakes.
Whatever time of the year you visit Mammoth Lakes there is always plenty of things to do and see. Mammoth Lakes is located on Highway 203 off of Highway 395 about six hours from Los Angeles, three hours from Lake Tahoe and five to seven hours from the Bay Area. If you don't want to drive Alaska Airlines and United Airlines offer flights from LAX to Mammoth Lakes.