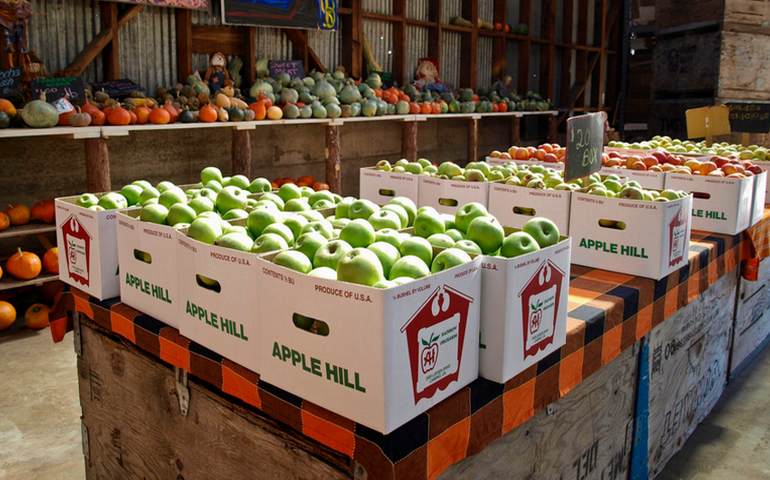 Apple Hill has been the perfect traditional fall family destination for a half a century, with its mix of kid-friendly activities and adult attractions, which includes over 50 u-pick apple ranches, a Christmas tree farm, a microbrewery with handcrafted beers, a spa and a few vineyards.
Although open year-round, the Apple Hill Growers Association, located in Camino, Placerville, and Pollock Pines California, is best visited in early October or November when apple picking is at its best and the changing colors of the fall leaves make the entire experience even more memorable.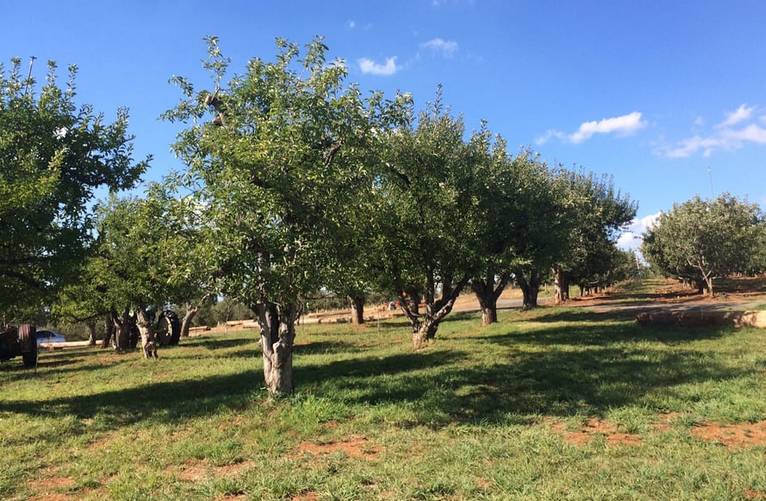 There is a lot to see and do, and for those looking to see everything in one trip, a good starting point is High Hill Ranch, which is by far the most popular Apple Hill destination.
Here families are encouraged to relax and have some fun, enjoying a picnic lunch while sitting around the trout fishing pond, or sipping a free sample of apple cider from a huge cider press. There are also hay rides, pony rides and face painting for the kids.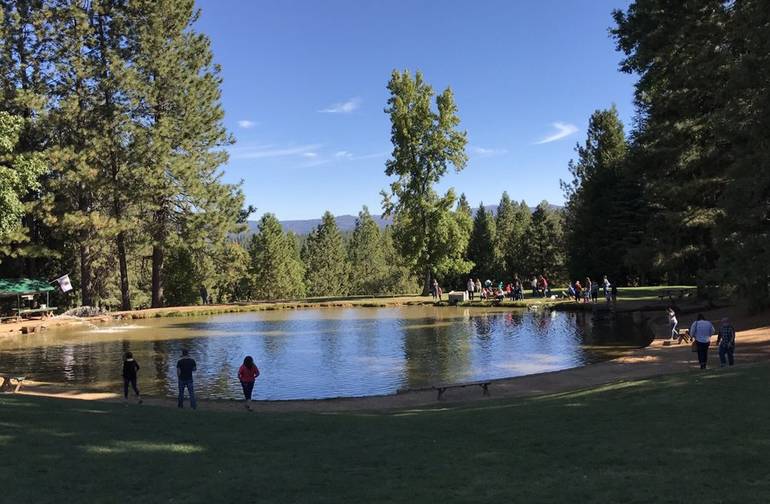 Next up is El Dorado Orchards, with its miniature train that transports guests around a big pond for just $3 a ticket. The kids will also enjoy feeding the ducks while waiting to catch the train.
Third on the list is Kids Inc., with its pumpkin patch and children's corn maze, that's just the right size for the kids to navigate on their own, but fun for adults too. Once the kids have successfully made it through the maze, there is a small animal farm that allows children and adults to roam about with goats, sheep, and a giant pig.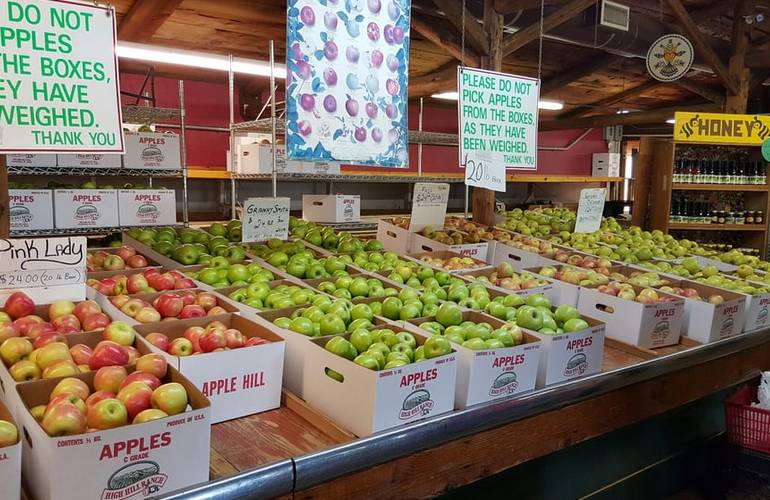 But even with so many activities to see and do, perhaps the best attraction to Apple Hill is the apple orchards themselves. U-Pick apple season is Mid-September through November, blueberry picking in Mid-June and U-Pick Pumpkins in October.
Visitors of all ages will enjoy wandering through the beautiful rows of trees, some that have paths that wind their way to tiny bakeries that make a variety of apple treats, including apple fritters and apple cider doughnuts, caramel apples, apple turnovers, apple butter, and apple pie with cider sauce of course.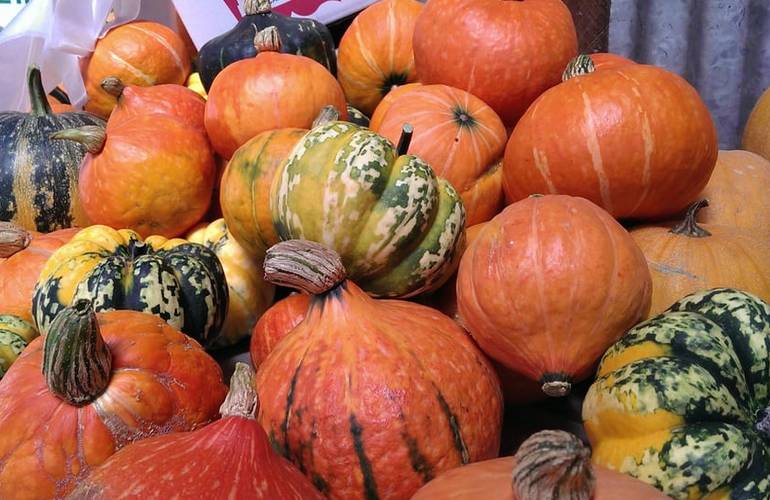 Among other places to visit while at Apple Hill, are Abel's Apple Acres, the Apple Pantry, Larsen's with it neat farm "museum," Apple Ridge Farms, Rainbow Orchards, and Mill View, with its famous pig roasting on a big barbeque and pony cart.
Your trip to Apple Hill is not just about apples. There are several family-run wineries on the hill including Boeger Winery, Lava Cap Winery, ParaVi Vineyards and Wofford Acres Vineyards. There is even a brewery for beer fans.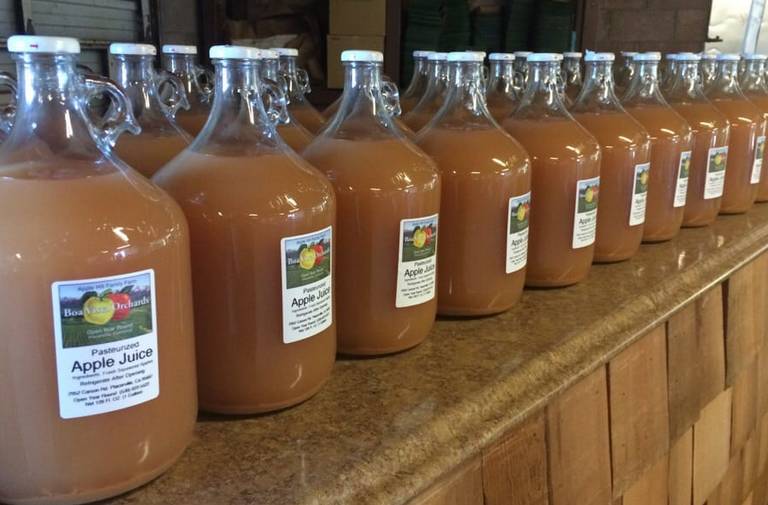 Annual events Apple Hill: Art in the Orchard September, Johnny Appleseed's Birthday September, Harvest Run November, and Apple Blossom Days … Last Weekend in April.
As you can see there is plenty going on at Apple hill year round so just about any day is a good time for a day trip.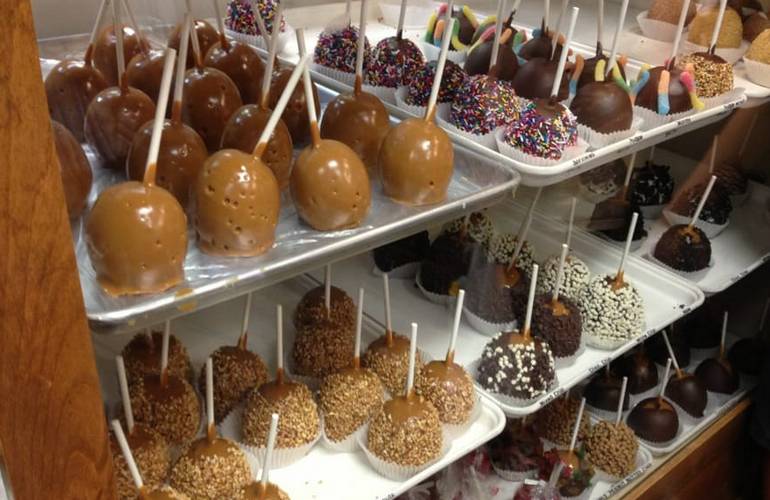 All in all, Apple Hill is sure to delight visitors, and the kids will unanimously agree that it's an inexpensive family trip that should be taken every year. There is no charge for parking or to get into any of the ranches, and the activities are a modestly priced.
Apple Hill is located just northeast of Placerville about one hour east of Sacramento. Before you go be sure to print out a map of the area's attractions.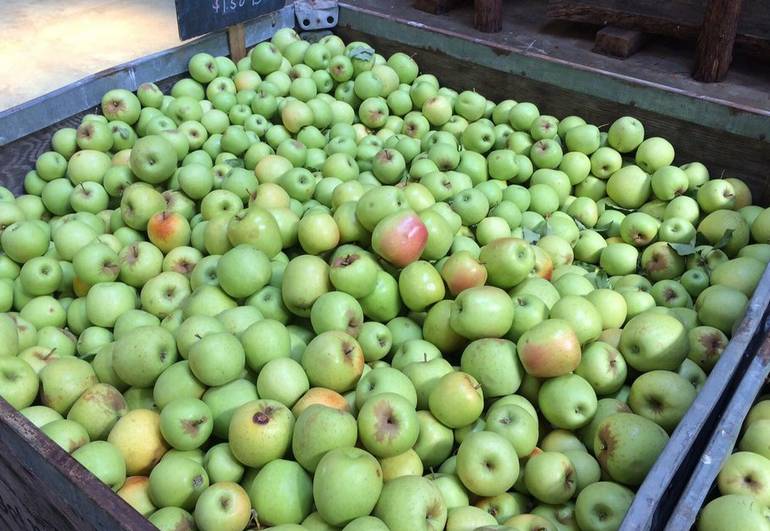 Recommended off Highway 50 are exits 48 or 54, although you may take any exit marked "Apple Hill Scenic Drive" located between exits 48 and 54.