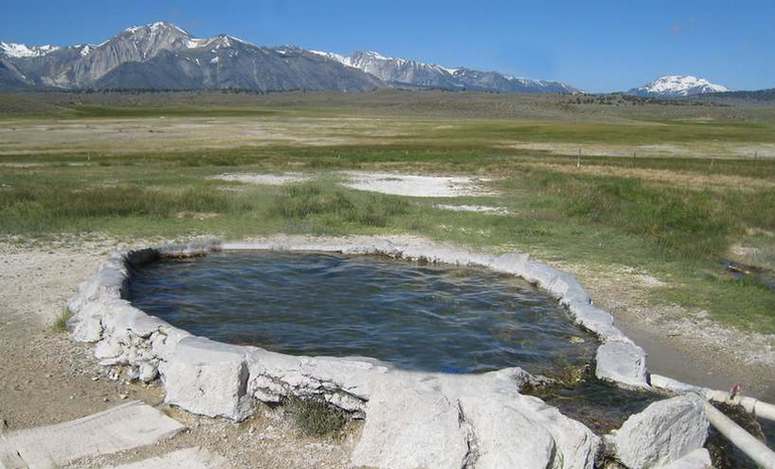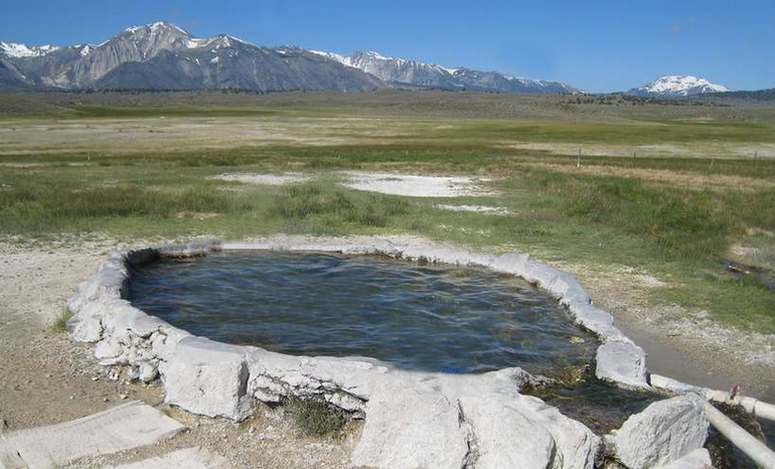 California's Eastern Sierra region offers adventurous travelers numerous opportunities to soak and soothe the senses. Hot mineral water pools can be found in the upper Owens Valley to Bridgeport. Many primitive natural hot springs are located off Highway 395 and are maintained by locals. Check out our list of Southern California Hot Springs.
Northern California Hot Springs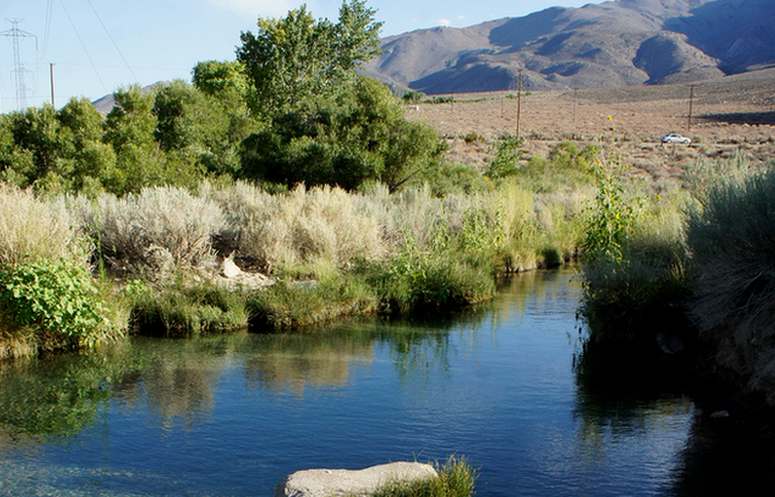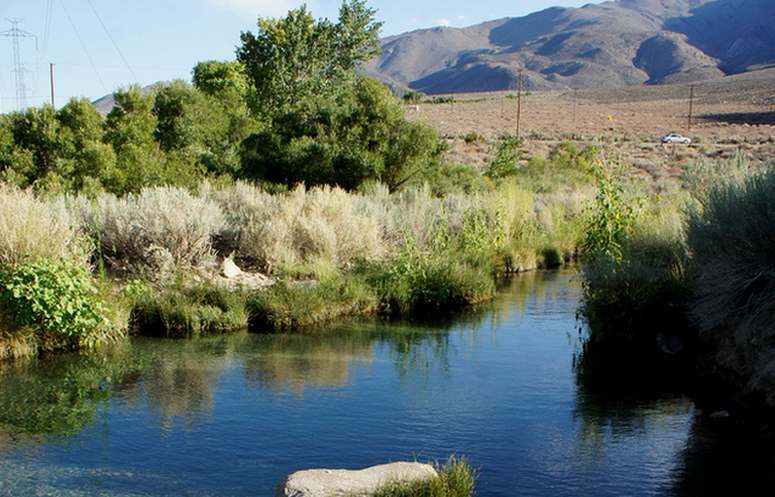 The hot mineral water that fills hot ditch pools drains from Keough's Hot Springs Resort. Hot Ditch is a series of pools made by rock dams across a creek. Water temperature runs about 80- 90 degrees, perfect for a relaxing dip.
Keough's Hot Springs Resort was established in 1919 and is home to the most significant natural hot springs pool in the Eastern Sierra. A day at the resort costs ten bucks. Taking a dip in the Hot Ditch pools is free. If you are traveling with family, we recommend using the resort facilities for your hot springs experience. Keough's Hot Springs is located 8 miles North of Big Pine along Highway 395.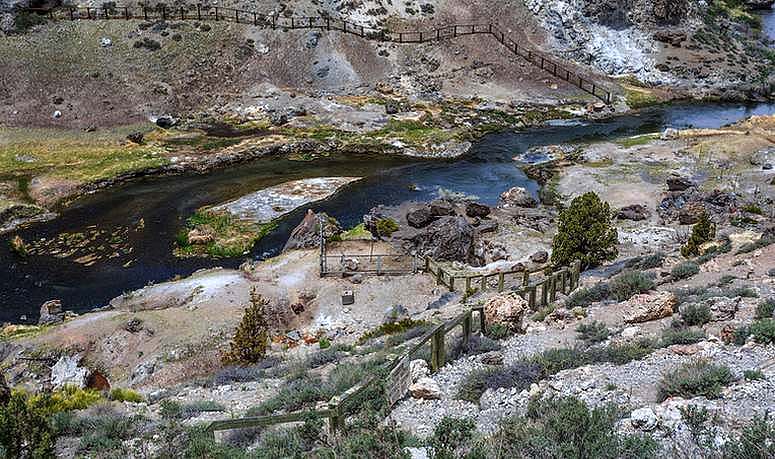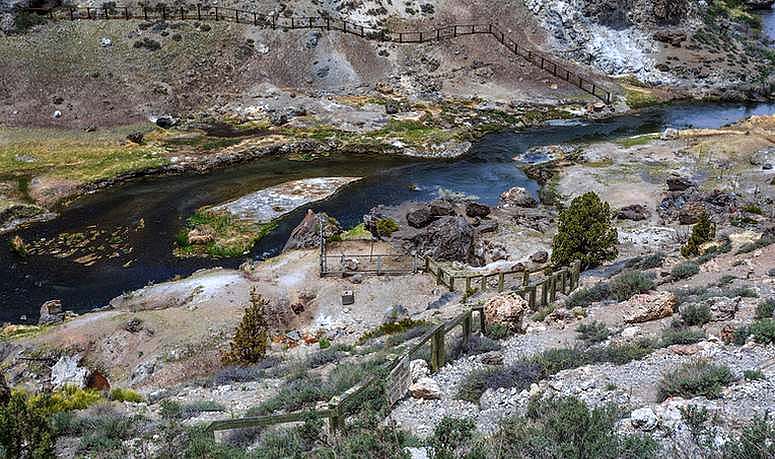 Mammoth Hot Creek
Mammoth Hot Creek Geologic Site. Swimming and bathing here are not advised; however, many people do. There is a mix of cool creek water and boiling pools. The trick is to find a balance between the two. Some of the hot springs here are hot enough to cause severe burns; caution is advised. The Hot Creek Geologic Site is an exciting place to visit, even if you don't take a dip.
Mammoth Hot Creek Geologic Site is three miles south of Mammoth Junction on US 395. Exit Airport Road and drive past the Hot Creek Fish Hatchery to the parking lot. There is a trail down to the creek.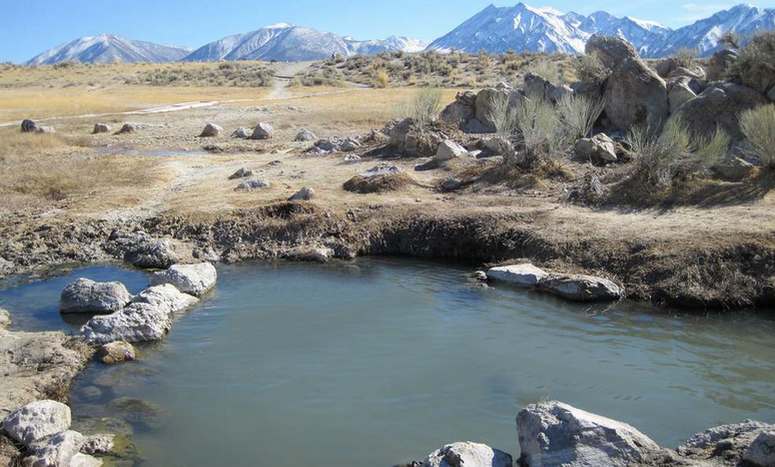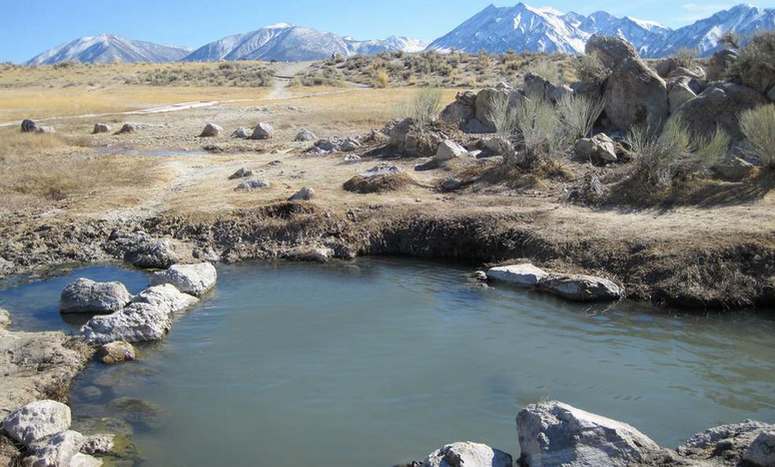 Crowly Hot Spring (Wild Willy's)
Located only a few miles from Mammoth Lakes is Crowly Hot Springs, also known as Wild Willy's. This hot mineral pool flows at about 103 degrees year-round and can hold large groups. Clothing optional is the rule here, like many other hot springs in the area. There are two pools here, the larger ones in the picture and a smaller one further down the creek.
Directions to Wild Willy's hot springs. From US 395 exit on Benton Crossing Road. Drive a little over two miles until you cross over two cattle guards. Turn right after the 2nd cattle guard and follow the road. Drive about a mile to the parking area. Follow the wooden boardwalk to the mineral pools.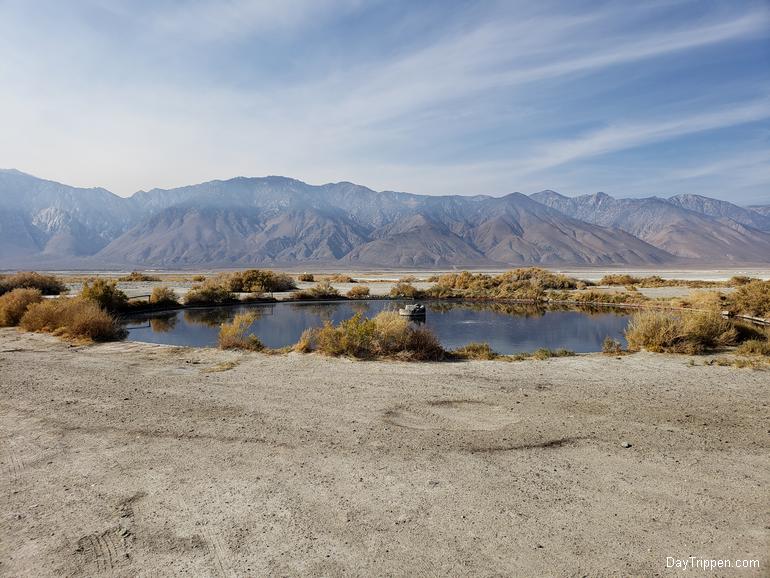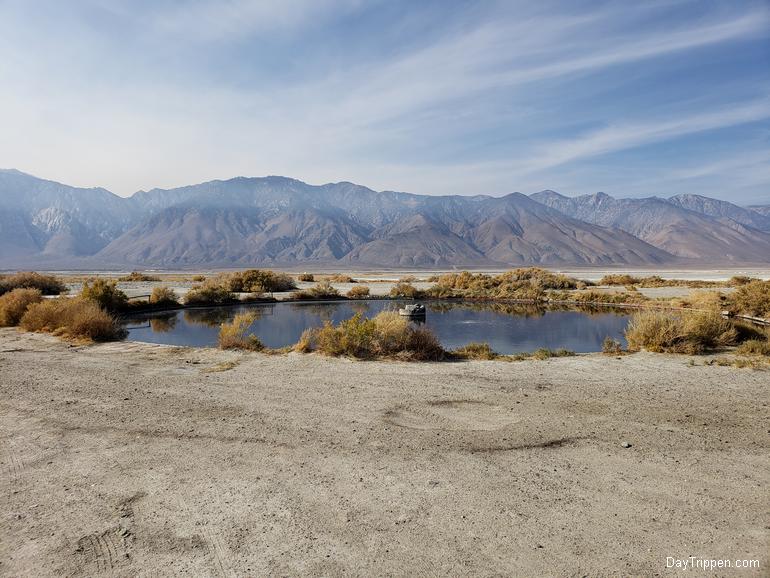 Located on the southeastern edge of Owens Lake, Dirty Socks Hot Spring was once a popular camping spot for travelers. Today the hot pool is overgrown with green algae, and only the most adventurous hot spring fans take a dip in the 90-degree water.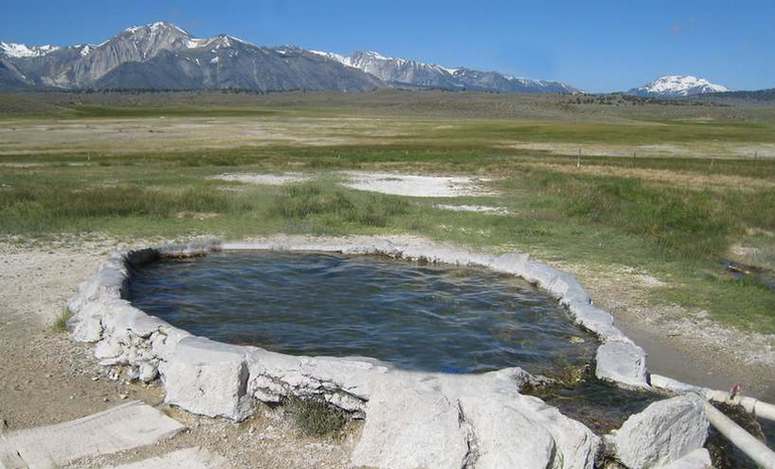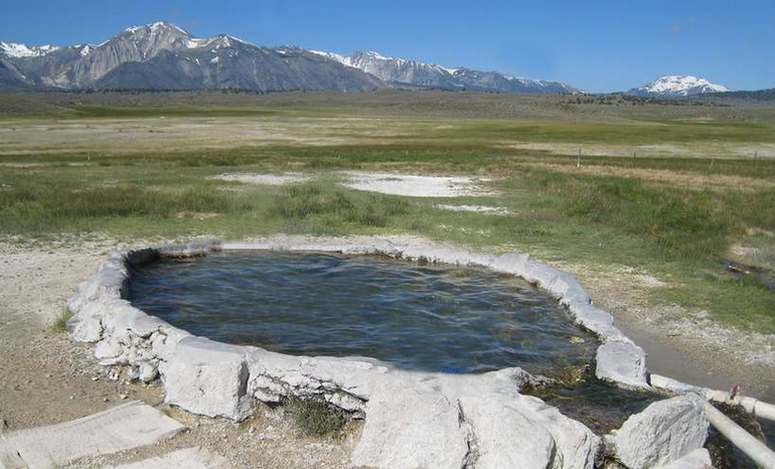 Pulkey's Pool Hot Springs
Hilltop is a popular concrete tub fed by a hot spring near Mammoth Lakes. Due to its location, only steps from Benton Crossing Road chance are you will not be alone here for very long. Pool temperature hovers around 110 degrees. The best part about Hilltop (Pulkey's Pool) Hot Springs is the fantastic view of the Sierra mountains.
Directions to Hilltop hot spring from Mammoth Lakes. South of US 395. Right on Benton Crossing Road. Just under three miles, the Hot Springs will be visible on the left side of the road. A dirt road leads to a small parking area. There are several other hot springs nearby in Shepherd Hot Spring.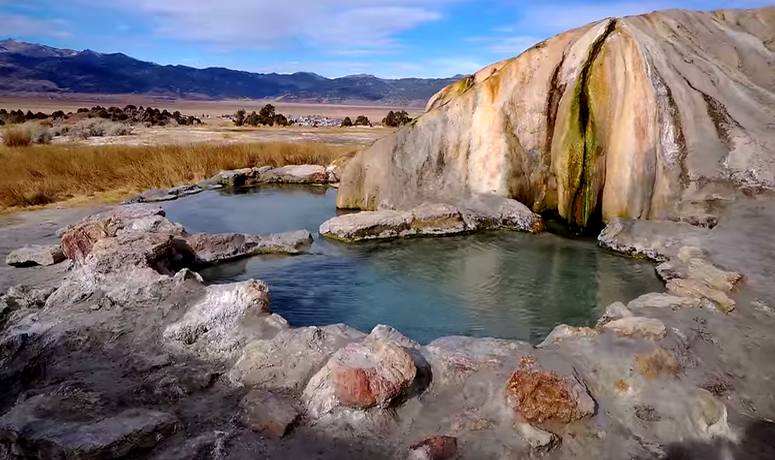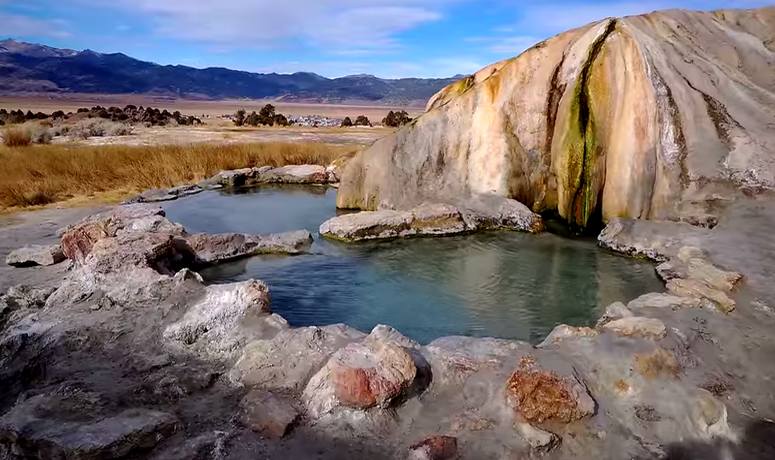 Travertine Hot Springs, Bridgeport, CA
Travertine Hot Springs mineral water flows down a rock face into several pools. The temperature of the water varies from about 110 degrees to about 90. The hot springs can be found just off Highway 395 before you enter the town of Bridgeport. You can drive to within about a few hundred feet of the hot springs, so this place is trendy.
Travertine Hot Springs offers a fantastic view of the Sierra Mountains as you soak. There is a smaller concrete pool next to the parking area, but this one is scorching, so it's best to soak in the larger pools.
Directions to Travertine Hot Springs. Take the road behind the ranger station south of Bridgeport off 395. Follow the road for just over a mile to the parking area that has a portable toilet. Hot Springs are just a short walk.
Buckeye Hot Springs Bridgeport
Buckeye Hot Spring is located North of Bridgeport near Twin Lakes Resort. This incredible hot springs pool is on the bank of Buckeye Creek, separated from the creek by a rock dam. Hot mineral water flows over a cliff and drops into the pool.
This hot spring is on federal land, and clothing is optional. Don't be surprised to see skinny dippers at Buckeye Hot Spring. There are several pools, each with its temperature, but none is too hot. The trail down Buckeye Hot Spring is steep and slippery, but the effort is well worth it.
Directions Buckeye Hot Springs. From North Bridgeport, exit 395 to Twin Lakes Road. Travel 7 miles and turn right onto Buckeye Campground road. At the top of the hill, there is a parking area. Follow the trail to the hot springs.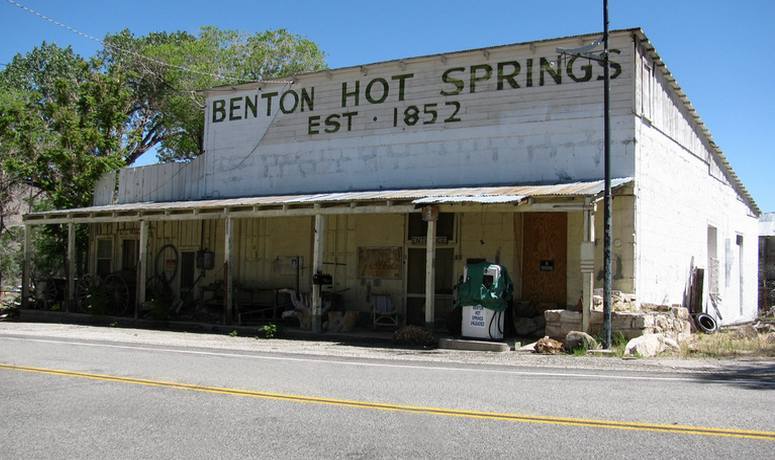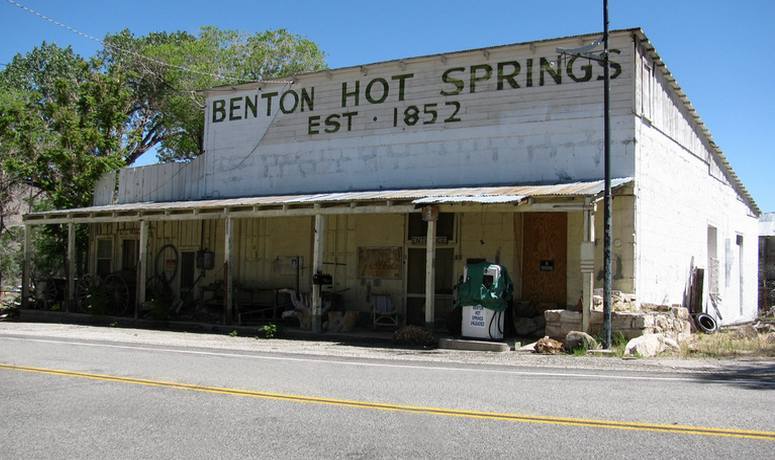 Benton Hot Springs, a former stagecoach stop, is home to the Benton Springs Inn. At one time, Benton had a population of around 5,000 and was a stop on the Carson and Colorado Railroad. Today the town only has a few residents, but visitors still come to this remote town to soak in the hot mineral water tubs.
The Inn at Benton Hot Springs features 10 Camping Sites with hot tubs. The Inn also offers rooms and a two-bedroom cottage for guests. All tubs are clothing optional. Guests staying at one of the rooms at the Inn share three private outdoor soaking tubs and enjoy a hearty breakfast. Benton Hot Springs is located 31 miles north of Bishop on Highway 6.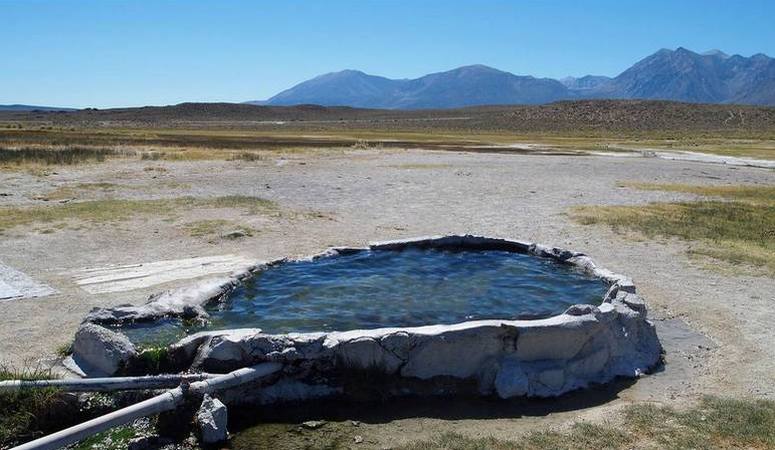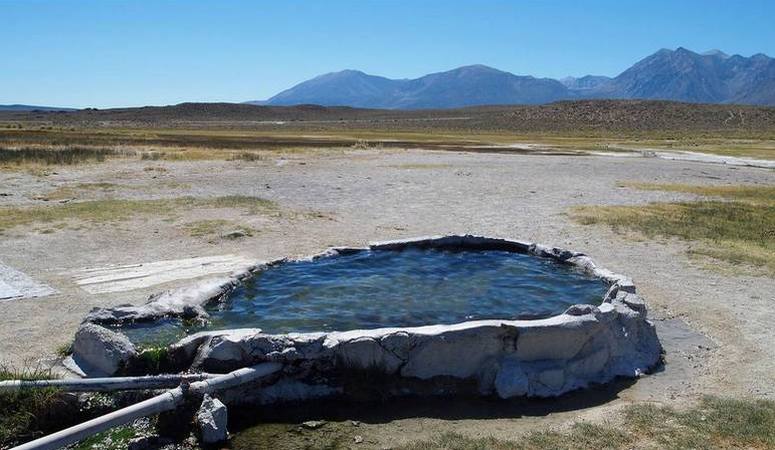 Crab Cooker Hot Springs
Crab Cooker Hot Springs Tub is located in the same area as Shepard's Hot Springs and Wild Willy's. These hot springs are located near Little Alkali Lake off Benton Crossing Road from Highway 395 near Mammoth Lakes Airport. Water temperatures run around 100 degrees in the crab cooker since it is fed by pipes that run from the source.
This allows the mineral water to cool down before flowing into the tubs. Crab Cooker water is controlled by an inlet valve and a drain plug. The tub holds about four persons. If you see the tub is occupied, try one of the nearby hot springs.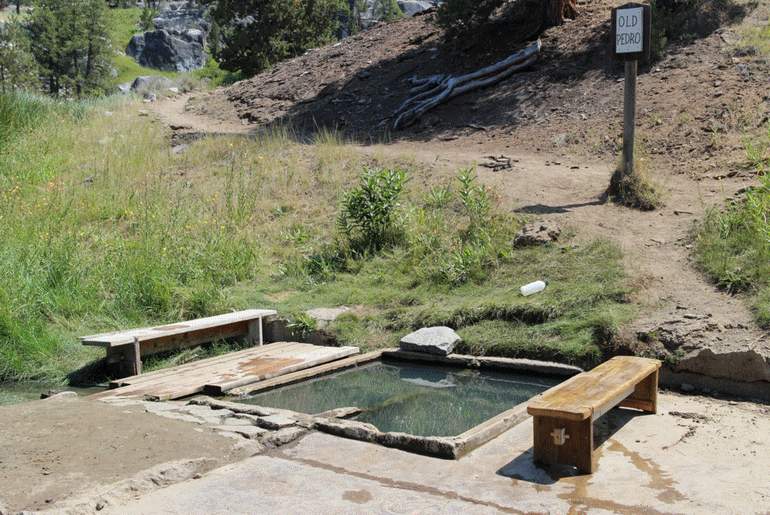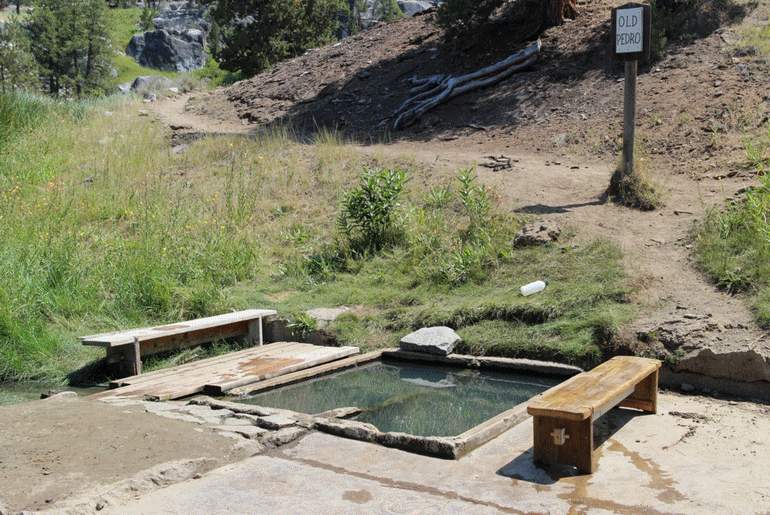 Mono Hot Springs is located in the Sierra National Forest, northeast of Fresno. Natural Hot Springs dot the area. The two most popular places to soak Old Pedro and Iodine Spring are within an easy walk of the resort. These concrete line pools average about 100 degrees Fahrenheit year-round.

Located on the edge of the Montgomery Woods State Reserve, Orr Hot Springs Resort features rooms, cabins, yurts, and day-use facilities. Originally called Orr Hot Sulphur Springs, the resort was a stop on a stagecoach line to Mendocino. Natural hot spring water fills private and communal Tubs that range from 100-105 degrees. Orr Hot Springs Resort is situated in a remote location in northern California. Clothing optional. Website.  Orr Hot Springs Resort 13201 Orr Spring Road, Ukiah, California.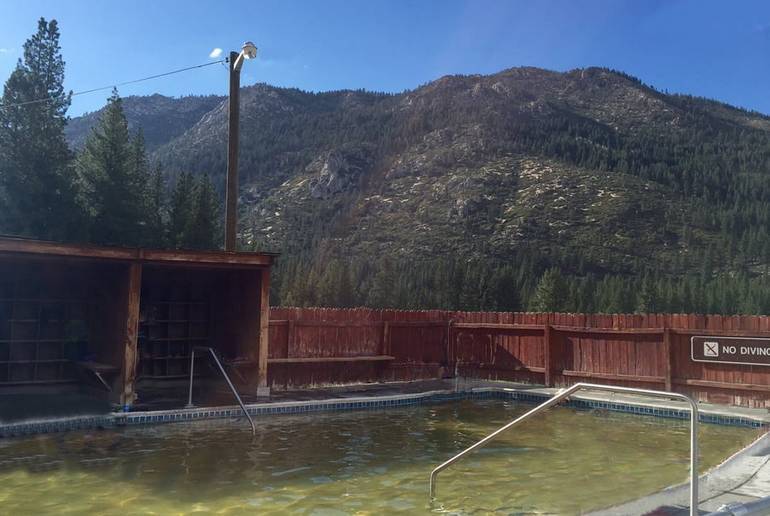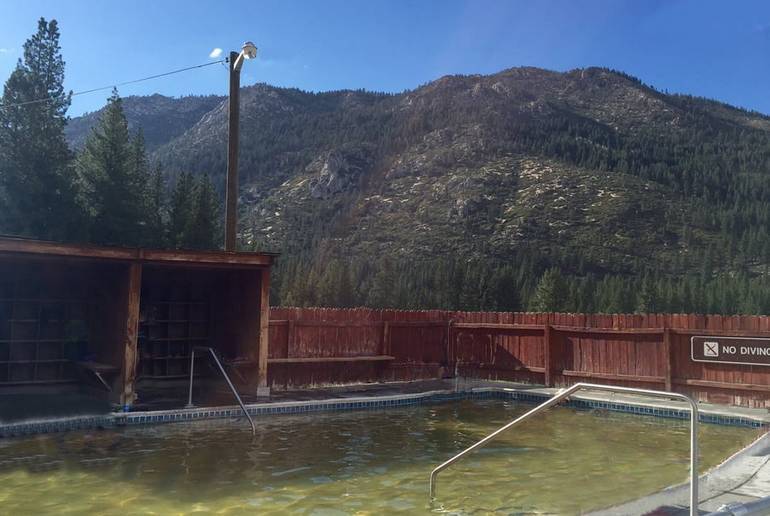 Established in 1959, the 553-acre park possesses hot spring water in a pool built in the 1950s, and on a cold winter's day, visitors can sit back and relax in the hot greenish color waters that refract the mineral deposits on the bottom of the pool.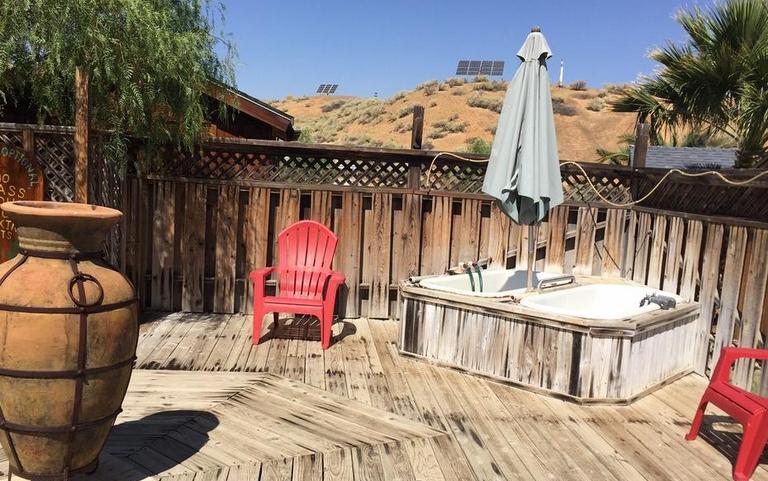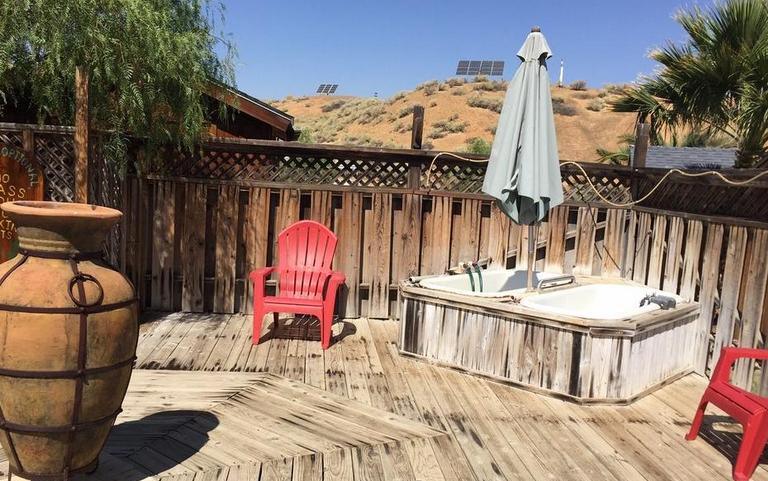 Mercey Hot Springs has been in operation since the 1930s. Tucked away in the rolling hills of Fresno County, this historic resort offers a chance to soak in tubs filled with natural mineral water. Day passes are available for a quick soak. For more extended visits, guests can rent a cabin or stay at the campground. RV and tent camping are allowed.
Southern California Natural Hot Springs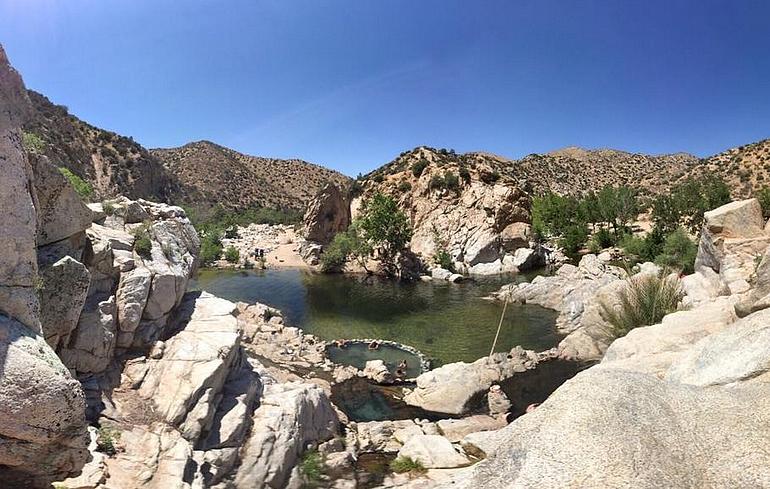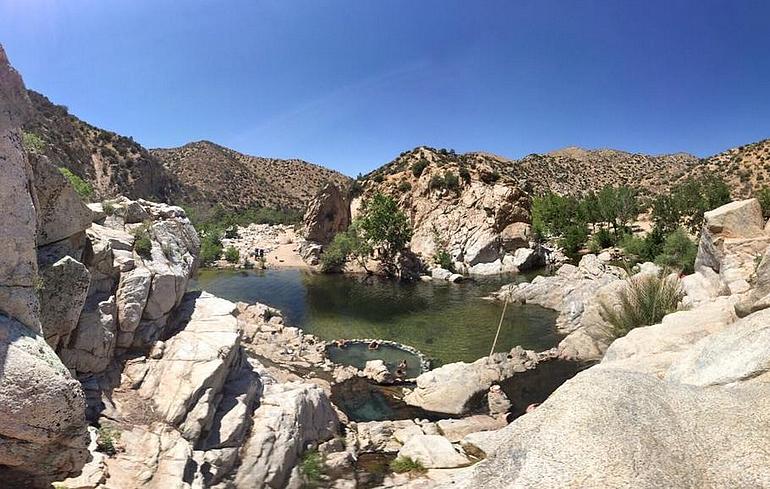 Deep Creek is a popular skinny dipping destination in the foothills of the San Bernardino Mountains. A moderate two-mile hike takes you to one of the most amazing hot springs in California.  There are five hot pools located adjacent to and in the rocks above the creek.
Nude bathing is the norm here, with some visitors taking the extra step to hike to the springs in the nude. Deep Creek Hot Springs is day-use only; no camping is allowed here.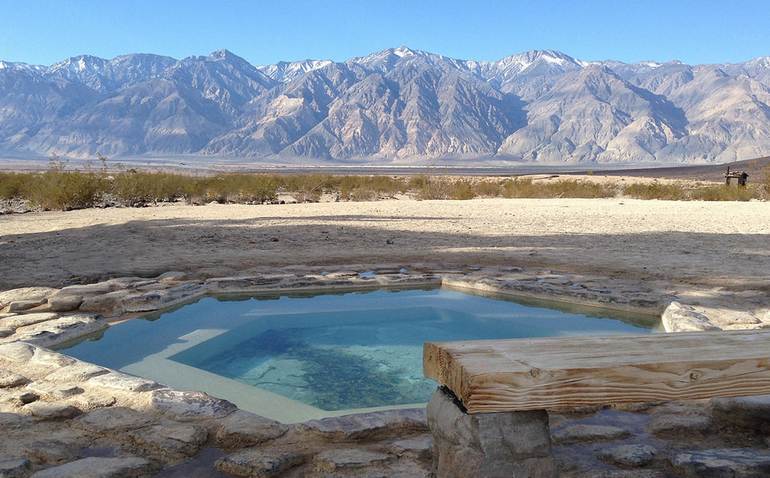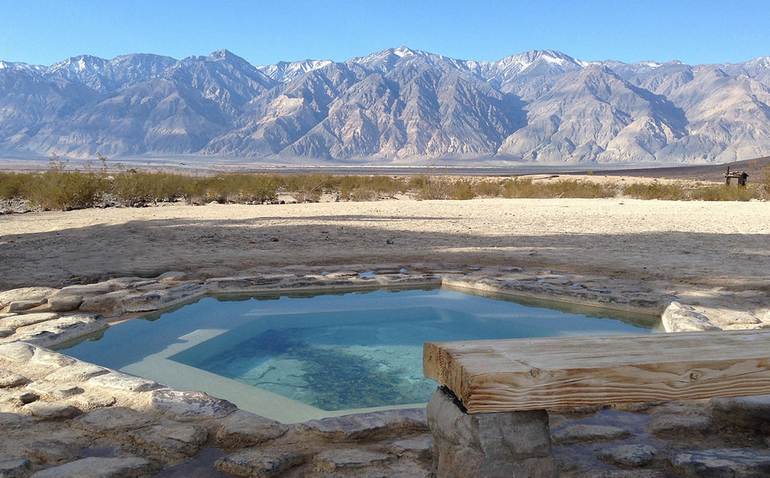 Warm Springs is located in a remote region of Death Valley National Park. The closest paved roads are 50 miles from the hot springs. For travels that brave the desert to reach the Saline Valley, they are rewarded by one of the most amazing places to soak in hot mineral springs.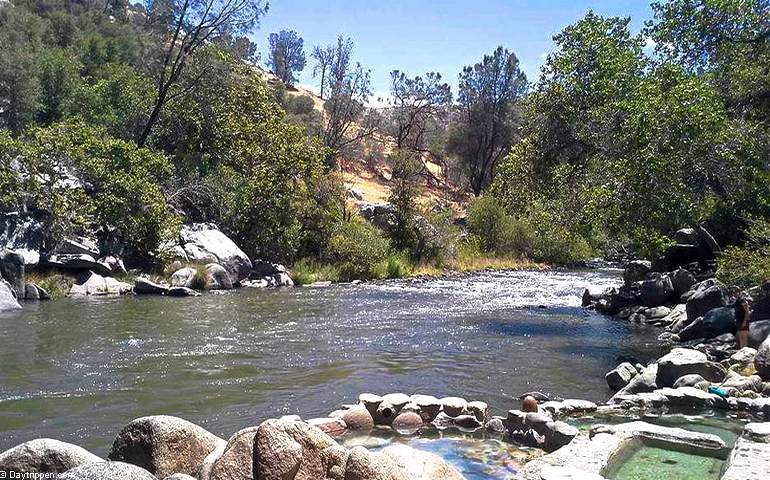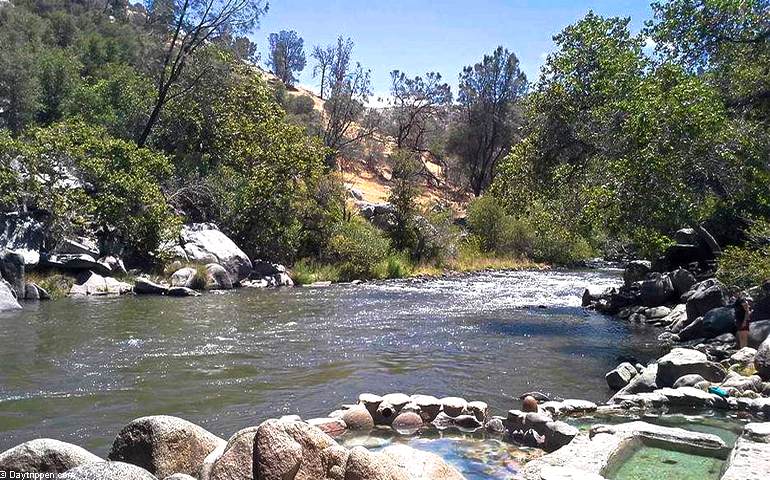 Remington Hot Springs Kern River
Remington Hot Springs is located along the Kern River at the southern end of the Sierra Nevada range.  The hot springs are managed by locals who do their best to keep the place clean however some people leave a mess. Remington Natural Hot Springs are very popular. If you see the parking lot full, you will have to wait for a dip.
Do not leave any valuables in your car, especially if you visit in the evening. You can soak in the hot tubs and enjoy the fantastic view of the Kern River.  Remington Hot Springs are located near the hobo campground along Kern River Canyon Road.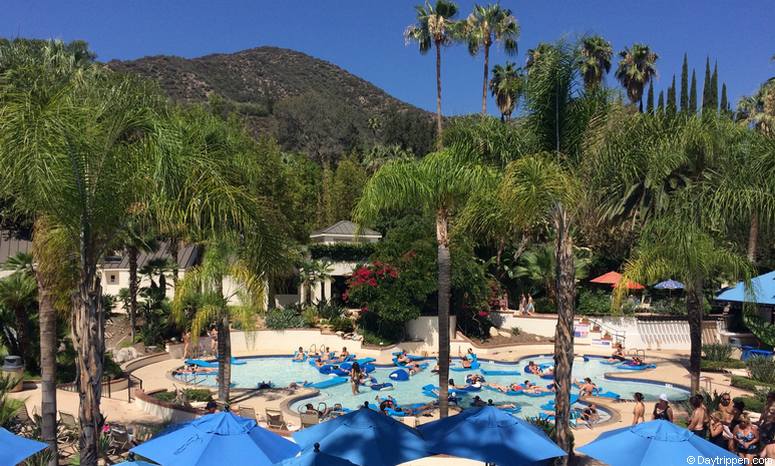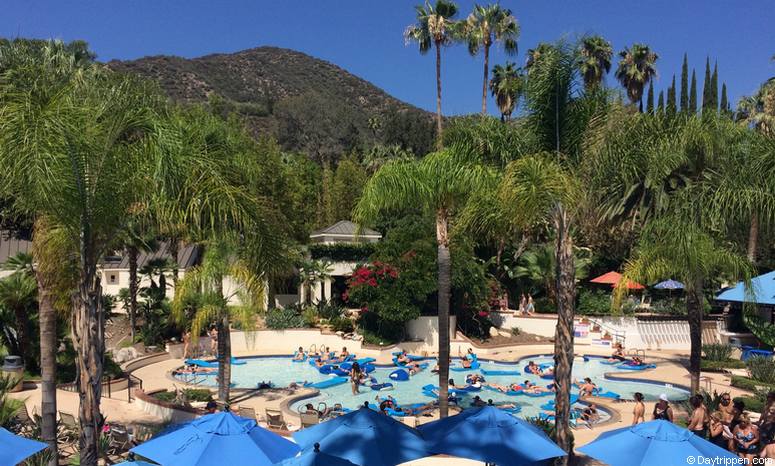 If you are looking for a place to soak in hot mineral water but do not want to venture off the beaten path, Glen Ivy is the place for you. One of the most popular attractions at Glen Ivy is Club Mud. Cover yourself with mud, allow it to dry, rinse off, and enjoy how smooth and soft your skin feels after the treatment. A day at Glen Ivy Hot Springs can get expensive, but you are worth it.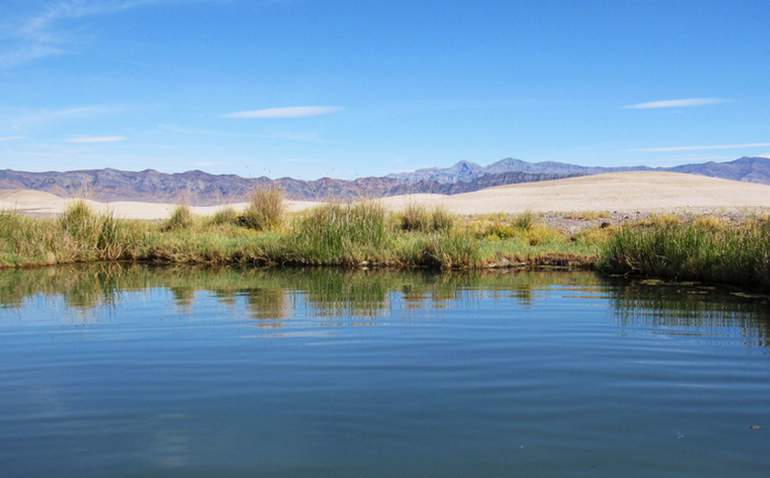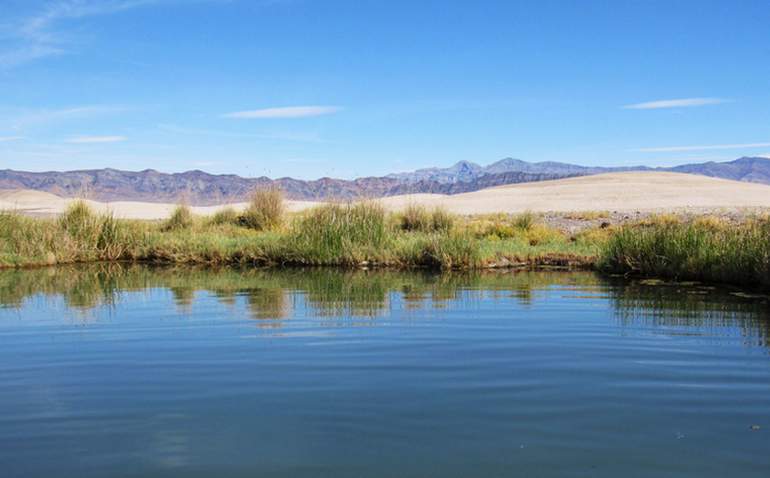 Tecopa Hot Springs spring water will leave your skin smooth and refreshed after a long day of hiking. Public natural hot springs and a couple of older spas that charge a daily fee can be found at Tecopa. Nude dipping is the norm here.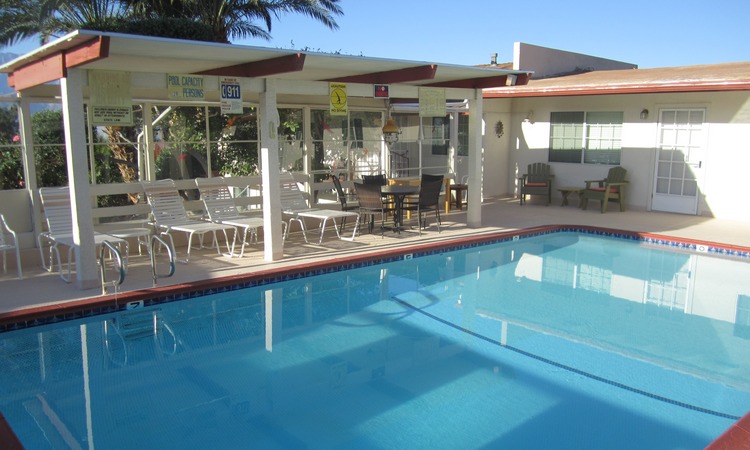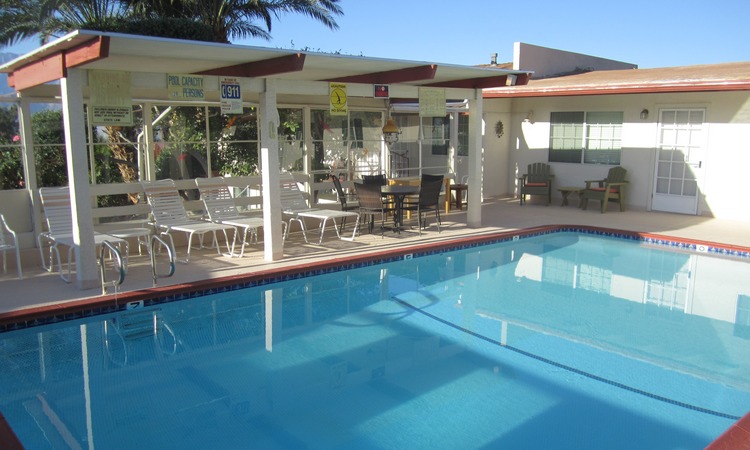 This relaxed spa town is supplied with abundant streams of hot mineral water that are piped to the surface to fill the pools and tubs of hotels and spa resorts. It is a perfect getaway for a day or weekend getaway.  Desert Hot Springs is a great place to escape the city and soak in hot mineral water. Most spas offer day passes for a quick dip.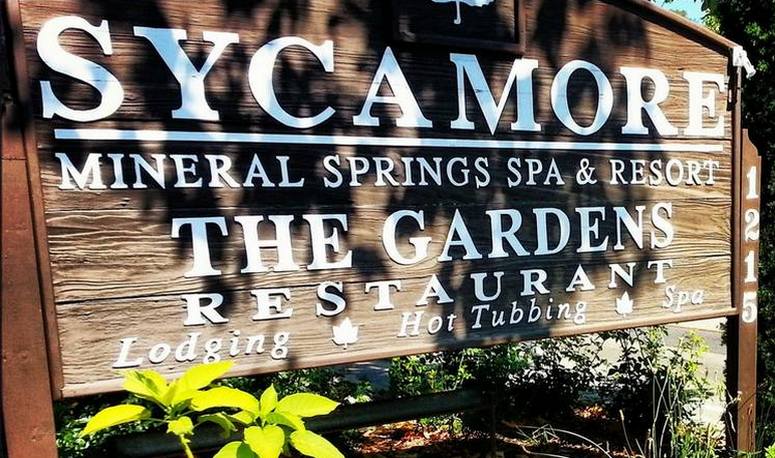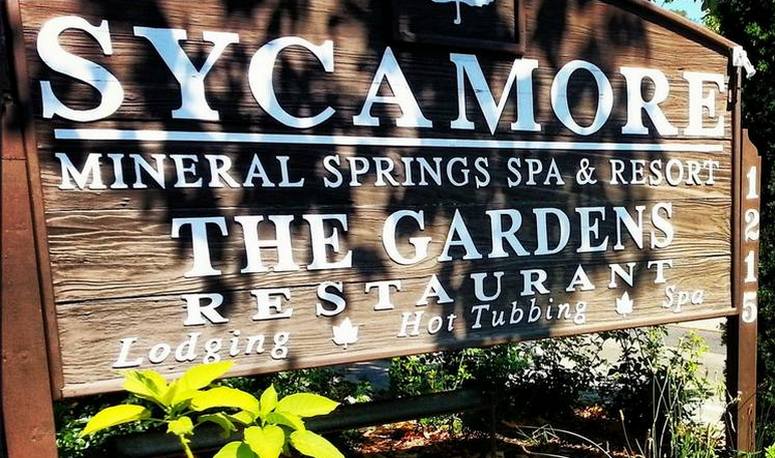 Sycamore Springs is located along the California Central Coast in Avila Beach and developed Natural Hot Springs where guests can rent a hillside hot tub by the hour or stay overnight at the resort and enjoy a private balcony with a mineral water hot tub. Visit the resort's website for more details and reservations.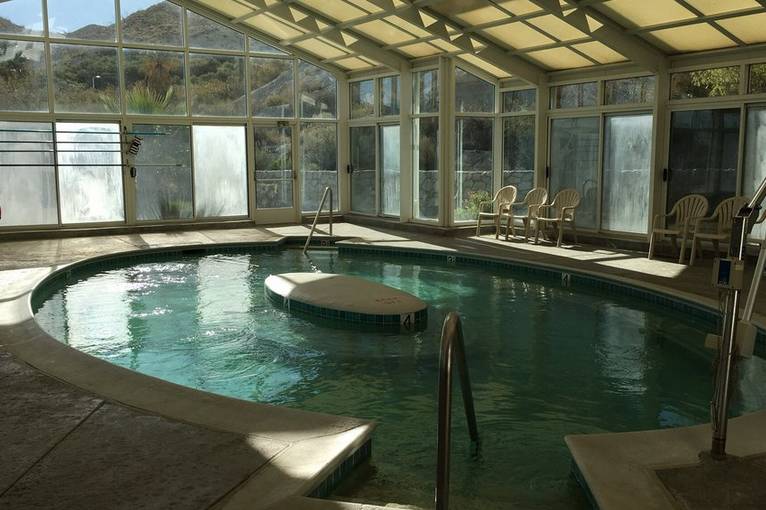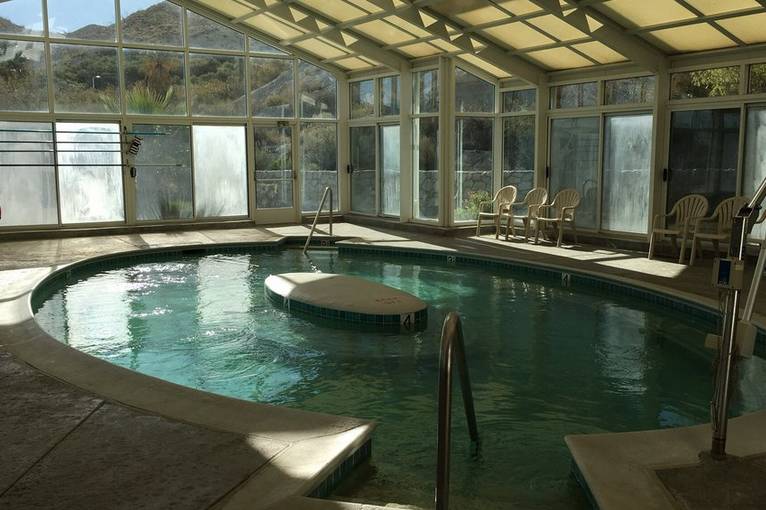 This remote but popular park features there pools heated by naturally-fed hot springs. The outdoor pool is kept at 90 degrees, while the indoor pool is heated to 102 degrees. A large campground has 140 campsites, plus there are seven cabins available for rentals. Address: 39555 Great Southern Overland Stage Route of 1849, Julian, CA 92036.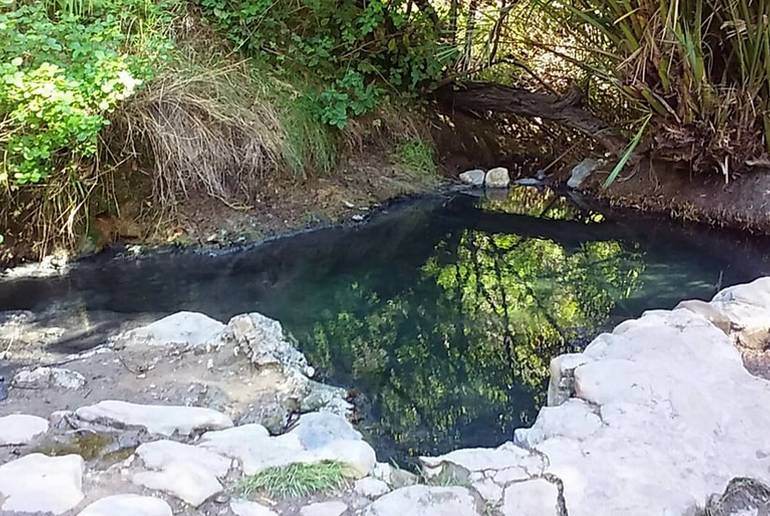 Gaviota Hot Springs Pool
Gaviota Hot Springs is a small pool located just off Highway 101 near Gaviota Beach State Park. From the parking area, the hike is about a 1/4 mile. There is a small parking fee, be sure to pay the park rangers to give out tickets. The pool is relatively small, and water temperatures are lukewarm at best. But if you are in the area, it's worth a look.
There is poison oak along the trail, so be careful—Directions Gaviota Hot Springs from Santa Barbara.  Follow highway 101 north until it turns inland at Gaviota Beach. Continue past the tunnel and turn off on the Highway 1 exit (Lompoc Exit). Turn right at the stop sign and follow the road adjacent to 101 for about a 1/4 mile to the parking area. The trail to the hot springs starts at the parking area.
In the late 1880s, San Juan Hot Springs was a popular resort with huge swimming, a pool dance hall, and cottages. By the early 1940s, the resort had fallen into disrepair and was abandoned. During the 1960s and early 70s, the springs, although run down, were a popular hangout for bikers and hippies.
After a short-lived revival by a private developer, the springs were vacated for good. Several hot pools are still on the property and have recently been cleaned up and are hot and running.
Nevada Natural Hot Springs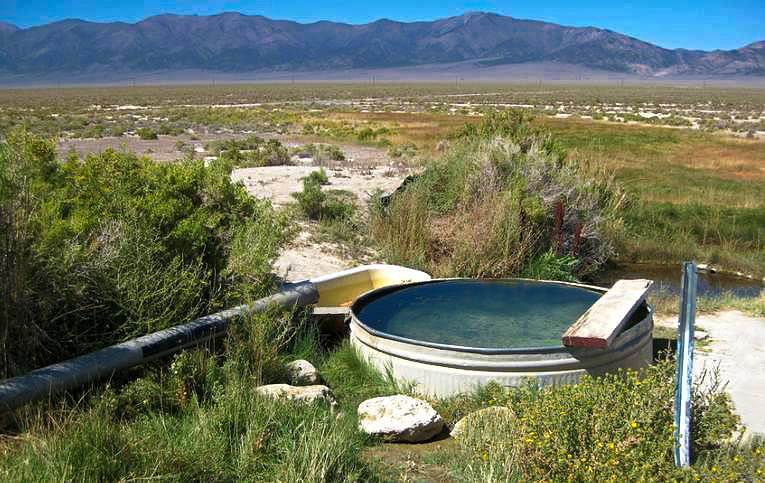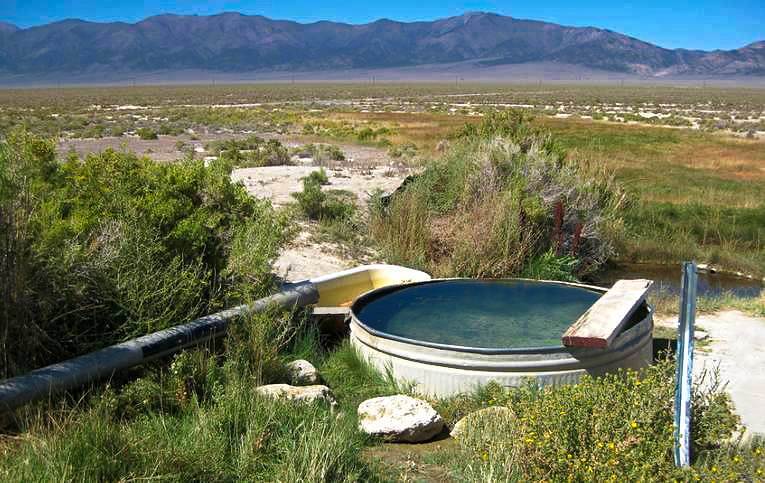 There are more naturally occurring hot springs in Nevada than in any other state.