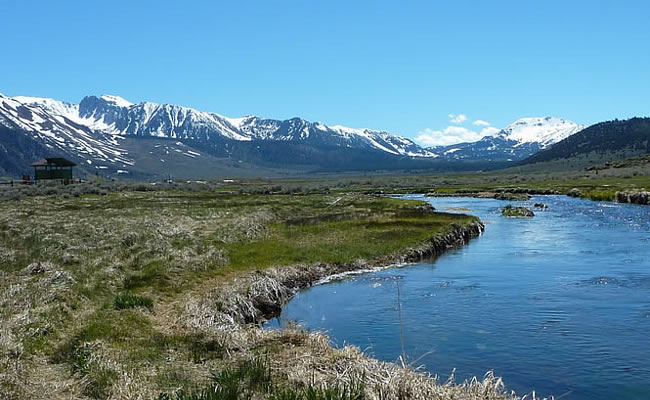 For the fisherman, a trip to the towering peaks of the Sierra Nevada Mountains of California offers a unique and unforgettable freshwater fishing experience. The vast Sierra Nevada Mountain Range runs north and south for 400 miles and 70 miles east and west.
There are three National Parks within its borders — Yosemite in the north and Sequoia and Kings Canyon in the south.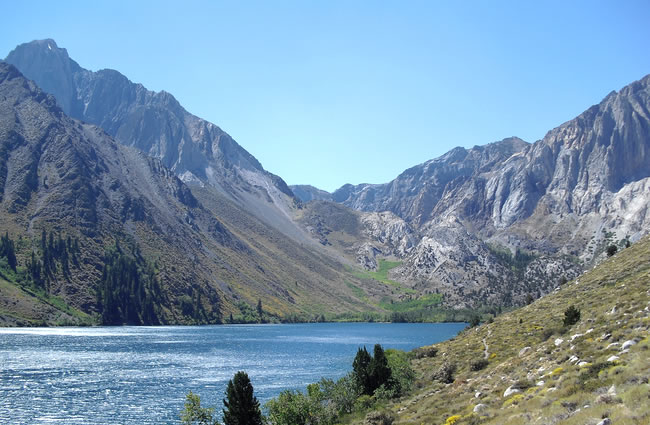 This mountain range is home to the biggest alpine lake in North America, Lake Tahoe, as well as two National Monuments and 20 National Wilderness Areas, many of which are cradled in the wooded alpine setting.
The Sierra Nevada's are home to hundreds of freshwater lakes, some of them you can pull up your car or RV right up to the water's edge. More remote lakes require a hike especially those that hold the coveted golden rainbow trout.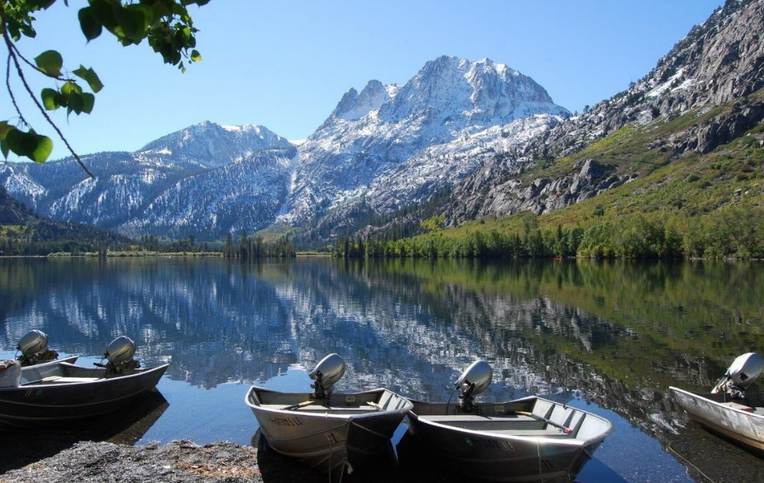 California High Sierra Alpine Fishing
For the fisherman that wants an opportunity to catch fish in an alpine setting, a trip to the high country means preparing both mentally and physically. The journey may be demanding but always a rewarding fishing trip. A good place to begin your high sierra fishing trip is Lone Pine. From here you can find numerous trailheads.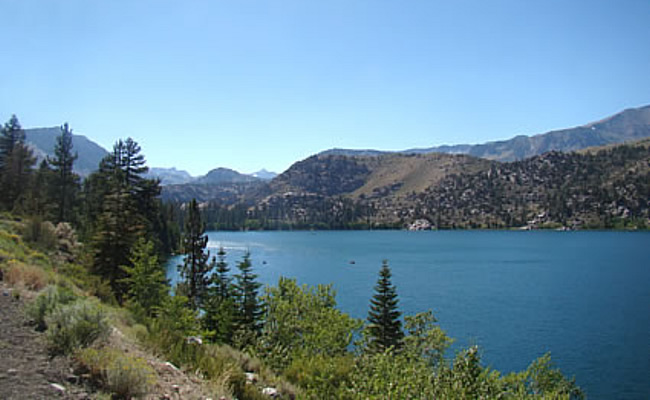 Cottonwood Lakes Basin, located at the southern edge of the John Muir Wilderness. Home to California's state fish — the Golden Trout and native Brook trout.
There are many unspoiled lakes and creeks located in this pristine area situated between Cirque Peak and Mount Langley, including Cirque Lakes, South Fork Lake, Muir Lake, and Long and High Lakes.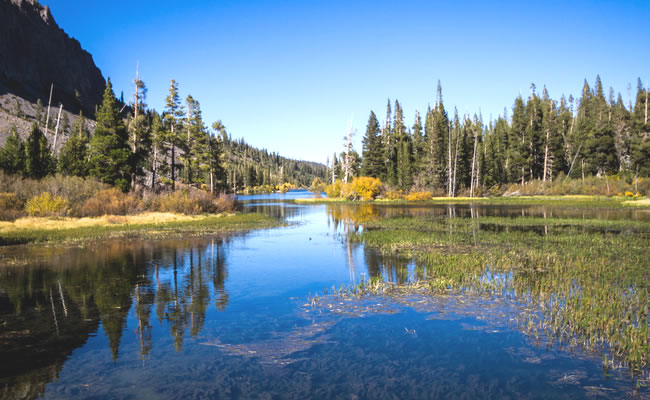 Mammoth Lakes Fishing
Mammoth Lakes has five gorgeous lakes only a ten-minute drive from town. Surrounded by acres of forest wilderness areas fishing opportunities are available for families and backpackers. June Lake Loop offers three popular fishing lakes: June Lake has two marinas where you can rent a boat or launch your own. Gull Lake has the best campgrounds and is the favorite of fishermen.
Rounding out June Lake loop fishing options are Silver Lake is the most attractive of the lakes to hikers interested in exploring the backcountry and Grant Lake the largest lake in the loop.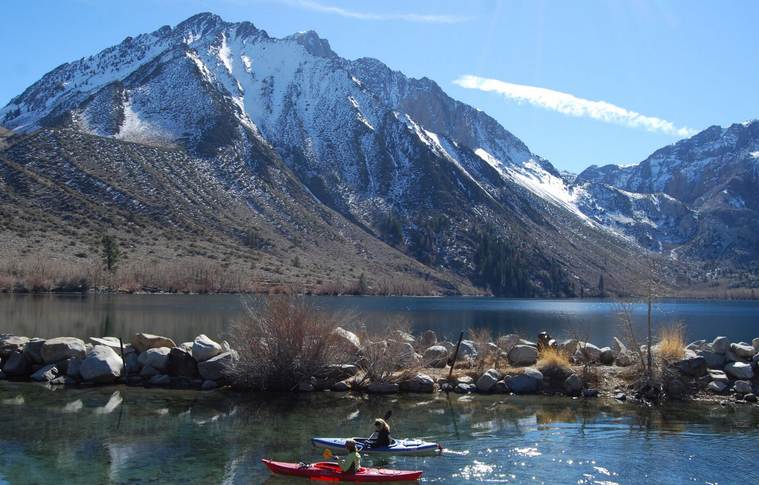 California High Sierra Wilderness Fishing
Fisherman traveling into the Sierra Nevada High County from the north can access several of the lakes in the Twenty Lakes Basin area, northwest of Saddlebag Lake, just outside Yosemite in the Hoover Wilderness area.
With its amazing jade color appearance, Saddlebag Lake Resort is host to numerous outdoor activities including hiking, boating and of course, fishing. Stocked with trout, the lake, like many of the others in the area, is the result of the run-off from the Conness Glacier.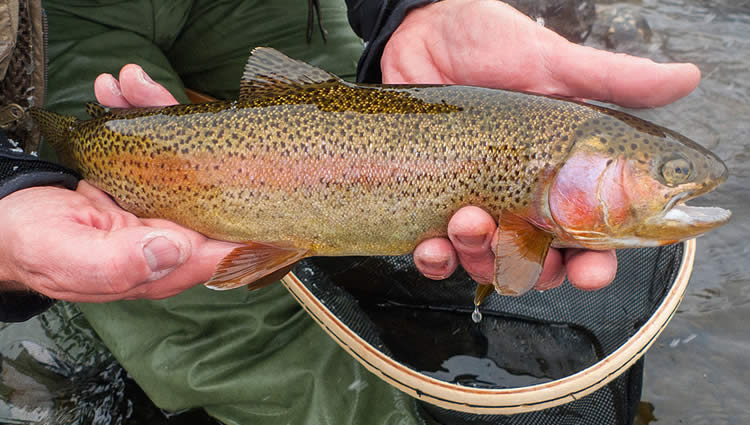 The California Department of Fish and Wildlife has an extensive stocking program so chances are you will catch fish on this trip. Preparing for a High Sierra fishing adventure, requires several other things, including a California fishing license.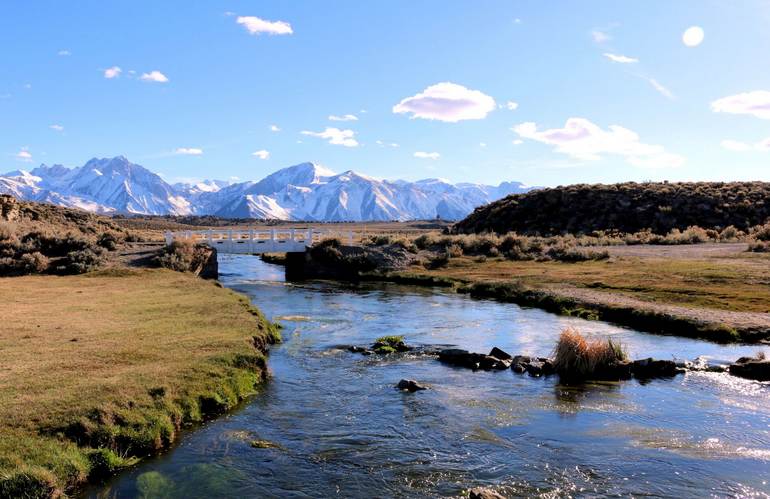 California High Sierra Fishing
Overnight and backcountry permits are needed here as well, to stay and explore the area, which can be obtained from Mono County Visitors Center in Lee Vining, California, or the Ranger Station in Yosemite.
Anglers will also need to study the year's snowpack and terrain; keeping in mind that big or late snowstorms can delay the opening of many the trails and lakes. With so much to see and plenty of fish to catch, a trip to the high country is sure to create a lasting memory for all who venture into the craggy peaks of the Sierra Nevada.