LEGOLAND Waterpark is geared primarily for kids 2-12, but fun for the whole family, this 5 1/2 – acre water park is adjacent to Legoland California and is the perfect way to cool off after an adventurous day inside the theme park.
The entire water park extends from its 45-foot-tall LEGO themed tower intended to plunge visitors into the watery world of LEGO. The park's four main water slides originate from this structure and are the fastest and most thrilling water attractions the park has to offer.
Legoland California Hotel Packages
First, there's the Orange Rush, where up to four people sit in a gigantic inner tube gliding and spinning their way down and around a 312-foot-long curving 11-foot diameter half pipe that ends with a splash into the wading pool at the bottom.
The second is the flaming red Twin Chasers, which consists of a pair of 130-foot side-by-side enclosed transparent water tubes that kids and adults can rocket down, racing each other to the pool below.
The last of the three is Splash Out. A blue-colored open body slide that slings guest down a 240-foot half pipe.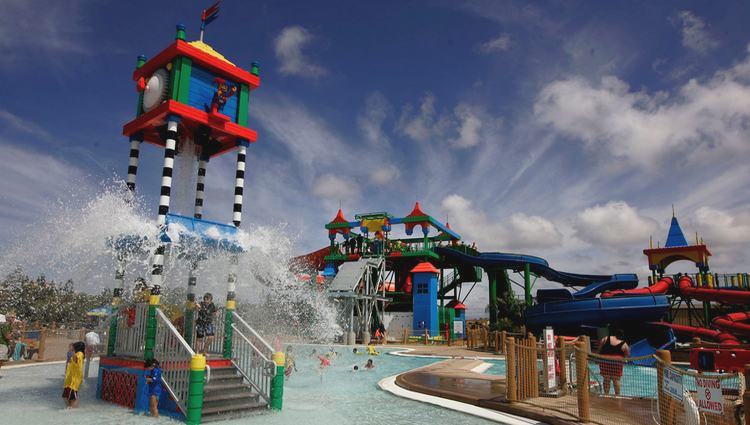 With all these wild adventures, LEGOLAND has preserved its laid-back family-friendly approach with plenty of attractions for the little ones, as well as adults who just want to relax lazily in the San Diego sun.
The most unique are the Build-a-Raft River where guests drift leisurely down an 850-foot-long lazy river on rafts they have skillfully constructed using soft LEGO bricks.
As you set sail, classic tunes fill the air, adding to the ambiance as upbeat, summery sounds like the Beach Boys "Surfin'Safari" and remakes of Van Morrison's "Brown-Eyed Girl" ring out through speakers as your raft meanders its way through the park.
However, just when you thought it was safe, be prepared to be doused or steer your vessel away from squirting cannons and pouring buckets poised along the watery path. For those that want to stay on dry land. It's as equally entertaining to watch floaters of all ages rearrange their LEGO creations as they float down the river.
Another fun spot is Imagination Station, a place where LEGO fanatics can build a thing like bridges, dams, and cities out of DUPLO bricks, all in a watery environment. Then budding engineers can test their creations against the flow of water to see if how well they can control the wondrous word of aquatics.
For the tiny tots, LEGOLAND Water Park has maintained its kid-centric approach with an abundance of small-scale watery attractions.
The DUPLO Splash Safari is a water play area sized for preschoolers that include three small slides that do not have any height requirements. LEGOLAND lifeguards will assist children in boarding their rafts while keeping a close eye on them as they float along the circular river.
There is also Kids Creek, a miniature version of the Build-a-Raft River with squirting polar bear, alligator, and elephant fountains providing plenty of entertainment to the youngest of guests.
For the rascal in all of us, there's the Joker Soaker. Located next to the parks big slides, this lofty clock tower pours buckets of water on those below it as a LEGO jester model "tells" jokes to unsuspecting guests below.
There are also water cannons that the kids delight in aiming at one another as they spray their friends and family.
Finally, the Aqua Tune is a musical fountain where kids can conduct their own water symphony with the touch of their hand.
Other amenities include cabanas for families to rest and relax, changing rooms and showers, retail shops and snack carts, as well as the Beach Front Grill.
If you plan to visit LEGOLAND Water Park, remember to bring your own towel. They aren't provided, but you can purchase one if you forget yours at home. What are provided at no charge are lockers and kid's life vests.
Legoland California One LEGOLAND Drive, Carlsbad, CA 92008 (760) 918-5346