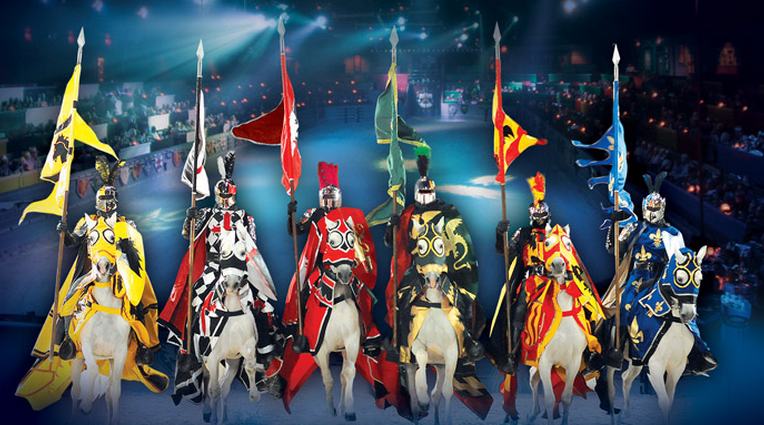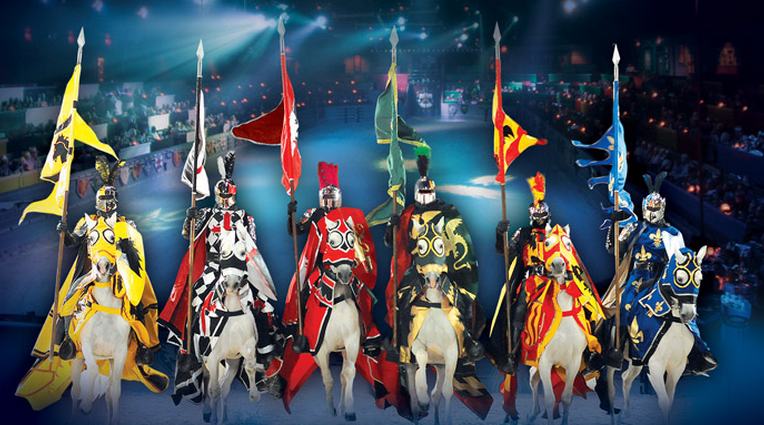 Medieval Times Dinner Theater Buena Park is located a short 15-minute drive from the  Anaheim resort district. The show features a tournament between Knights of the Realm in the flag toss, ring toss, and javelin throw followed by jousting with authentic medieval weapons. One knight is left to claim the title of Champion.
How much are tickets for Medieval Times at the gate: Adults $$69.65. Kids ages 12 and under $42.65. Make the most out of your visit and use the deal listed below.

Medieval Times What's for Dinner
Dinner is chicken or ribs which you can eat with your fingers (plenty of napkins are provided) The show lasts about two hours and expect lots of crowd participation. Highlights of the dramatic show include a piece of original music and exquisite period costuming and spectacular special events.
After the show, you get to meet the knights in the main hall where they sign autographs and pose for pictures. Medieval Times is a fun experience for the whole family, enjoyed by both locals and visitors.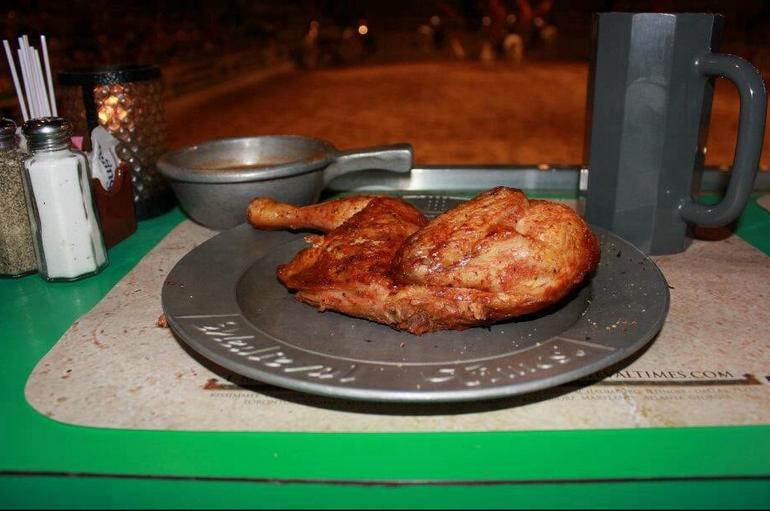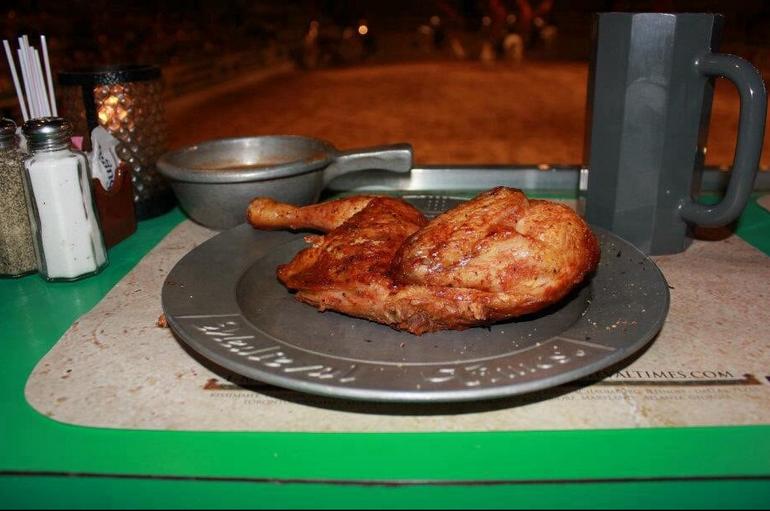 Offering shows 365 days a year, the European-style castle features a soaring tower, elaborately decorated Hall of Arms, the Knight Club, an outdoor courtyard, gift shop, Museum of Torture and an indoor stable area where guests can view some of the castle's horses.
All tickets include a four-course dinner, two-hour live show, and beverages. Dinner is served with savory garlic bread and a steaming hot vegetable soup ladled into pewter bowls: then come roasted chicken, spare rib, a seasoned potato, and pastry of the Castle. Two rounds of beverages are included with the feast.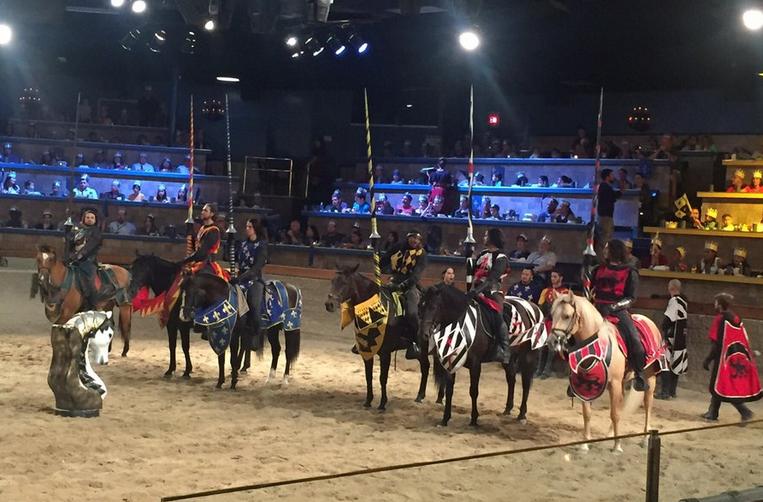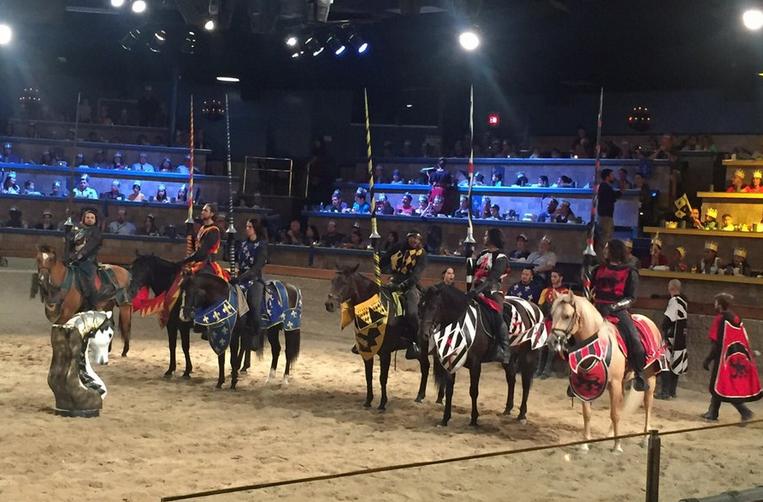 While dinner is being served, the journey back to the 11th century begins as visitors are greeted by King Alfonso and his daughter, Princess Esperanza. The show continues with lots of jousting, swordsmanship, thrilling hand-to-hand combat, and displays of extraordinary horsemanship as part of an exciting story set in Medieval Spain.
Tips Before You Go
It is not necessary to arrive one hour early, and if you're bringing kids, not advisable.
The purpose of the early arrival is to let you spend money in the gift shop or bar
 Guests are not seated until a few minutes before the show so getting there 20-30 minutes ahead is plenty of time.
Before, during and after the show Medieval Times staff will be selling expensive souvenirs. Pass on these.
Costco & Groupon may offer discounts on Medieval Times. Check with the retailer.
Celebrate your birthday FREE.  Purchase of one gate price adult ticket. Use code BFCRM at the time of purchase.
Parking is free at Medieval Times Dinner Theater in Buena Park.
Medieval Times features a special

New Years' Eve show

that is not to be missed.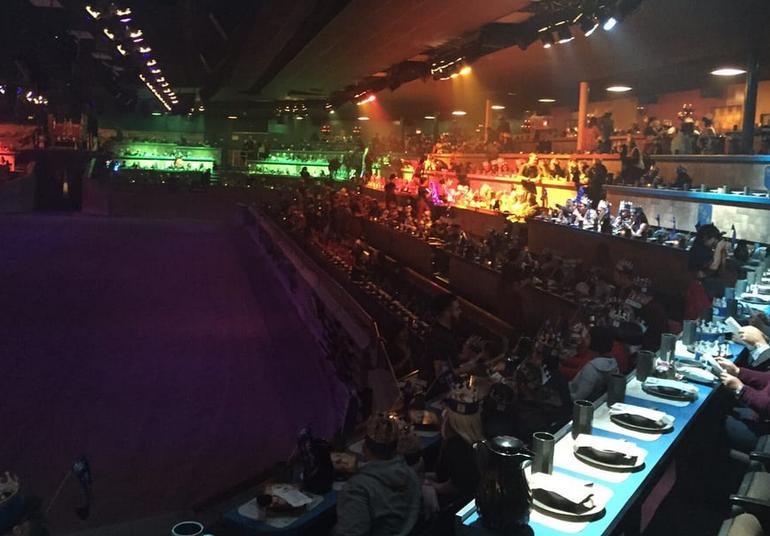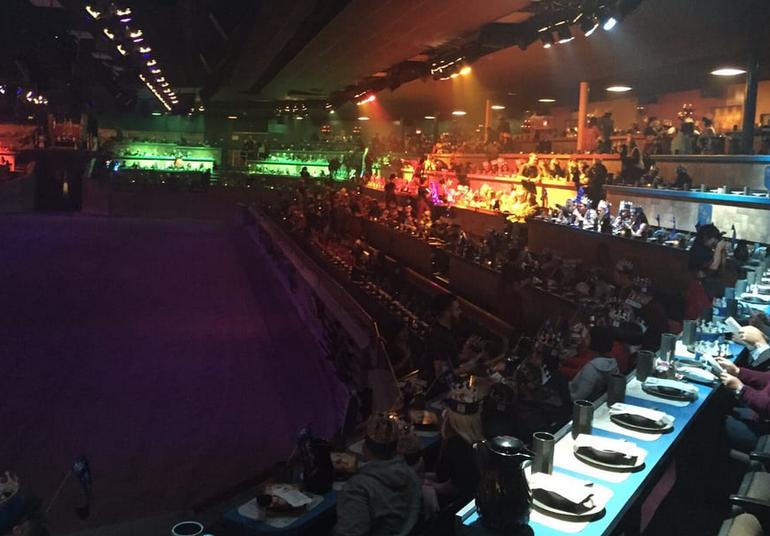 7662 Beach Blvd Buena Park, CA 90620 20 minutes from Disneyland, 5 minutes from Knott's Berry Farm.
Nearby Medieval Times: Knott's Berry Farm – Pirates Dinner Adventure