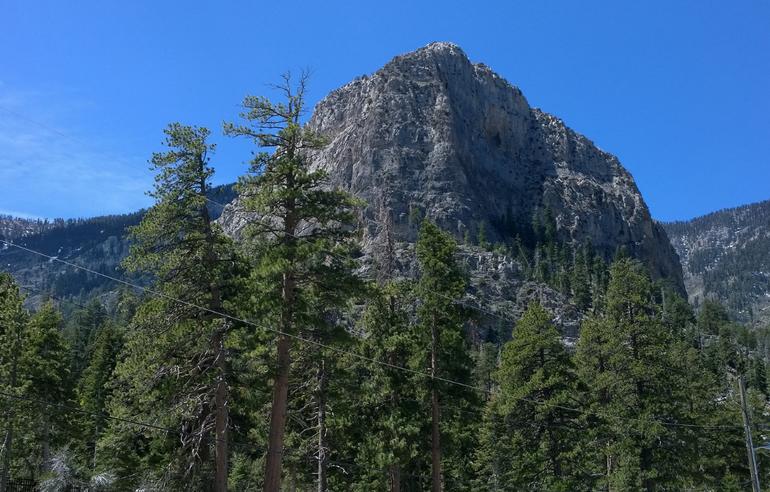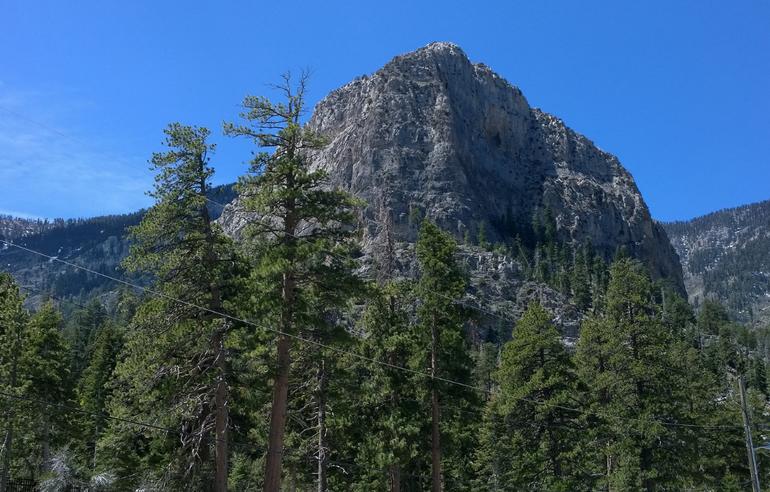 Towering 11,000 feet above the Humboldt-Toiyabe National Forest and just 40 minutes from the clanking slot machines of the strip, Mount Charleston, formally named Charleston Peak, offers visitors an abundance of winter activities as well as a fantastic place to escape the Mojave Desert's summer heat.
Fresh air and silence are what you will find atop the state's eighth highest mountain peak situated northwest of Las Vegas. Soaring juniper, Aspen, and Ponderosa pine trees and animals such as wild donkeys, deer, and squirrels make Mount Charleston feels like a million miles away from the city.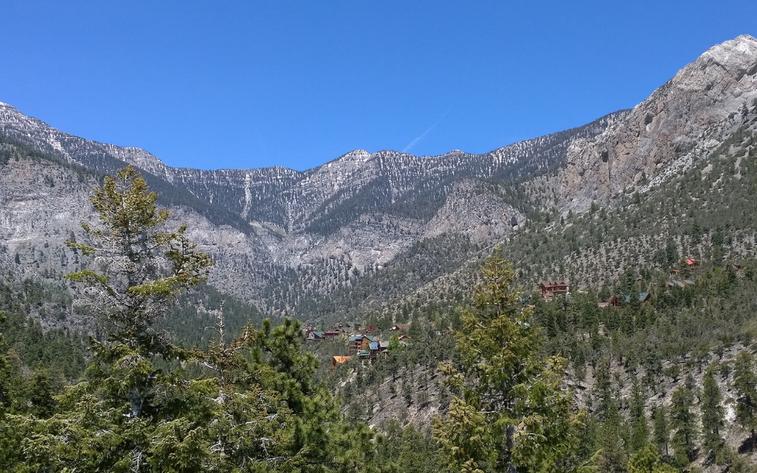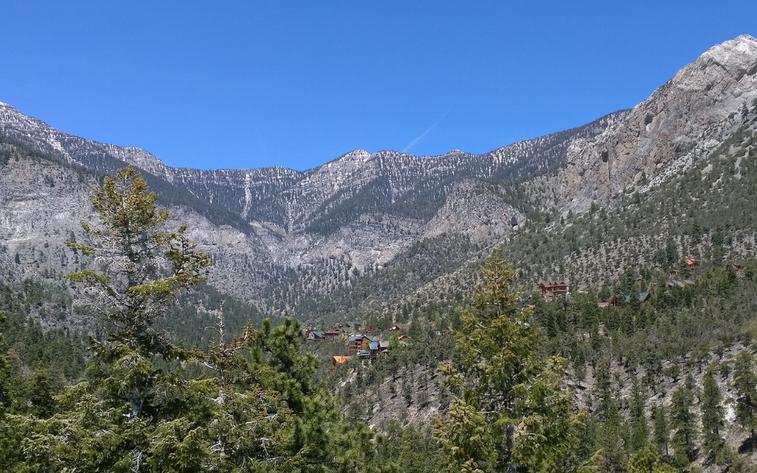 Unless your visit is strictly for skiing or snowboarding, Kyle Canyon will most likely occupy most of your visit. It is the most popular destination within the Spring Mountain Resort boundary, and it's where the Mount Charleston Resort can be found and Kyle Canyon Campground.
The lodge is a full-service hotel with an onsite restaurant and information center for those seeking a more modern refuge without entirely giving up the outdoorsy feel. If you want a bit more rustic feel to your trip, there are some neat tiny cabins at the resort. Each place comes with a spacious outdoor deck and a fireplace.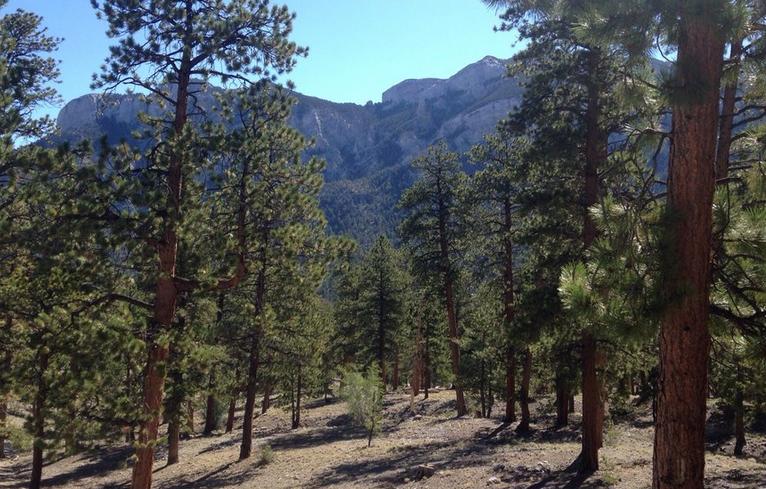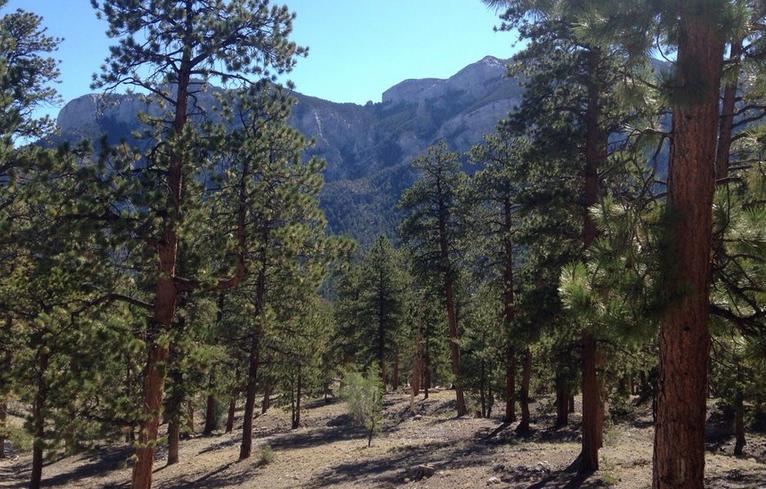 Then there is Kyle Canyon Campground. The natural beauty of this primitive campground is enchanting, and you can get some real-life wilderness experiences in the great outdoors here. There's also golf, hiking, horseback riding, boating, fishing, and a library.
Upon arrival, the Mount Charleston Library is worth a visit and is housed in a rustic cabin and staffed by only one librarian. Here visitors can pick up area trail maps and obtain information about upcoming local attractions, including murder mystery dinners, concerts at the hotel, or local guided and unguided nature hikes.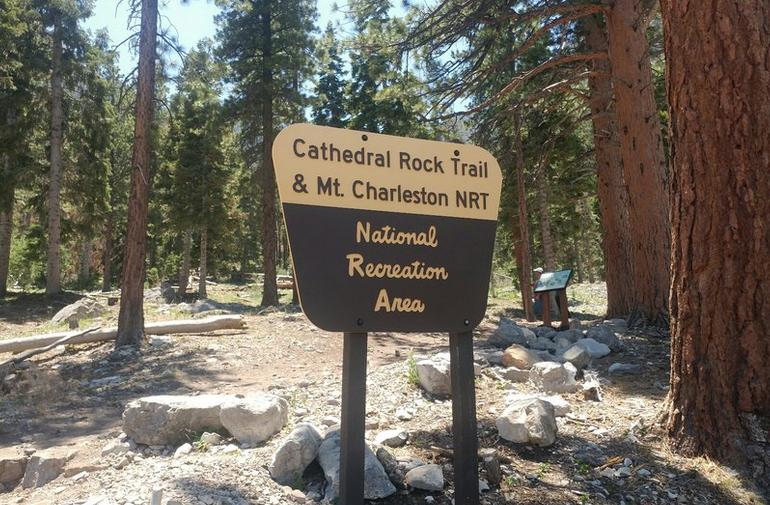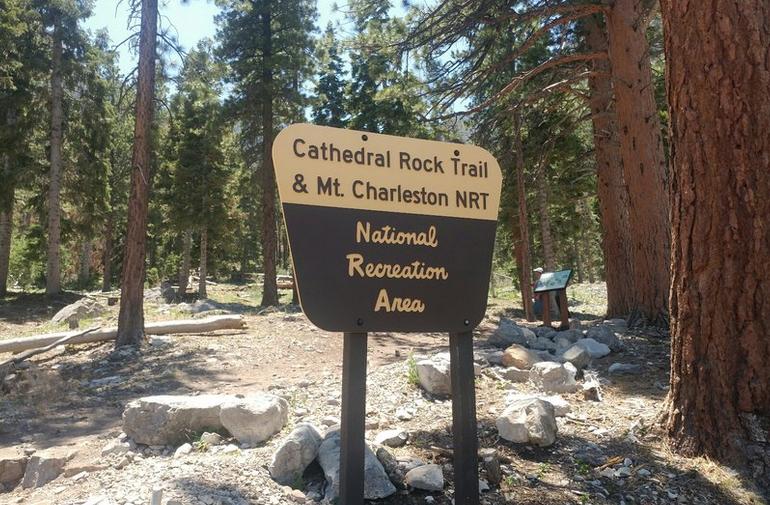 Hiking Trails Mount Charleston
And when it comes to hiking, nothing beats the Mount Charleston National Recreation Trail. A challenging 7-mile-in-length backcountry track that has a difference in elevation of 3,065 feet and takes more or less one and a half days to traverse collectively. So bring your backpack and bedroll and be prepared to sleep under a canopy of stars.
First up is the Charleston Peak Trail North Loop. It is an outstanding backwoods trail that gains nearly 3,000 feet in elevation over its 5.2-mile span. Even the best hikers will need to walk the Charleston Peak Trail North Loop one day.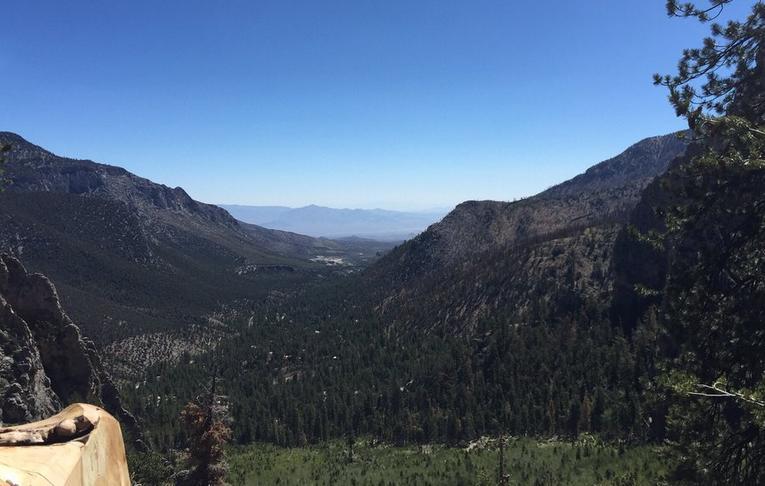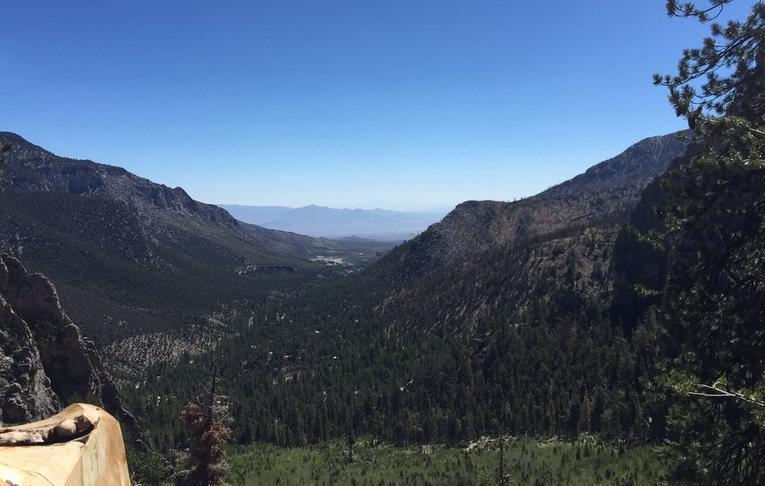 If you're ready to tackle an even more grueling challenge, then Cathedral Rock Trail is an explorer's delight. Taking an average of three and a half hours, the Cathedral Rock Trail is backpacking at its best as it winds its way up nearly 1,600 feet in elevation in just three short but steep miles. There are several switchbacks along the trail, making this an intermediate climb.
Also accessible from the Cathedral Rock parking area are the pair of trails that lead to Little Falls and Mary Jane Falls. Both are well taken care of and travel through narrow canyons and a series of switchbacks to where the seasonal falls reside.
There is still a fair amount of runoff from the melting snow on Mount Charleston in the winter to spring to create a stunning sight. Little Falls is a beginner trail, approximately one-mile round trip, while Mary Jane Falls is a bit steeper and is three miles round trip and features a cave.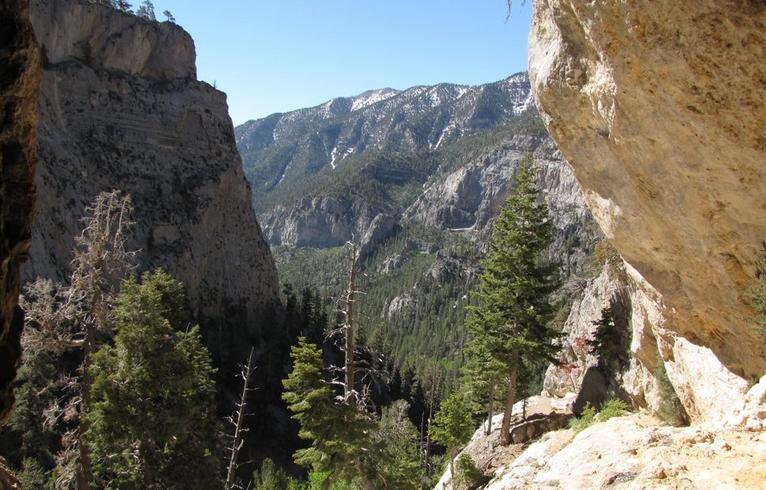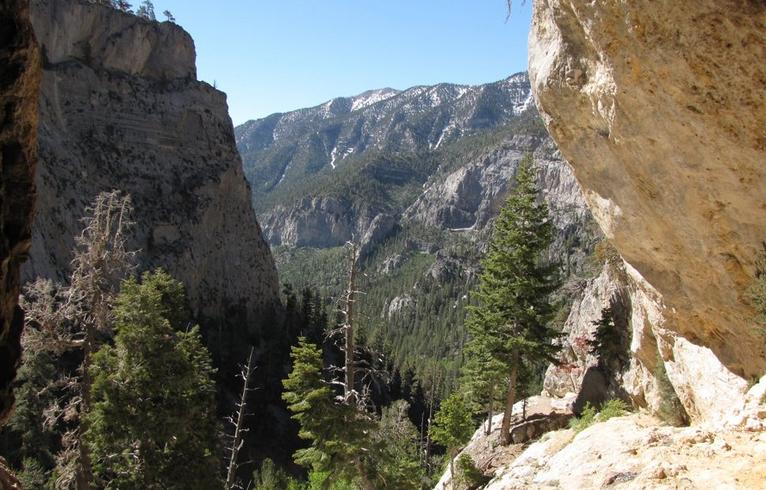 Winter Sports Mount Charleston
If hiking is not your hobby of choice, you're in luck. And if you've come to play in the snow, a trip to Lee Canyon is where you will find the Las Vegas Ski and snowboard resort.
Open from Thanksgiving to Easter every season, and Las -Vegas Ski gets 10 feet of fantastic powder annually. With 70-acres of skiable territory, there's fun for all skill levels. Four lifts are serving 11 runs, from beginner to expert.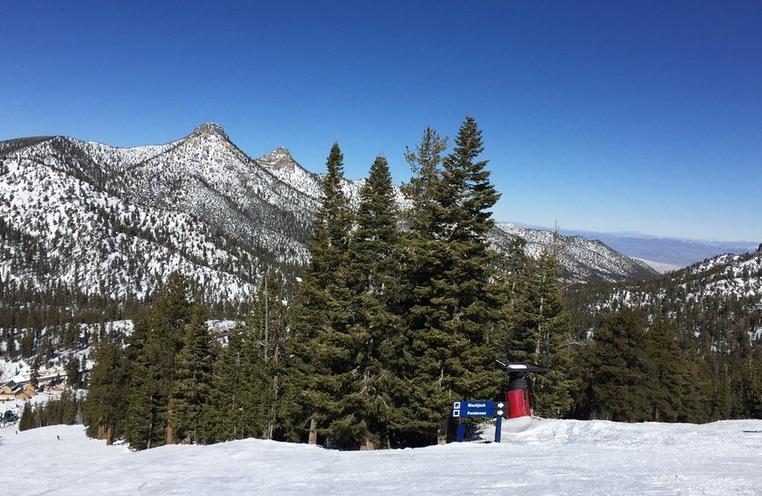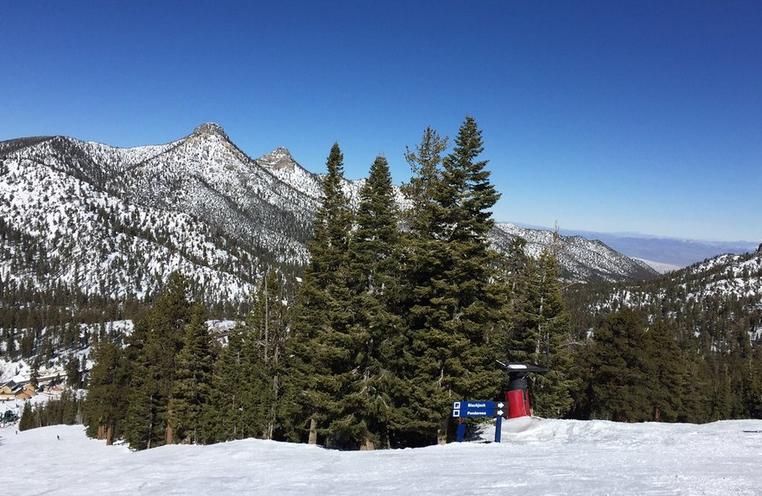 Lee Canyon can be reached from Highway 95 or Lee Canyon Road, which connects with Kyle Canyon Road. The road provides spectacular views of Mount Charleston and some good vista points to stop and admire the heavenly scenery.
This area is less popular than Kyle Canyon and is an excellent place to go and leave the crowds behind in Las Vegas. There are some hiking trails out here, but they are less developed than those found near Kyle Canyon.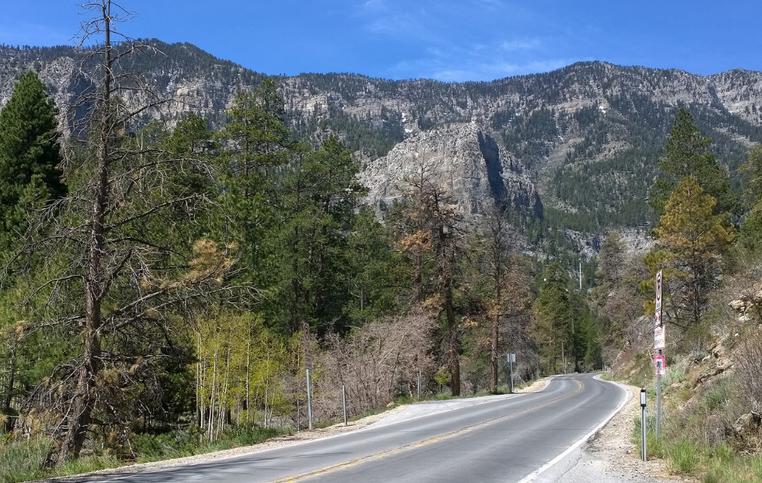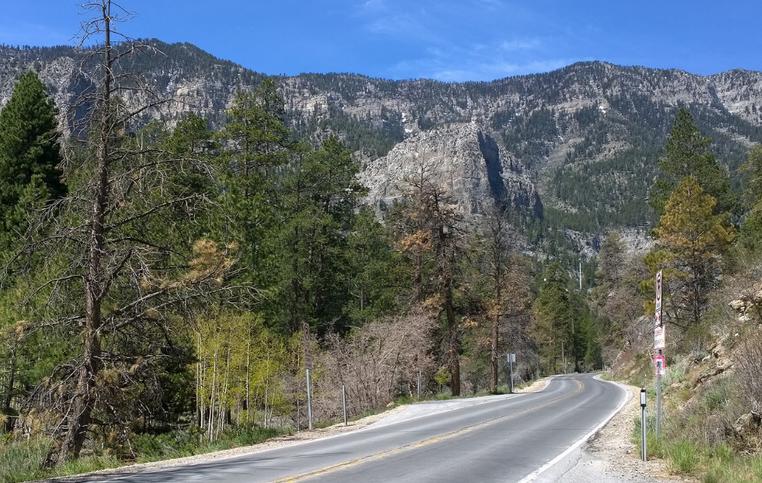 Where is Mount Charleston
So, the next time you want to escape the hustle and bustle of the city, a short drive to Mount Charleston may be the recipe to rejuvenate your spirit. Website.
The Mount Charleston Scenic Byway is made up of three state highways: Lee Canyon Road (State Route 156), a portion of Charleston Park Road (State Route 157) in Kyle Canyon, and Deer Creek Road (State Route 158). Mount Charleston is 40 miles from Las Vegas via SR95 & Sr157. Travel time from Las Vegas is about one hour.