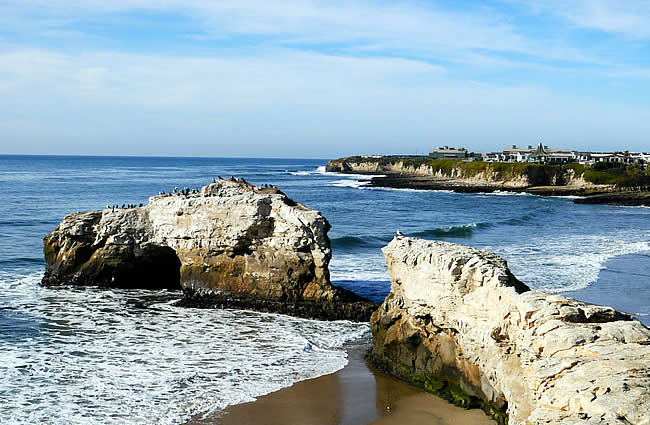 When traveling to Northern California, it is pertinent to stop at Natural Bridges State Beach, a refuge of monarch butterflies and sweeping views of the Pacific Ocean.
Nestled in stunning Santa Cruz, California, this 65-acre California state park was named for the naturally occurring mudstone bridges that line the Pacific Ocean. Wave erosion carved these mudstone bridges after a combination of silt, clay, and diatoms were solidified into a mixture of stone that created three arches on the beach.
However, according to the California Parks Association, "the outermost arch fell during the early 20th century, and the inner arch collapsed during a 1980 storm."
Located on Swift Avenue, west from Highway 1, Natural Bridges State Beach is found by following West Cliff Drive north along the town bluffs. The park is open from 8 am to Sunset, so check back regularly as the seasons change.
From October through early February, Natural Bridges State Beach is home to up to 150,000 Monarch Butterflies. These Monarch butterflies flock to Natural Bridges State Beach due to the eucalyptus grove that provides a natural habitat to these butterflies. They fly south to escape the cold weather in the Pacific Northwest and seek their refuse along the coasts of California, specifically those of the Natural Bridges State Beach.
On the second Saturday in February, The Migration Festival takes place from 11 am to 4 pm. Here, you can learn about the animals that migrate around Natural Bridges State Beach.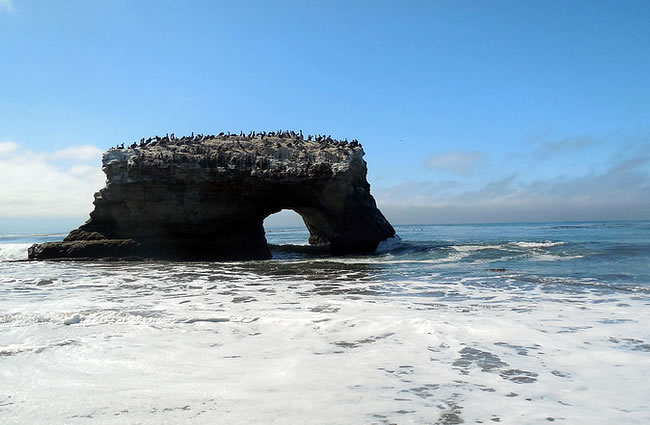 The State Beach is a perfect place for families, couples, and friend groups to go swimming, surfing, and hiking. If your focus is hiking, check out the tidal pools that take place year-round. These exist at low tide and are a favorite of naturalists. You'll see plenty of sea life and it's easy to walk around for all levels of activity. Climb on the rocks and watch the waves crash into the bridge. The trail is very easy to walk.
Perfect for bird watching, many types of birds flock to Natural Bridges State Beach to bask in the Seasonal Pond. Look for red-winged blackbirds, belted kingfisher, American coot, American bittern, Sora, Virgin Rails, and Blue Herons.
In the winter months, Natural Bridges State Beach is a great spot to watch the otters and dolphins play in the ocean and if you're lucky, you might even spot a whale! The winter months are the perfect time for migrating whales to be spotted off the shores and Natural Bridges State Beach gives a perfect vantage point for watching some of nature's most fascinating sea animals.
Santa Cruz, California is known for its surfing and Natural Bridges State Beach is a great spot to hang ten. Best for experienced surfers, this reef-rocky beach has hollow, fast, and powerful waves starting at 3-5 feet and reaching up to 16 feet with a big swell!
Another sport to take part in at Natural Bridges State Beach is windsurfing. Here, windsurfers can ride the waves and soar to exhilarating heights on this windy state beach. Winter waves are for experienced surfers and windsurfers only!
If you'd rather sit back and relax, Natural Bridges State Beach is the perfect spot to park yourself for a day in the sun. It's sheltered between two headlands so it's safe for the family to sit or to play.
Bring a picnic grill out, and sit at one of the many benches. Take in the scents of the sea and of the surrounding eucalyptus trees while you bask in the sun's rays. Just be warned that if the sea is at low tide, the smell won't be so delicious.