There's Mt. Sinai, and then there's Salvation Mountain. On the barren badlands east of San Diego, there is 30-foot high, 100-foot wide concrete and adobe mountain covered in religious slogans and over an estimated 150,000 gallons of lavish multi-colored acrylic paint.
Located near the salty shores of Salton Sea, this interactive landscape is the creation of a single man—Leonard Knight—whose failed attempt at launching a hot air balloon made from bed sheets with bold letters emblazoned on the side stating, "God is Love" in the 1980s, led to the 26-year construction of his glorious mountain.
Today, Knight's mountain is somewhat of a biblical Wizard of Oz, a testament of one man's faith drawing thousands of devoted followers year after year, many who have donated hundreds of gallons of paint that Leonard used to repaint the faded parts of his vision.
Arriving at Salvation Mountain, visitors are greeted by patchwork of colors on concrete, adobe, tires, hay, and other random things with a big red "God is Love" on a white backdrop and just below, the Sinners Prayer and huge red heart.
Visitors can also climb the yellow brick steps carved into the mountain, ascending to the upper terraces to capture some unique photo opportunities of the surrounding area.
Knight, who lived just a stone's through away from his mountain in an old Chevy truck, would personally greet all visitors, and willingly provide a tour of his mountain and his latest creations including nearby hogans (huts created from adobe), a replica of his partially inflated balloon, and a multitier museum.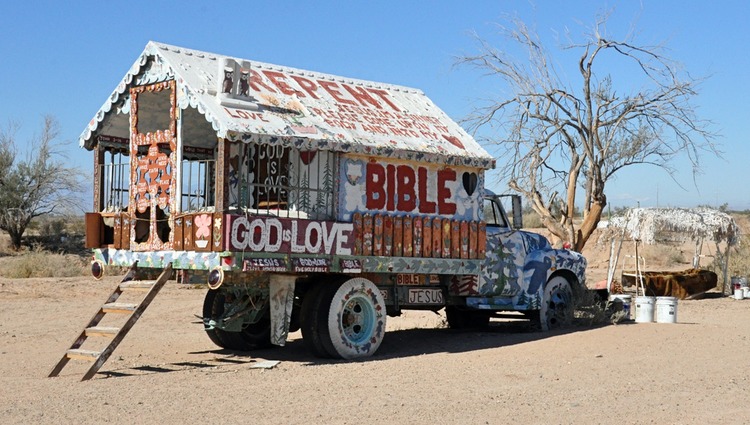 At the age of 80 Knight left Salvation Mountain due to declining health. He passed away at a nursing facility in El Cajon at the age of 82, but the mountain is still open to visitors every day until dusk and remains completely free.
Getting to Salvation Mountain is half the fun as you must traverse a two-lane road just east of Niland, a ramshackle old farming town known for its annual Tomato Festival and Parade.
The near-deserted town is home to a pair of other interesting sights, starting with Bombay Beach with its half-submerged abandoned buses and vehicles.
Like something out of a post-apocalyptic movie, there are also the remains of dozens of trailers and houses that sit rotting, half-buried in salty mud, along with what remains livable in this watery wasteland, with its shoreline of pulverized fish bones.
Just beyond Bombay Beach is Slab City, with its WWII-era Marine facility and nearly 2,000 winter "snowbirds" that live rent-free in their trailers and campers scattered among squatters in concrete remnants. Many are refugees of the Great Recession.
Finally, a trip to the desert would not be complete without a stop at the Cabazon Dinosaurs with its meandering path leading through great displays of everything from triceratops to velociraptors.
At the end of the path, you can climb a staircase that leads to the 30-foot T-Rex's mouth, where you look out through his teeth. There is also a gift shop and small museum inside the belly a concrete brontosaurus, as well as a neighboring robotic dinosaur museum.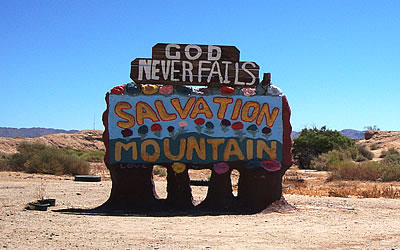 Mr. Knight refused donations of money and labor from supporters who wished to change his message of universal love to favor to promote a different message and the monument remains exactly as it was built. Salvation Mountain is one of the most visited tourist attractions in Imperial County.
Leonard Knight passed away in 2014 so volunteers are now guarding the mountain to prevent anyone from vandalizing the property. The future of the site is not clear however a nonprofit corporation has been set up to help preserve Salvation Mountain.
Salvation Mountain is about a two hour drive from San Diego and three hours from Los Angeles, Salvation Mountain has something for everyone, and is a beautiful tribute to folk art regardless of one's religious identity or lack thereof.