The famed Chinese Lantern Festival at Pomona Fairplex is back with a bang. This time it's bigger, better and offers a more power-packed illuminated experience than ever before! The Festival begins on the 21st of November and runs until the 5th of January 2020
This season's Chinese Lantern Festival is all set to wow you with a new and exclusive breathtaking experience. This year's Chinese Lantern Festival returns with a brand new theme called 'Blooming Seasons.' Be inspired by the stunning beauty of nature with an awe-inspiring lantern display that spans 30 feet in height and 85 feet in width.
Four Seasons Displayed in Lanterns
Experience the best of the four seasons captured in beautiful lantern displays of different shapes and sizes – from the Amazon jungle to a wonderland filled with exotic animals, reptiles and insects – be prepared to be amazed! Nature and animals have a new form at the Chinese Lantern Festival.
Traditional Music and Dance
Traditional Chinese music, dance and craftsmanship performances. Enjoy a traditional concert of traditional Chinese musical instruments and soak in the vibrancy and energy of Chinese folk dancers.
Chinese Lantern Festival Dragon Viewing
Hold your breath for 'Long' – the exquisitely crafted Chinese Dragon that stretches over 100 yards long, and snakes its way through the festival areas. Made of ceramic plates, this dragon-viewing experience is unlike any other.
Watch the Craft of Lantern Making
Be amazed by the art of handcrafted Chinese lantern making that you get to witness with your discount tickets. The art dates back some 2000 years, and the craftspeople at the festival merge traditional with modern in their artistry.
Rides for Kids
Let your kids enjoy a ride on the Mythical Creatures with discount tickets at the Chinese Lantern Festival. Learn about these wonderful creatures, enjoy a ride on them and be inspired.
Chinese Lantern Festival Food and Souvenirs
Enjoy sumptuous traditional Chinese food and beverages at the Chinese Lantern Festival. Take your pick from the many souvenir booths across the festival grounds for a fun shopping experience.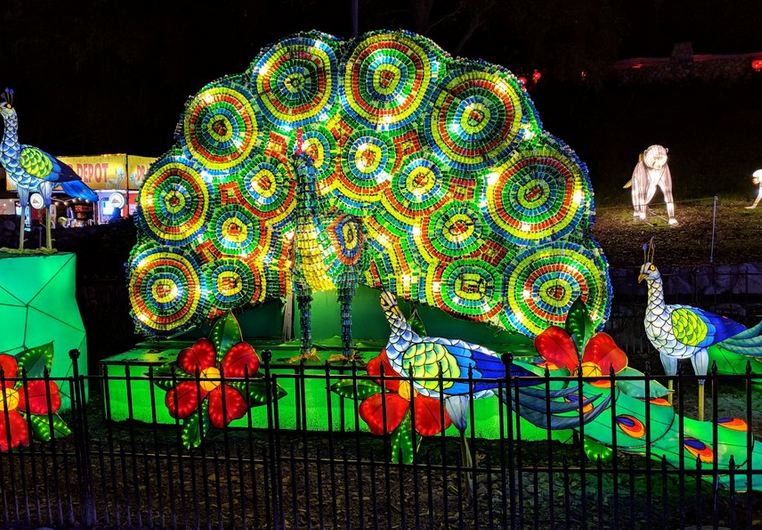 Tips Before You Go
Buy tickets online some evenings sell out.
Arrive early to avoid crowds and get the best parking.
This is an outdoor event, so dress appropriately.
Pick up a brochure at the entrance gate.
There is just so much to see, so wear comfortable shoes.
Don't touch the lantern displays. Enjoy them from a distance.
This festival is a smoke-free event.
Check your local Costco store for the Chinese Lantern Festival Discount Tickets.
Parking at the Fairplex Venue is not included with tickets.

Chinese Lantern Festival Dates
The festival runs from the 21st of November 2019 through the 5th of January 2020. Thursday through Sunday from the 21st of November to the 15th of December. Nightly displays from the 19th of December till the end of the festival. The entrance opens at 5:30 pm and the festival remains open till 10:00 pm. Event Website.