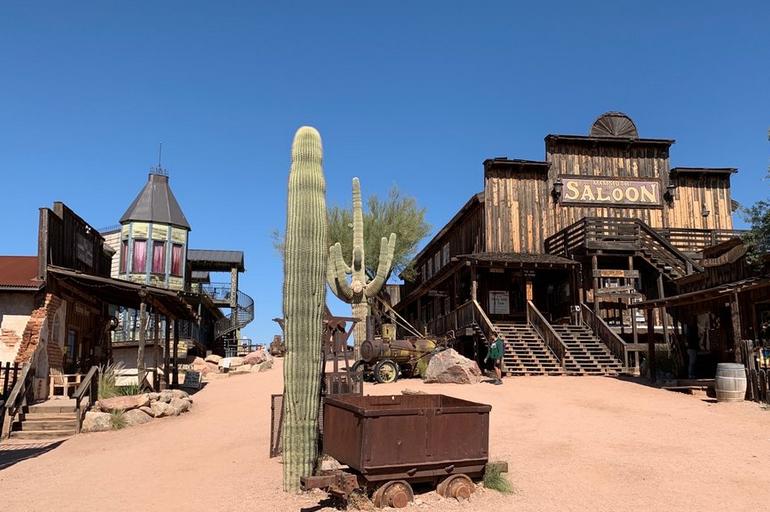 Goldfield Ghost Town is situated town in Apache Junction in the shadows of the Superstition Mountains. The city was founded in 1893, after the discovery of gold in the surrounding area. At the height of the gold rush, Goldfield boasted a population of about 4000 residents.
Like most gold rush towns, the town folk moved on once the gold ore was gone, and the buildings were left to decay in the desert sun. In the early 1940s, a fire destroyed most of the town's buildings. The only signs of the original city that remained were some of the original foundations.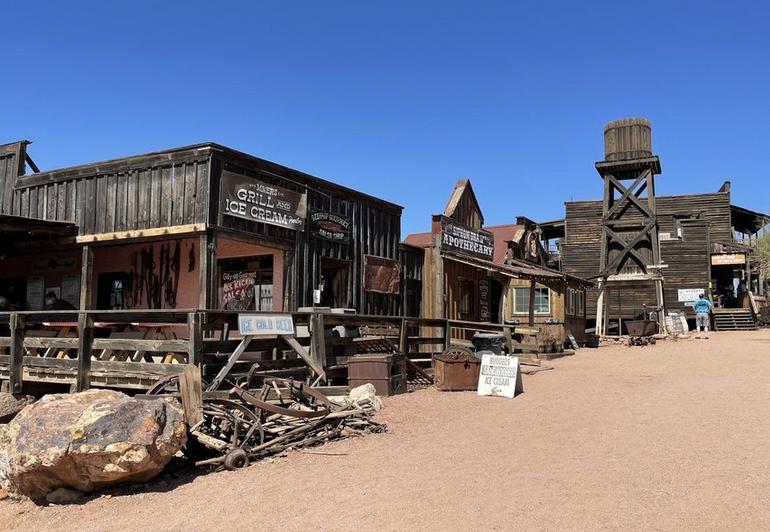 Goldfield Ghost Town Restoration
In mid-1983, the gold mine and the Goldfield townsite were purchased by a group of partners. They spent the next five years recreating the 1890s gold rush town as a tourist attraction. Today, Goldfield has numerous buildings, including a mercantile building, jailhouse, Saloon, and Arizona's only working narrow-gauge railroad.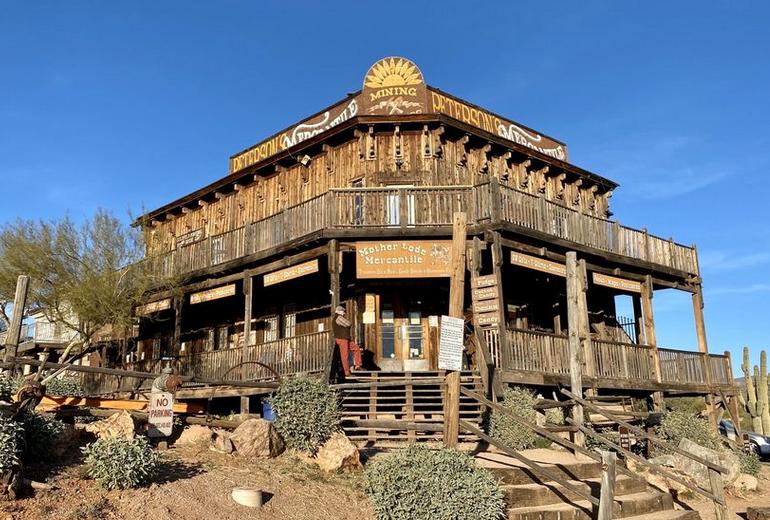 Attractions Things To Do
Admission and parking to the Ghostown are free. Visitors have to pay to enter some of the buildings and ride on the train or zipline. Western gunfights are held during the day and are free to watch.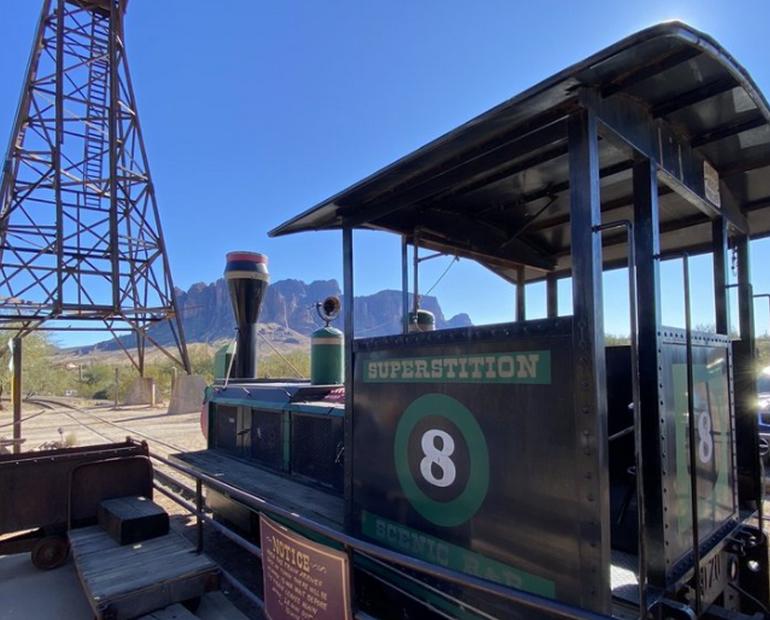 Superstition Scenic Narrow Gauge Railroad
The train ride is a must-do. An old diesel locomotive pulls a passenger car and caboose on a 1.5-mile route around the ghost town. The train trip is narrated and offers panoramic views of the Superstitions mountains. The train departs every 35 minutes on a 20-minute journey.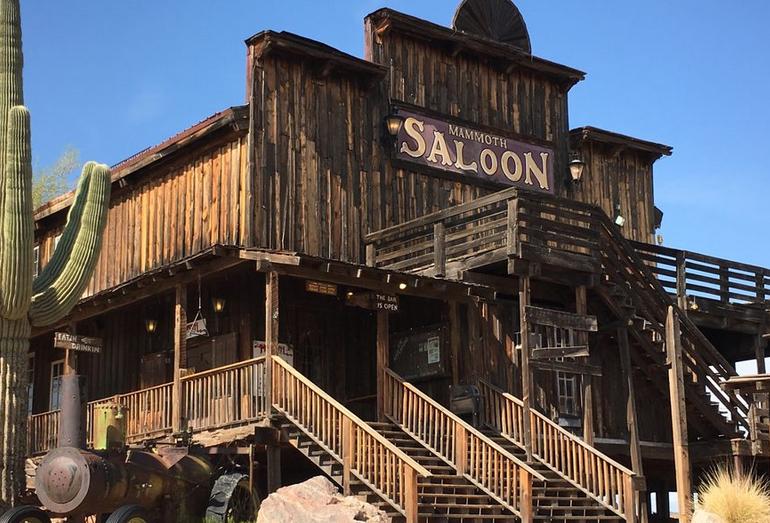 Goldfield Mine Tour
Visitors are taken underground for a guided tour of the town's mine. Learn about the history of the mine, see some actual mining equipment, and expirence what it was like to be a gold miner back in the 1890s. The mine lasts about 25 minutes.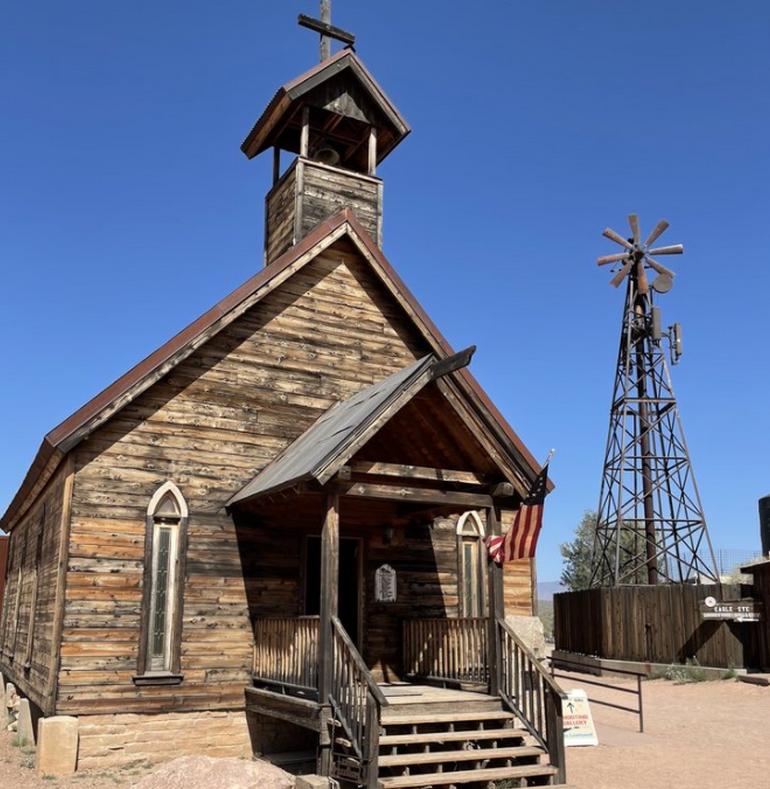 Superstition Zipline
The Superstition Zipline is an up-and-back ride. There is no need to climb up to a starting point. Riders sit double and are pulled up to 115 feet in the air and then slide back down, reaching about 30 miles per hour. The zipline is suitable for most people except those that are afraid of heights.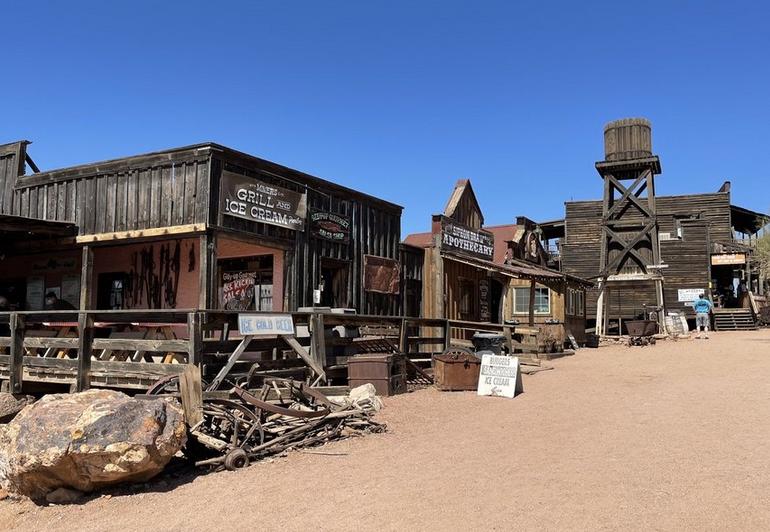 More Things To Do
Apache Trail Tours offers off-road adventures. The Superstition Reptile Exhibit features critters that call the surrounding desert home. Goldfield's Historical Museum features artifacts and exhibits on the history of the area. There is also a pan-for-gold hut, a shooting gallery: Mammoth Steakhouse & Saloon, Lu Lu's Bordello, and shops for gifts and souvenirs.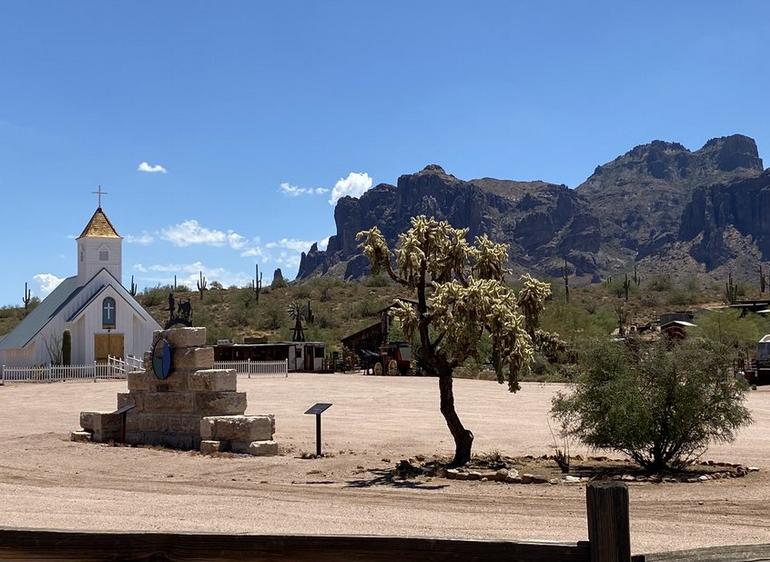 Goldfield Ghost Town is located 4.5 miles northeast of Apache Junction, Arizona, along the historic Apache Trail (SR-88). Address: 4650 N. Mammoth Mine Road Apache Junction, Arizona. Website. Nearby is the Superstition Mountain Lost Dutchman Museum, which is well worth a look while visiting Goldfield. AZ.