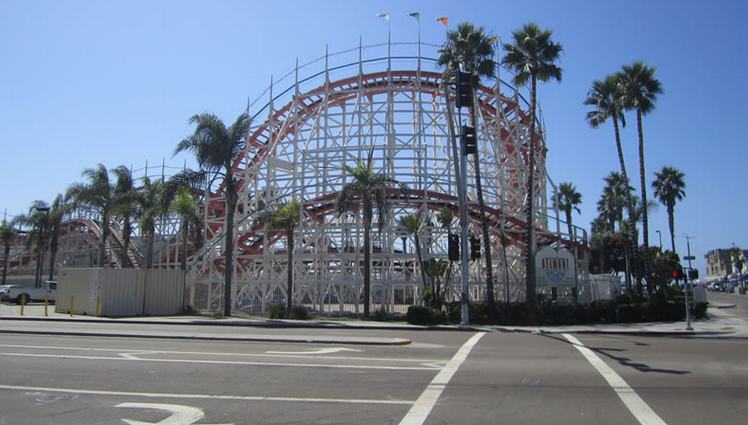 Belmont Park in Mission Beach San Diego is an old time beachfront amusement park that has been around since the 1920s. Located steps from surf and sand in Mission Beach, Belmont Park offers everything from rides and games to shopping and oceanfront dining-something for the entire family.
The main attraction is the Giant Dipper roller coaster, one of only two original oceanfront roller coasters still operating on the west coast. A ride the Giant Dipper, it's an experience that you will never forget.
---
---
Belmont Park is also home to The Plunge, San Diego's largest indoor heated swimming pool. Other attraction you can enjoy are Chaos spinning ride, indoor miniature golf, beach rider and flow rider.
Belmont Park amusement park is a very charming old park you won't want to miss if you're planning a trip to the San Diego area of Southern California.
Admission to Belmont Park is free. You can buy single-ride tickets or get a wristband and ride all day long for one low price.
The Giant Dipper Roller Coaster is the Belmont Park's most popular attraction and is one of only two original oceanfront roller coasters on the west coast. The Giant Dipper was originally built in 1925 and has been restored for all to experience the excitement of its sharp curves and high speeds.
Miniature Golf at Belmont Park. Pirates of Belmont is a "Black Light" mini golf course with a pirate theme using fluorescent murals and obstacles. This makes for an elaborate course with stunning visual effects. Pirates of Belmont the mini golf is located at the back of the newly refurbished arcade.
Sweet Shoppe has your sweet tooth covered with a variety of ice cream, frozen bananas and tasty candy. 5 Star Grill will appeal to those wanting an Asian flare featuring orange chicken bowls, fried rice and a variety of other foods.
Wave House is Belmont Park's premiere surf experience featuring two simulated surfing waves, great beach style BBQ and a spectacular view of the Beach.
Shopping at Belmont Park includes Wings souvenir style gifts including postcards, shot glasses, and just about anything you can think of. Beach & Resort Wear has your high-end beachwear at great prices including sandals, sarongs and a variety of hats. Azuls and Sun Diego feature Roxy, Quicksilver, Volcom and other known beach brands for that true Southern California shopping experience.
Belmont Park 3190 Mission Blvd San Diego, CA 92109 Located at Mission Boulevard and West Mission Bay Drive. From the North: Take I-5 South to Sea World Drive.
Follow the signs to West Mission Bay Drive. From the South: Take I-5 North to Hwy. 8 West to Mission Bay Drive.