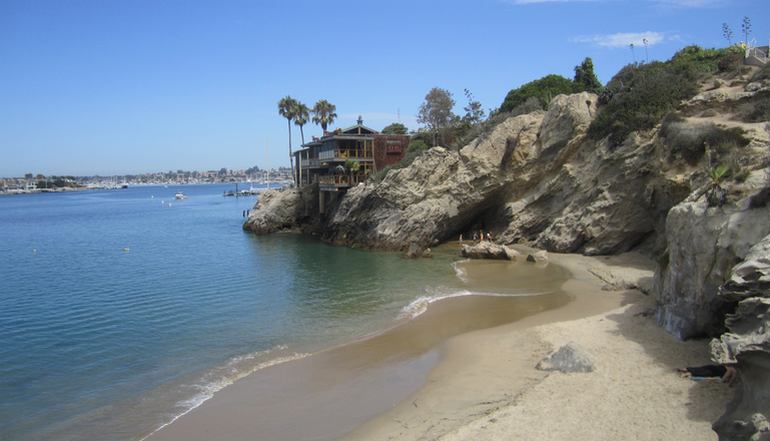 A seaside neighborhood in the affluent city of Newport Beach, Corona del Mar is located on the foot of the San Joaquin Hills and fronting the Pacific Ocean.
Spanish for "Crown of the Sea", Corona del Mar was once a tiny village reached from the peninsula by small boat or by a dirt road that crossed over the Irvine Ranch. Today, the area is known for its pristine beaches, Cliffside views, trendy restaurants and quaint village shops.
All along East Coast Highway, visitors will find plenty of window shopping opportunities at the many studios, design shops, antique stores, and galleries. However, the biggest draw to the city is its beaches.
Corona del Mar State Beach (Big Corona) is popular with beachgoers and has a wide sandy beach with plenty of fire rings. Pirates Cove is adjacent to the harbor channel and has several hidden coves and caves.
If you don't mind climbing over the rocks this area of the beach is well worth a look.
About a half mile down the coast at Ocean Boulevard Poppy Avenue is Little Corona Beach the smaller sister of Big Corona. The beach here offers some great tide pool areas plus a less crowded experience than the state beach.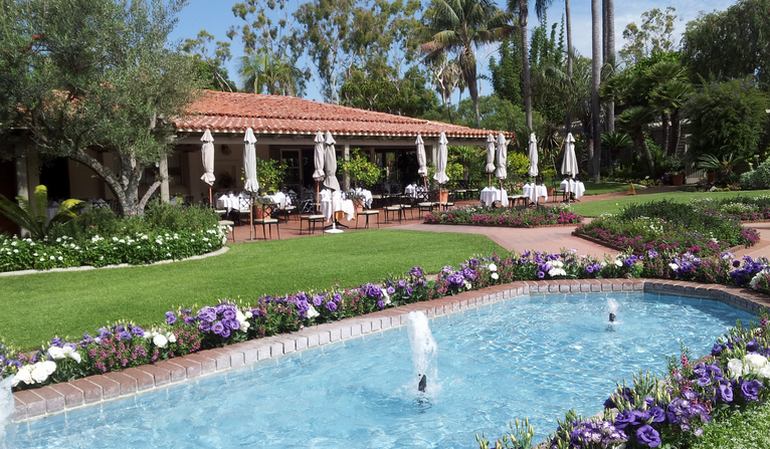 Finally, at the end of Shorecliff Road, there is an almost hidden (by residents) path and a staircase down to a secluded rocky beach popular with divers.
A short distance from Corona Del Mar State Beach on East Coast Highway is a 2.2-acre horticultural retreat, known as the Sherman Library and Gardens.
Started in 1955 by Arnold D. Haskell, the gardens provide a museum of living plants, displayed among immaculate gardens, patios, and conservatories connected together by brick walkways, seasonal flowers, and sparkling fountains.
The gardens are open to the public every day but major holidays.  Admission is only a few dollars. The Sherman Library and Gardens has a wonderful collection of flowers and plants along with Café Jardin located in the central flower gardens.
Because of its moderate year-round climate, the city of Corona del Mar holds several annual events beginning every September with the Annual Coastline Car Classic at Big Corona del Mar State Beach.
The event features an astonishing display of show cars from European and American Classics to street rods and sports cars.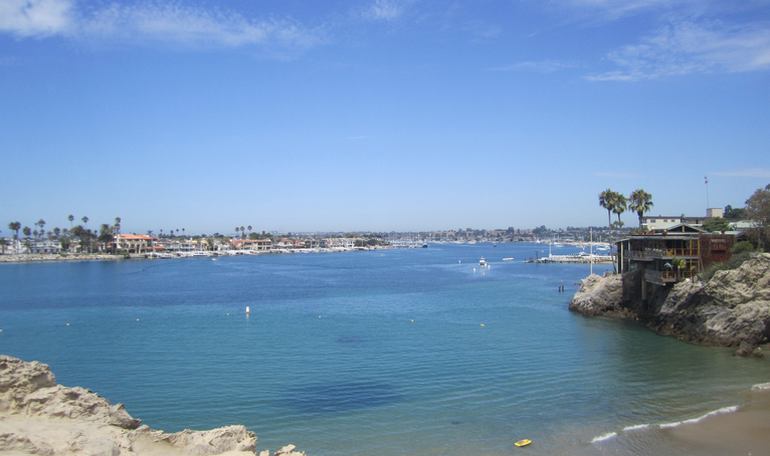 In addition, every fall is the Annual Sandcastle Contest, a popular tradition for over 40 years that invites participants of all levels and experience to build their creations on the beach. The event is held at Big Corona State Beach and is a fun day for builders and spectators alike.
In December, the city celebrates the spirit of Christmas with its annual "Christmas Walk," which held in the "Village." The event provides entertainment, food, prizes and games in true holiday spirit.
Finally, in June, thousands of runners and walkers descend on the city for the Corona del Mar Scenic 5K. Winding its way through some of Orange County's most prestigious residential areas, the race finishes along the bluffs of Big Corona State Beach amid restaurant row, merchant booths, and live entertainment.
To get to Corona del Mar, go south on the 55 Freeway towards the beaches, then east on Highway 73. Take the MacArthur Boulevard exit and go left on Pacific Coast Highway.
Corona Del Mar State access is via the intersection of Iris Street and Ocean Boulevard in Corona del Mar. There is a paid beach parking lot plus some free and metered street parking.