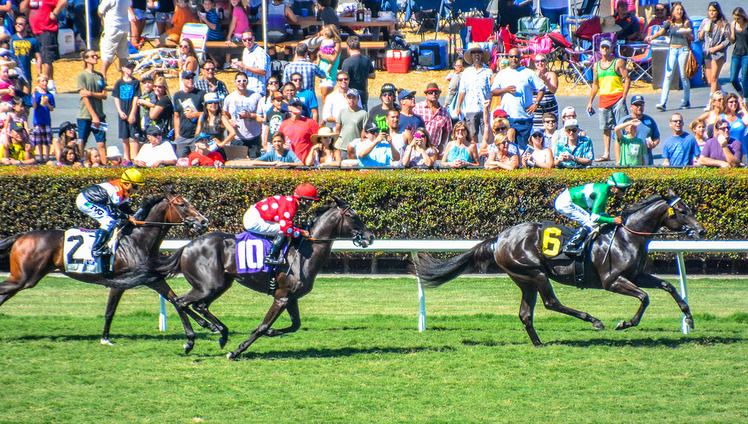 Del Mar California is known for its beautiful beaches, Torrey pine trees, and breathtaking canyons sprinkled with hillside homes. The two square miles of Del Mar has long been recognized as one of San Diego County's finest neighborhoods, gaining prominence with the addition of the Del Mar Race Track in 1937.
Today, Del Mar is an ideal getaway for people wanting a seaside community with charm, excellent shopping and a variety of top-rated restaurants.
Del Mar is best visited any time of the year. However, visitors can expect the quaint beachside town of just over 4,000 to grow to 1.2 million from mid-June until early September due in large part to the San Diego County Fair and then the 43-day Del Mar horse racing season.
Despite the onslaught, this distinctive little community still registers high on the charm scale, if you want a quieter experience, plan your visit during the late spring or early fall.
Meanwhile, those who have no interest in fairs or horse racing still find Del Mar's beaches and upscale shopping, trendy restaurants and art galleries an irresistible draw.
Torrey Pines State Reserve and nearby Torrey Pines Public Golf Course provide some fantastic outdoor activities plus opportunities to enjoy the Pacific Ocean views Del Mar is famous for.
The northern half of Del Mar City Beach, from 15th Street to the river mouth, simply called 15th Street Beach, is arguably San Diego's finest, ranking fourth according to Time magazine's "100 Greatest Beaches in the World."
To the south, bluffs line Del Mar City Beach and there are a number of trails that lead down from the cliffs. A popular trail next to the train track on the bluff is a favorite of walkers and joggers, go for miles without encountering a car.
A little further to the south is the 2,000-acre Torrey Pines State Reserve, one of the few places in the world where the Torrey pine tree, a rare and endangered species grows.
This tree also called the "Del Mar pine," a local icon growing 8 to 15 meters tall, is the rarest pine in the United States.
Torrey Pines State Natural Reserve is a day-use park only, with multiple trails that lead down to the beach below and intertwine through the wooded areas above. The reserve is a perfect place to combine a little exercise with the expansive views and balmy breezes of the Pacific.
Still, one more beach option is Dog Beach, just north of the village. It's one of the few beach areas in San Diego County where it's legal to let your dog run loose on the beach October through May.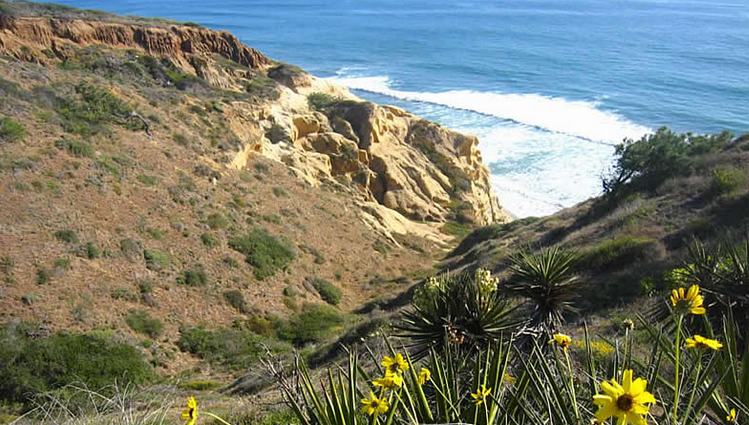 For visitors with children, there is Sea-grove Park and adjoining Powerhouse Park with an adjacent children's playground, affectionately referred to as the Tot Lot. Throughout the summer free concerts in the park as well as wine tasting and culinary festivals.
Across from Sea-grove, Park is the historic downtown village that dates back to 1880s. Nestled amid its 60 shops and 25 restaurants, is the landmark Del Mar Library.
The building has served as a famous church for both movie stars and residents, a restaurant, and other uses over the decade.
Del Mar Plaza located on Camino del Mar is sure to satisfy even the most hardcore shopper.
With its European-inspired architecture, the Plaza provides a unique collection of stores, galleries, and high-end boutiques. Three levels each opening to ocean-view balconies maximizes its scenic setting on the cliffs of the Pacific Ocean.
With all that Del Mar and the surrounding area has to offer, you will probably find that just one day is not enough.
A fixture of downtown is the L'Auberge Del Mar. With its distinctive French architecture, this gated property is close enough to the beach to offer rewarding views of the Pacific Ocean and its majestic sunsets.
It doesn't feel like a hotel or looks like one either. It resembles a townhome community and the rates are surprisingly low for those accustomed to resort stays.
Visitors to L'Auberge will be greeted by the luxurious lobby with its chestnut wood ceilings and ornate beams, designer furniture, colorful tropical plants and soothing live music played on the lobby's grand piano.
All of these things make Del Mar a less expensive substitute for that much-anticipated trip to the Mediterranean.
Located where the "Surf hits the Turf," 20 miles north of downtown San Diego and 100 miles south of Los Angeles just off I-5 on scenic Coast Highway 101, this coastal gem is well worth the visit.