Amtrak Pacific Surfliner trains run along the coast of Southern California from  San Luis Obispo to San Diego. Sleek double-decker trains whisk you along the coast at speeds up to 90 miles an hour. Riding the Surfliner allows you to see scenic areas of the coast not viewable by car.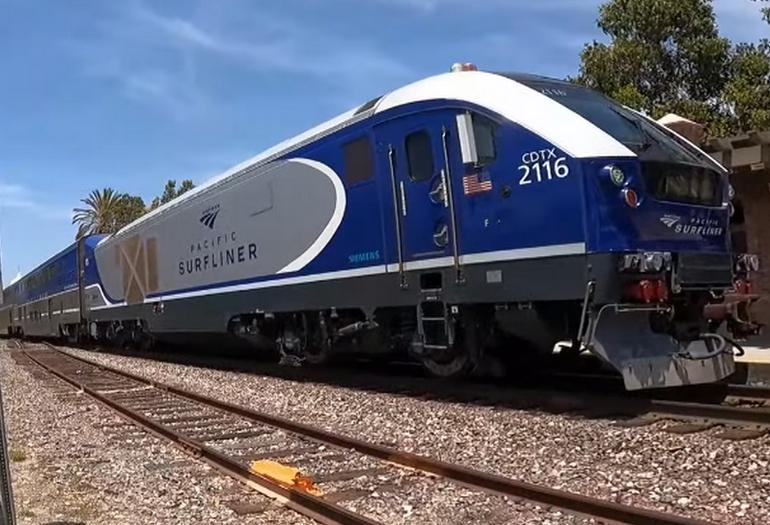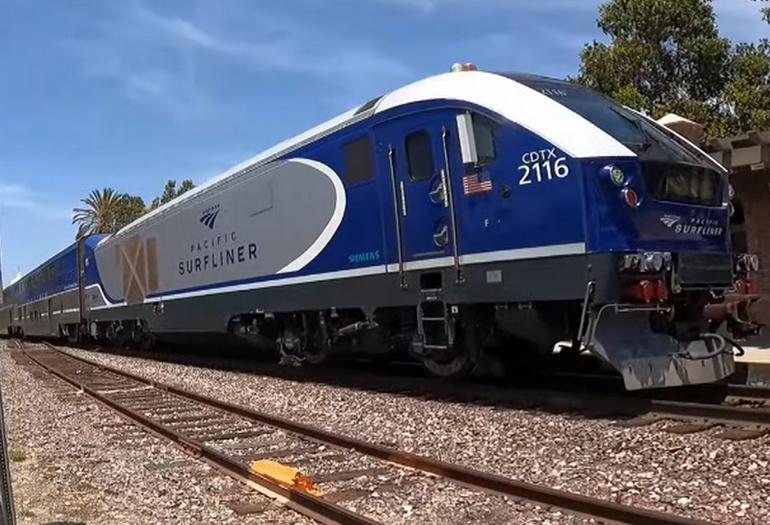 On a trip from Los Angeles to San Diego, you pass the world-famous surfing beach Trestles and then through Camp Pendelton to Oceanside. This section of the track is wide open, and the engineer operates the train at top speed.
From Oceanside to Torrey Pines, the train runs along the coast and then turns inland for the final miles before it reaches downtown San Diego. Taking the train for a day trip to San Diego is a fun alternative to driving the busy 405 freeway.
Just a short walk from the San Diego train station is the USS Midway Museum, restaurants, and the ferry to Coronado Island. Rail options from the Amtrak train station include the San Diego Trolley to Old Town San Diego or the border.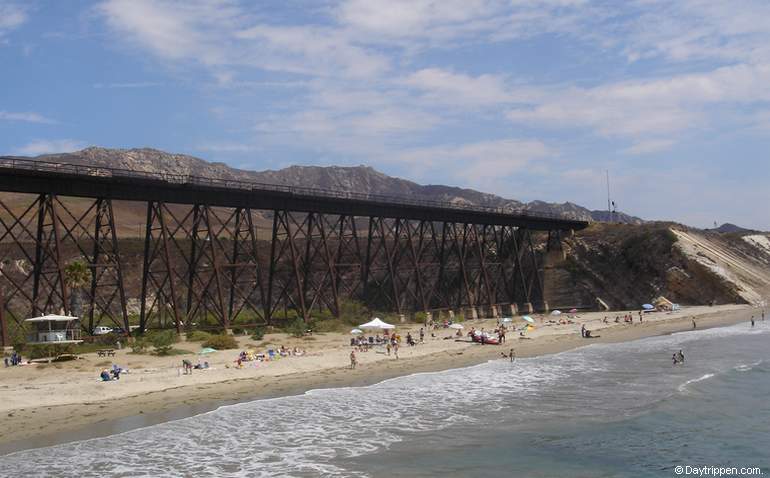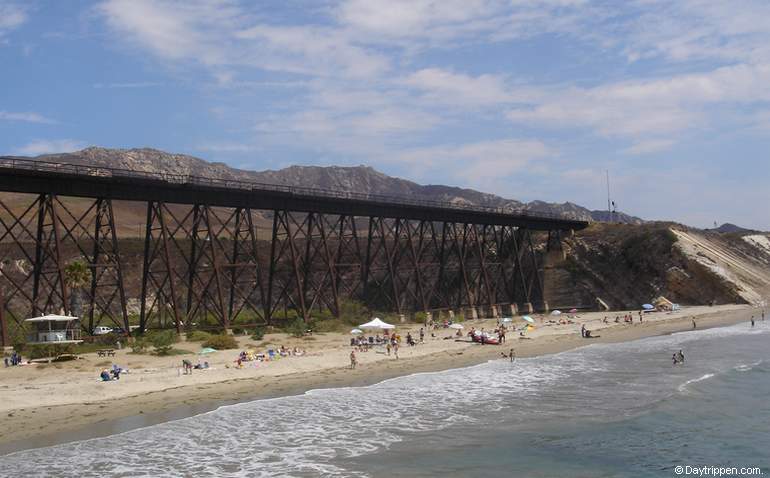 North from Los Angeles, the Surfliner hugs the coast from Oxnard past Vanderberg Air Force Base. The train passes through Santa Barbara, Gaviota State Beach, Jalama Beach, Santa Maria, Pismo Beach, and San Luis Obispo.
There are miles of pristine coastline that are not accessible by car on this section of the track. After turning inland, the Surfliner travels through oak-covered valleys filled with miles of grapevines until it reaches the rich farmland of Santa Maria Valley.
The line returns briefly to the coast at Pismo Beach and then turns inland along Price Canyon for the final leg of its journey to San Luis Obispo.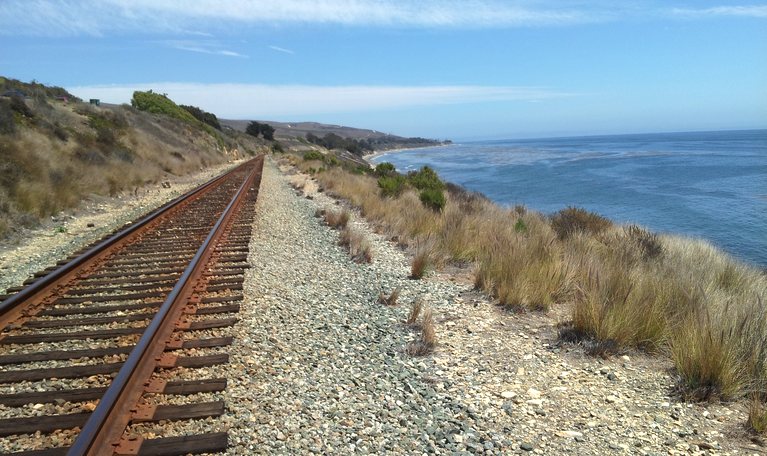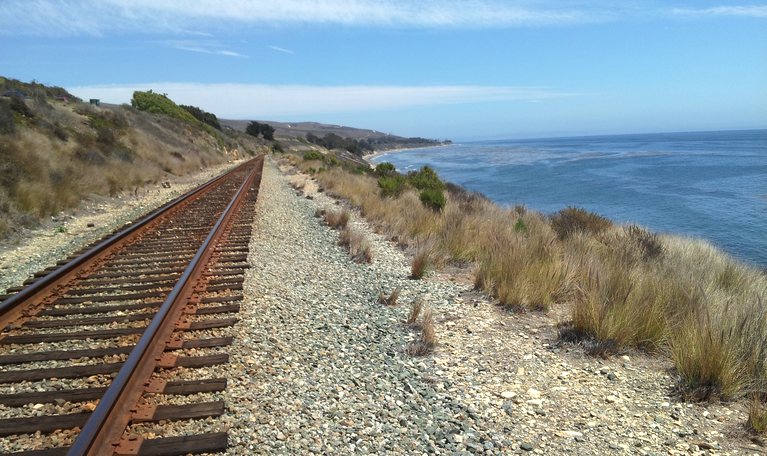 Amtrak Pacific Surfliner trains consist of double-decker California passenger cars with wide windows perfect for viewing the Pacific ocean. All cars are equipped with power outlets for laptops. Amtrak's Surfliner route is one of the busiest in the country, and for a good reason.
The two largest train stations on the Surfliner route are Los Angeles Union Station and San Diego Union Station. Both of these destinations offer easy access to numerous nearby attractions along with connections to a trolley or underground train systems.
One unique train station along the Surfliner route is San Clemente. The Surfliner drops off passengers at the San Clemente Pier and only steps to the sand.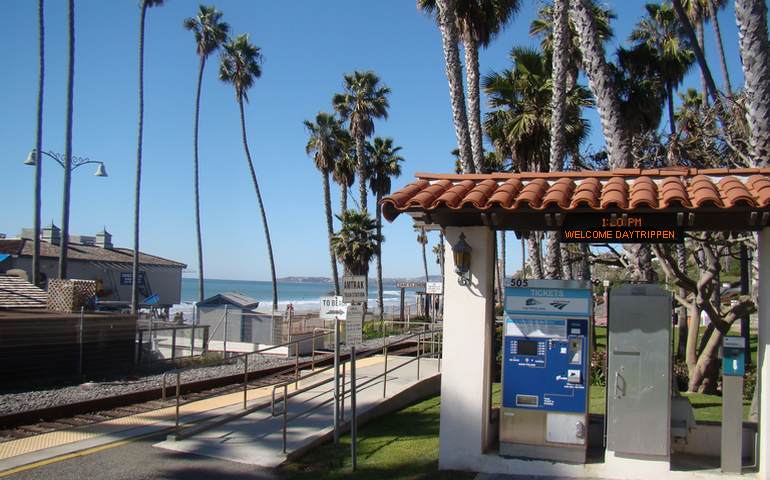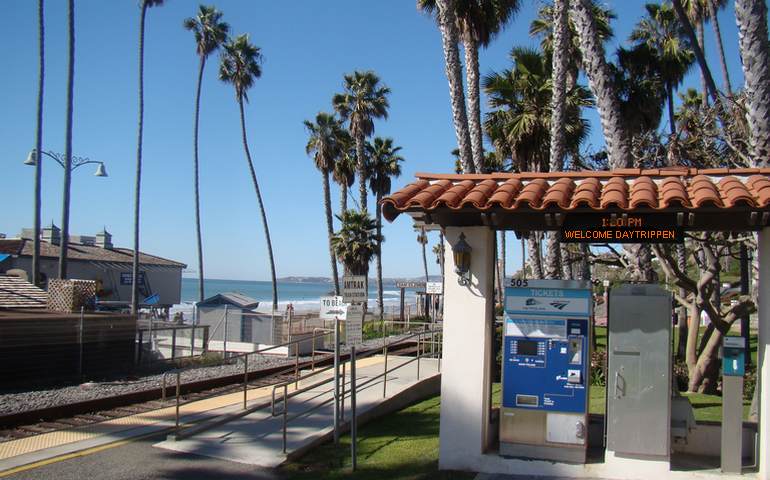 The Los Angeles to San Diego track was once served by the Santa Fe San Diegan trains. Amtrak took over the route in 2000, and the Pacific Surfliner was born. Today the Pacific Surfliner route is one of the busiest passenger train services in the nation.
Amtrak Pacific Surfliner offers twelve daily round-trip journeys between San Diego and Los Angeles. There are six daily trains from Los Angeles Union Station north to Santa Barbara.
If you were to travel the full 350-mile route, the trip would take a little over eight hours. Los Angeles to San Diego travel time is a little under three hours.
Reservations are not normally required on Pacific Surfliner trains; however, it's best to book a few days ahead of your departure date on busy summer weekends.
Amtrak Pacific Surfliner Stations – Day Trips
List of points of interest, destinations, and popular day trips by train along California's Pacific Surfliner train route.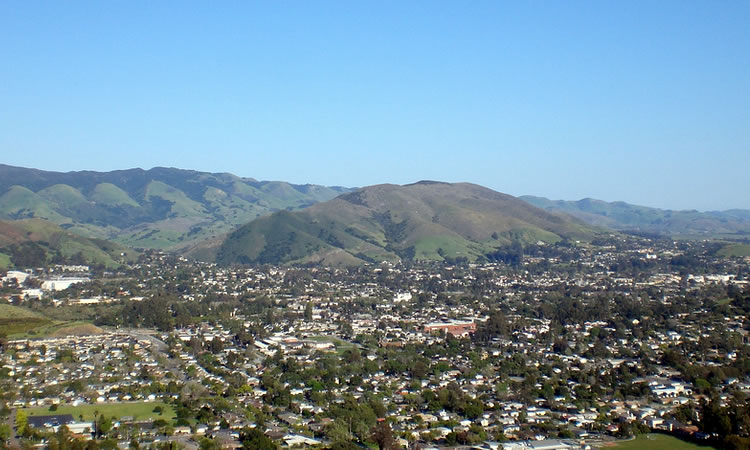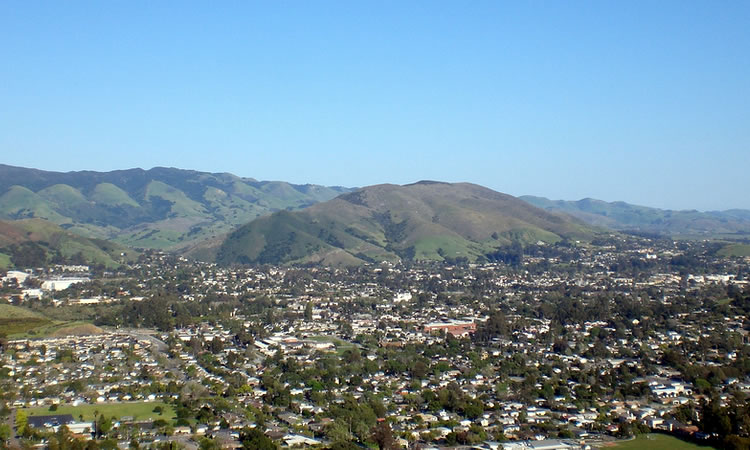 San Luis Obispo is the Northern Most stop of the Amtrak Pacific Surfline. If you wish to travel further north from here, you can continue on the Coast Starlight train. San Luis Obispo is nestled among the hills, just south of Paso Robles, Atascadero, and north of Pismo Beach; the city is halfway between San Francisco and Los Angeles. San Luis Obispo is the closest train station to Hearst Castle.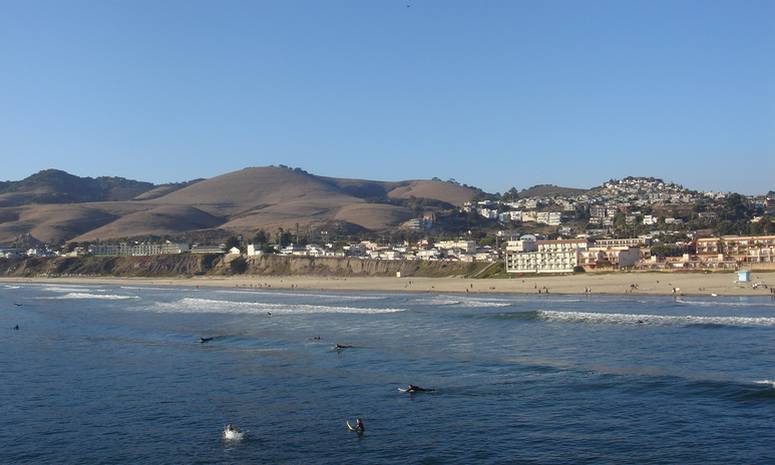 Grover Beach is one of the Five Cities of the Central Coast. Pismo Beach, Oceano, Arroyo Grande, and Shell Beach. Grover Beach Amtrak station is located on Grand Ave, which is also the entrance road to the Pismo Dunes recreation area. Grover Beach is the nearest station to Pismo Beach. From here, the Surfline route turns inland to San Luis Obispo.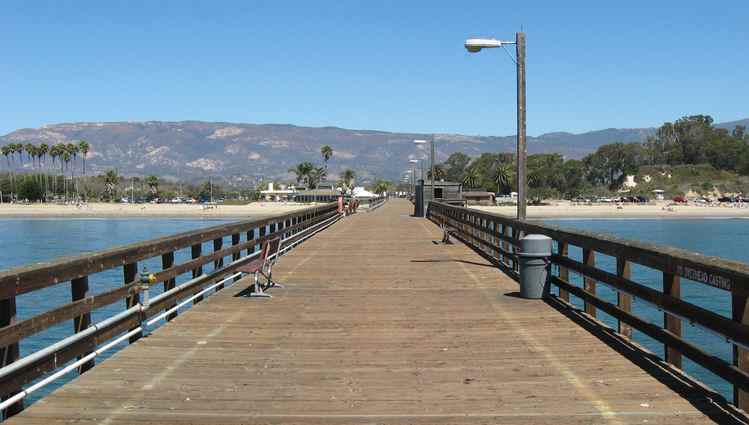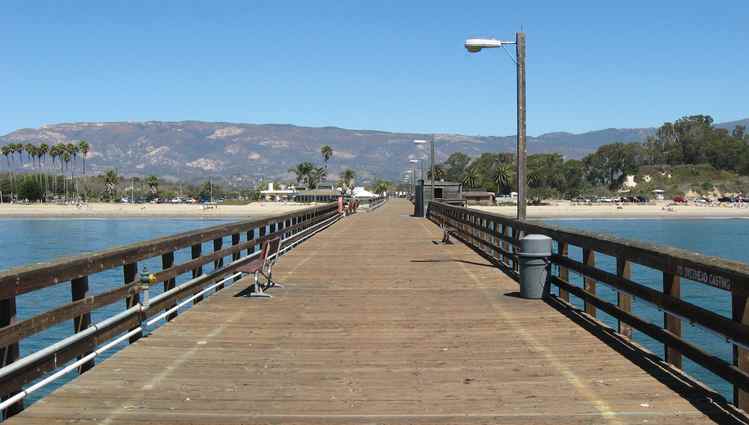 Goleta, California, is just north of Santa Barbara. Goleta beaches are typically less crowded than Santa Barbara's, and Goleta Beach Park is the ideal destination for a quiet family day trip or a romantic weekend getaway. If you are a railfan, you should check out Goleta's South Coast Railroad Museum.  The museum offers exhibits about rail life, historical artifacts, and a collection of rare photographs and memorabilia.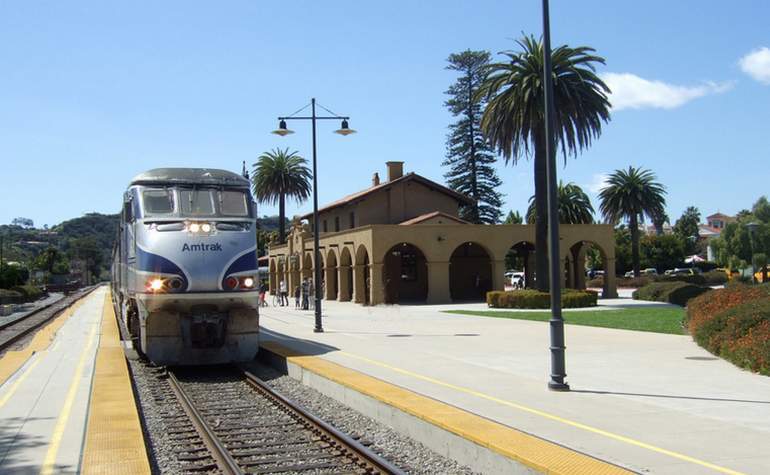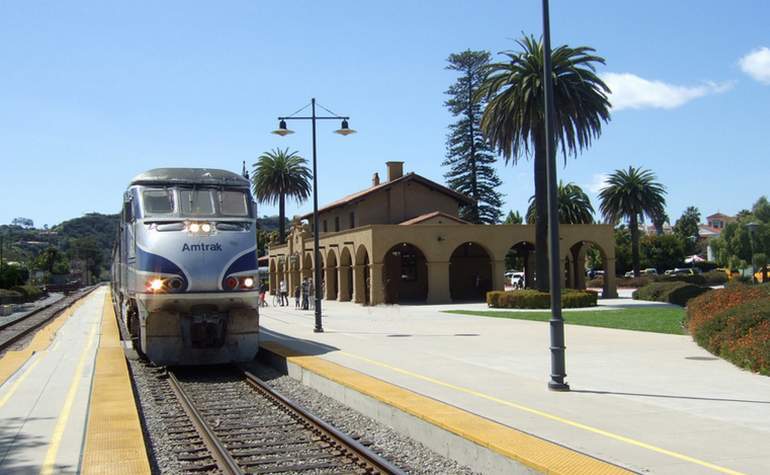 Santa Barbara California Amtrak train station is only a ten-minute walk to Stearns Wharf and beach hotels. While it is possible to take the Surfliner train to Santa Barbara for a day trip, we suggest spending at least one night. Attractions are plentiful in this wonderful coastal town. One day is just not enough for most travelers. Santa Barbara is a three-hour train trip from Los Angeles.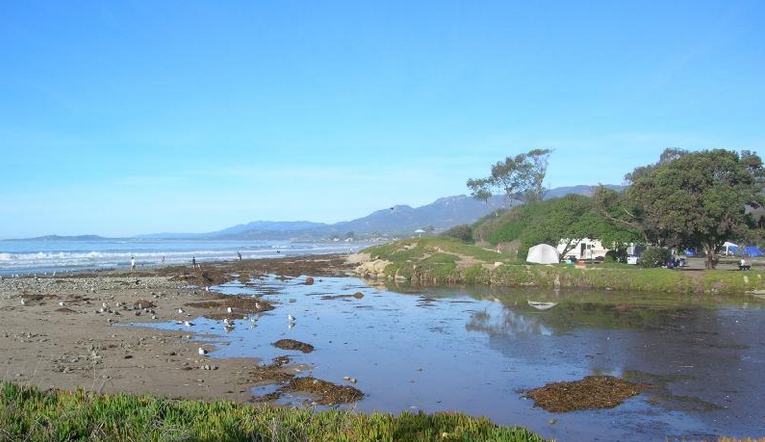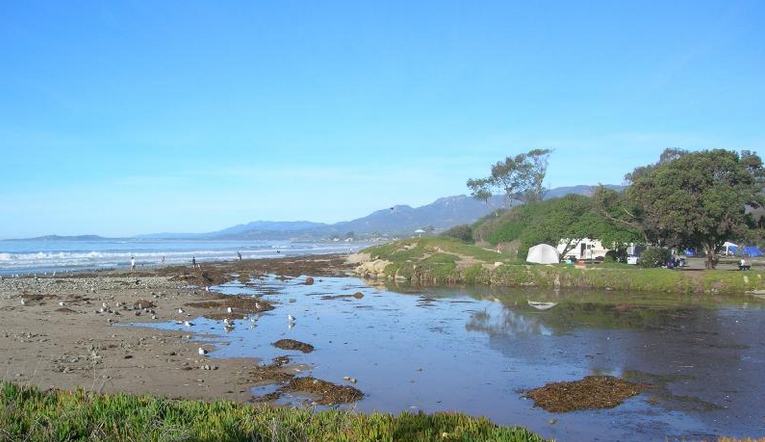 Carpinteria is south of Santa Barbara, and the Amtrak station is within easy walking distance of Carpinteria State Park. This sleepy suburb on the Santa Barbara Channel of the Pacific will put visitors in touch with destinations that make California's coast a traveler's delight.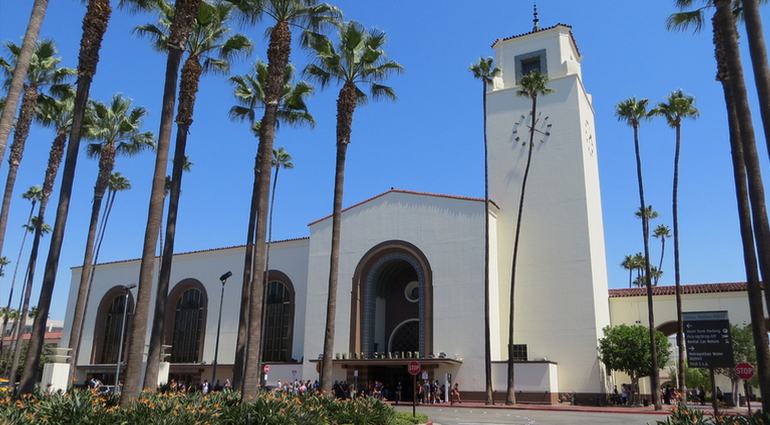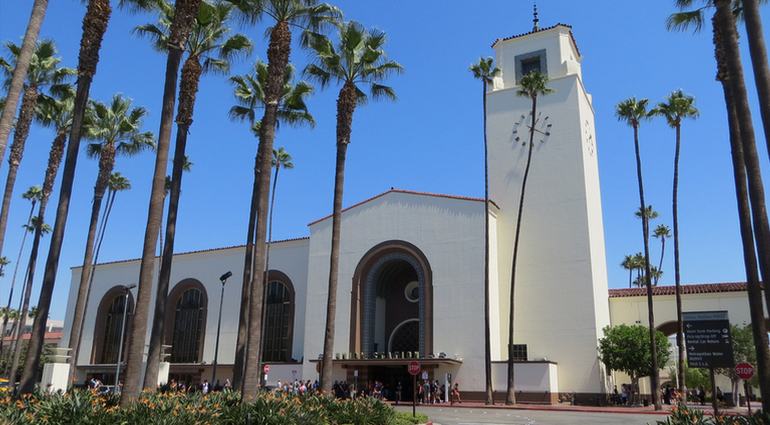 Union Station is a hub of activity with Metro and Amtrak trains arriving hourly. Passenger trains depart hourly South to San Diego and North to Santa Barbara and points beyond. Downtown Los Angeles Union Station nearby attractions include Chinatown and Olvera Street. Metro rail lines connect with the rest of the city, Including Universal Studios Hollywood.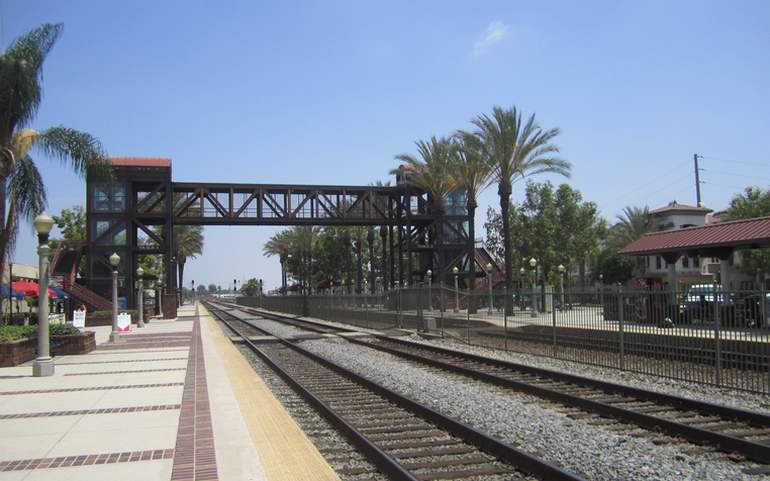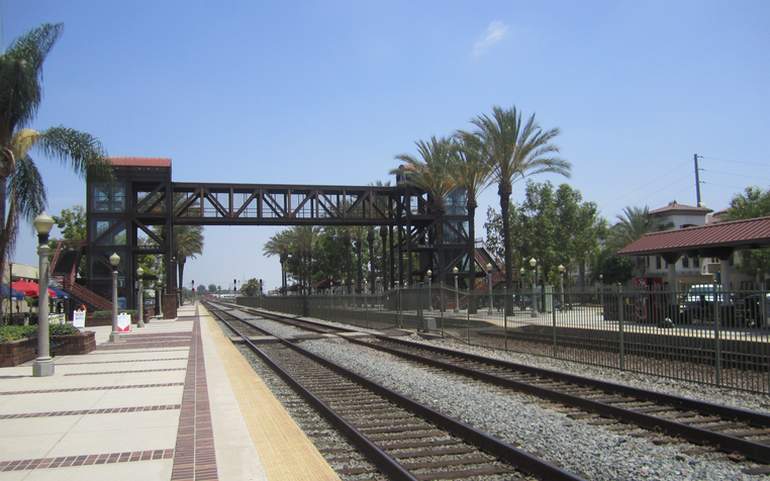 Fullerton offers a family-friendly environment. more adult-oriented evenings. Fullerton has a large modern train station with a short walk to the old town with dining & shopping options. The Surfliner travels through Santa Ana, Irvine, and San Juan Capistrano from the Fullerton train station.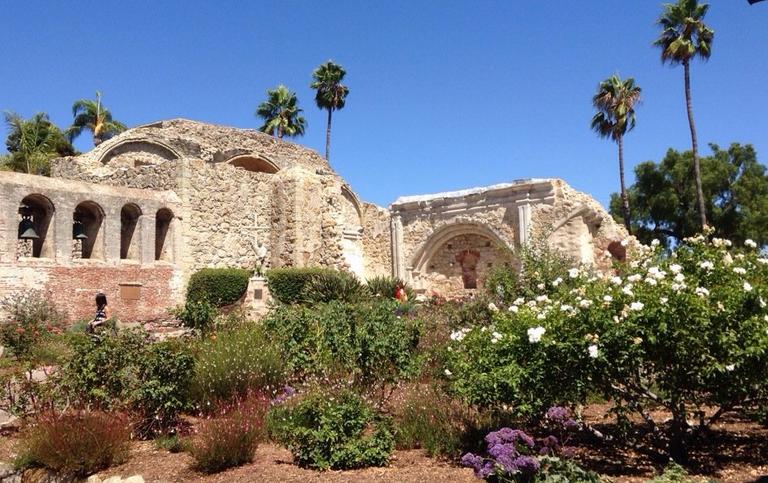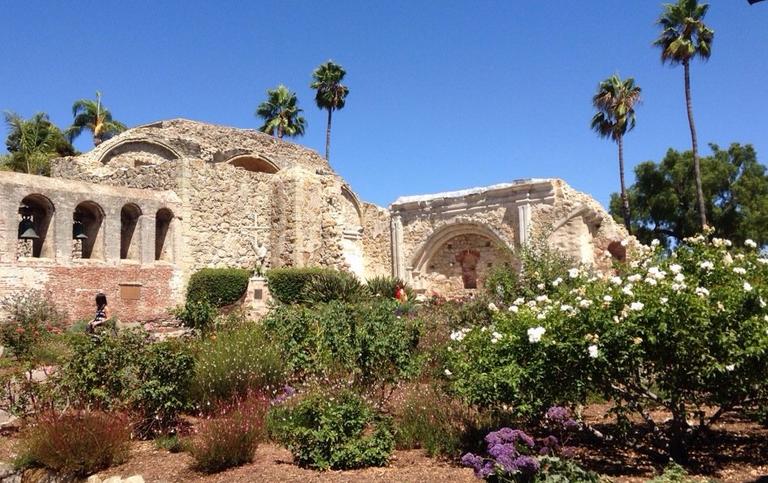 San Juan Capistrano is one of the most popular day trips by train along the route of the Amtrak Pacific Surfliner. Historic  Mission San Juan Capistrano is within easy walking distance of the Amtrak station. Families, school groups, and day-trippers all enjoy the convenience of traveling by train to see the mission.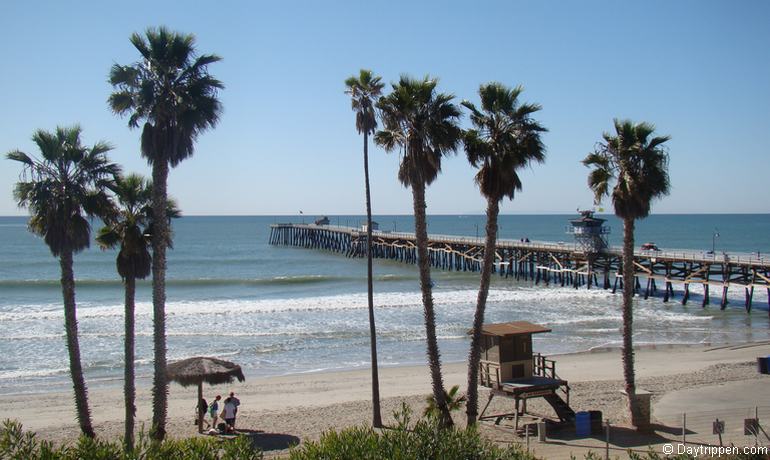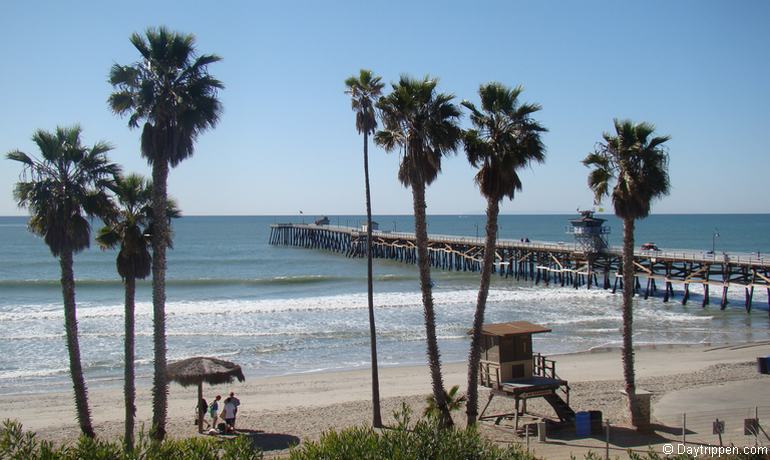 San Clemente's Train Station is adjacent to Pier, only steps to beach and nearby hotels.  San Clemente is a popular summer beach day trip from inland areas of Southern California.  Visitors can enjoy a day at the beach and avoid summer traffic and parking problems.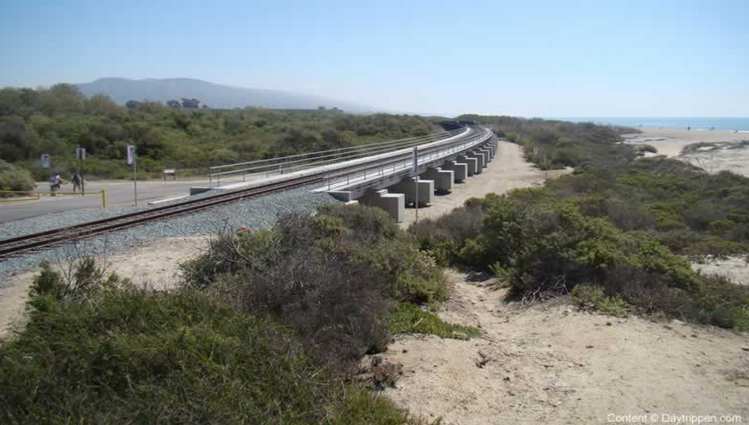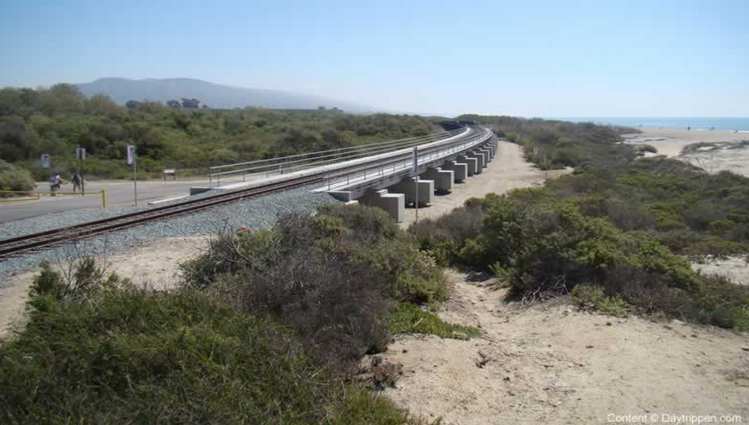 Surfliner does not stop at Trestles, but passengers get as close as possible without standing on the beach. The train passes over the "Trestles Bridge" and follows the beach past upper, middle, and lower trestles surf breaks. The nearest train station to Trestles is in San Clemente.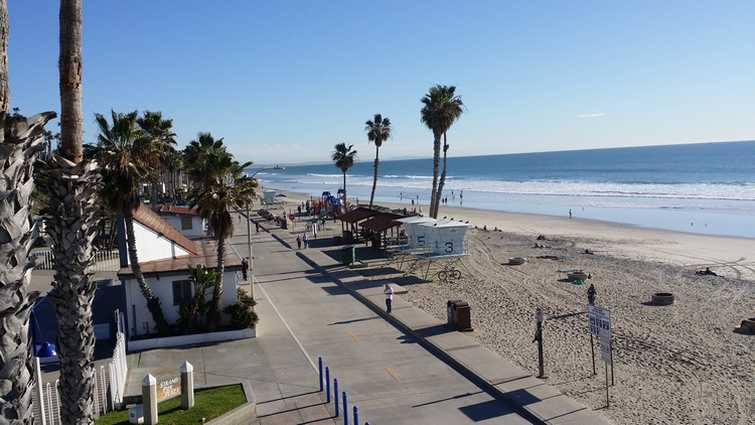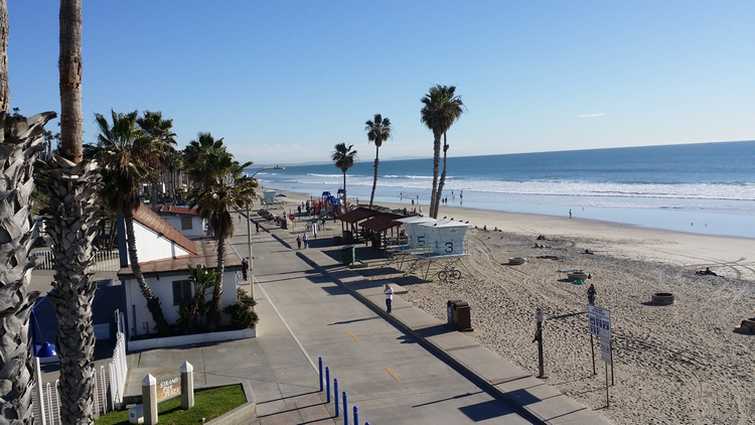 Oceanside Amtrak Pacific Surfliner train station is three blocks from the beach and the town's huge wooden pier. Oceanside is perfect for a day trip or weekend getaway by train. At one time, the Oceanside Chamber of Commerce Slogan promoted this beach town with a huge billboard along Highway 101, "Tan Your Hide in Oceanside." These days the Chamber of Commerce has a slightly different vision "Oceanside Classic California Beach Community."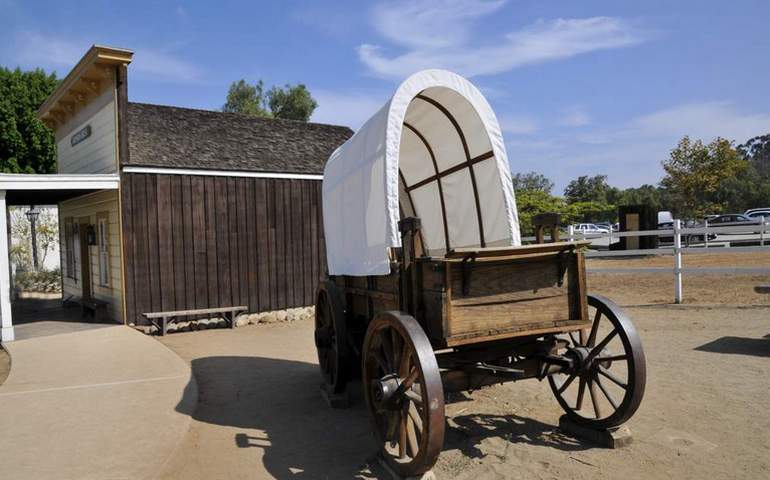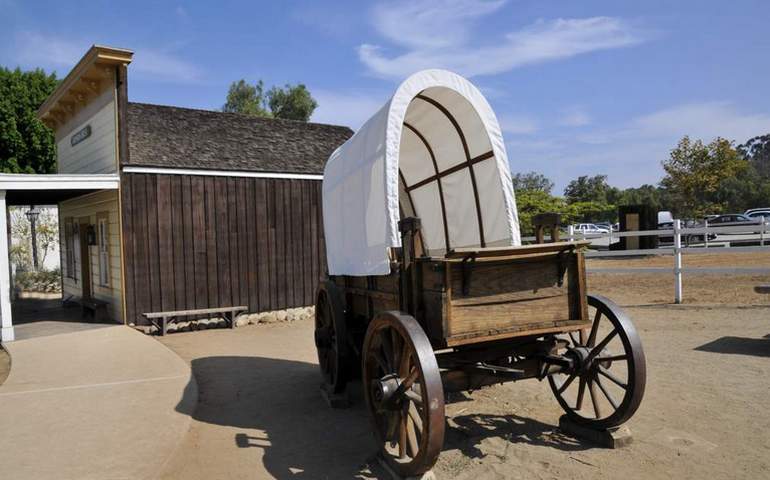 Old Town San Diego State Historical Park is a short walk from the train station. Some Amtrak trains stop here along with the San Diego Red Car Trolley. Visiting Old Town San Diego is like taking a step back in history. Often called the birthplace of California, Old Town is the first Spanish settlement in the region and near the site of the first of California's 21 missions.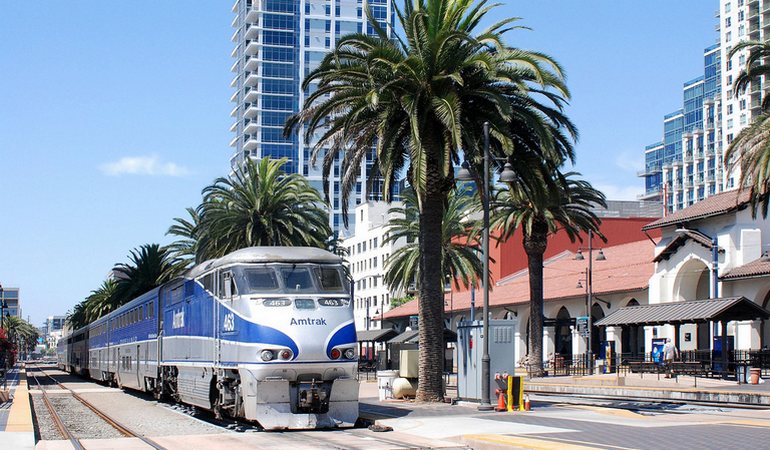 San Diego's historic Santa Fee train Station is the end of the Pacific Surfliner route.  There are several popular attractions within walking distance of the station. Many riders continue to the border via San Diego red trolley. Buses and trolleys depart every few minutes from the train station to many of San Diego's most popular attractions.
How much do Amtrak Surfliner tickets cost?
One way adults tickets from Los Angeles to San Diego about $35 and from Los Angeles to San Barbara about $30.
Amtrak Pacific Surfliner Train train tickets buy online at Amtrak California's website, train stations, or onboard trains.