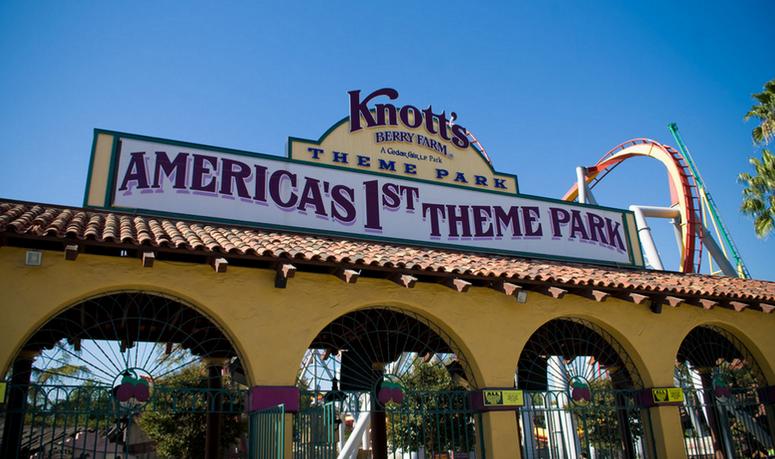 Knott's is Southern California's most affordable theme park offering adventure and fun for all age groups. With the price of a single ticket to Disneyland® going for a $100.00 plus, a family of four can visit Knott's for about half the price of a visit to Disneyland California.
How much are tickets for Knott's at the gate: Adults $75.00 Age 3-11 $45.00. How much is parking: $18.00.
Best Deals on Knott's Berry Farm Tickets
Deal #1: Best Deal For Families. Save $62.00 on 2 Regular Tickets. Buy more tickets- save more.  Tickets are print-and-go or you can get the barcode scanned at the ticket booth from your cell phone.
---
Deal #2: Best deal on adult tickets. Save up to $36.00 off with these tickets. Even if you don't buy Knott's tickets using this deal, sign up for the email list for more discounts on SoCal attractions.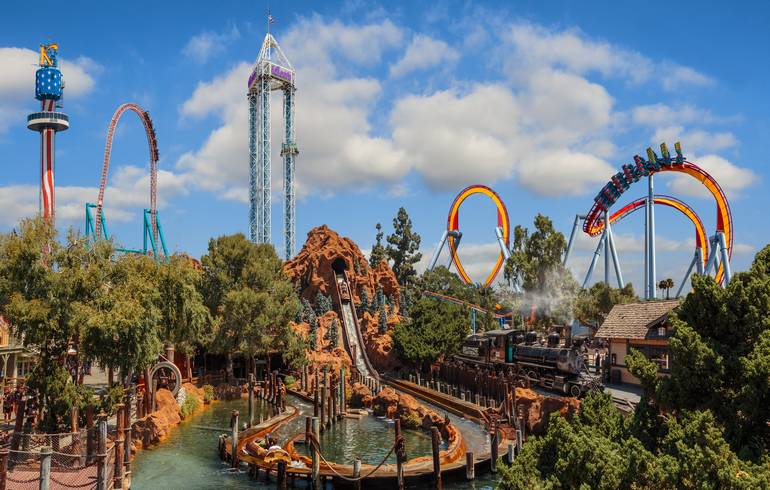 Knott's is Southern California's oldest theme park and has been entertaining guests along Beach Blvd in Buena Park, California since the early 1920s.
Knott's Berry Farm offers something for every age group, young children, teens, parents and even grandparents will all have a fun day. Enjoy an original chicken dinner, walk through a ghost town, and ride the latest thrill rides.
Knotts Berry Farm Rides & Attractions
America's first theme park Knotts Berry Farm has ten roller coasters including Xcelerator, Ghost Rider, Jaguar, Pony Express and Silver Bullet. There are also three water rides, Bigfoot Rapids, Perilous Plunge and original Timber Mountain Log Ride.

Knott's Calico Mine Ride
Knott's mine ride was the first big attraction at the farm. Opened in 1960 this family-friendly ride takes visitors into a gold mine complete with caverns, waterfalls, and the mother load room. Over the years the mine received minor updates and additions. In 2014 the Calico Mine tour got a major upgrade.  State-of-the-art animatronic figures, new lighting, special effects, and new mine cars.

Knotts Berry Farm Ghost Town
Knott's Ghost Town is one of the original attractions in the park. Walter Knott collected buildings from mining camps and abandoned towns and created a replica western town. Today the ghost town has a Blacksmith Shop, Sheriff's Office, Silver Dollar Saloon, Bird Cage Theatre, Boot Hill, Gold Panning, and many other buildings. A few of the buildings were moved from Calico Ghost Town near Barstow which was once owned by Walter Knott.

Knotts Camp Snoopy
Knott's Berry Farm is very family friendly and offers plenty of rides for younger children. Camp Snoopy has 12 rides just for kids including Charlie Brown's Speedway, Lucy's Tugboat, Woodstock's Airmail and Rocky Road Trucking' Company.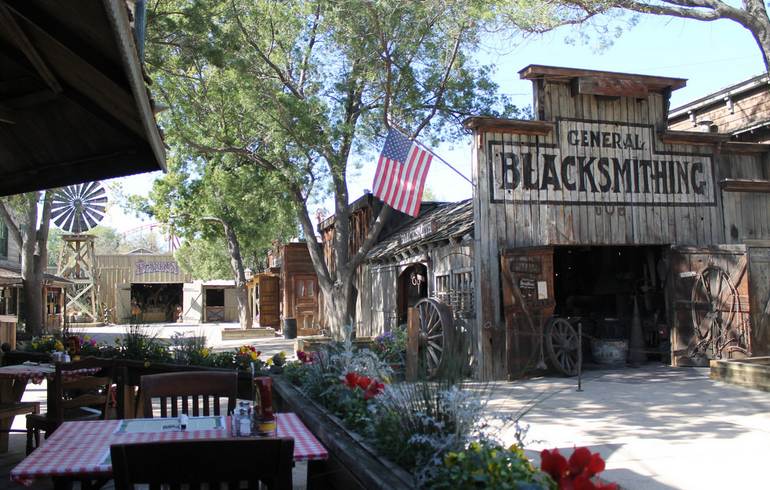 Tips Before You Go
If you're planning a visit to Knotts Berry Farm the number one tip we have is to arrive when the park opens. This will give you, at least, two hours of short lines for all the major rides.
After 12:00-noon the park gets busy. Hundreds of people will be pouring through the gate and the lines will be growing.
Is there any place you can park for free? Behind Soak City along Stanton Avenue, there are places to park for free. After parking, use Cresent Street to cross Beach Blvd and then cut through Knotts parking lot.
Dining at Knotts Berry Farm

Knott's Chicken Dinner
Knott's Berry Farm Chicken Dinner Restaurant serves over a million guests each year and is the largest full-service restaurant in California that serves chicken as its main course. Also on the grounds at Knott's is a Pinks Hot Dogs and a TGIF restaurant. All three restaurants are outside the park entrance. Nearby Buena Park Downtown features a Chili's, Olive Garden, and numerous fast food restaurants.
Additional Ways To Save
Costco & Ralphs Market offer seasonal discounts on Knott's tickets, however, we have lower prices and you can print or scan your ticket.
Auto Club members 10% off plus discount at some park restaurants.
Guest with a valid military ID will receive a discount at the ticket booth.

Go San Diego

and

Go Los Angeles

cards include Knotts Berry Farm. However, you will have to visit serval attractions in order to benefit from any discount.
Bottom line is purchase tickets online before you go. Ticket booth tickets are always the most expensive.

Online tickets save money

. Knott's Berry Farm gate price. Adult ticket price. Gate price $75.00 – You pay  as low as $37

Events at Knotts
Every October Knott's Berry Farm turns into Knott's Scary Farm. Halloween Haunt at Knott's is the world's largest theme park Halloween event. There are over 1000 monsters roaming the grounds at Knotts, plus shows, and mazes.
Christmas is a wonderful time to visit.  Knott's Christmas Farm is decorated with holiday lights and has a crafts village offering handmade one-of-a-kind gifts and strolling carolers. Knott's Berry Farm Christmas Craft Fair is free weekdays, no admission required.
During the Summer Knott's Soak City Water Park opens its gates for cool fun in the Southern California sun. Knott's Soak City is a 13-acre water park designed to look like a 1950s beach town.
Knott's Berry Farm has changed over the years but has still managed to keep its charm. This wonderful theme park offers entertainment for every member of the family from grandparents to younger children.
Knott's Berry Farm 8039 Beach Boulevard Buena Park, CA 90620 – Parking is additional to entrance tickets.