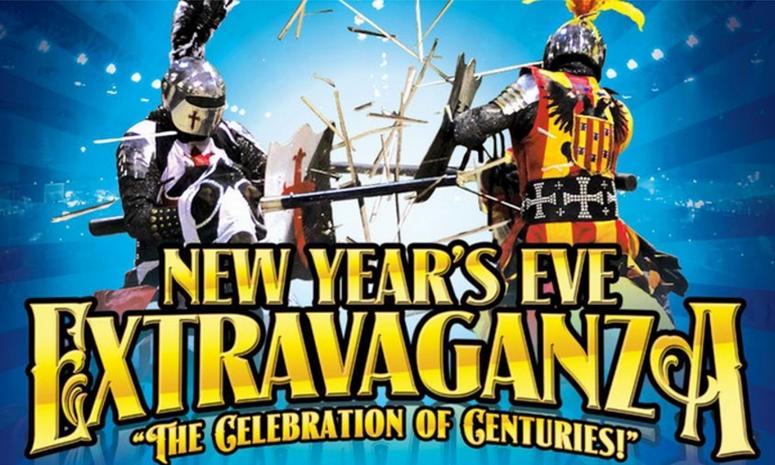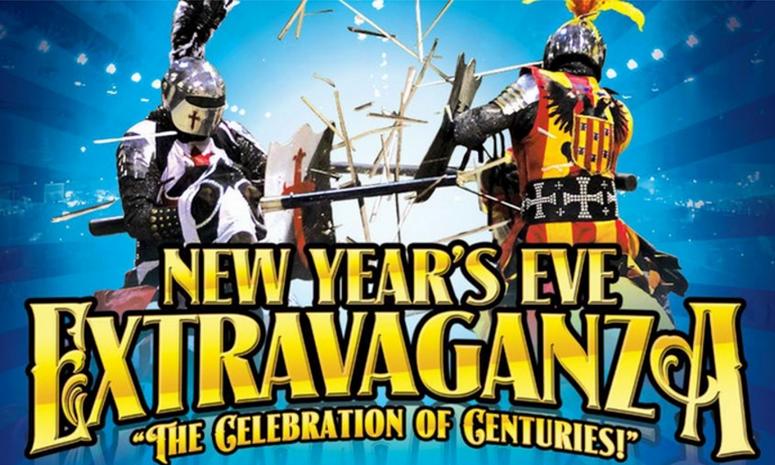 If you are looking for a unique New Year's Eve Party, then check out Medieval Times Extravaganza. The show starts at 9:30 p.m. New Year's Eve and includes a four-course dinner during the show and continental breakfast to start the New Year.
Medieval Times New Year's Eve party is a fun and exciting family-friendly New Year's Eve Event in Buena Park, California.
Ring in the New Year with the lords and ladies of Medieval Times. The evening begins with the famed Medieval Times experience. Guests enjoy pre-show hor's d' oeuvres and can explore the hair-raising Museum of Torture as they arrive. At showtime, everyone settles down to a four-course banquet while they cheer for their favorite knight.
Watch a particular New Year's Eve version of the show where warriors compete in jousting, swordsmanship, hand-to-hand combat, and extraordinary horsemanship.
After the show, medieval times give way to modern times with a DJ and dancing, party favors, a champagne toast and balloon drop at midnight. Restore your energy after your night of partying with a continental breakfast.
The New Year's Eve Extravaganza includes line up includes: Pre-Show Hors D'oeuvres, Admission to Museum of Torture, Two-Hour Live Tournament, Four-Course Medieval Feast, Party Favors, DJ and Dancing, Champagne Toast at Midnight (non-alcoholic beverage for guests under 21), Midnight Countdown with Balloon Drop and Continental Breakfast.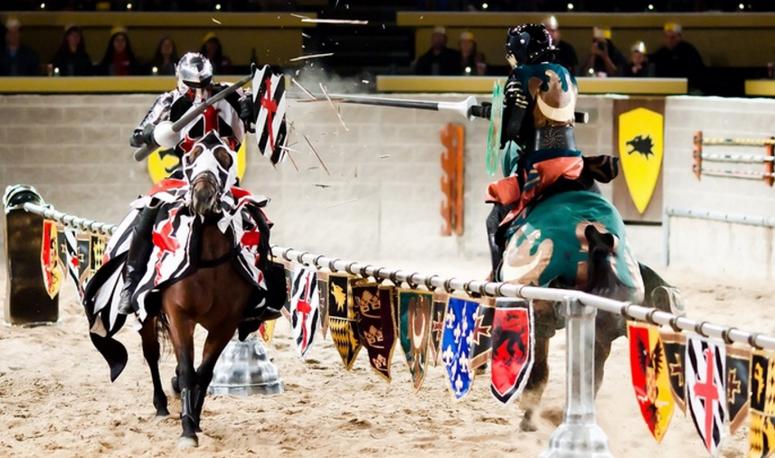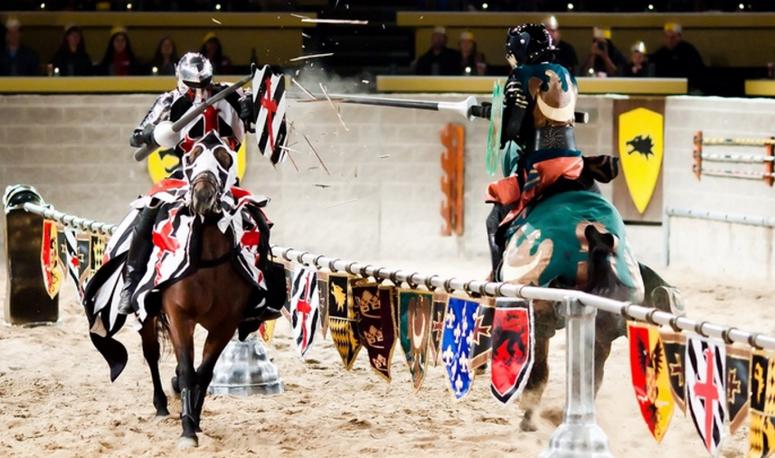 You eat with your hands. Eating utensils were not used in the 11th century; of course, if you need them, then they are available. The King's Feast includes Garlic Bread, Tomato Bisque, Roasted Chicken, Spare Rib, Herb-Basted Potato, Pastry of the Castle, and Beverages.
The show is a unique and family-friendly New Year's Eve event filled with fun and entertainment.
After the show, guests can enjoy dancing to a DJ, at midnight there us a balloon drop and toasts to the New Year. Finally, continental breakfast is served, and the party ends at approximately 1:30 a.m. Head home for a few hour's sleep and then wake up to watch the Pasadena Tournament of Roses Parade.
Medieval Times 7662 Beach Blvd Buena Park, CA 90620 10 minutes from Disneyland and a block from Knott's Berry Farm.