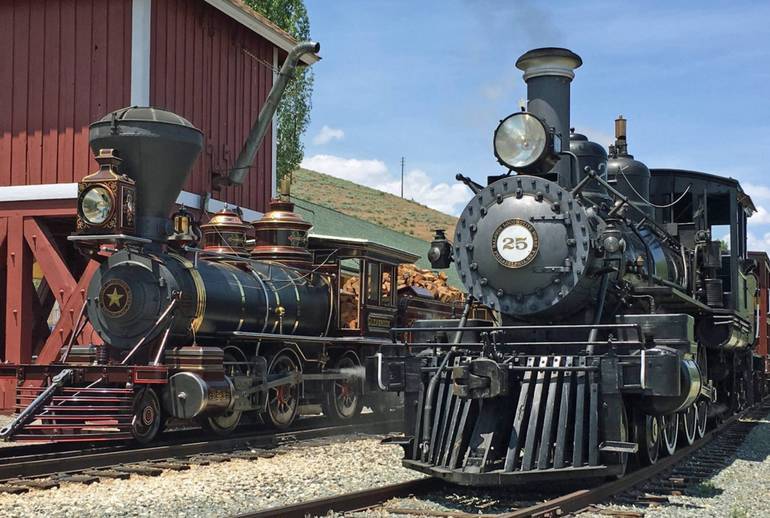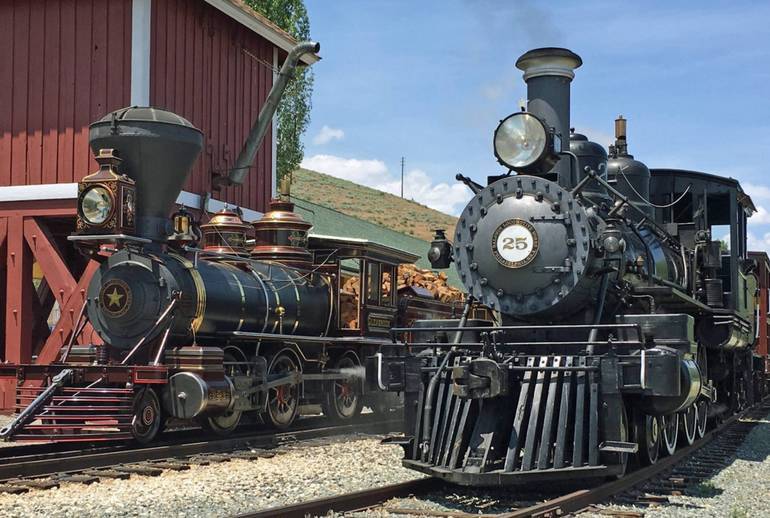 Nevada State Railroad Museum is a popular Carson City attraction. Visitors can view locomotives and cars of the Virginia and Truckee Railroad along with historic railroad equipment. A steam train or powered rail car runs on a short loop track around the museum on select weekends.
The Carson City railroad museum features Nevada's railroad heritage. It offers visitors unique hands-on experiences from the operation of historic railroad equipment to train rides aboard historic Virginia and Truckee Railroad equipment and fascinating visual exhibits.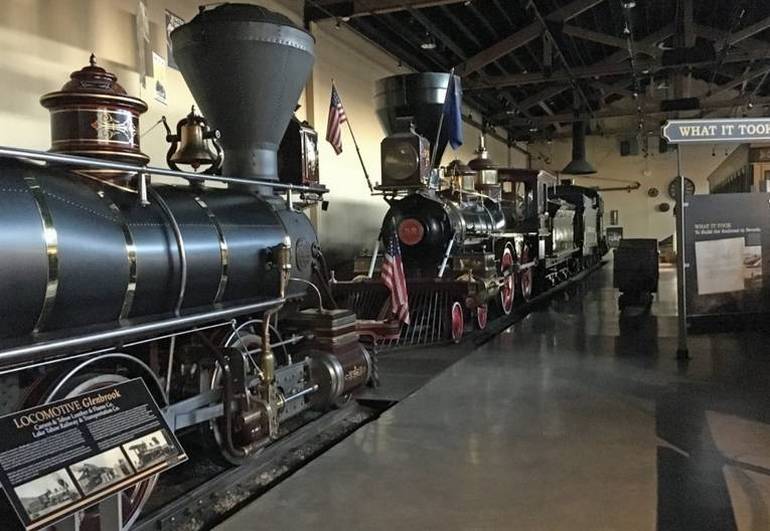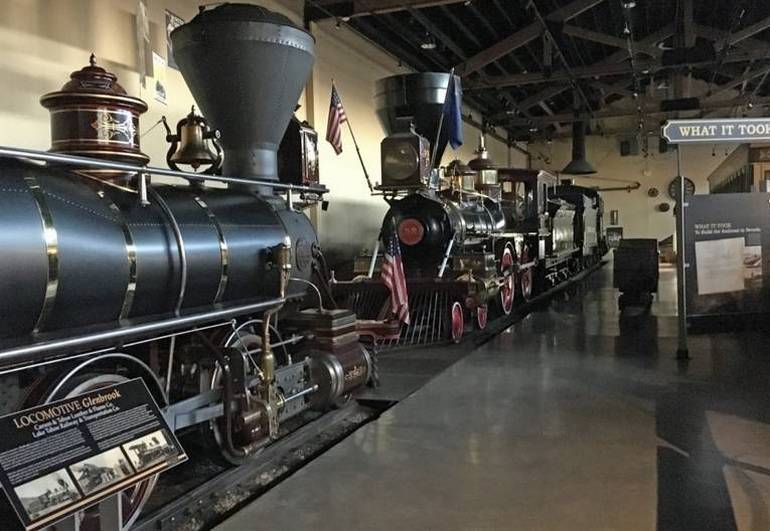 Exhibits
The museum has three beautiful narrow gauge restored steam engines. Carson & Tahoe Lumber Company used Glenbrook. Joe. Douglass dates back to the 1860s. And No. 8 Baldwin Locomotive saw use on the Nevada-California-Oregon Railway.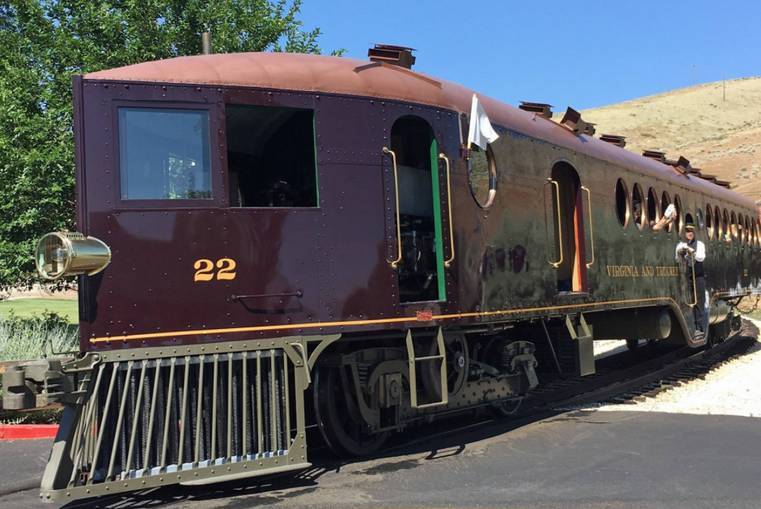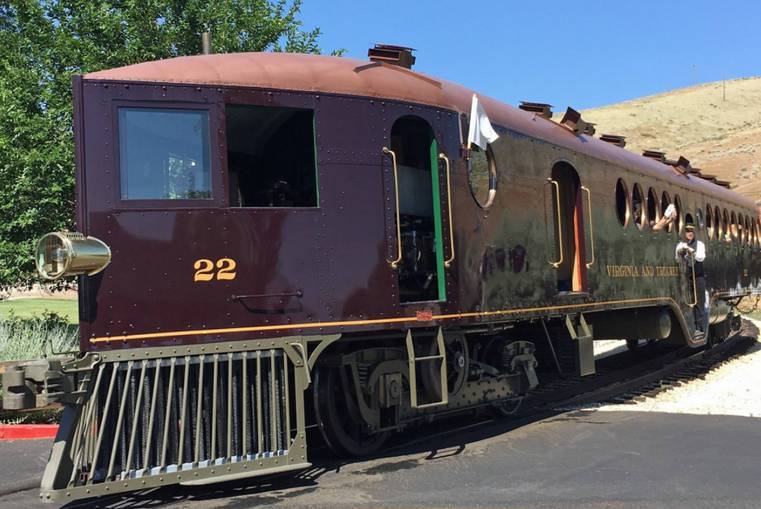 McKeen Motor Car
Another fascinating exhibit is the McKeen Motor Car. A self-propelled gasoline-powered passenger car ran between Carson City and Minden, Nevada, in the early 1900s. The McKeen Motor Car and a 1926 Edwards Motor Car are used on weekends for train rides.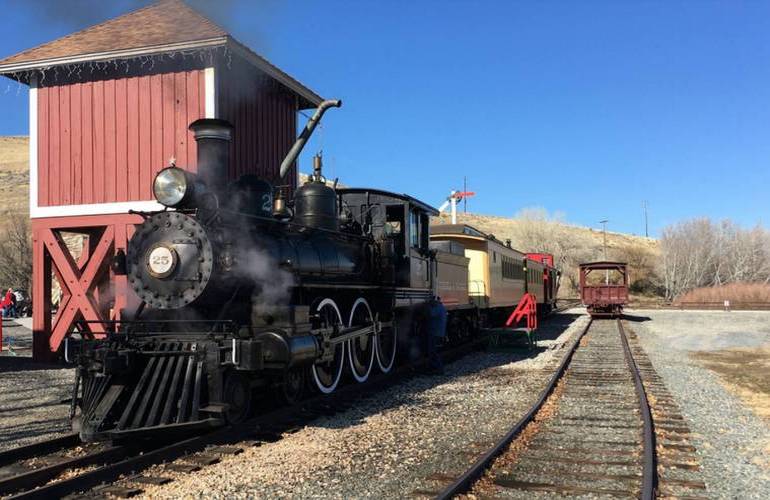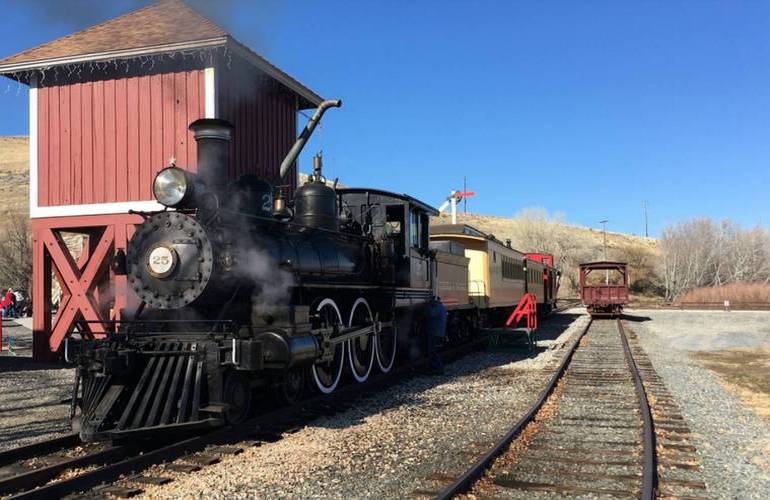 Rolling Stock
Nevada State Railroad Museum Carson City has a decent collection of passenger cars, baggage cars, flatcars, boxcars, and cabooses. Some are restored to new conditions. Others are awaiting restoration.
Other exhibits include railroad equipment, historical photographs, and railroad artifacts from the Virginia & Truckee Railway. There is a toy train for kids to play with and a gift shop. The museum is on the small side, so we recommend visiting when train rides are offered on the weekend.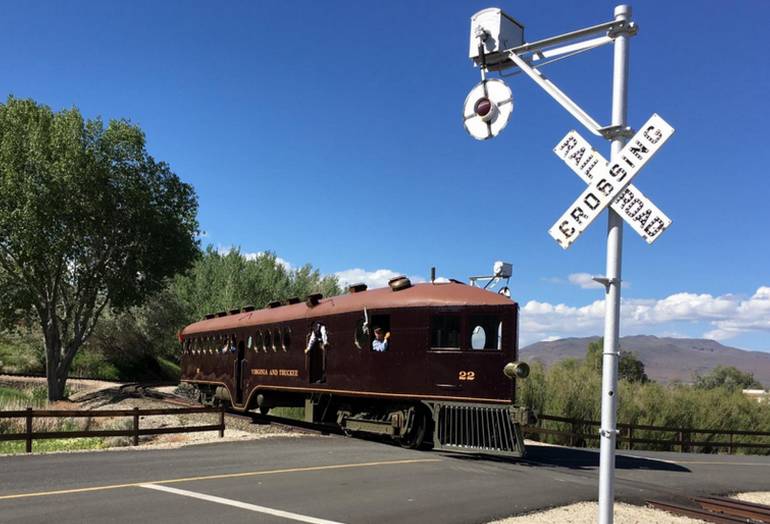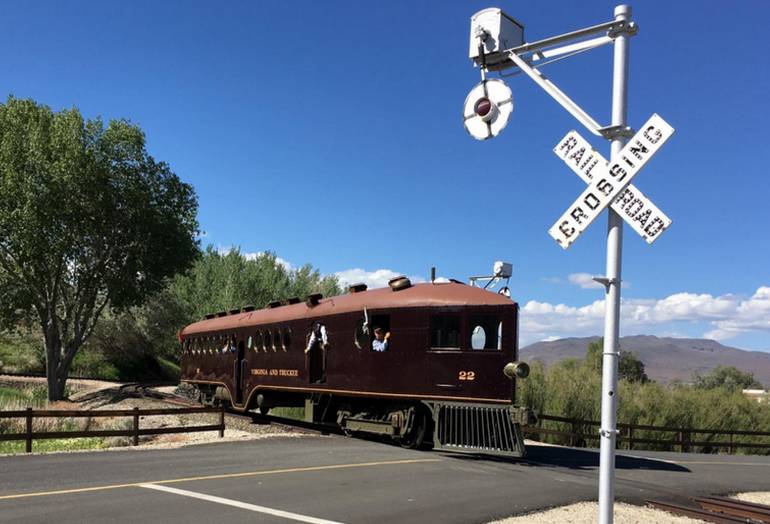 Carson City Railroad Museum Train Rides
The Nevada State Railroad Museum in Carson City offers steam train rides or motor car rides every weekend from May through September. Most weekends, the rail car will be running.
On select weekends (usually holiday weekends), one or more steam engines are put into operation, hauling passengers on a short section of track in front of the museum. Check the museum's operating schedule to see what's running.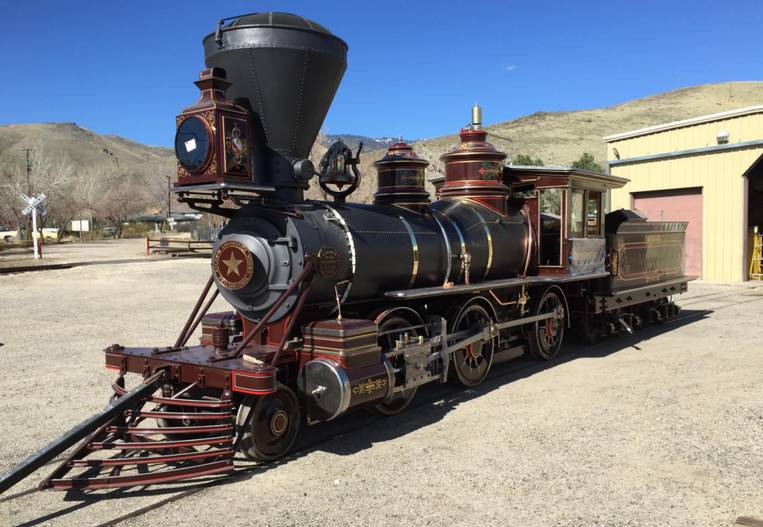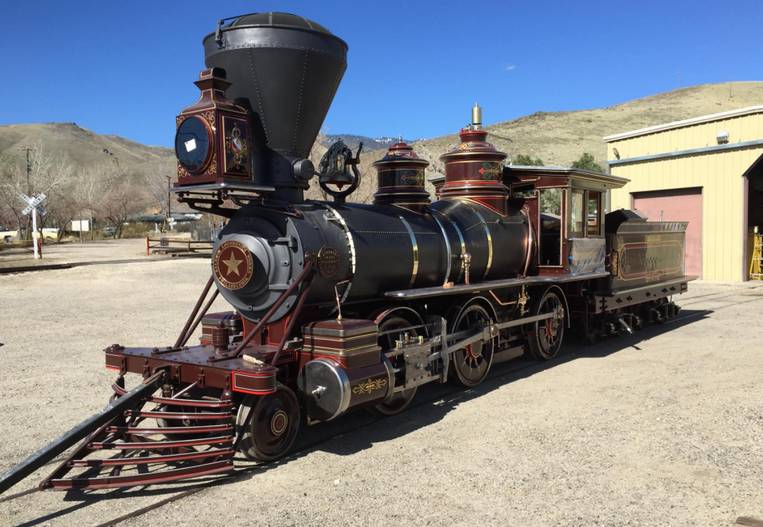 Also, at the Museum
A reconstruction of an early railroad water tower is used when the steam engines are in operation. An original Southern Pacific Railroad Depot is used as the ticket booth for train rides. And the Nelson House. A 1920s railroad station master's home that is not open to the public but makes an excellent place for a photo.
The museum's Southern Pacific Standard "A" Frame Gallows Turntable is used to turn locomotives and cars, plus provides easy access to the workshop and storage buildings.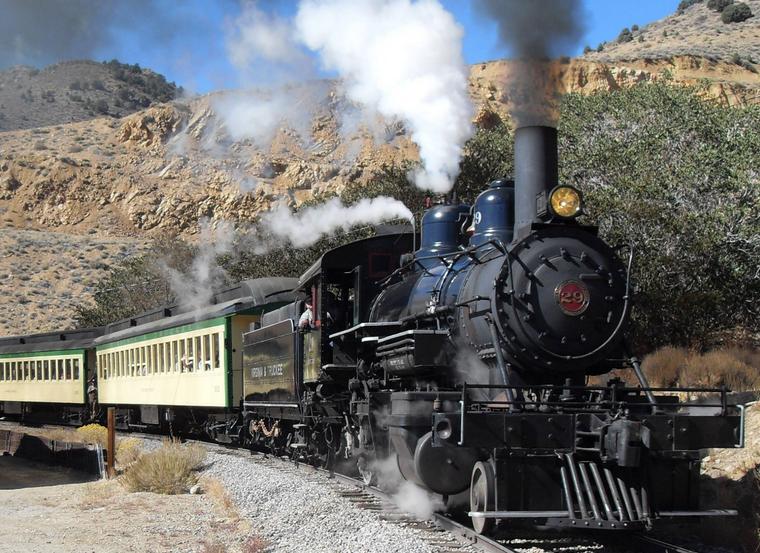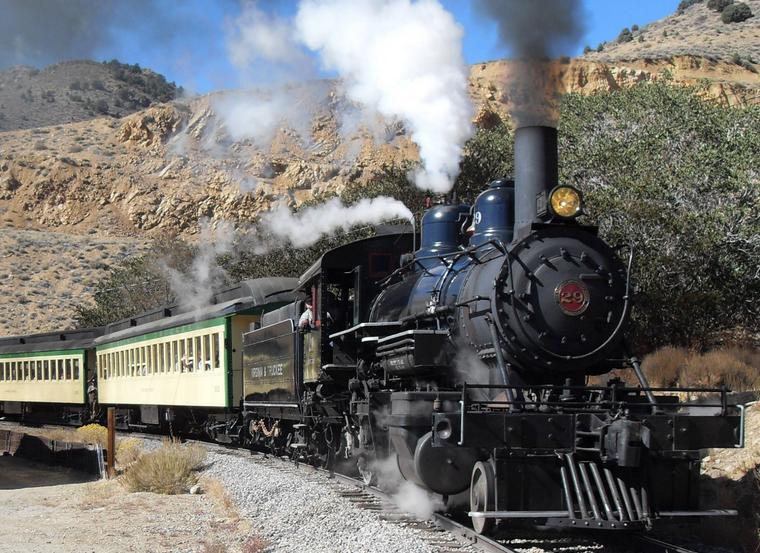 Travel by train from Carson City to Virginia City along the original route of the Virginia & Truckee Railway. Trains depart from the Eastgate Depot about five miles east.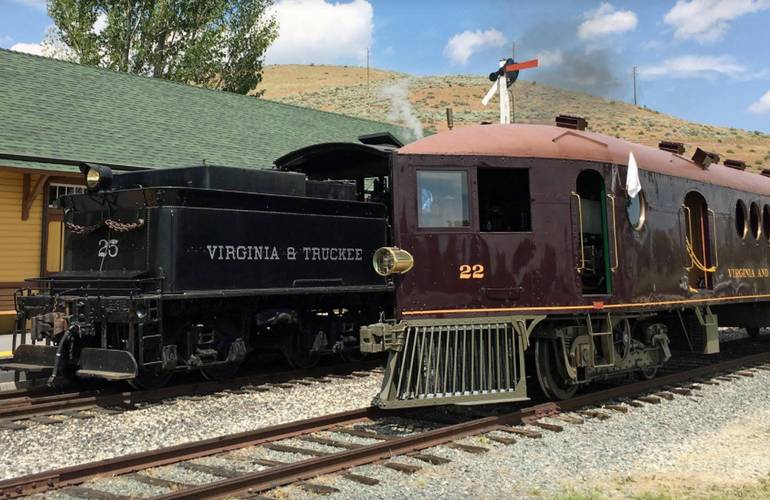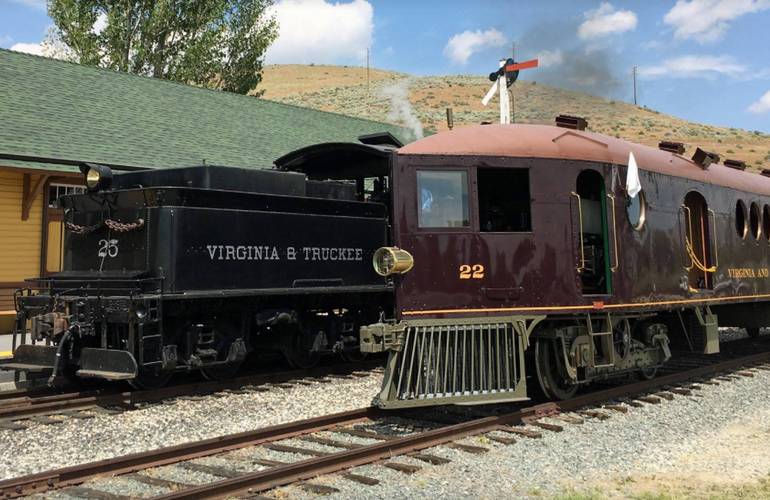 Getting to Carson City Railroad Museum
Nevada State Railroad Museum Carson City, Nevada. Hours: Open Thursday through Monday 9:00 a.m – 4:30 p.m. Admission is only a few dollars. Age 17 and under free admission.
Location: 2180 S. Carson Street. Carson City, Nevada.