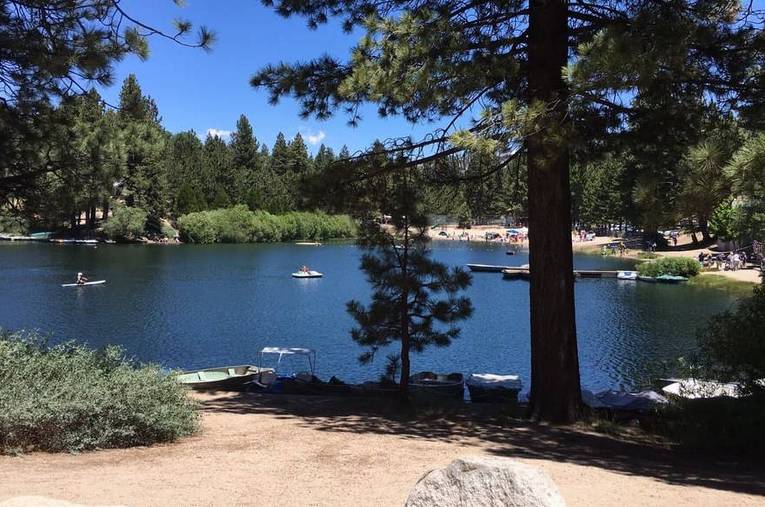 Nestled amid the San Bernardino Mountains at an elevation of 7,200 feet, Green Valley Lake is perhaps one of the Inland Empire's best-kept secrets. This "hidden gem" is a small human-made lake covering just nine acres and does not allow motorized boats, making it a perfect spot for swimming and fishing.
And because the lake is fed by rain and snow and has no year-round river flowing in or out of it, there is no worry of floating downstream, making it safer for the entire family.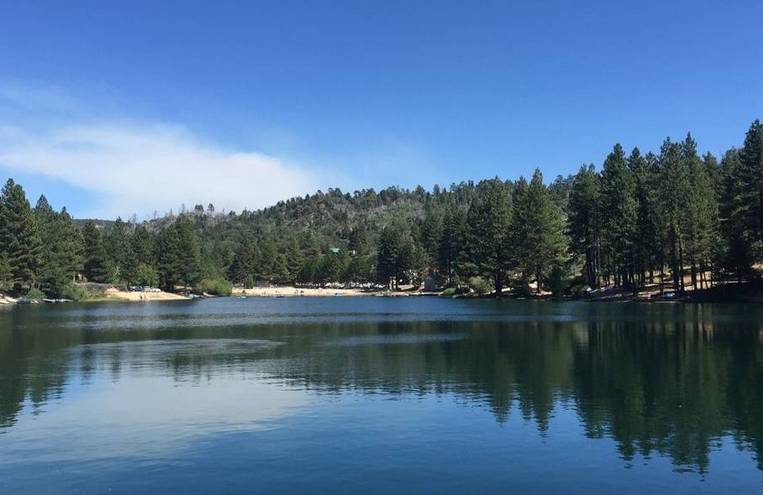 Created as the result of the Green Valley Dam in 1926, the lake can be used for any outdoor recreation like swimming, kayaking, or taking the kids out for a spin on the paddle boats. But it is most famous for fishing.
Rimmed in a forest of pine, cedar trees, and grassy meadows, Green Valley Lake has plenty to do for those that want activities off the water. There is a swimming beach area, basketball courts, jungle gyms, and even a small skate park. There is also plenty of nearby hiking, biking, and horse trails.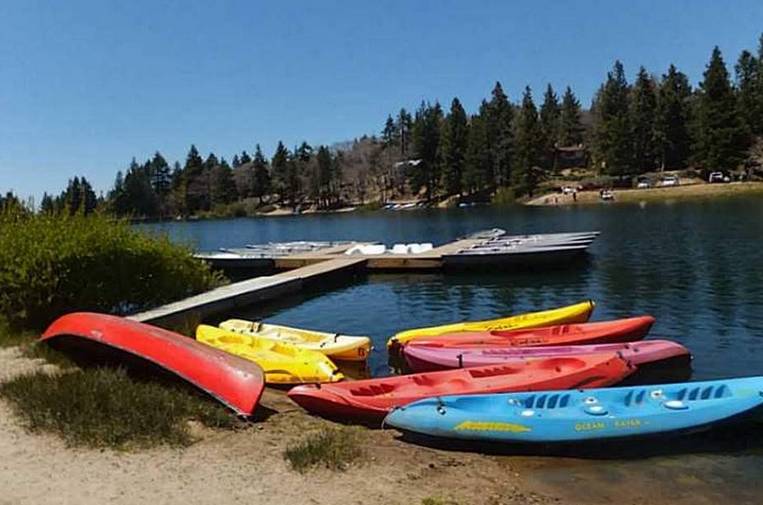 Fishing Green Valley Lake
Fish are stocked twice a month from May to August, and the lake is known for its exceptional trout fishing. However, because of low temperatures, the lake is frozen over in the wintertime until late spring. And while trout are the main action, there are also bass, catfish, and crappie in the lake.
There are, however, minimal concessions around the lake, so packing a picnic lunch is a good idea. There are plenty of tables. Canoes, kayaks, pedal boats, or paddleboats can be rented to explore the quaint shoreline for a reasonable price at the boathouse as well. The boathouse is open from 6 a.m. to 8 p.m. daily.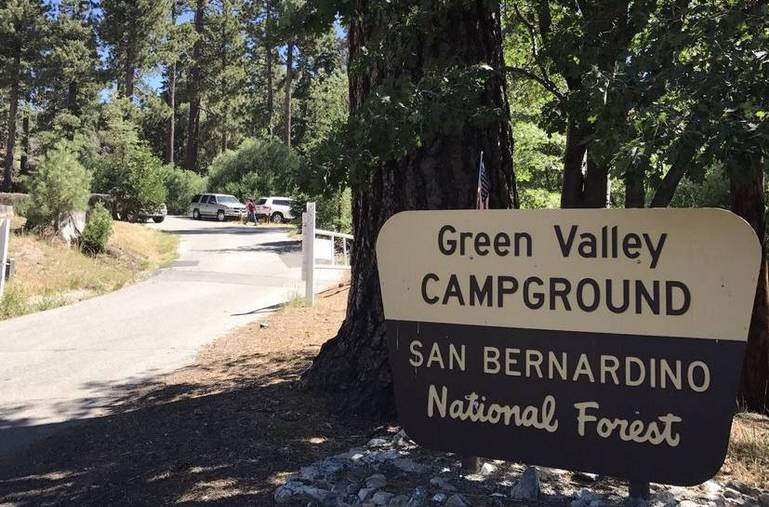 Camping Green Valley Lake
If you plan to stay for more than a day, there are plenty of overnight accommodations in the area, including private lakeside vacation rentals and a family campground. The Green Valley Campground is one mile east of Green Valley Lake, at the end of Green Valley Lake Road.
Surrounded by a lush meadow and tall pines, this campground has 36 camping sites — 22 suitable for tents or campers, 13 for trailers, or RVs. Nine sites are on a first-come, first-serve basis, and the rest are by reservation only. The campground is easily accessed by paved forest roads and is the main artery for numerous other trails, which are great for mountain biking and scenic driving.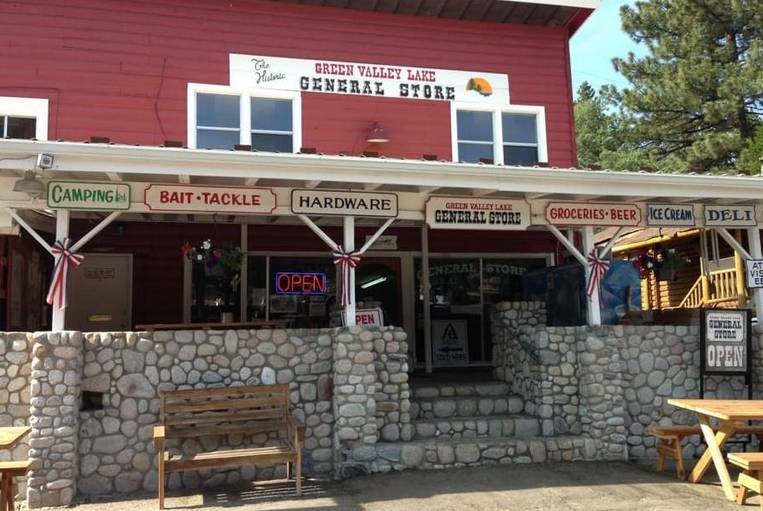 Places to eat at Green Valley Lake. The choice is the Lake Inn or the Malt Shop The Inn offers Pizza, wine, beer, full breakfast, lunch, and a tasty dinner menu.
The Malt Shop has a lighter fare (open Friday, Saturday, and Sunday) burgers, sandwiches, and baked goods. There is also a general store and bait and tackle shop.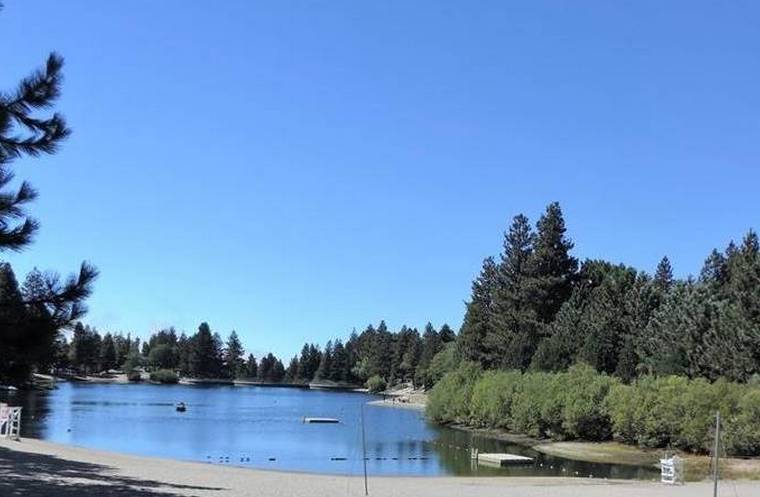 Getting to Green Valley Lake is easy.
The lake is situated a short drive from Los Angeles and Orange County and less than an hour from the Inland Empire. Green Valley Lake is also close to the nearby resort towns of Lake Arrowhead and Big Bear.
Take the 210 Freeway to 330 north. Then head east on SR-18 from the city of Running Springs, 2.7 miles. Turn left on Green Valley Lake Road and drive 3.5 miles. Winter driving conditions may require snow chains or 4WD to reach the lake.
Inland Empire Day Trip Ideas