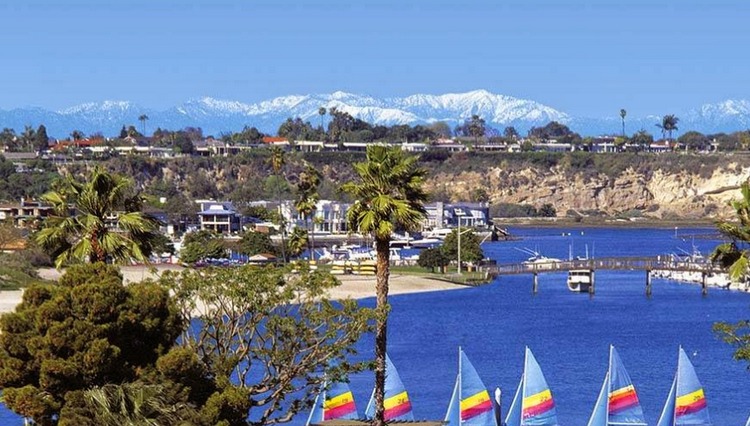 With a beach blanket bingo vibe from years past, Newport Dunes Resort provides the perfect home away from home for guests to have fun in the southern California sun.
Situated opposite of the multi-million dollar beachfront properties that line the golden coastline of southern Orange County's Pacific Coast Highway, the Dunes presents a 110-acre year-round aquatic playground at the entrance to the Back Bay nature preserve that the entire family can enjoy.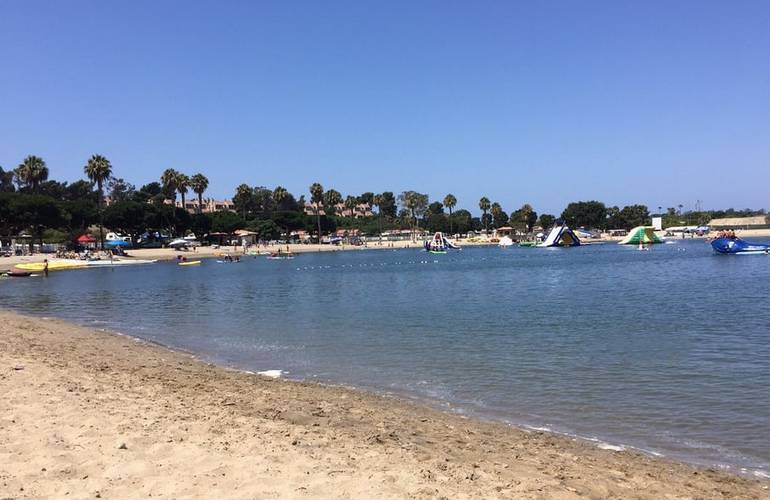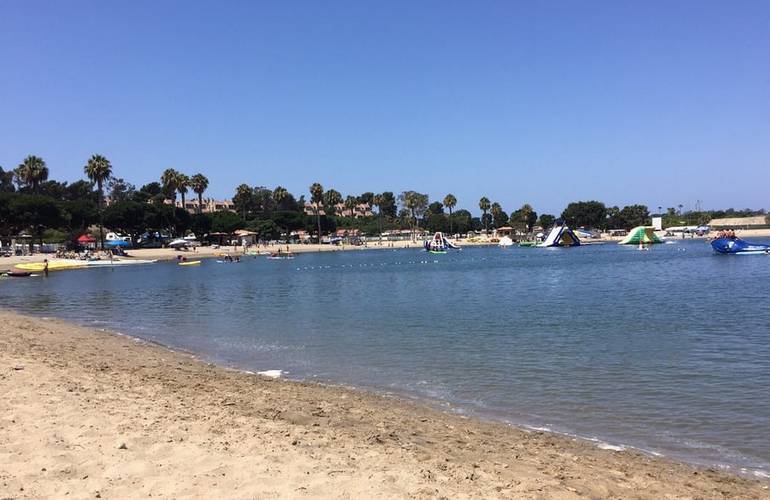 From the moment you arrive, you will see children riding bikes, families, and friends sharing a barbecue or roasting marshmallows on a stick over an open bonfire, people out in the water splashing about and just lying on the beach soaking up the sun.
While most guests arrive by RV, stopping for just a few days rest as they continue to their final destination or staying for an entire vacation, you don't need an RV to stay here. There are plenty of overnight options, including tent camping and cottage rentals.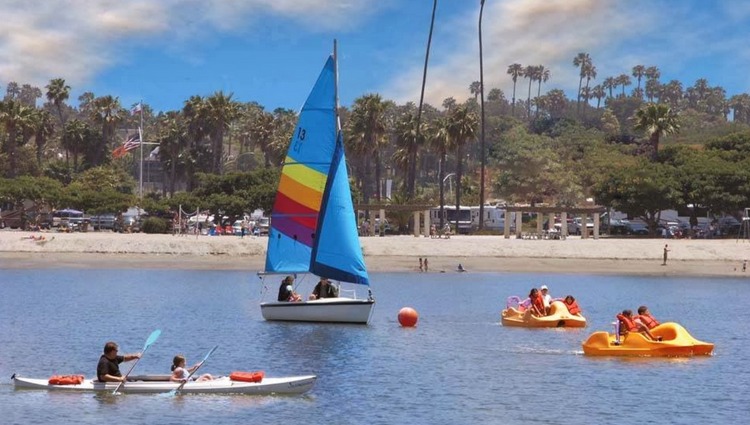 Newport Dunes Summer Waterpark
You can purchase a half or full-day pass to Newport Dunes Waterpark during the summer and have a blast in the safe and wave-free Newport Bay.
The Newport Dunes Resort's main attraction is, of course, the bay and its access to numerous water activities. Whether you're a kid or an adult, you are sure to find something to occupy your time.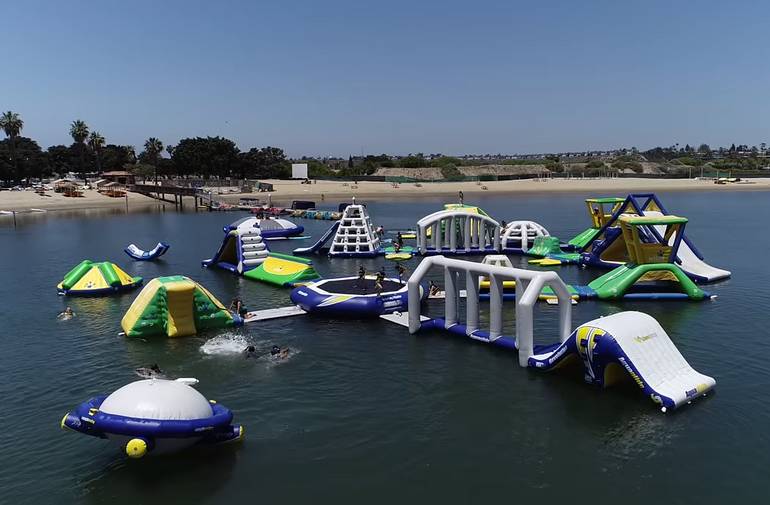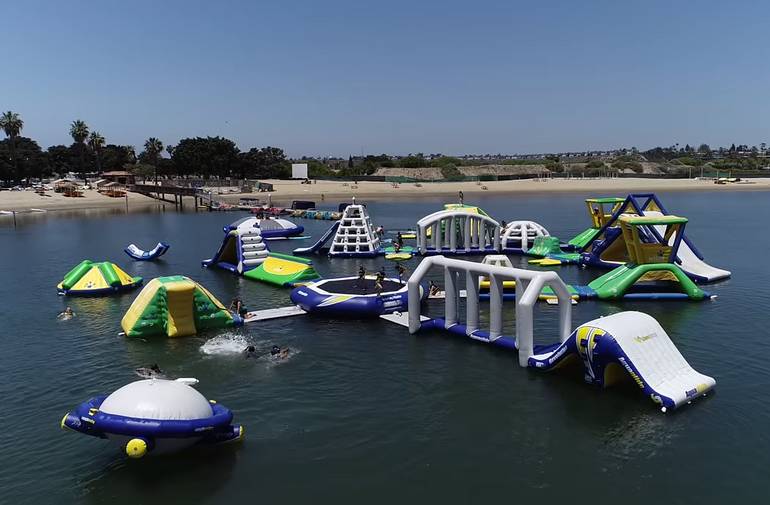 Moe B's Watersports Park is a hit for the younger ones and the teenagers, with an air-filled rock wall, trampoline, and numerous slides that rocket you into the waveless swimming lagoon. Where else can you ascend to the top of a 20-foot structure and then soar like a bird before making a splash into the water below?
If that's not a challenge enough for you, you can try your hand at sailing your own sabot or catamaran, a task much harder than it looks, or participate in the always entertaining and amusing, build your own cardboard boat race.
Of course, if you want a more relaxing way to spend time on the water, one and two-person kayaks, paddle boats, and electric motor boats are available, and the Dunes has plenty of areas to maneuver while also keeping you secluded, so you don't have to worry about bigger boats speeding by you.
Newport Dunes Waterpark day-use fees: $18 for park guests – $25.00 for park visitors. For more information, call (949) 729-3863 or visit the dunes website.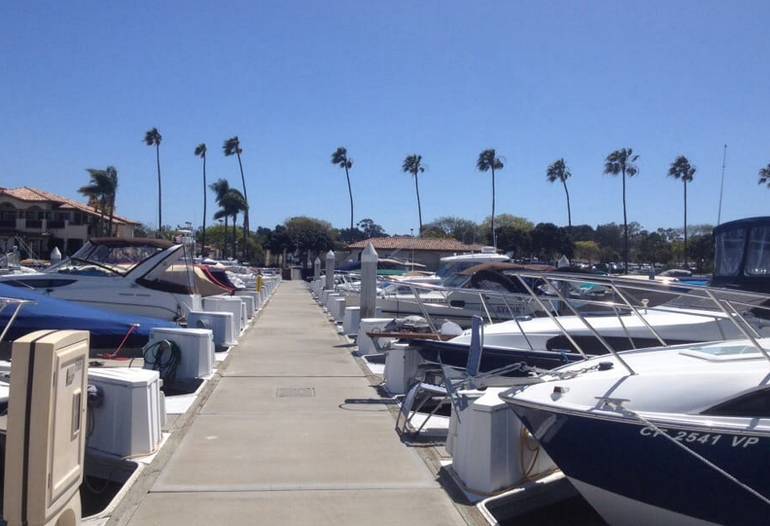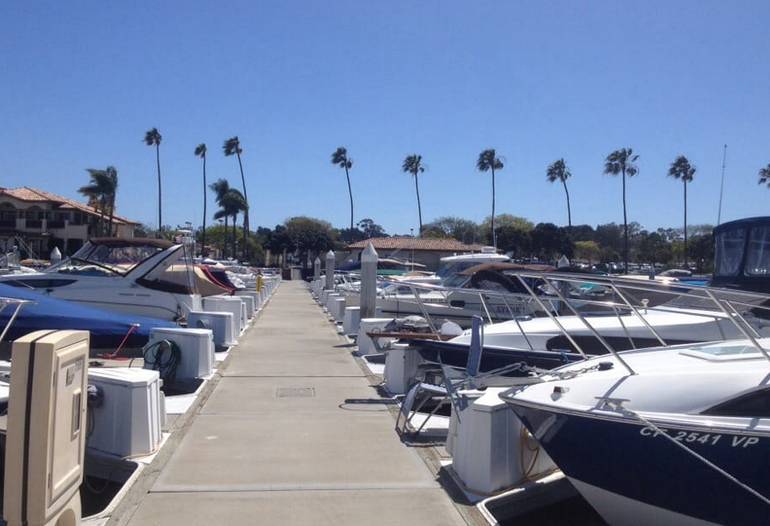 Newport Dunes Marina
If you have a bigger boat, the Dunes do have a boat launch and offer daily, weekly, and monthly slip rates at their Marina.
A great way to view the Bay from the water is via an Upper Newport Bay Kayak Tour, offered daily at 10 AM. Rent a kayak from the Newport Aquatic Center at North Star Beach and head out onto the glassy bay. Watch for birds, leaping mullet fish, sea lions, and the occasional dolphin. Reservations are required.

Newport Dunes Back Bay Bistro
The Dunes can also take care of your needs when it comes to a quiet full-service dinner, and the Back Bay Bistro offers guests an eloquent dining experience. The Bistro provides a smart and casual vibe, and while the food is delicious, the views from the large enclosed patio are stunning, including a great bar overlooking the water.
Live music is often heard from the bar on Saturday nights and is a popular place for locals and guests of the resort. However, if you're looking for more of an after-hours family hangout, the Dunes has you covered.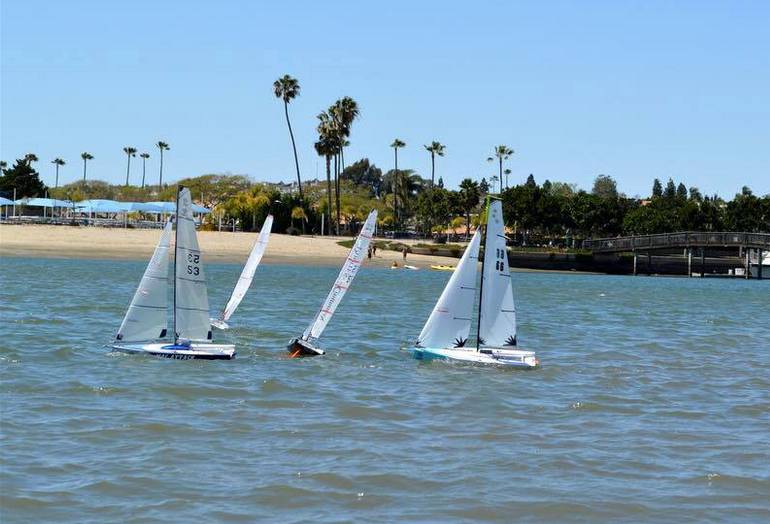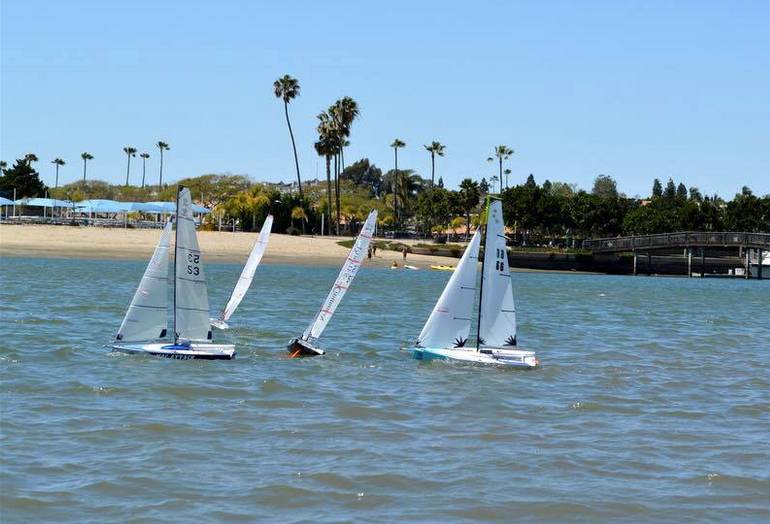 And if you're too busy to stop or pack a lunch, no problem. Just minutes away from the Dunes is the Daily Grill, offering picnic boxes complete with utensils and red and white checkered tablecloth, all set to pick up and enjoy on the beach. Varieties of boxes are available, ranging from chicken, salmon, steak, or you can even build your own masterpiece.
It's a great change of pace if you want to take a break from preparing your own food but still want to have a picnic for those that don't want to leave the water. The Dunes also offers a poolside lunch barbecue.
As the days wind down and the sun begins to set over the Pacific, the fun doesn't' end at the Dunes. In fact, oftentimes, it's just getting started, as the smell of open-pit fires and barbecues from campers permeates the air.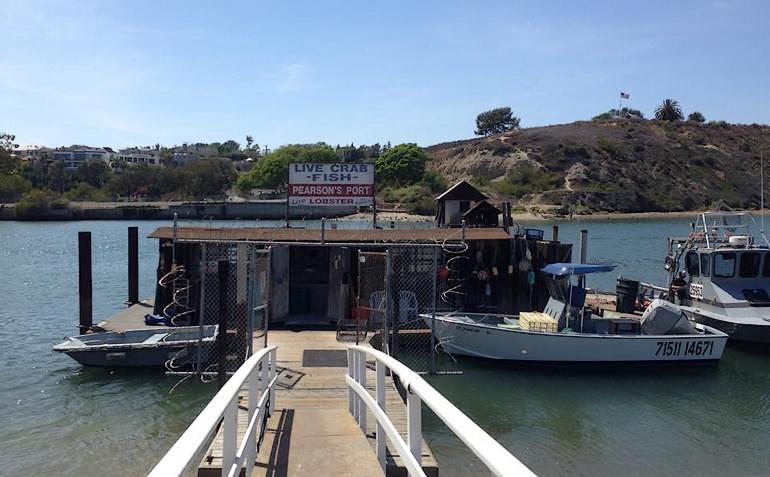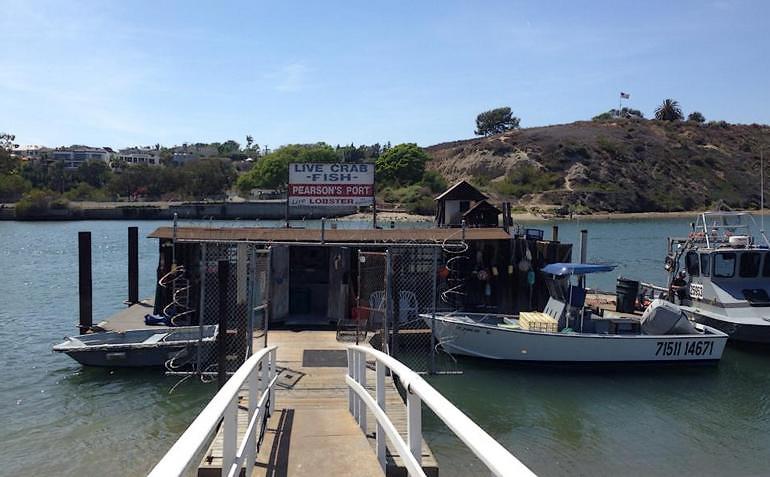 Pearson's Port Newport Bay
You may even spot a few fish fries, and these campers have likely discovered Pearson's Port. This floating shack is truly a hidden Orange County gem and is probably one of the best places to purchase California Spiny Lobster, sea bass, and buckets of spot prawns.
A movie on the beach is a great way to experience a traditional family activity with a unique spin. On Friday and Saturday nights, the Dunes show current and popular family movies on a giant inflatable screen from May to September. Grab a blanket, chair, popcorn, or a snack, and enjoy time with the entire family in the great outdoors.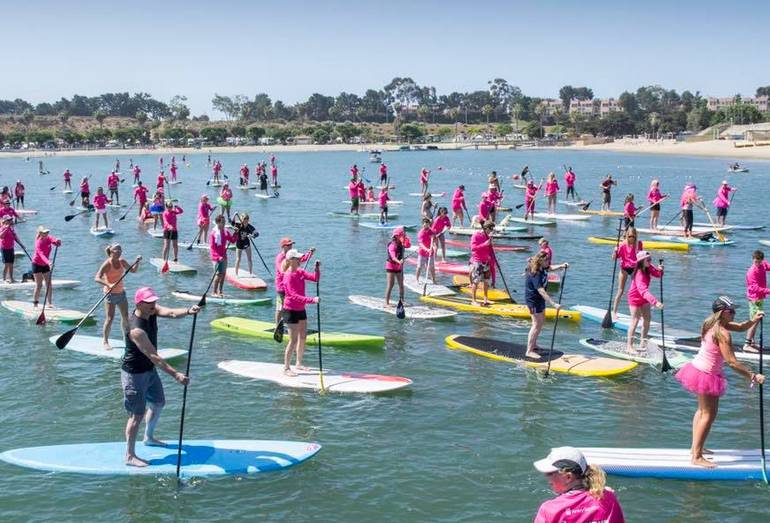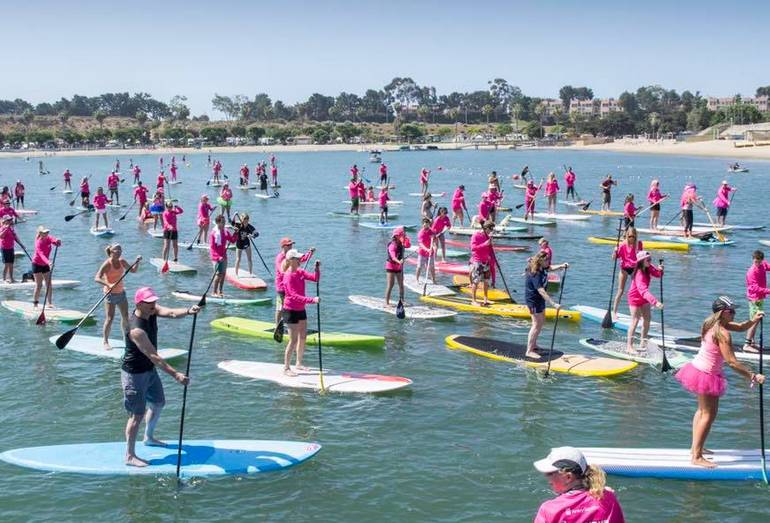 So the next time you are looking for a weekend excursion or relaxing yet adventurous vacation setting to reconnect with your family while at the same time disconnecting from the hustle and bustle of the suburban grind, the Newport Dunes Resort is a great place to relax and unwind.
Newport Dunes Waterpark day-use fees: $10.00 per hour, $20.00 for a half-day, or $45.00 for an all-day pass. Hours are 11:00 am – 6:00 pm. Daily all summer long. For more information, call (949) 729-3863 or visit the dunes website.
Newport Dunes is located just one hour south of Los Angeles in Newport Beach, California.