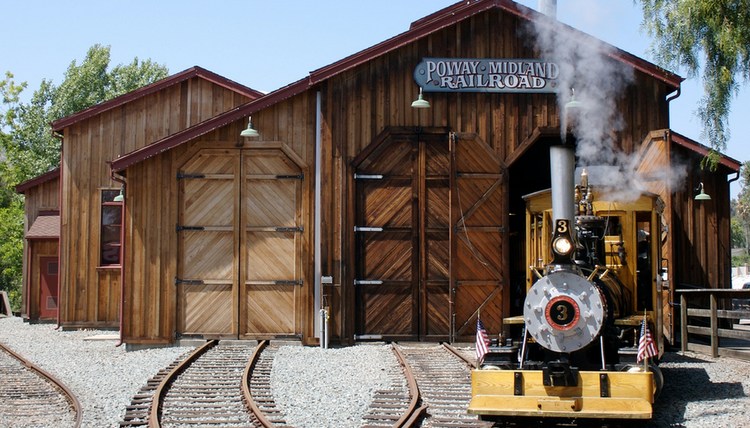 Known as the "The City in the Country," due to its inland geographic location, lack of urban culture and large open spaces, Poway approximately twenty miles from downtown San Diego.
Visitors to the areas can enjoy nearby Museums, Zoos, Parks, Arenas, and Botanical Gardens, including the Stuart Collection, San Diego Zoo Safari Park, San Pasqual Battlefield State Historic Park, and Old Poway Park, all within easy driving distance while taking in the relaxed atmosphere of the surrounding wilderness areas.
A good place to start your trip would be to visit the Poway Historical and Memorial Society, located in the Heritage Museum at the Old Poway Park. The society serves as a repository for many Poway historical artifacts and memorabilia.
While touring Old Poway Park on a vintage 1907 Baldwin No. 3 Steam Locomotive, 1894 Los Angeles Yellow Trolley Car or 1950 Fairmont Speeder, you may want to disembark and check out the museum. Though small in size, it offers insightful exhibits that highlight Poway's early history. The primary displays include a diverse collection, including old photographs, a 19th-century clothing display, memories of World War II Exhibit, and much more.
Museum exhibits change frequently, so if you have visited the museum recently, you are likely to see entirely new displays. Poway Midland Railroad is located in Old Poway Park. The railroad is operated by volunteers and runs weekends except for the second Sunday of each month.
Visitors to the park can also tour the historic Nelson House as well as several other historic buildings, including an operating blacksmiths shop, enjoy a peaceful picnic or barbeque in the Green Park picnic area, or grab lunch or dinner at the Hamburger Factory. The museum is only open on weekends, but special tours can be arranged by appointment.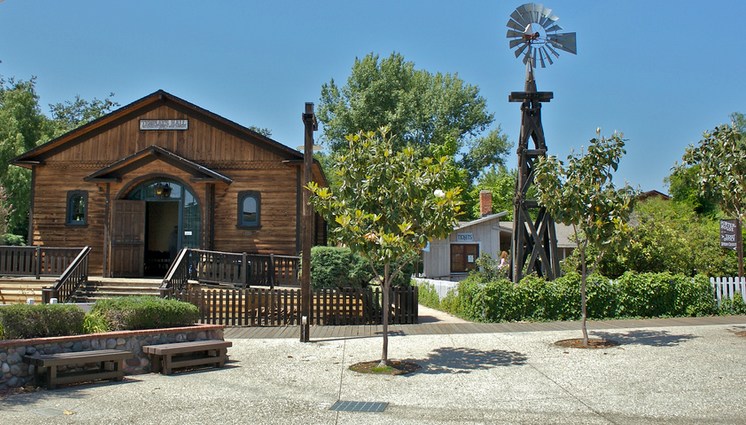 Before you leave, check out the museum store that sells a variety of items including books, coffee mugs, and collectible knives. It is a great opportunity to take home a piece of your Poway experience.
Once you've learned a little Poway history, it's time to hit the open-air experiences that the area has to offer, and a great place to kick off the day is Poway Lake.
Part of the city of Poway's system of hiking and equestrian trails that connect residential neighborhoods with parks and open spaces, this man-made lake is a hub to many outdoor activities. From large open fields to run and play whatever sport you want, including playgrounds, volleyball courts, horseshoe pits, and a softball field, to fishing in the lake to pedal boats or electric powered boats and numerous trails to hike.
There is a large grassy area for picnicking and pits for barbecues. Daily fishing permits and state licenses may be purchased at the lake concession, as well as a tackle if you don't have your own. Anglers can also rent a boat here or launch their own.
There's a walk-in campground near the lake's northwest corner and equestrian staging area to the south.
Lake Poway also serves as a trailhead for some of San Diego County's best hiking trails, including the popular Mount Woodson Trial.
This is a nicely marked trail with signs stating how many more miles until you reach the peak, which from the bottom of Lake Poway is three miles. There are three other trails along the way to Mount Woodson if you want to expand the experience.
Once atop Mount Woodson, avid rock climbers will enjoy one of the area's premier climbing spots. Scattered about the flanks of this rocky hillside are many boulders unique in quality and diversity as well cracks of every size and shape good for face climbing.
Another hiker's delight is the northerly route where you can pick up the trail either to the left of the concession store or from behind the City's workshop. This one-mile trek drops you down behind the dam and close to the camp leading into Blue Sky Ecological Preserve.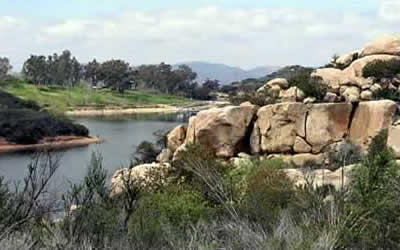 The Preserve boasts its own set of hiking trails and also connects to a 1.5-mile up a steady but never too steep incline, to beautiful Lake Ramona.
Another way to spend the day enjoying Poway's open-air lifestyle is a day on the greens, and one of the newest golf courses in San Diego, Maderas Golf Club, is the place to do it. Voted San Diego's #1 golf course by Zagat Guide for five consecutive years.
If hiking, fishing or golfing are not on your agenda, Poway offers a series of professional performances including dance, theatre, concerts, comedy, drama, and family programming at the luxurious 800-seat Poway Center for the Performing Arts.
The center also hosts its annual presentation of the Missoula Children's Theatre, a touring company that hosts a one-week, all-inclusive theater camp for children. The perfect experience for rising young thespians.
Finally, if you're looking for to turn your day trip into an extended stay, there are plenty of overnight accommodations including hotels, motels, RV parks, and campgrounds
The Skyline Ranch R V Park & Campground is a good choice with its spacious sites located on 42 hilltop acres. Skyline Ranch provides a relaxing atmosphere with oak trees, pines, hiking, campfires and picnicking.