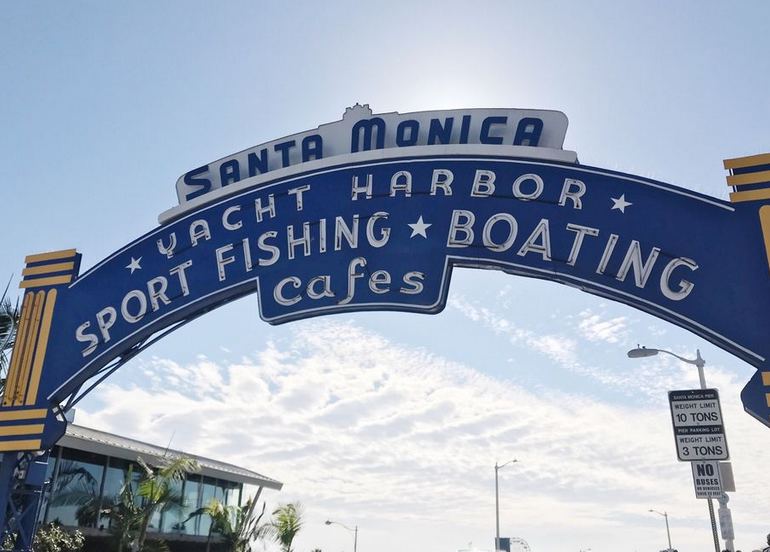 Sometimes referred to as the Coney Island of the West Coast, the Santa Monica Pier actually started out as two tiers built separately in 1909. Expect to see kids running, someone playing the guitar, artists hawking creations, and couples holding hands.
Pacific Park is an amusement park located on the pier with rides and attractions for all ages. There is the five-story West Coaster roller coaster, the nine-story Pacific Plunge tower ride, and the one of a kind Seaside Swing that provides views of the Pacific Ocean from Palos Verdes Peninsula to Santa Monica Mountains.
Pacific Ferris Wheel
The nine-story Pacific Ferris Wheel solar-powered wheel is adorned with 170,000 LED that light up the pier every night. The current Ferris wheel replaced an earlier version in 2008 that was world's first solar-powered Ferris wheel. The Ferris wheel is 85 feet in diameter and moves at 2.5 revolutions per minute except when picking up or dropping off riders.
Playland Arcade
Playland Arcade features over 200 games and attractions and will keep your children amused for hours. Most of the games are old school. Pac-man, air hockey, pinball, plus a few modern games. Some games give out tickets for prizes. Games cost a dollar or more to play but it's still a fun place to check out while walking around the pier.
Santa Monica Pier Carousel
The Santa Monica Pier Carousel is one of the few surviving all-wooden Carousels in the world – less than 70 are still in operation. The carousel is located in the historic 1916 Looff Hippodrome building. The Hippodrome is the only remaining building from the original Santa Monica Pleasure Pier amusement park. Five-minute rides on the Carousel are only $2 for adults and $1 for children.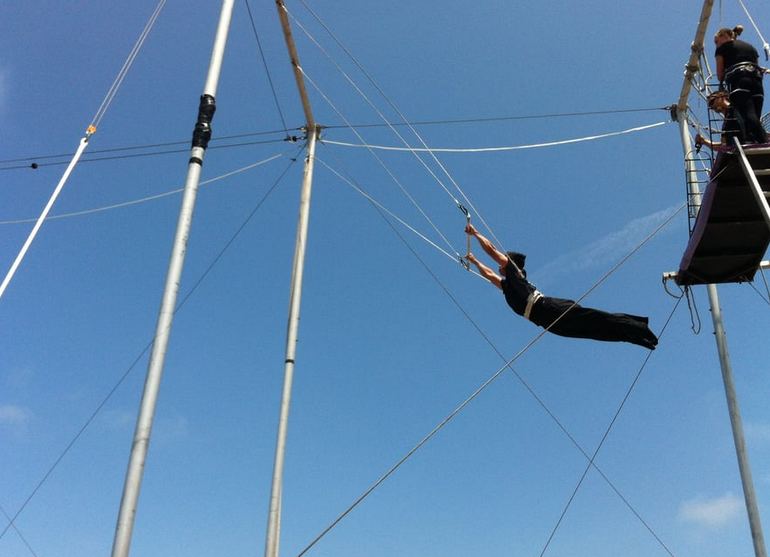 The Trapeze School of New York
For a really unique pier experience try the Trapeze School of New York. You'll see soccer moms and adrenalin junkie's alike taking the two-hour classes. They are taught in groups of up to 10 people with no experience necessary. Advance reservations are needed for classes. website.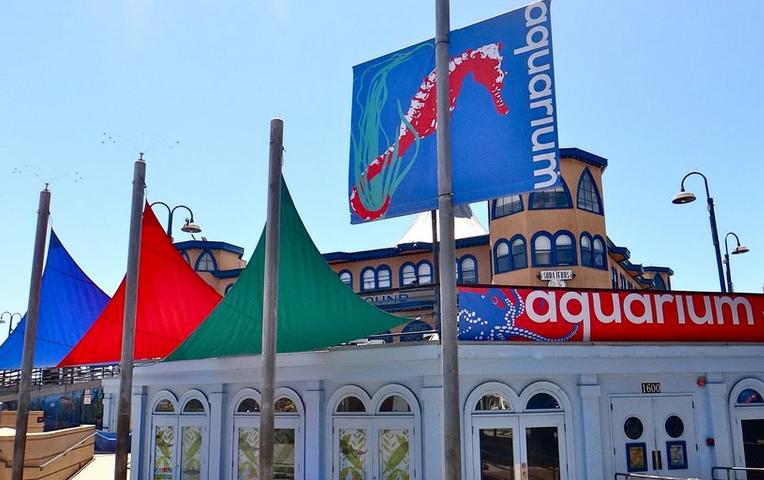 Santa Monica Pier Aquarium
The Santa Monica Pier Aquarium features hands-on presentations and interactive exhibits. The aquarium is a member of Santa Monica's own "Heal the Bay" program, an initiative to educate, inspire and empower its visitors to be environmentally conscious. Admission is five dollars. Located adjacent to the pier on Ocean Front Walk.
Food and Refreshments
When you get hungry, food of all sorts is available throughout the carousel area. For an old-time malt fix, visit Soda Jerks in the carousel building. Rusty's Surf Ranch serves everything from seafood to nachos. Mariasol Cocina Mexicana at the end of the pier is available for your fix of burritos and enchiladas. And for a quick bite, Pier Burger offers hamburgers, hot dogs, and sandwiches.
Getting to The Santa Monica Pier
Located 12-miles downtown Los Angeles, the Santa Monica is located at the end of Colorado Avenue. Traffic can be very heavy getting to Santa Monica so another option is to take Metro Expo Line train. Pier parking can be limited but is available at the pier deck and the beachfront area.