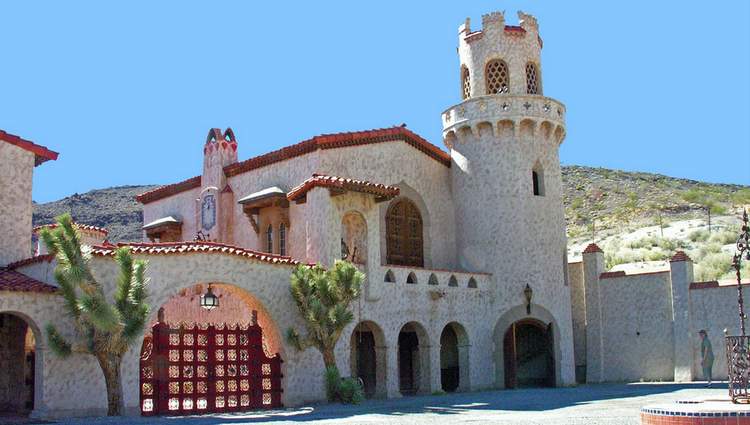 Scotty's Castle is closed until 2020
Built-in 1927 by wealthy insurance executive Albert Johnson, smack dab in the middle of Death Valley National Park, is Scotty's Castle. A 32,000-square-foot two-story Spanish Villa in Grapevine Canyon.
If you are willing to traverse the barren landscape through sweltering summer temperatures, a trip to this magnificent piece of California's history is well worth the sweat.
The main house replicates a Spanish-style manor with every amenity possible including a bordering chimes tower, upper music room, several guest rooms and theater and organ room.
A 270-foot pool was constructed but never completed. The tile that was to cover the swimming pool is still in storage inside the castle. Several socialites and celebrities of years past vacationed in the castle including Norman Rockwell, Betty Grable, and Will Rogers.
Park rangers in period costume offer guided living history tours of the main house interior 365 days a year. The tour lasts approximately 50 minutes and is every hour. No food or drink is allowed in the house, but cameras are. A chairlift is available to reach the second floor of Scotty's Castle and wheelchairs are available on site.
The Underground Mysteries Tour explores the basement of Scotty's Castle, utility tunnels, and powerhouse. It's a fascinating look at the technology, which at the time was very advanced. You will also be able to see modern technology that the National Park Service is using to preserve the Castle.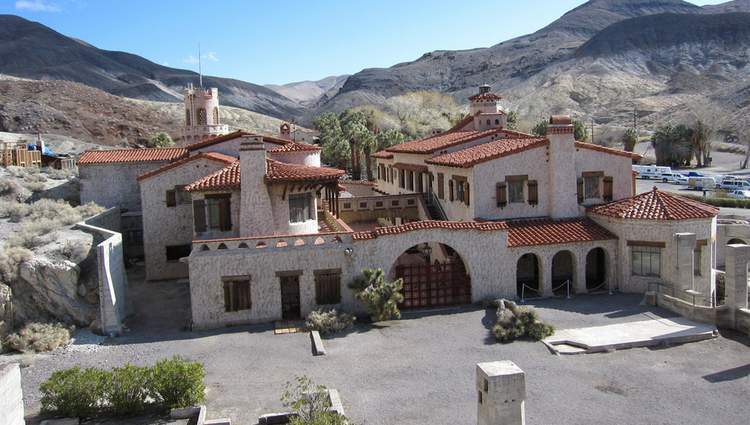 The tour will lead you through part of the tunnel system that runs beneath the Castle, ending with a demonstration of the water wheel used to generate electricity for the site. This tour is completely separate from the house tour and lasts about an hour.
If you have not visited Scotty's Castle before, visit the main house first. Ranger-guided hiking tours are available at Lower Vine Ranch on a seasonal basis, so call ahead. The tour is 2½ hours over a two-mile walk on a dirt road. This is not a suitable trip for the handicap or those who tire quickly. Tickets are $15 per person.
Written tour translations are available in multiple languages and English versions are available for hearing impaired visitors. There are no restrooms at the Lower Vine Ranch so be sure to make a pit stop at Scotty's Castle or at the Grapevine Ranger Station. On the day of your tour be sure to wear good comfortable shoes.
Cameras are allowed to take lots of pictures. Death Valley is a dry zone, so bring bottled water, sunscreen, and insect repellent. There is a small snack bar available on site. Small children tend to become restless on a long tour, so consider that when bringing young ones.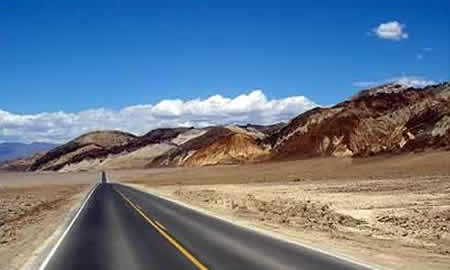 Several events are held each season. Scotty's Castle Organ Concert benefits the Theatre Organ and Chimes Tower Maintenance fund. It features a Welte-Mignon theater pipe organ with 1121 pipes, a grand piano, xylophone, chimes, orchestra bells, and a drum and cymbal assortment. Pipe organs like the one in Scotty's Castle were used to accompany silent films.
Castle grounds and picnic areas are open from 7 am to 6 pm. The Castle Museum exhibit area opens at 8:30 am to 5:10 pm and features exhibits with the emphasis on both Scotty and Johnson.
The Natural History Association Bookstore opens 8:30 am to 5:10 pm as well. There is no lodging at the castle, with the nearest inside the park at Stovepipe Wells and Furnace Creek. Nevada has full services sixty miles from Scotty's Castle. Mesquite Spring Campground is five miles south of the Castle.
The nearest gas stations are at Stovepipe Wells 45 miles south, Furnace Creek 53 miles south and Beatty, Nevada 60 miles. Scotty's Castle is located approximately five hours drive from Los Angeles, and six from San Diego.