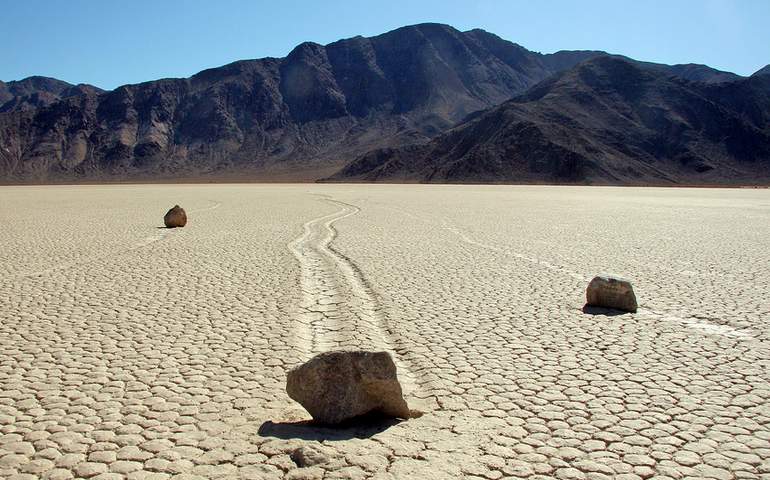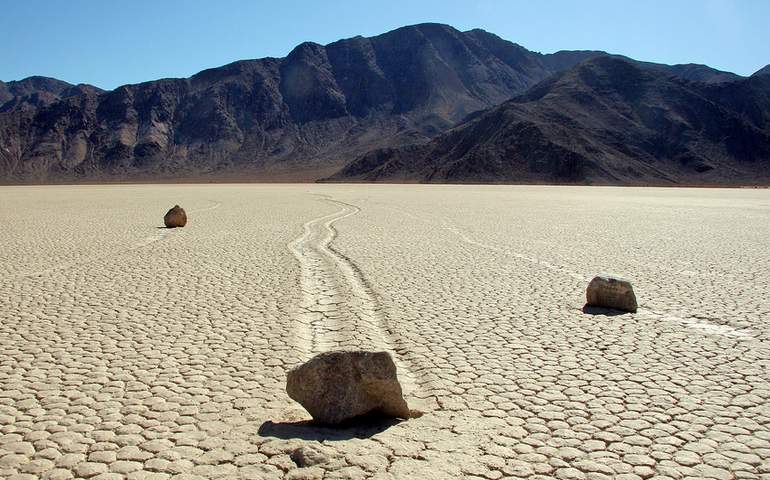 Death Valley National Park is the hottest, driest, lowest place in the nation. The best time to visit is winter or spring when the temperature is not too extreme. People from all over the world come to see this desert valley.
Some tourists visit in the summer just for bragging rights about experiencing the 100 degrees plus heat. During the spring, the valley floor can be covered with wildflowers. Winters are cold, and summers are scorching hot.
This area of California was called Death Valley by prospectors who crossed the valley on their way to the goldfields, although only one death in the area was recorded during the Rush.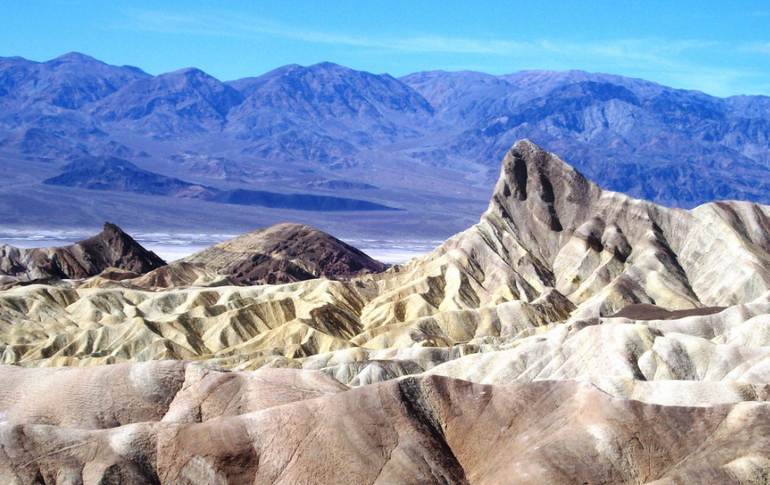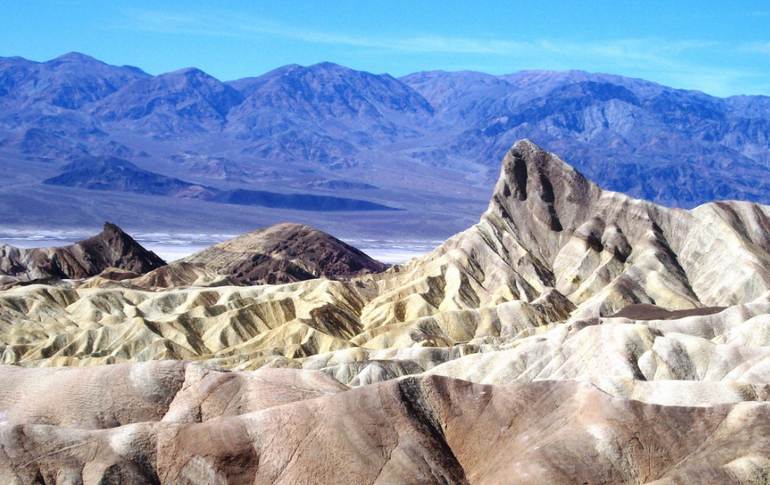 During the 1850s, gold and silver were extracted in the valley. In the 1880s, borax was discovered and extracted by mule-drawn wagons.
Death Valley is home to the Timbisha tribe of Native Americans; they have inhabited the valley for at least 1000 years. The Timbisha name for the valley, tümpisa, means "rock paint" and refers to the red ochre paint made from a type of clay found in the valley.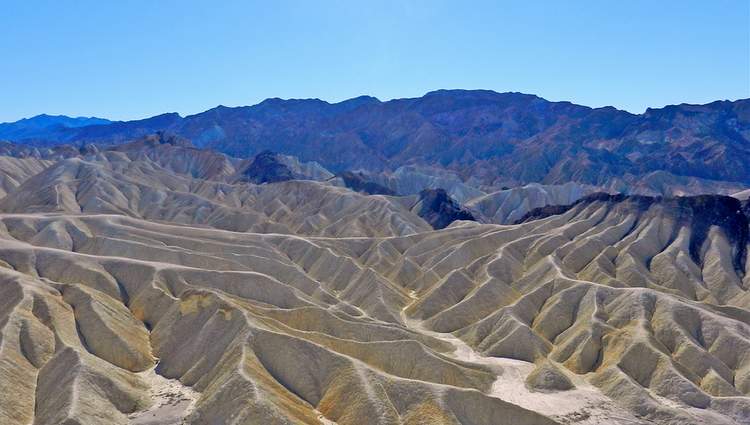 Death Valley National Monument was proclaimed on February 11, 1933, by President Hoover, placing the area under federal protection. In 1994, the monument was redesignated as Death Valley National Park.
Things to do and See in Death Valley
Titus Canyon
Badwater Salt Flats
Salt Creek Boardwalk
Mesquite Flat Sand Dunes
Scotty's Castle
Mosaic Canyon
Harmony Borax Works
Natural Bridge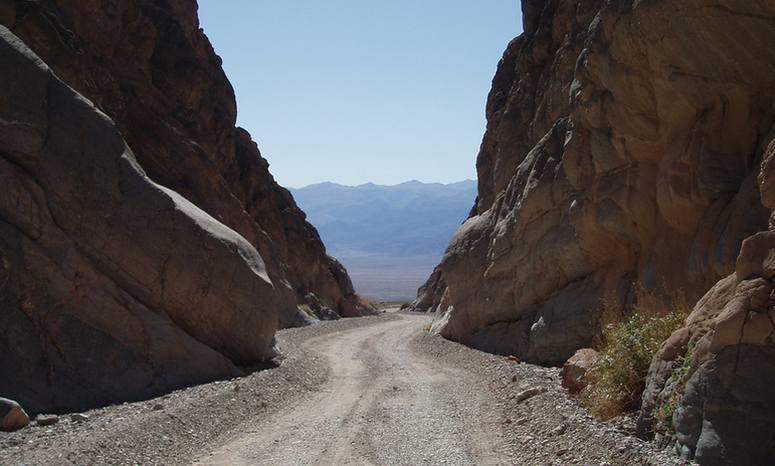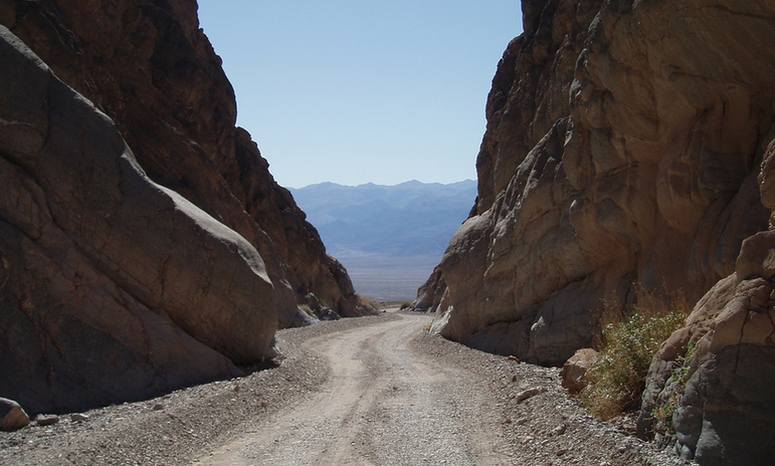 Titus Canyon Road is one-way east to west. The graded dirt road starts near the Nevada town of Beatty and is a popular off-road adventure. Titus can also be reached from Death Valley. No vehicles are allowed to enter the canyon from the Death Valley entrance. Visitors are allowed to hike into the canyon from here.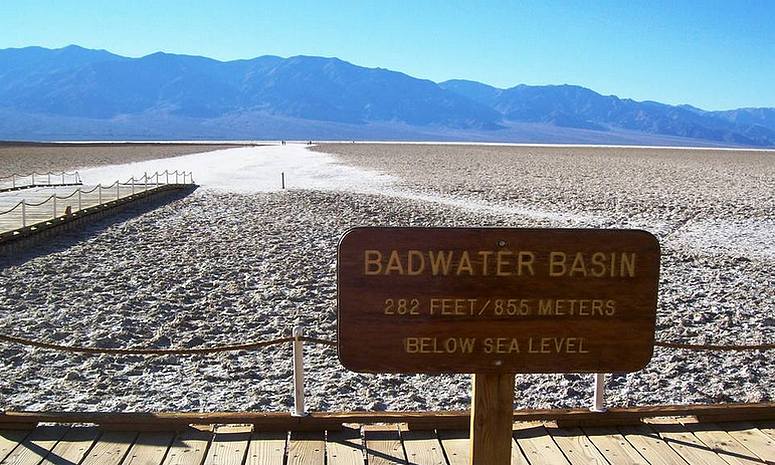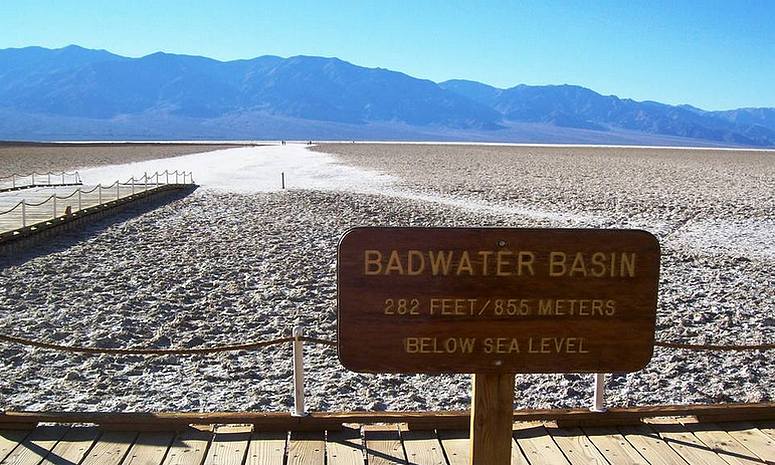 Badwater Salt Flats
Badwater Salt Flats is situated at an elevation of 282 feet below sea level, the lowest point in North America.  On the rare occasions that it rains in Death Valley, this area becomes a shallow lake.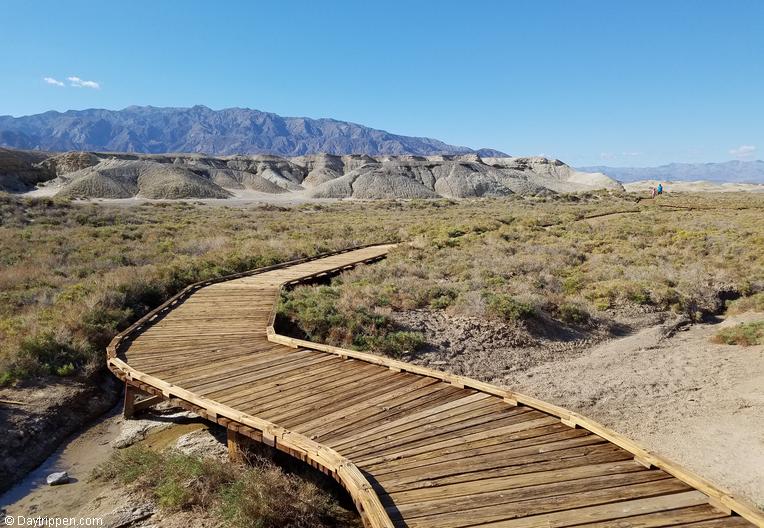 Salt Creek Boardwalk runs adjacent to a seasonal stream.  At the end of the trail are some spring-fed pools where it is possible to see rare pupfish.  This trail is at its best in late winter and early spring. Salt Creek Boardwalk is just under a half-mile long and well worth a look as you travel through Death Valley.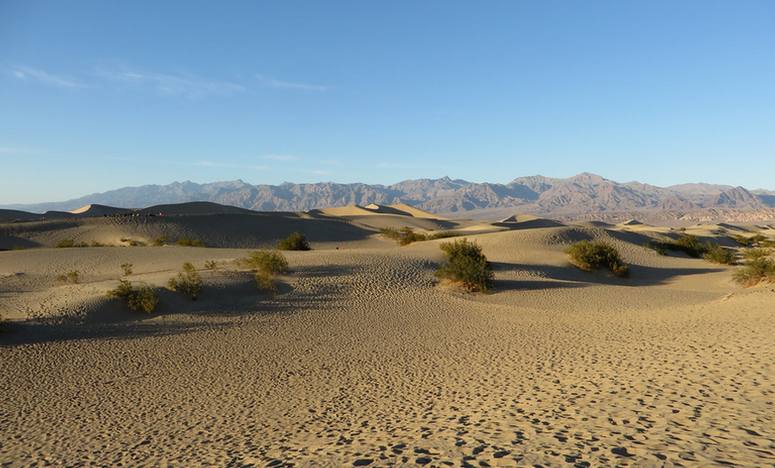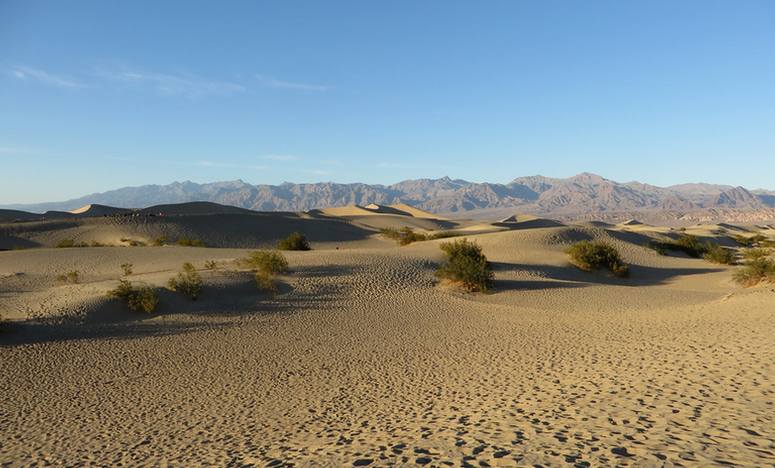 Mesquite Flat Sand Dunes
Mesquite Flat Sand Dunes are near the center of Death Valley. These dunes have been the setting for many western movies along with several Star Wars films. The tallest dunes can reach up to 100 ft. high—Mesquite Flat Sand Dunes Highway 190 near  Stovepipe Wells.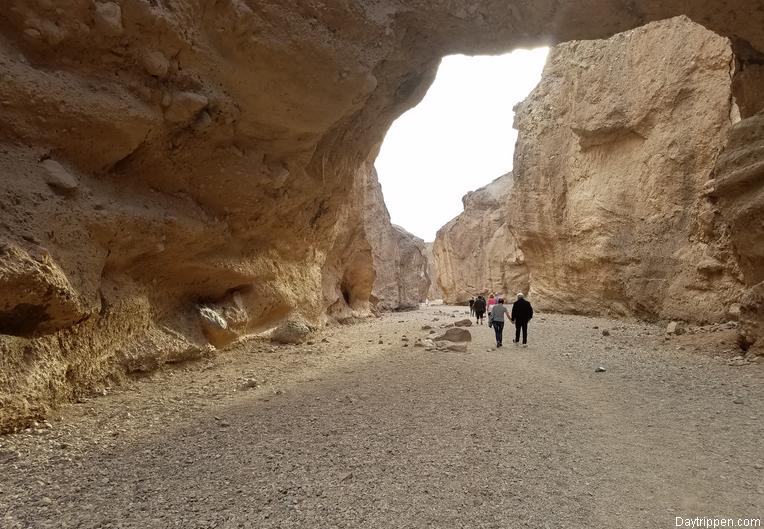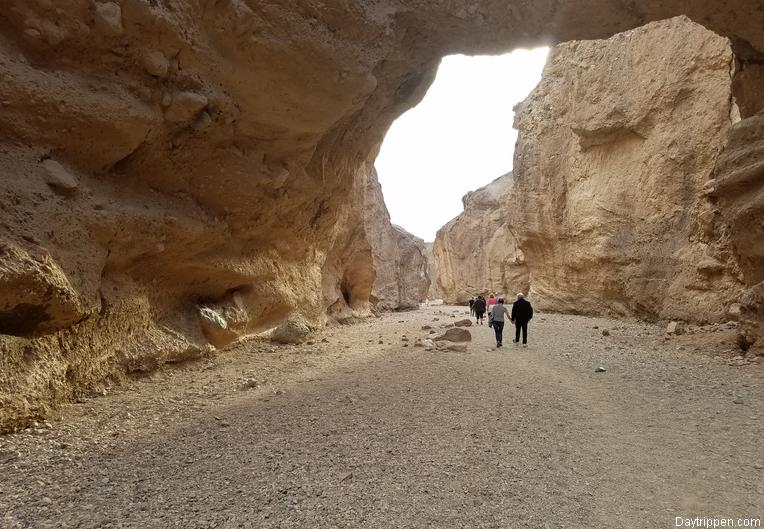 Carved out by flash floods roaring down the canyon, Natural Bridge is one of Death Valley's most visited points of interest. Natural Bridge is an easy two-mile round trip from the trailhead. Natural Bridge Canyon also has a remarkable 30-foot high dry waterfall. Both are well worth checking out on your trip to Death Valley National Park.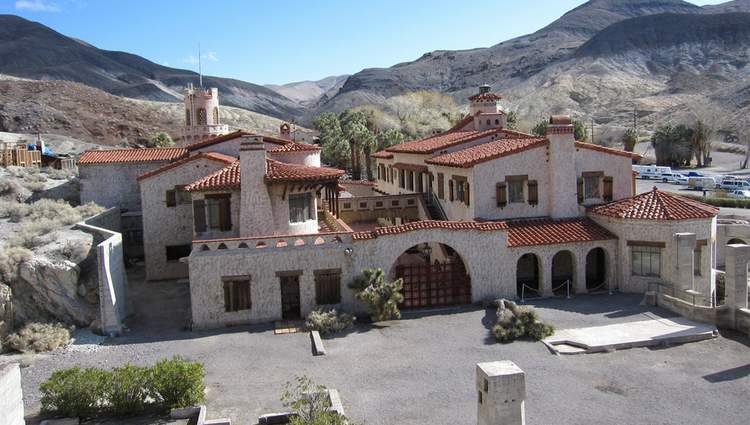 Built-in 1927 by wealthy insurance executive Albert Johnson, smack dab in the middle of Death Valley National Park is Scotty's Castle. A 32,000-square-foot two-story Spanish Villa in Grapevine Canyon. The main house replicates a Spanish-style manor with every amenity possible, including a bordering chimes tower, upper music room, several guest rooms, and theater and organ room.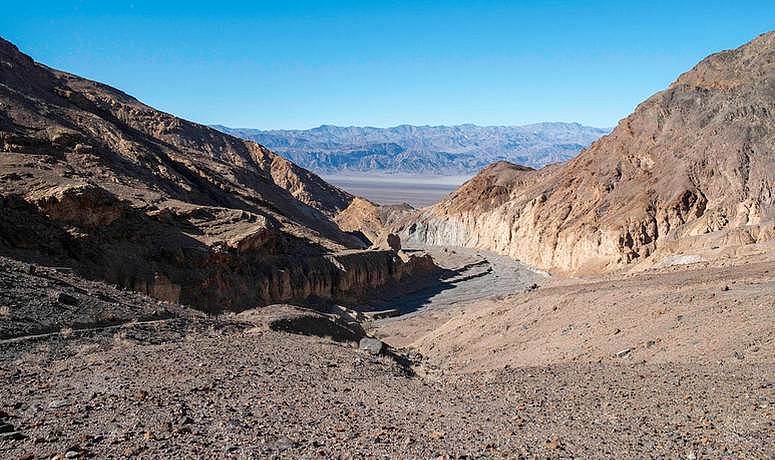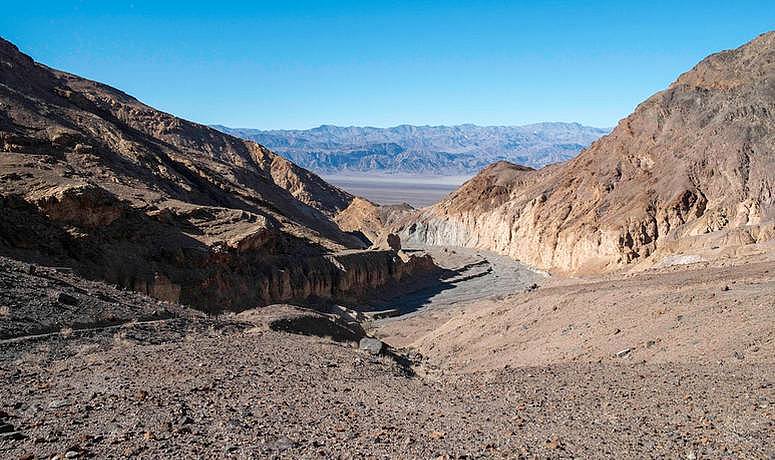 Mosaic Canyon
Mosaic Canyon Popular walks up a narrow, polished marble-walled canyon. Some slick rock scrambling is necessary. "Mosaics" of fragments of rocks cemented together in canyon walls. Bighorn sheep sighted occasionally.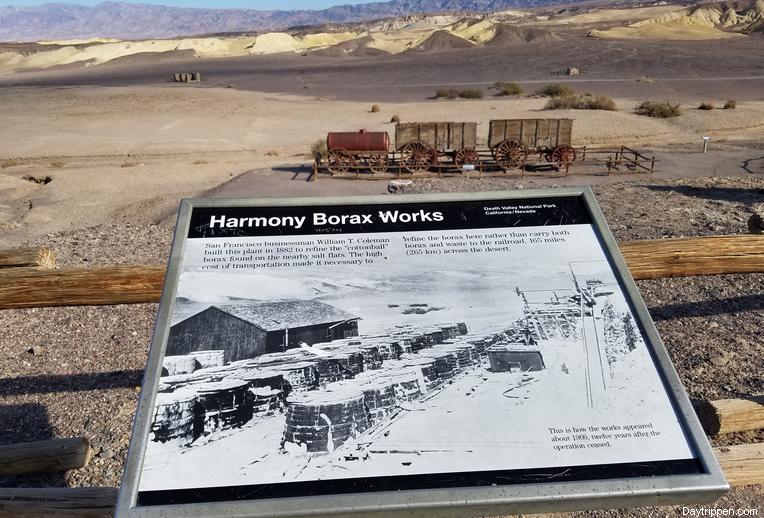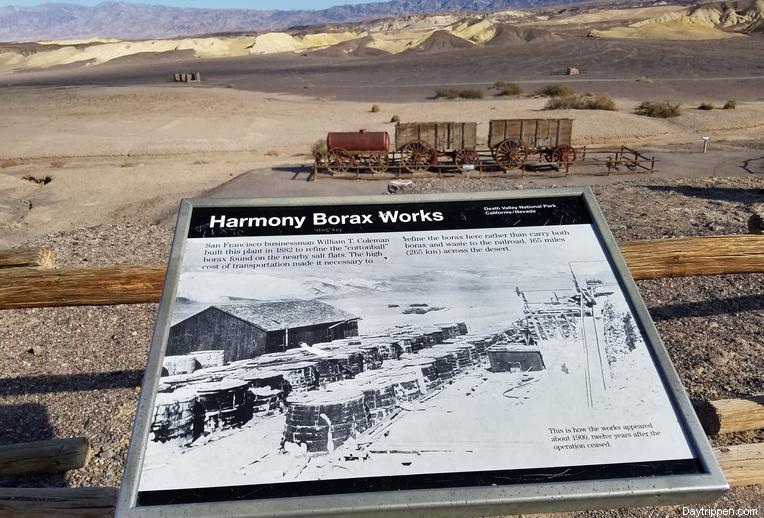 Harmony Borax Works is straightforward to get to, making this historical site very popular with visitors. Harmony was the starting point for Death Valley's famous 20-mule team wagons. Ruins of the processing plant, adobe buildings, and a 20-mule team wagon can be viewed here. Be sure to visit the Borax Museum at Furnace Creek Ranch before visiting Harmony.
Death Valley Side Trips
Wildrose Charcoal Kilns
Tecopa Hot Springs
China Ranch Date Farm
Rhyolite Ghost Town
Saline Valley Hot Spring
Shoshone California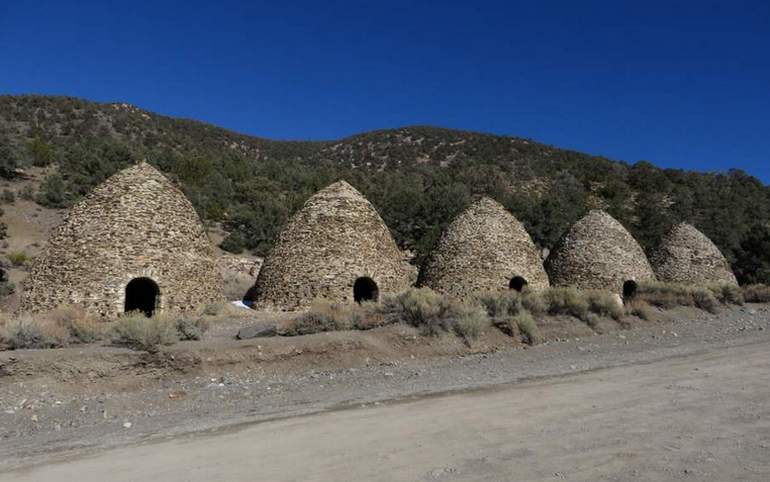 Wildrose Charcoal Kilns are 27 miles from the floor of Death Valley. Ten beehive-shaped charcoal kilns line the top of Wildrose Canyon at an altitude of over 6,000 feet.
The location is remote, but it is well worth the effort to visit these historic structures while visiting Death Valley.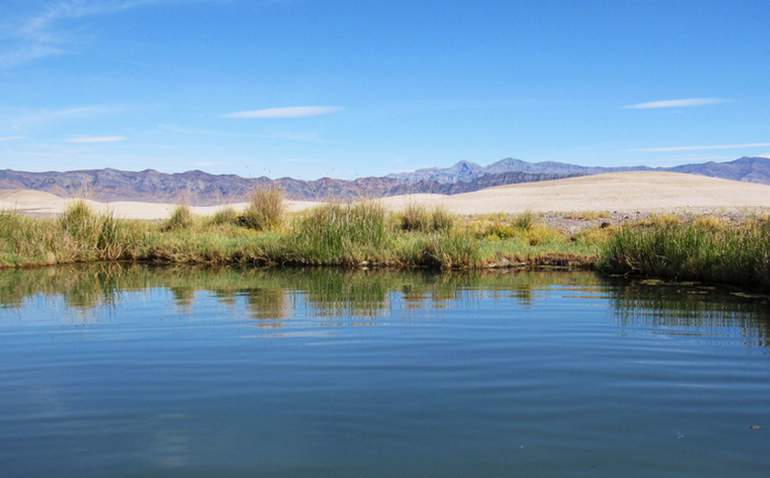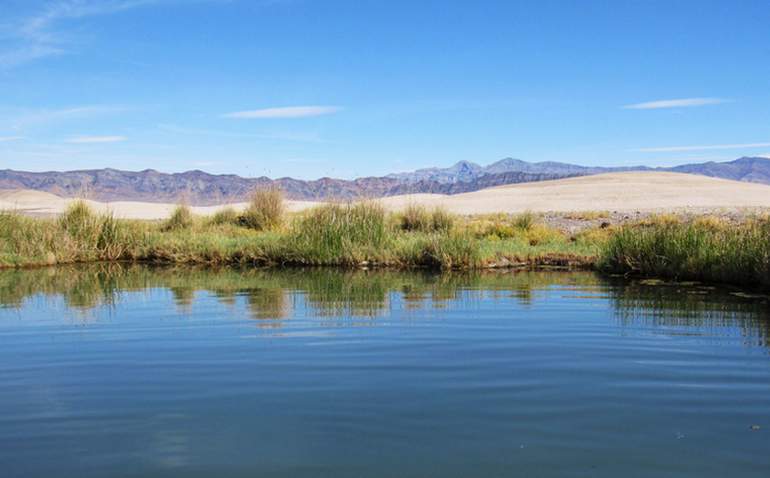 Tecopa Hot Springs is located just outside of Death Valley National Park. The main attractions in Tecopa are natural hot springs and mud baths.
Nude bathing is the norm at Tecopa Hot Springs, so if you forget your swimsuit, you will be OK.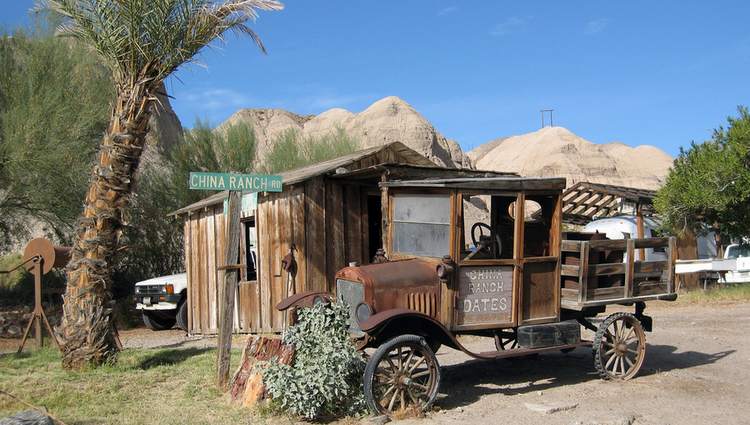 China Ranch Date Farm An oasis hidden in a desert valley, the China Ranch Date Farm is definitely off the beaten path and is absolutely worth a side trip.
The ranch is located a few miles from Tecopa and makes a great stop to load up on cookies, muffins, date balls, and the ever-important date shake.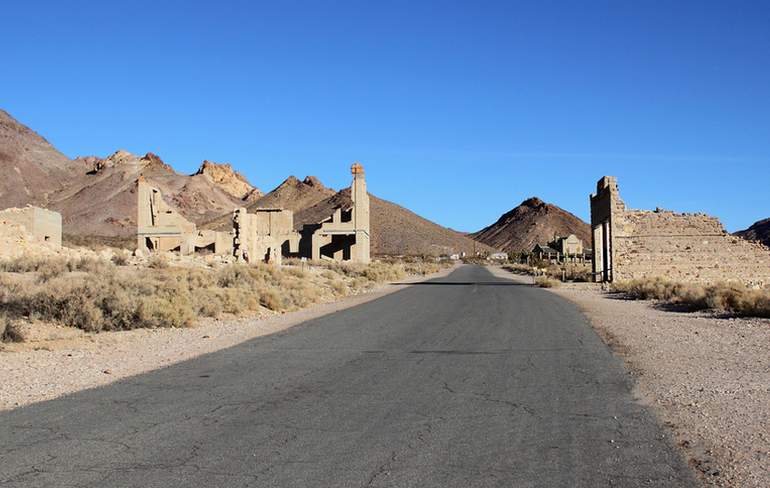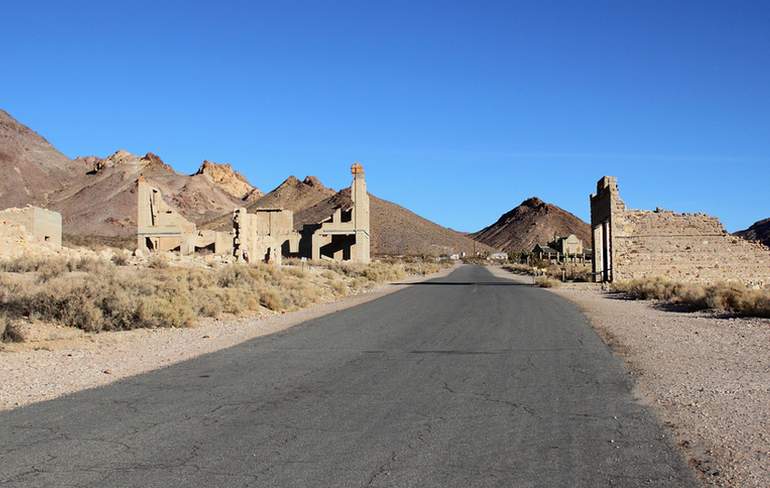 Rhyolite Ghost Town is less than one hour from Furnace Creek in Death Valley. Rhyolite is a true Ghost Town and has no permanent residents. A few signs explain the history and remain, but other than that, you are on your own to explore the ruins.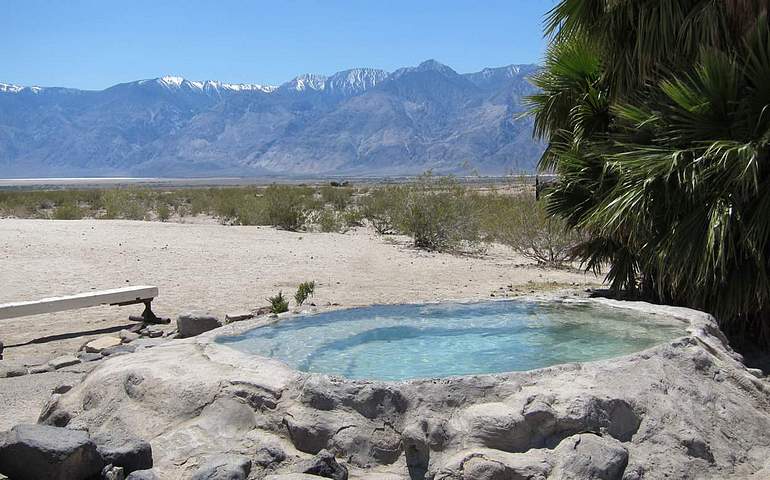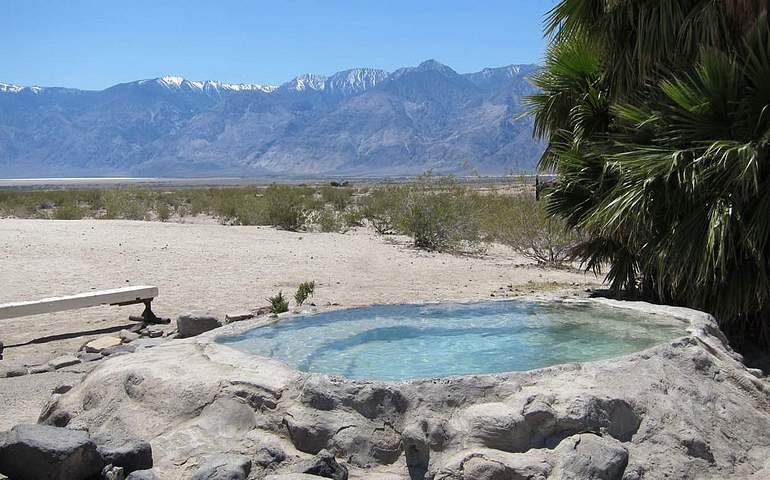 Saline Valley would be an interesting trip without the hot springs. Located in the North East section of Death Valley National Park. Saline Valley is home to a remote hot spring area called Warm Springs. There are several developed hot springs areas along with a campground. Plan on traveling 50 plus miles of dirt roads to reach the springs.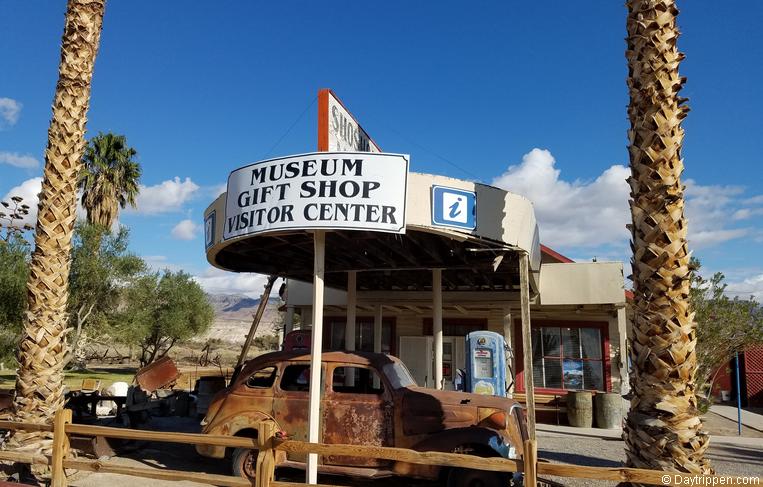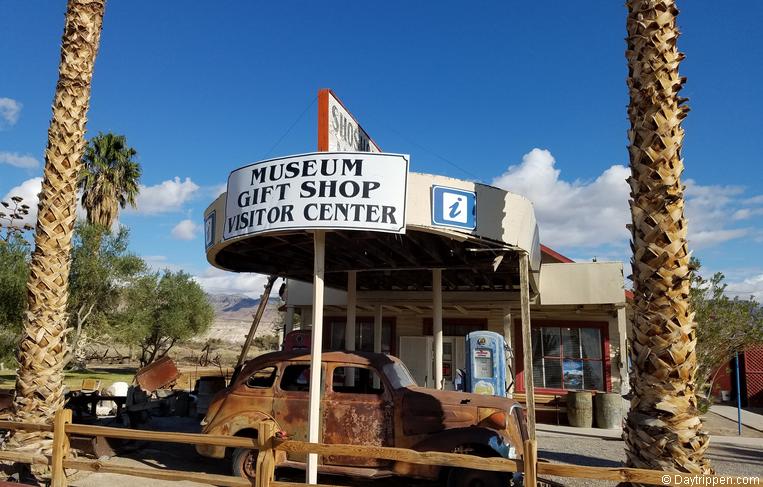 Shoshone is located near the southern entrance of Death Valley National Park. Shoshone has a great little museum with artifacts from around the area, including Death Valley. The nearby Dublin Gulch miner's caves are a must-see.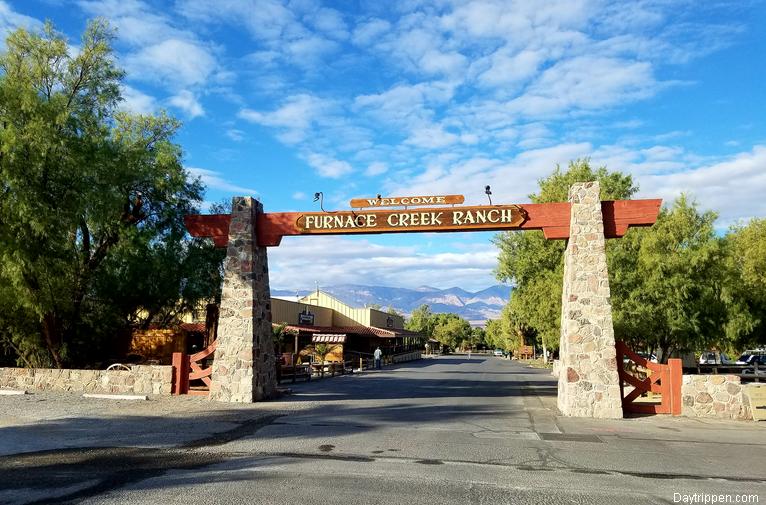 Death Valley Hotels: There is only one resort with two hotels the historic, Furnace Creek Inn and the more family-oriented Furnace Creek Ranch.
An elegant hideaway for more than 77 years, the Furnace Creek Inn still pampers every guest. It's the perfect place to reclaim your senses as you relax near the spring-fed pool, stroll through palm gardens to the melody of the natural springs.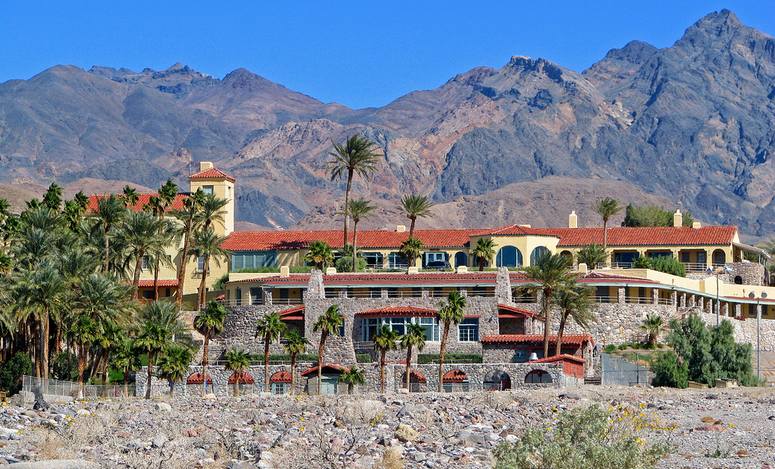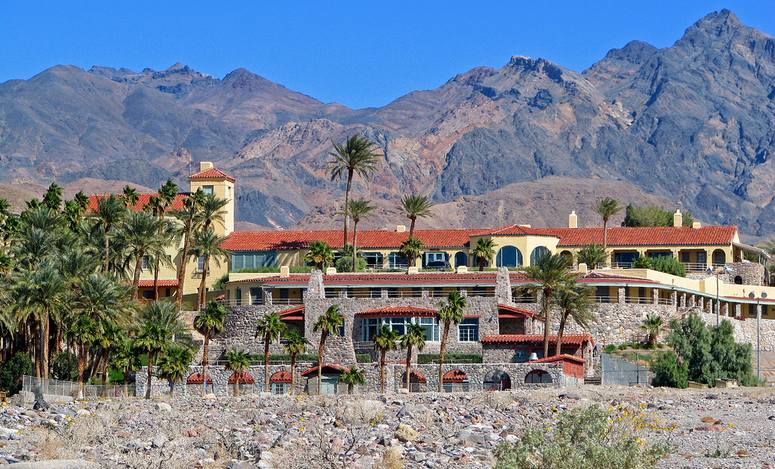 Furnace Creek Visitor Center is operated by the National Park Service. The Death Valley Natural History Association operates a bookstore at the visitors center.
Camping in Death Valley
Camping reservations are available only for Furnace Creek Campground and group campsites through National Recreation Reservation Service. Furnace Creek Campground Reservations season of October 15 through April 15.
Driving time from Los Angeles or San Diego is about four hours. Before you leave on a trip to Death Valley, make sure to bring ample water in your vehicle and while hiking. Avoid activity in the hottest part of the day or the low elevations during the summer.