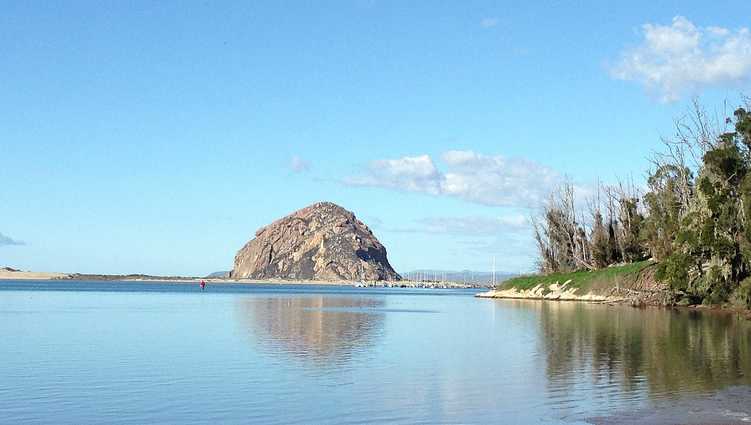 Morro Bay is located along the California central coast about 35 miles south of Hearst Castle. Morro Rock is the first thing you see entering town unless its shrouded with fog.
This giant rock at the entrance to the Morro Bay is 580 feet high and at one time completely surrounded with water. Today visitors can drive up to the rock, but climbing is not permitted.
Morro Rock is one of the Nine Sisters of San Luis Obispo County. The sisters are a series of ancient volcanic plugs which line the Los Osos Valley. The town of Morro Bay is a fishing village with both commercial and public fishing boats operating out of the harbor.
Most of the tourist stores and restaurants are located along the embarcadero. Stores sell everything from sea shells to fine art. The Embarcadero is also where you can rent kayaks, book a harbor or whale watching tour.
If you are hungry there are plenty bay front restaurants serving fresh local sea food. Prices range from inexpensive to moderate. Take a walk along the embarcadero and check out the prices before you decide on where to eat.
Giovanni's Fresh Fish Market is a local favorite and serves up some of the best seafood along the central coast. Another excellent choice is The Great American Fish Company which has a mesquite grill in a window where you can watch your fish being cooked.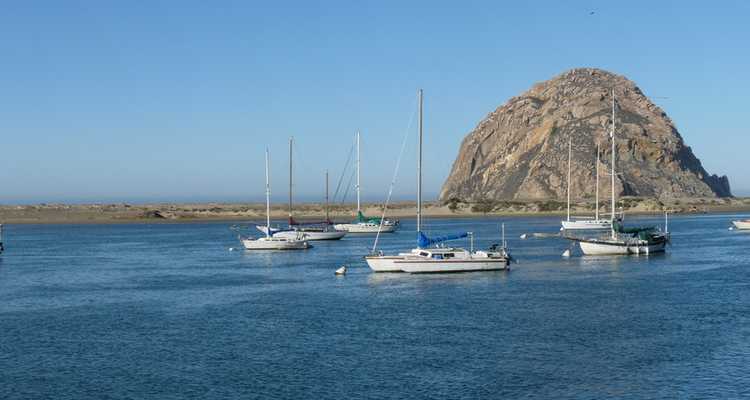 Virg's Landing Morro Bay offers deep sea fishing, day trips and overnight fishing trips from Morro Bay Harbor. Sub Sea Tours – exiting bay cruise offering above water and below water viewing.
Kayak rentals- explore 15 miles of protected waters in the beautiful Morro Bay Estuary. Montaña de Oro State Park – the park features rugged cliffs, secluded sandy beaches, coastal plains, streams, and canyons. Morro Bay State Park Museum of Natural History overlooks Morro Bay which is both a State and National Estuary.
Take a day trip to Hearst Castle, Harbor cruise on board Chablis is a 50-foot, two-story riverboat, shopping for gifts and souvenirs at the embarcadero, dinning at one of the numerous bay front restaurants. Sightseeing along the California central coast. This is just a small sample of things to do in and around Morro Bay.
Travel time from Los Angeles is about fours hours, longer if you get stuck in LA traffic. To see all the sights plan on spending at least two nights at the bay.
From Morro Bay here you can take day trips and explore along the coast or inland to San Luis Obispo. Expect early morning fog and afternoon sun during the summer months. Morro Bay is an affordable place to stay for a weekend getaway or vacation.
Morro Bay is located about halfway between San Francisco and Los Angeles. If you are planning a central coast trip Morro Bay is an excellent choice to set up you base camp for exploring the surrounding area.
There are plenty of places to eat and shop plus hotels tend to be less expensive here. Hearst Castle is only about a 40-minute drive up the coast and San Luis Obispo a 20-minute drive inland.
Morro Bay has a beautiful campground at Morro Bay State Park with 126 campsites. The campground is adjacent to the bay with a nearby boat launch and Museum of Natural History.
Morro Bay will not disappoint and is defiantly worth checking out on any central coast trip.