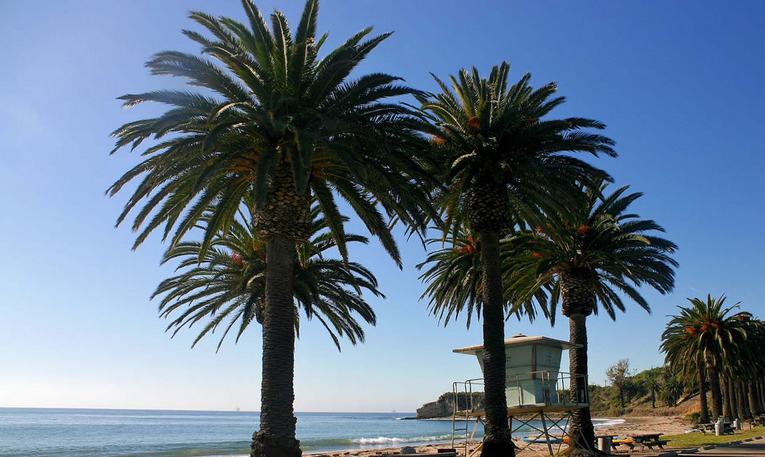 If you like to camp, Refugio State Beach is a lovely area lined with palm trees that provide a relaxing day at the beach or a fun weekend getaway.
Refugio State Beach is one of the lovely beaches located north of Santa Barbara along the Gaviota Coast. This palm-tree lined beach is popular with day users, beach loungers, coastal fishermen, surfers, bird watchers, picnickers and overnight campers.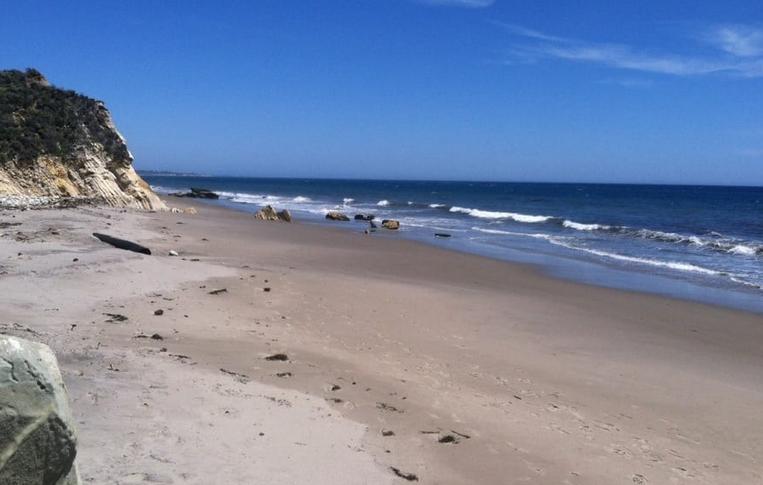 The Gaviota Coast is a special place because it represents one of the last stretches of undeveloped Southern California coastline. Refugio Beach is one of the public recreation areas along this coastline; El Capitan and Gaviota State Park are the others.
Visiting this part of the coast gives you a glimpse of what the California coastline was like before extensive development stretched along the coast and inland.
A visit to Refugio State Beach is a great day trip from the Los Angeles area. It can also be stretched to a lovely weekend trip if you want to camp at the park's campground or find lodging in a nearby motel or hotel.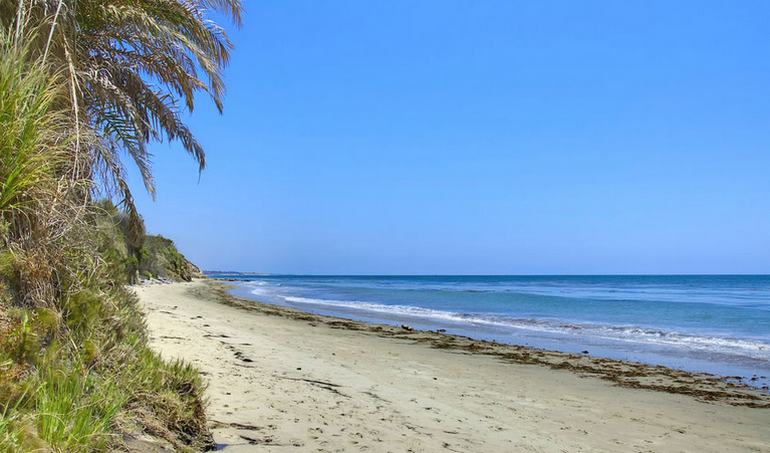 Campsites are located very close to the beach with some nestled in shady palm trees. Imagine falling asleep to the sounds of crashing waves. The campground has flush toilets and showers and sites have a picnic bench and fire ring.
Refugio State Beach Camping
Both tent and RV campers can enjoy Refugio State Beach. Check with rangers if your RV is larger than 35 feet to make sure you select a site that will fit your size. Campground Reservations
If you enjoy spending the night in the outdoors, camping at Refugio should be high on your list. Because the sites are located near the beach, reservations for weekend stays fill up quickly.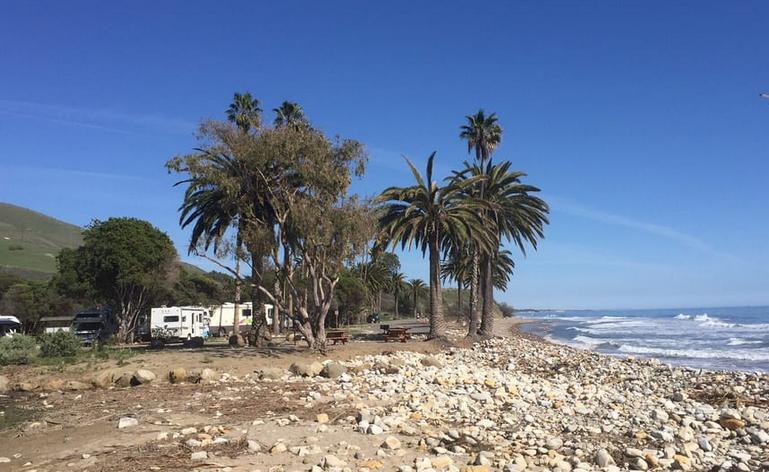 You will want to plan ahead if you hope to score a coveted weekend summertime camping spot. There are 63 standard sites and three group sites which are available year-round.
All Campsites are located very close to the beach nestled in shady palm trees. To get a hotel room this close to the sand, you would have to pay hundreds of dollars a night. At Refugio State Beach state beach, you only have to pay around 50 dollars.
Refugio has a hike and bike site available for touring cyclists. Best Refugio State Beach campsites with beach view 23 -27 and 34 – 35 -36 and 60.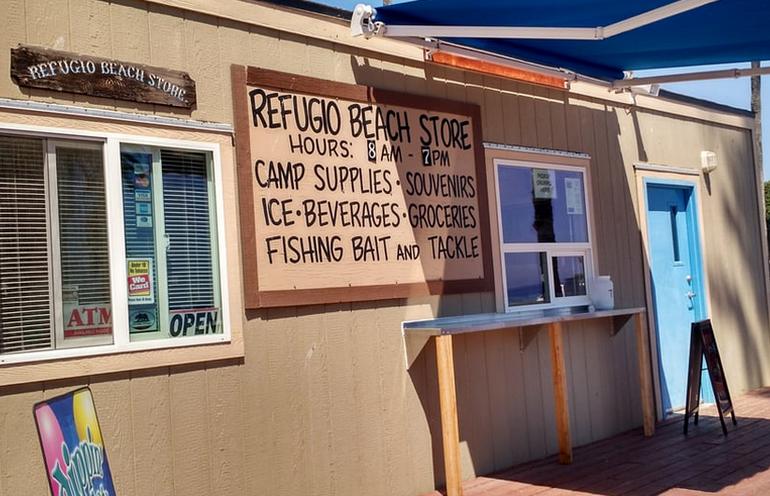 Things to do and see Refugio State Beach
Here are some ways that you can enjoy your time at Refugio State Beach. No matter how you spend it, you are sure to come away relaxed and recharged from your day in the sun, sand, and sea:
Picnics: If you want to enjoy a picnic lunch or sunset dinner, you can enjoy it right on the sand or grab one of the picnic tables in the grassy picnic area. The large tables can accommodate your family. If the urge to grill strikes you, you can use one of the on-site grills. You'll need to bring your own charcoal. There are plenty of places to pick up food in Santa Barbara or pack your own cooler with goodies from home. Remember, for everyone's safety, no glass beverage containers.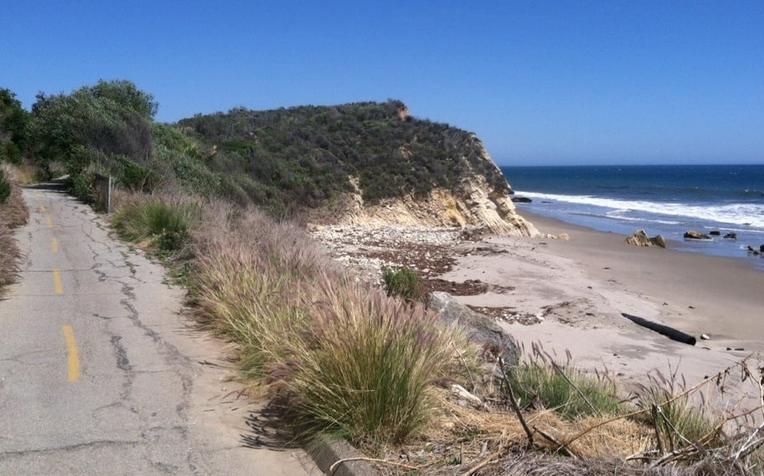 Kayaking: The Gaviota Coast can also be enjoyed from the ocean. Bring your own kayak and enjoy the open coastline, or you can arrange a kayak rental and tour from a local vendor, such as Santa Barbara Adventure Company (877-885-WAVE). You'll get to soak in the sun, the gorgeous views and coastal wildlife sightings from your ocean perch.
Biking: If you like to enjoy the freedom of biking, there is an easy bike trail that connects Refugio with El Capitan State Beach. It is a 2.5-mile ride each way and affords lovely coastal views the entire way. The trail is suitable for all ages.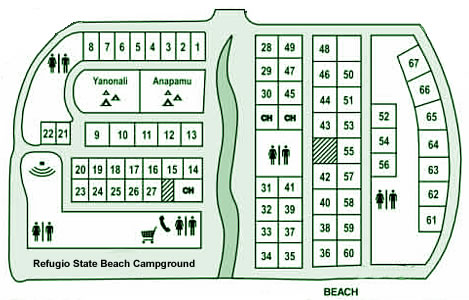 Wildlife Viewing: The coastal location is great for watching diving seabirds, shorebirds and more. Bring a pair of binoculars. During the right time of year, you can see migrating whales or catch playful porpoises frolicking in the wave.
On a wildlife note, be sure to keep your picnic items secure and under watch at all time. Feisty gulls and little rodents have been known to enjoy a snack or two from unsuspecting beachgoers. Make sure you do your part to keep the wildlife wild.
Getting There: Refugio State Beach is located off of Highway 101, approximately 20 miles north of Santa Barbara. Look for the Refugio Road exit. Day use fees apply at Refugio also gets you into the nearby El Capitan State Beach and Gaviota State Beach for free on the same day.