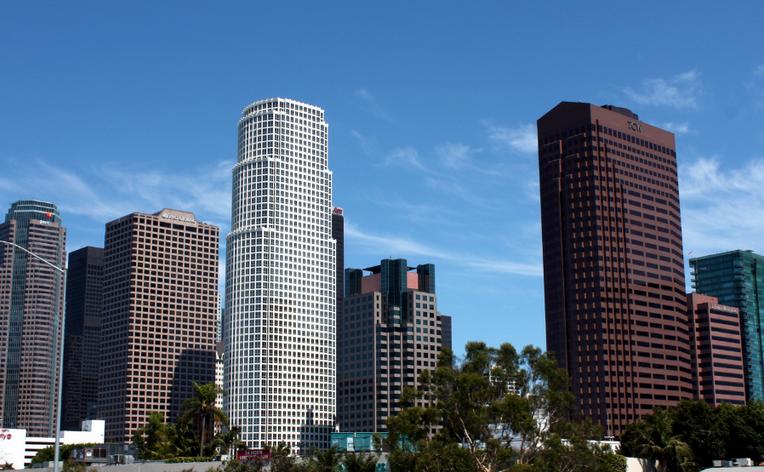 Discover 60 popular Los Angeles Day Trips that can be reached in three hours or less from anywhere in LA. Travel time will depend on traffic conditions so it's best to get an early start, especially on weekends.  First up Los Angeles day trip ideas or Jump To – One hour Drive – Two hours drive – Three hours drive from Los Angeles.
Los Angeles Area Day Trip Ideas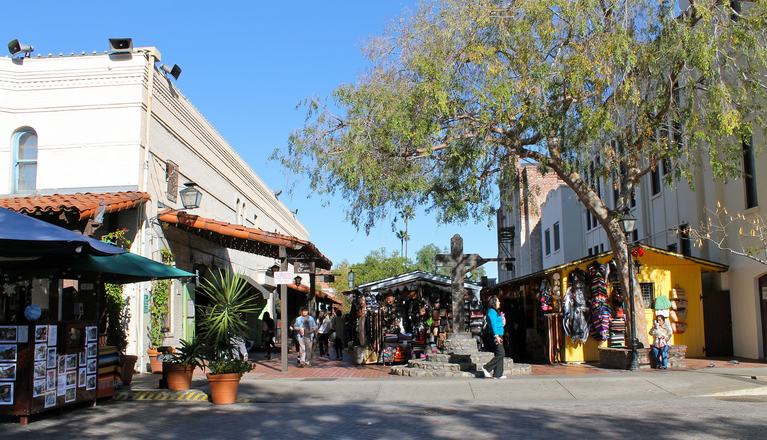 Olvera Street is part of the El Pueblo de Los Angeles Historic Monument though many Latinos refer to it as "La Placita Olvera." Olvera Street is known as the birthplace of the City of Angels and was designated a California State Historic Landmark in 1953. Nestled among the skyscrapers is a landmark that still retains its authentic charm and captures the essence of what LA used to look like years ago.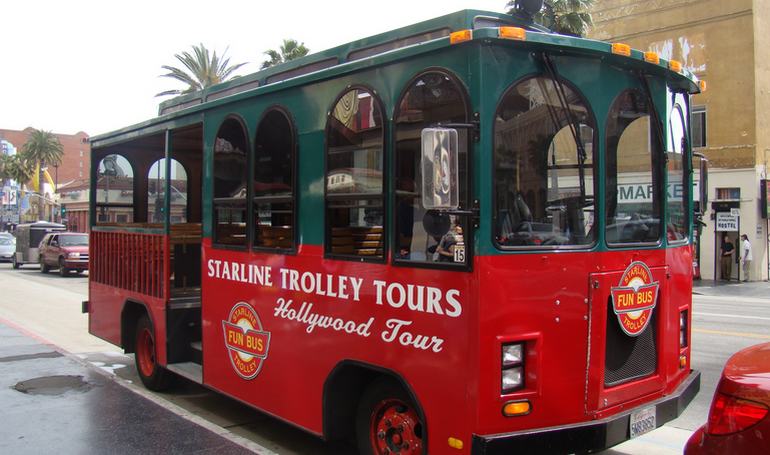 Even if you don't end up in line behind Johnny Depp inside Starbucks, or Angelina Jolie in the drive through of McDonald's, Hollywood is still a great place to visit with some spots you definitely don't want to miss. For those that want a more behind the scenes look into the opulent lifestyles behind the gates of the mansions of Hollywood's elite, there are the always popular Hollywood movie star homes tours.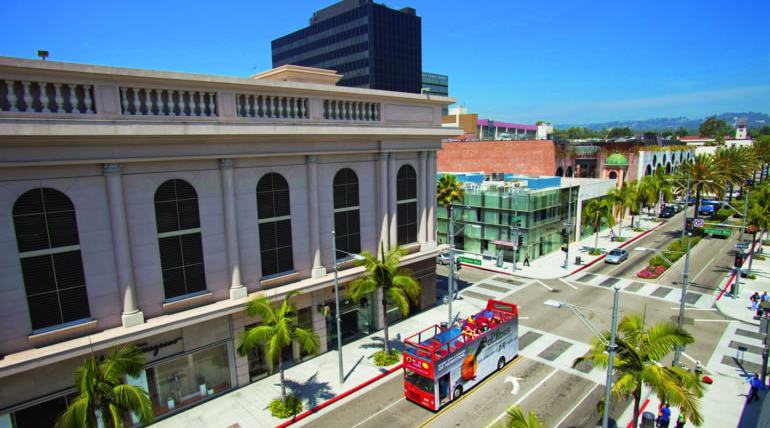 Although most Beverly Hills visitors cannot afford many of the items that sparkle from the windows of the posh stores that line Rodeo Drive, a day trip to Beverly Hills will give you a chance to experience how the other half lives.You may want to leave that credit card at home, as many leave spending big bucks for the sheer experience of shopping on Rodeo Drive.
Beautiful running streams and chaparral-covered hillsides all within an hours drive of downtown Los Angeles. The park's rugged terrain was once used by filmmakers to create spectacular backdrops for films. One of the most popular hikes in the park is to the M*A*S*H site. Most of the trails are well marked and graded for easy hiking. However, for those that seek a more challenging experience, there are plenty of single track trails.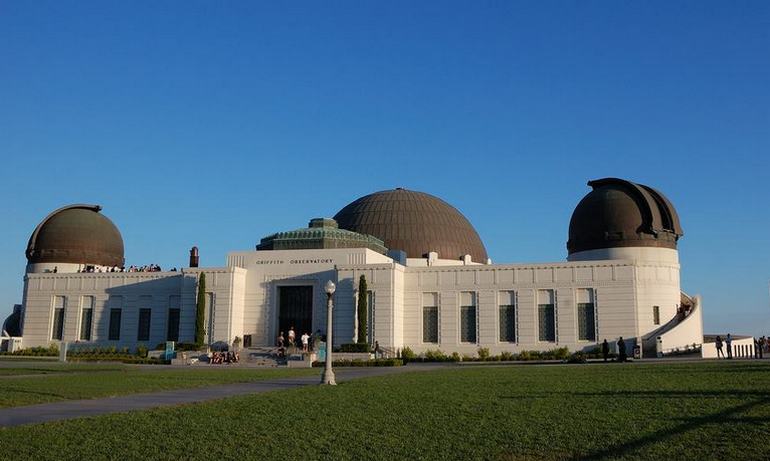 Griffith Observatory is perched on Mt. Hollywood in the hills above Los Angeles. The grounds surrounding the observatory have many points of interest including an Egyptian sundial and a memorial to James Dean. On a clear day, you will be treated to a spectacular view of Hollywood and the Los Angeles basin.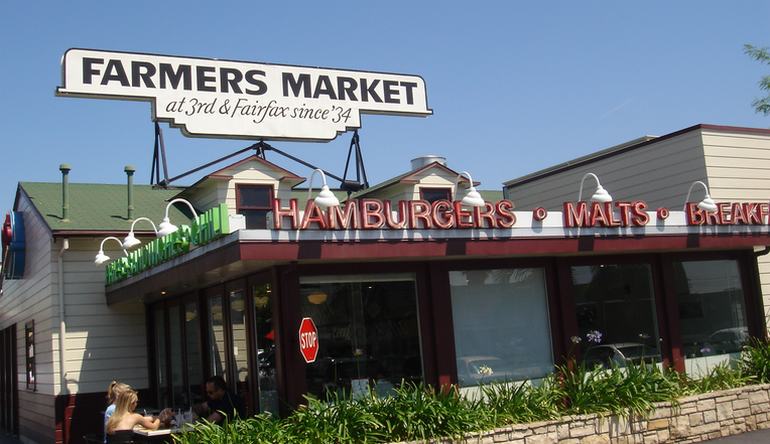 The original Los Angeles Farmers Market is located on the corner of Third and Fairfax and is a fascinating place to spend the day. The farmers market has more than 100 shops and restaurants to explore. There are so many different places to eat with so many choices for food chances are you will stop at least a couple of the eateries.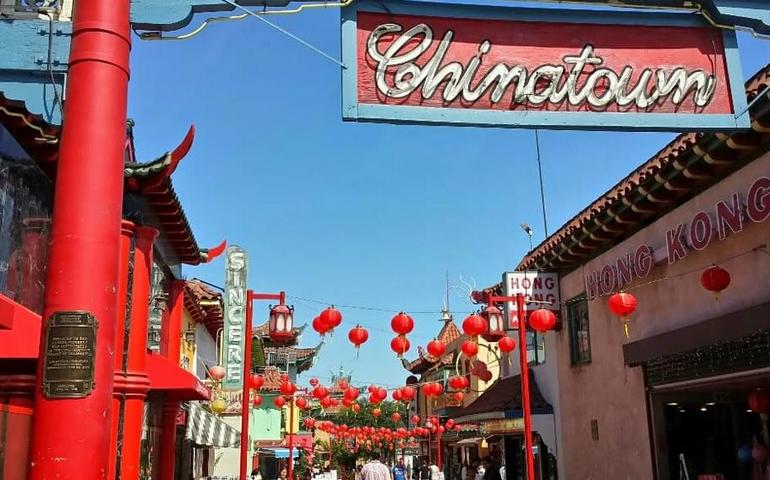 Home to approximately 25,000 residents, this vibrant Asian community was first settled around 1938 and has grown into a self-sustaining pillar of the Los Angeles community as well as a popular tourist attraction. Dozens of restaurants, herbal shops, and temples with their pagoda rooftops make up a tiny Asian world in downtown Los Angeles.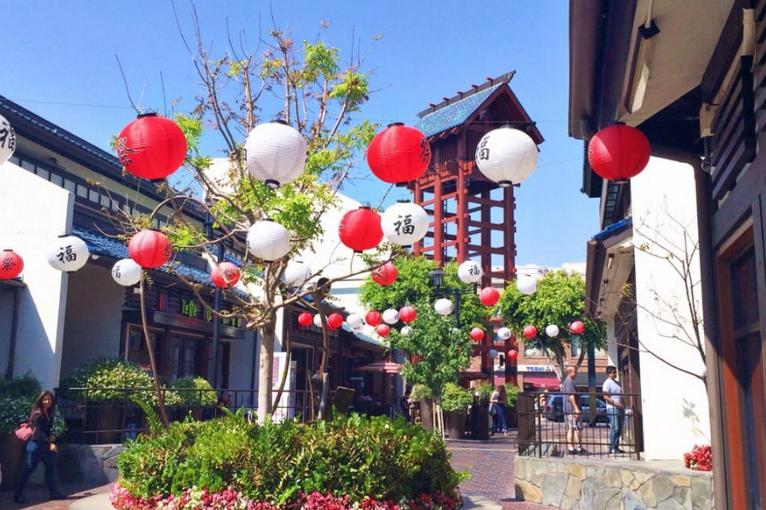 Little Tokyo is located in downtown Los Angeles and is is the cultural center for Japanese Americans in Southern California. The heart of Little Tokyo is Japanese Village Plaza. The Plaza is easy to find just look for the giant wooden fire tower that guards the entrance. Inside Japanese Village Plaza, you will find stores selling everything from mochi ice cream to Japanese pastries and bread.
From the moment you arrive, you'll be immersed in the theme that can only be the spectacle of Venice. The best way to experience the waterfront scene is via a three-quarter-mile boardwalk. As you shuffle down the tourist-laden trail, you'll pass an array of off-the-wall shops, tacky souvenir stores, tattoo and piercing parlors, flea markets and vendors selling all kinds of items.
Since opening its doors in 1966, the Los Angeles Zoo has always had a reputation among zoologists for having an unusually large series of mammals from around the world, with an emphasis on rarities including a Sumatran tiger, yellow-footed rock wallaby, Cape Griffon vulture, mandrill, okapi, mountain tapir, and a snow leopard.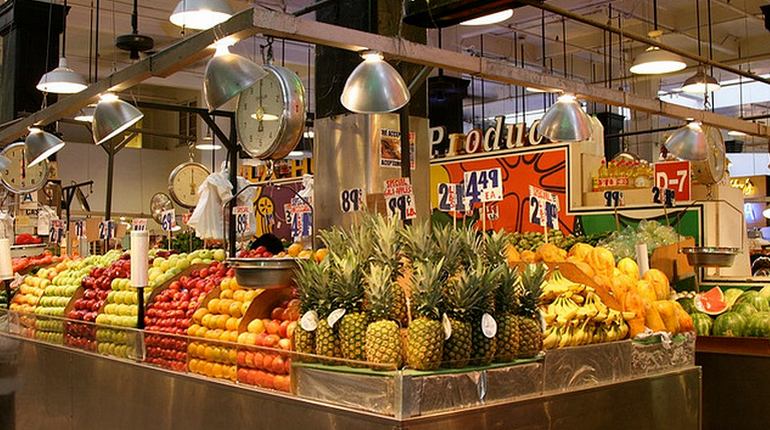 If you happen to be familiar with the Anaheim Packing House in Orange County then you know what to expect at Grand Central Market, however, GCM was the original model. Grand Central Market is a large, beautifully restored warehouse and home to a whopping 36 vendors including Japanese, Mexican, Chinese, Thai, Italian, and American cuisine among others.
La Brea Tar Pits are a famous cluster of fossil sites in urban Los Angeles, around the Hancock Park area. Brea is the Spanish word for asphalt or tar, which has seeped up from the ground in the area for thousands of years. Over the centuries, animals that came to drink the water, which collected on top, fell in, sank into the tar, and were preserved as bones.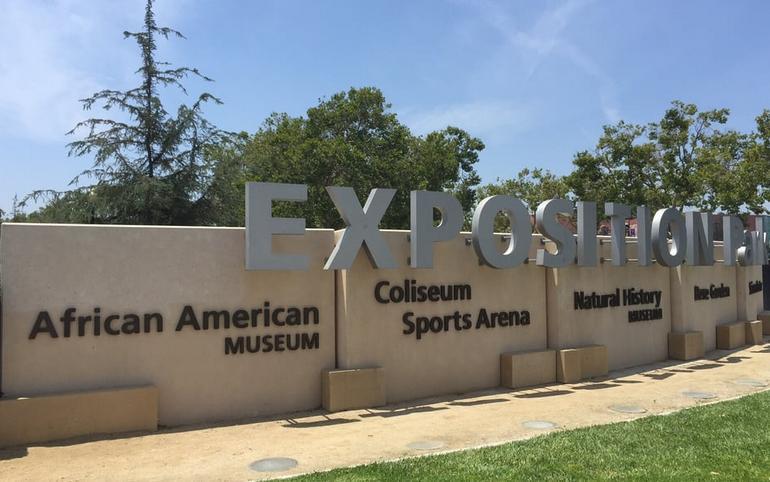 Exposition Park's spacious 160 acres, houses three museums, three sporting venues, an IMAX theater, a school, beautiful rose garden, and farmer's market. Natural History Museum, California Science Center, African American Museum, and Exposition Park Rose Garden.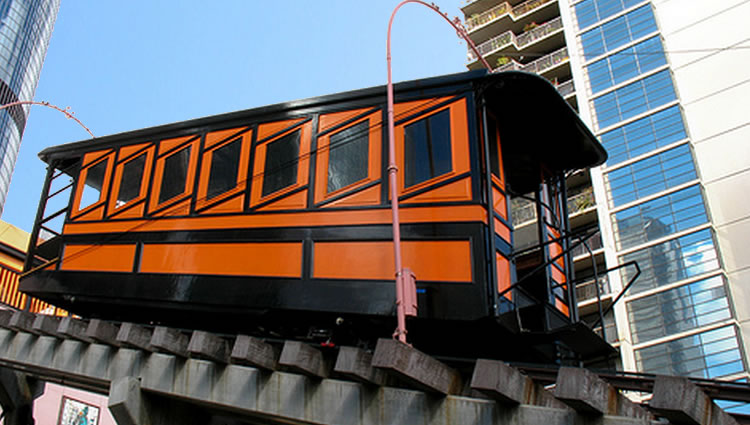 One of Los Angeles' most enduring landmarks, the railway was originally constructed in 1901 on the Southwest corner of Third and Hill Streets. Designed to carry passengers up and down the steep incline between downtown and Bunker Hill, then a fashionable residential district, it is the "shortest railroad in the world".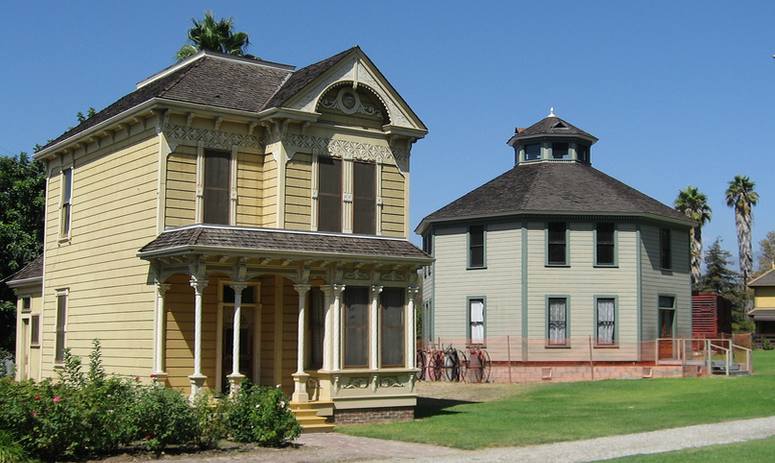 Heritage Square Museum is located alongside the concrete banks of the Los Angeles River in downtown LA. The museum houses a collection of structures from the late 1800s that were saved from demolition and moved to Heritage Square.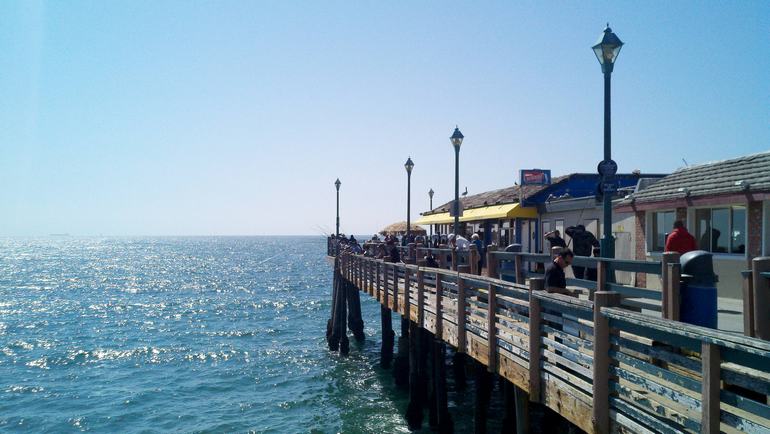 Redondo Beach Pier was originally built to facilitate timber delivery from ships to trains in 1889, the Redondo Beach pier has undergone six transformations, surviving a series of storms, fires and demolitions throughout the 20th century on the way to its current design — a large horseshoe shape structure that has been given the name – the "endless" pier.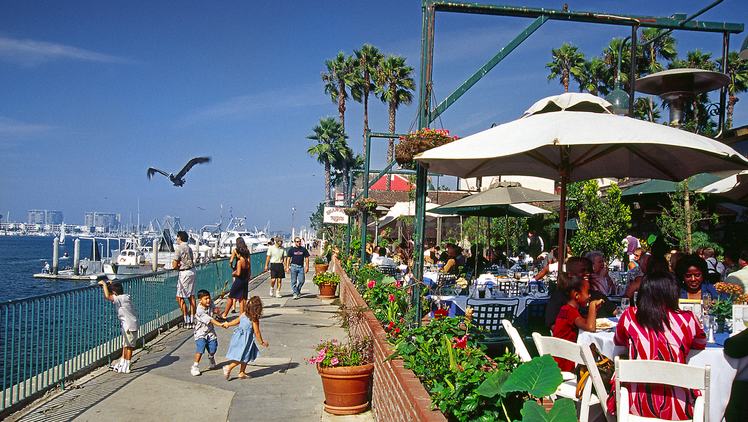 Situated between Venice Beach to the north and south to Playa del Rey near the mouth of the Ballona Creek, Marina del Rey is an outdoor hub of activity surrounded on all sides by high-rise condos, hotels, apartments, shops, and restaurants. Marina del Rey is sitting at the center of the 22-mile South Bay Coastal Bicycle Trail which stretches from Malibu to Torrance Beach.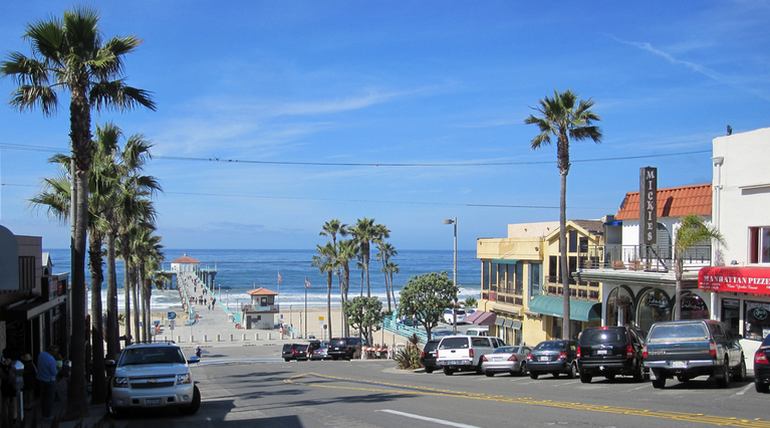 Manhattan Beach not only offers a vibrant beach scene, but also a charming downtown shopping and dining district, filled with boutiques, art galleries, and restaurants. While some of the town's swankier restaurants and clubs may require you to get dressed up, the accepted dress code you'll find in here is board shorts and flip-flops.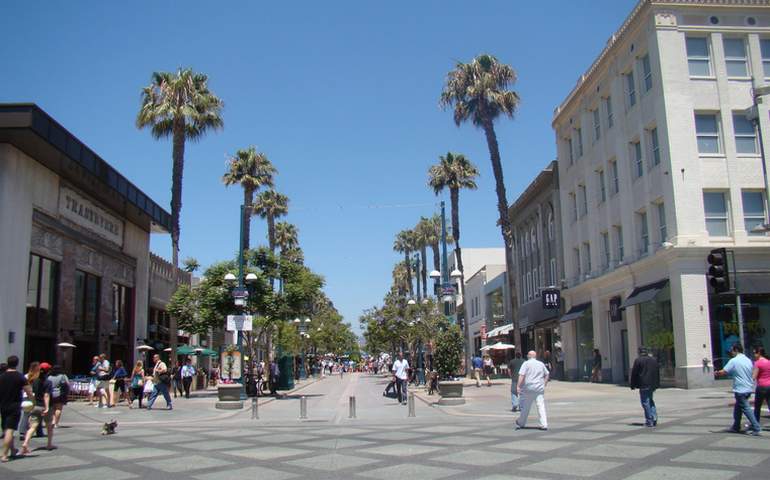 Third Street Promenade is an upscale collection of restaurants and shops located in downtown Santa Monica. It draws tourists and locals, alike, offering something for everyone. All along Third Street, artists, performers, and entertainers which are regulars on any given Saturday line the street and do what they do best. It's entertainment at its best.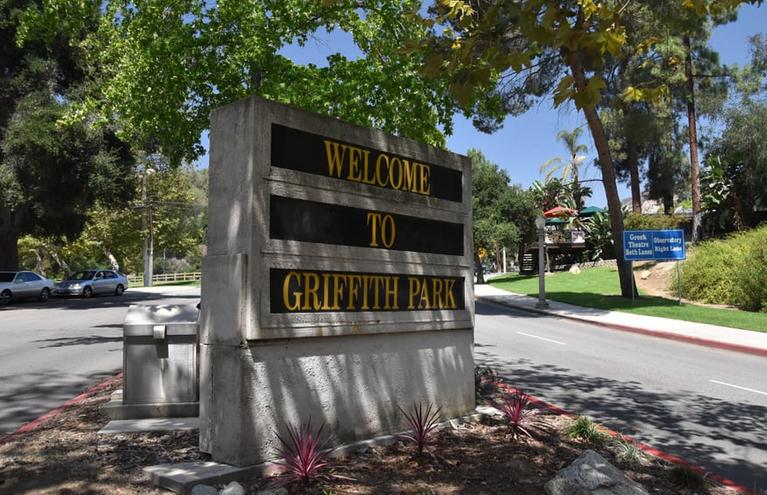 Griffith Park is located in the historic Los Feliz neighborhood of Los Angeles. The Park is the eastern end of the Santa Monica Mountains. Spanning over 4,000 acres Griffith Park is one of the largest urban parks in the United States. The park is often called the "Central Park" of California, it offers a much more natural and outdoor feeling.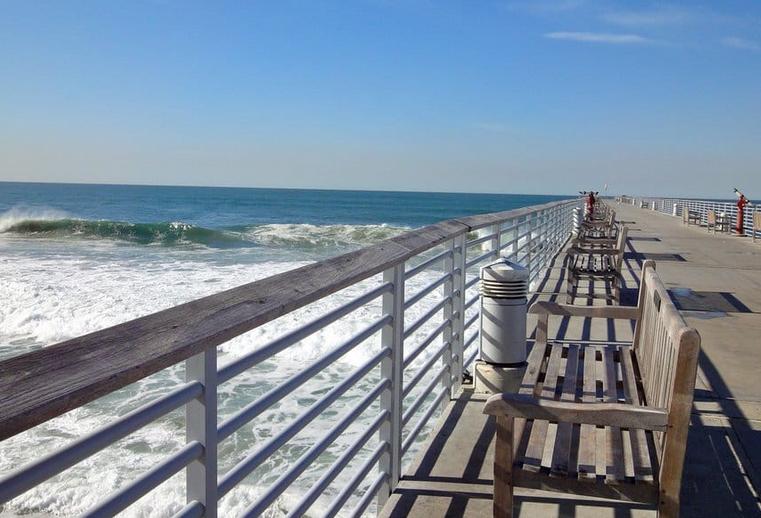 Hermosa Beach Day Trip Things to Do

During one of its many warm sunny days, locals and tourists can be found playing volleyball on the beach, or jogging, cycling and rollerblading along a smoothed-paved path known as the Strand, which runs along Hermosa's wide sandy shorelines, connecting it with the neighboring beach towns.
LA Day Trips Travel Time 1 Hour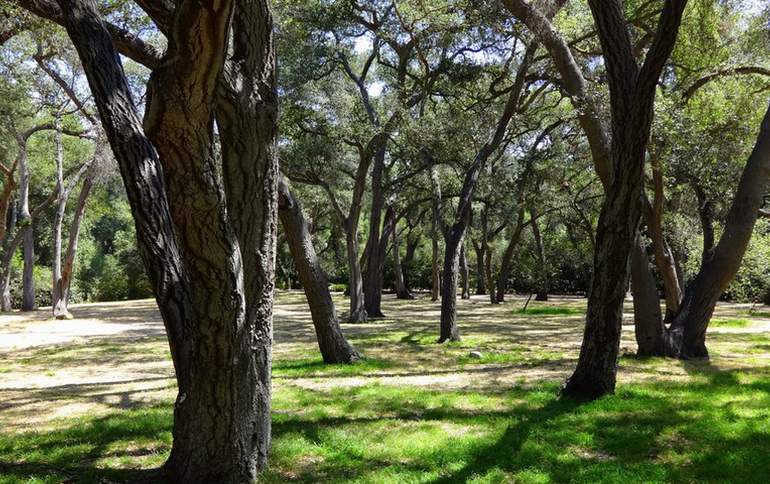 Descanso makes a delightful day trip perfect for all ages. 150 acres of beautiful gardens, woodlands, and chaparral. The rose garden covers five acres and more boast more than 3,000 roses. There is also a Full Moon Tea House with Shinto bridge and a Japanese farmhouse. For kids the Enchanted Railroad with a 1/8th replica of a diesel train that travels around a section of the gardens.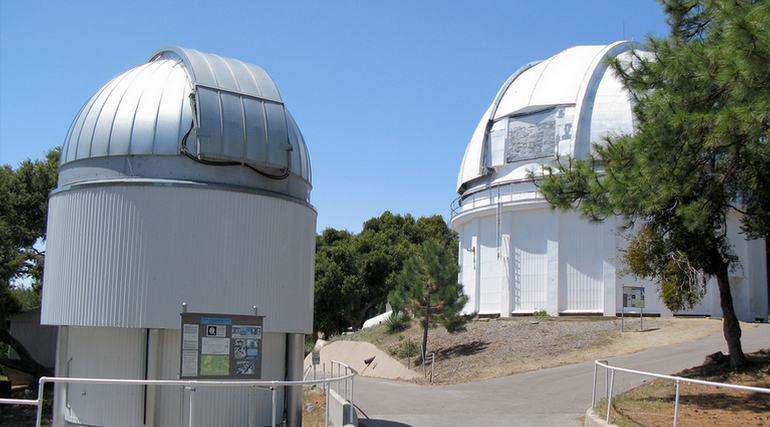 Perched 5,700 feet on the Mount Wilson summit among the San Gabriel Mountains near Pasadena, northeast of Los Angeles, is the Mount Wilson Observatory.Home to two historically important telescopes, which have played an important role in modern astronomy, the observatory was founded in the early 1900s by George Ellery Hale.
Vasquez Rocks offer a far out adventure not too far from the city.  Vasquez Rocks area is a popular backdrop for Hollywood studios. Just a few of the movies and shows filmed here include all Star Trek, Bonanza, Power Rangers, Friends, The Big Bang Theory, Planet of the Apes, and the Flintstones Movie.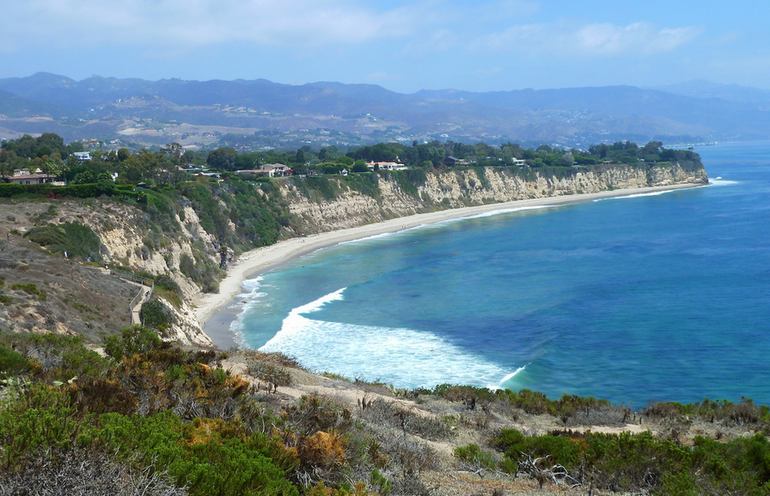 Point Dume Nature Reserve is situated on an undeveloped section of land along the Malibu Coast. The headlands offer an amazing view of Santa Monica Bay. On a clear day, both the Santa Monica Mountains and Catalina Island can be seen. A stairway on the bluff-top allows access to a secluded beach.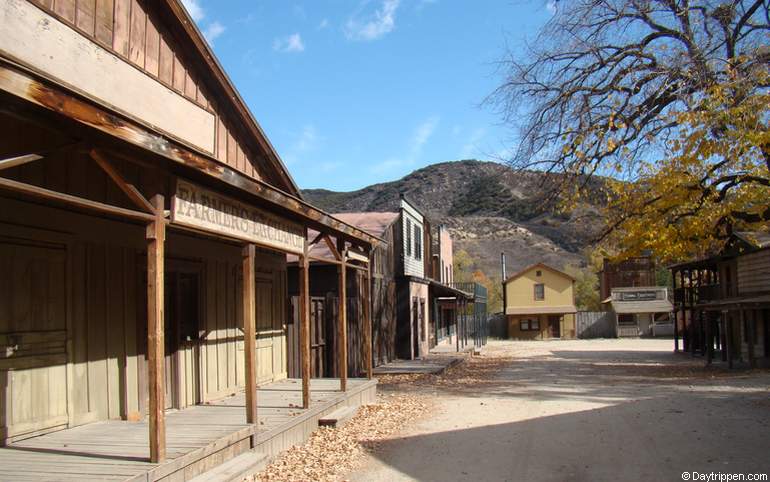 Paramount Ranch is located in the Santa Monica Mountains National Recreation Area. At one time the property was used as a movie ranch by Paramount Studios. Hundreds of films were shot on the property. Most of them were westerns. Today all that remains of the movie Ranch is a western town that resembles a ghost town.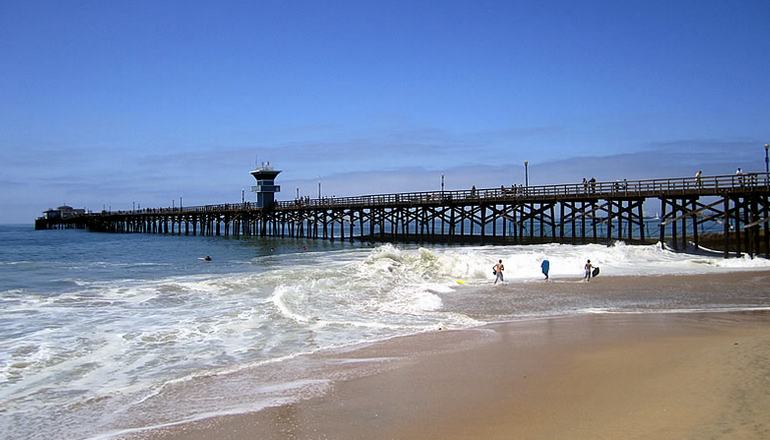 Seal Beach is a seaside town south of Long Beach. The main attraction here is the wide sandy beach, with the second longest wooden pier in the United States.  Seal Beach's main street is a throwback to a classic Southern California surf town. During the day, you can find free parking, grab an ice cream, or browse one of the many unique boutique stores.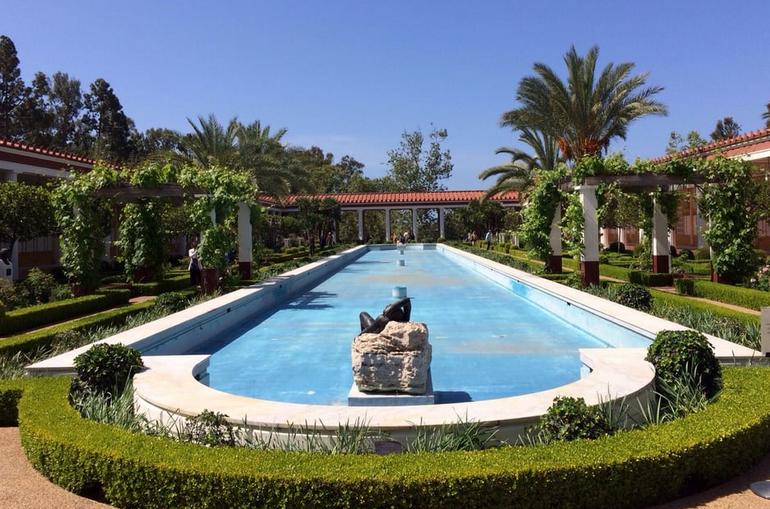 The Villa, which was constructed to resemble a villa in Pompeii that was destroyed by the eruption of Mt. Vesuvius, is also home to tons of family-friendly programs to help immerse visitors big and small in this slice of history. Surrounding the Villa are acres of avant-garde landscaping with cool ocean breezes that cascade off the sandy beaches just yards away.
One of the most popular Los Angeles day trips on our list. An automated cable-pulled tram that will take you on a scenic ride to the hilltop campus. From there you can explore numerous buildings brimming with artworks from around the world. The grounds of the Getty Center offer visitors an amazing view of the Los Angeles skyline. Admission to the Getty Center is free.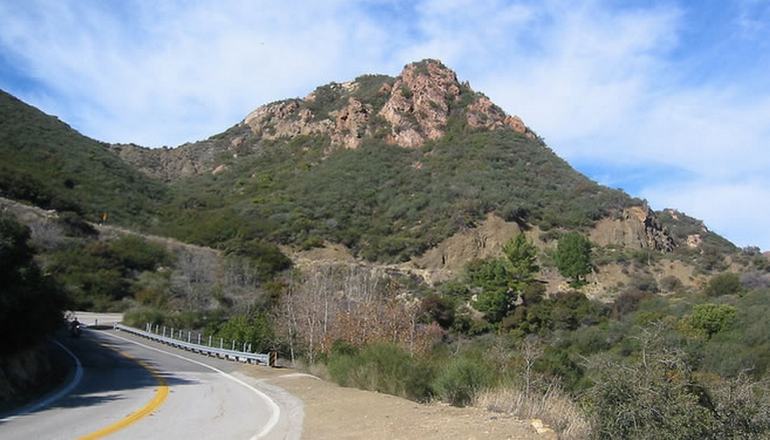 Mulholland Highway twists and turns its way through the Santa Monica Mountains. Along the route are numerous points of interest. Starting in Calabasas, the first stop along the way is the 588-acre King Gillette Ranch. Just a few miles up the highway, Mulholland Highway  passes through"The Three Magical Miles."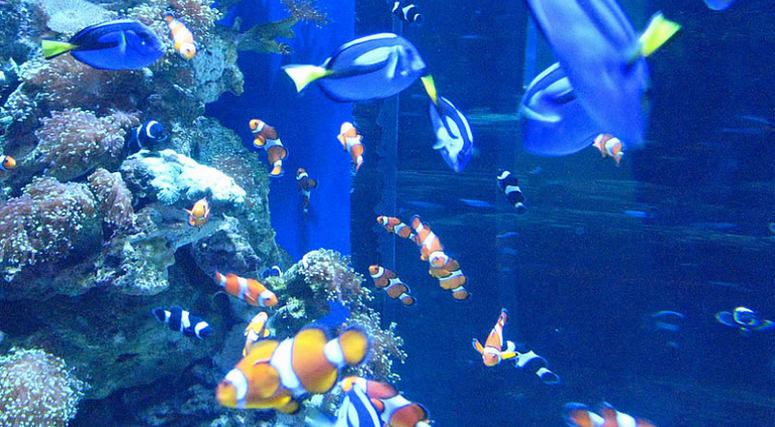 Aquarium of the Pacific in Long Beach is one of the most popular family day trip destinations in the Los Angeles area. From the moment, you walk in and see a life size blue whale hanging from the ceiling you know you're in for a fun day.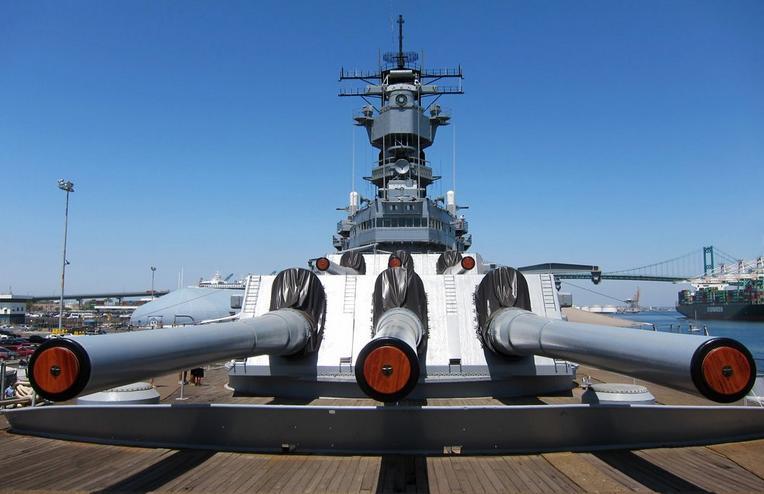 USS Iowa is a floating battleship museum berthed at the entrance to the Los Angeles Harbor. A self-guided tour takes visitors around many parts of the ship. Highlights include the ships huge 16-inch deck guns and the crews quarters. San Pedro offers visitors several other attractions including its historic waterfront district, S.S. Lane Victory, and the Los Angeles Maritime Museum.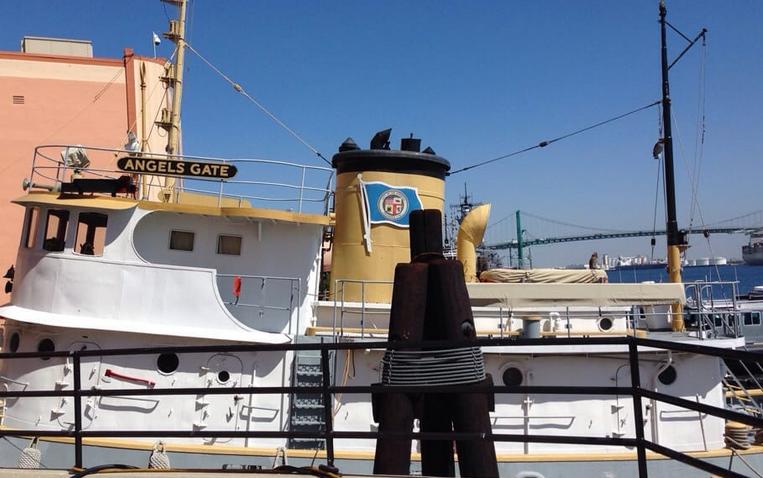 San Pedro offers an experience like no other. It's a fantastic seaside destination, with many of the attractions offering family friendly prices. There are more than enough things to do in San Pedro to fill an entire day. To start out your tour of San Pedro, head to the historic waterfront district. Here you will find several popular San Pedro attractions.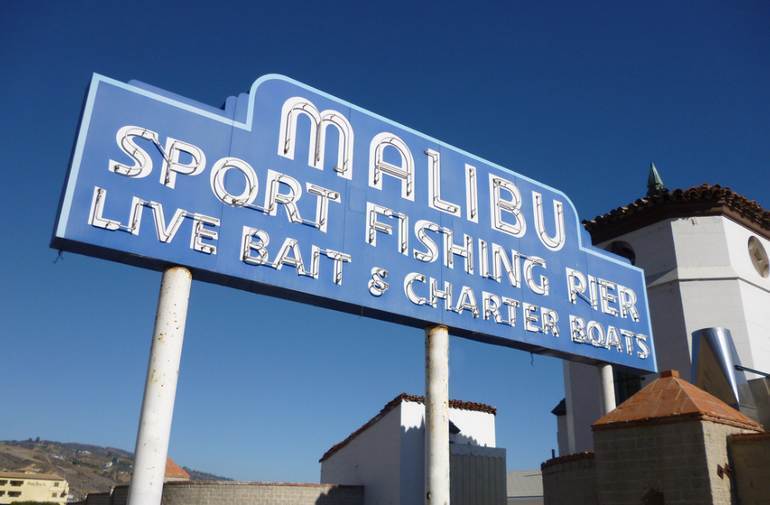 If you are looking to spend a day soaking up the essence of California, then it's time for a Malibu beach day trip. The 21-mile strip of oceanfront properties is an affluent beachfront city in western Los Angeles County that offers some of the world's most spectacular beaches and views.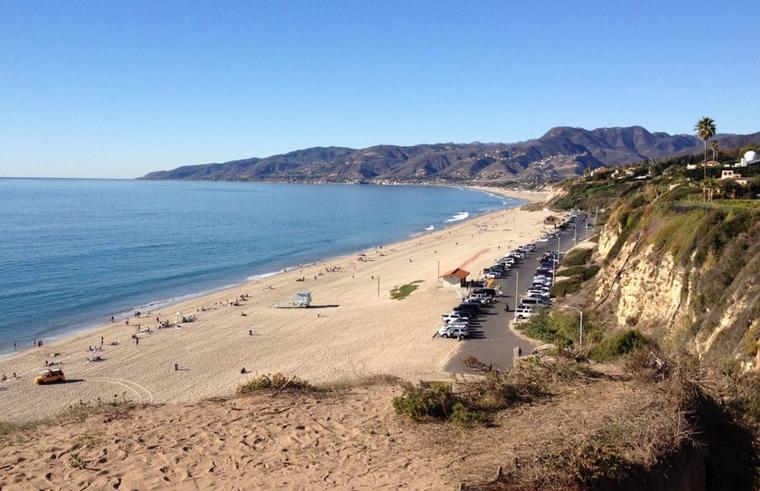 Because of its south-facing shoreline, Zuma, as it's called by the locals, attracts a host of beachcombers year-round, especially during the summer weekends, but it is relatively quiet during the week for those looking for a serene setting to unwind.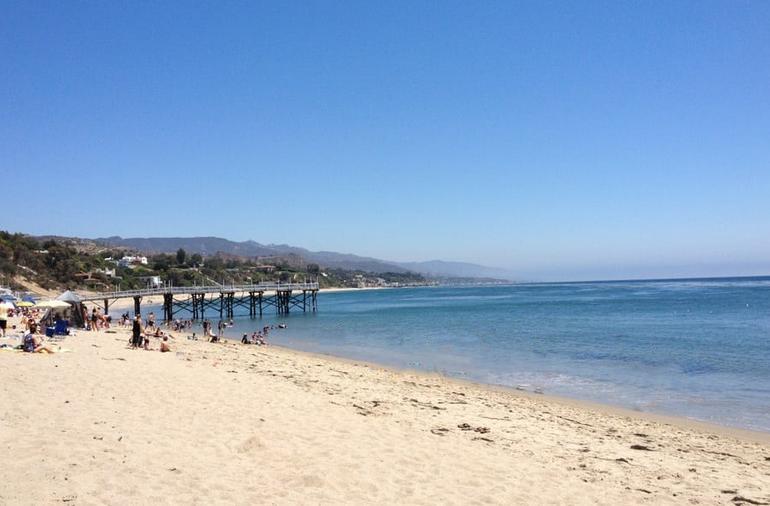 Paradise Cove has been the location for numerous movies and commercials including Lethal Weapon 4, Charlie's Angels, The Rockford Files and several Gidget flicks shot in the late '50s early 60s. Paradise Beach Cafe has indoor and outdoor seating. Specializing in seafood the Cafe the most popular dishes are the hot combo platter and iced seafood samplers.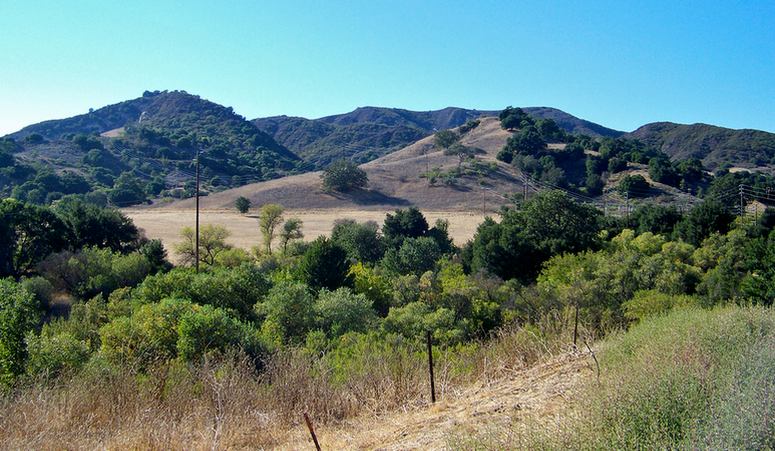 With year round access and the Pacific Ocean as its backdrop, the Santa Monica Mountains is a unique region populated with several wineries. Most are small, however, a few that are commercial enterprises. Best known wineries are Malibu Family Wines and Rosenthal Malibu Estate.
Trout Dale is not your average fishing hole you are pretty much guaranteed to catch a fish here. The small pond is stocked with hungry rainbow trout ready to bite on just about anything tossed into the water. No need to bring any fishing gear Trout Dale supplies a fishing pole which is the bare basics, a bamboo stick with line and hook.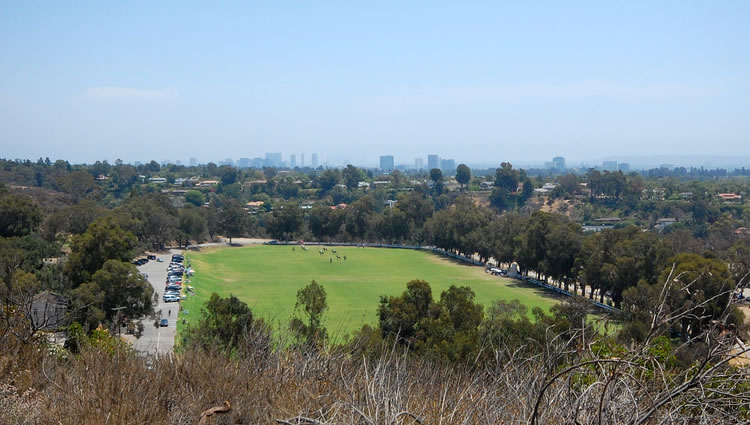 Will Rogers did it all. He was a movie star, columnist, philosopher, humorist, radio personality and avid rider and roper. He also had a beautiful spread of 186 acres in the Santa Monica Mountains overlooking the ocean in Pacific Palisades.His family gifted the home and land to California in 1944. The state established an historic park that is open to visitors.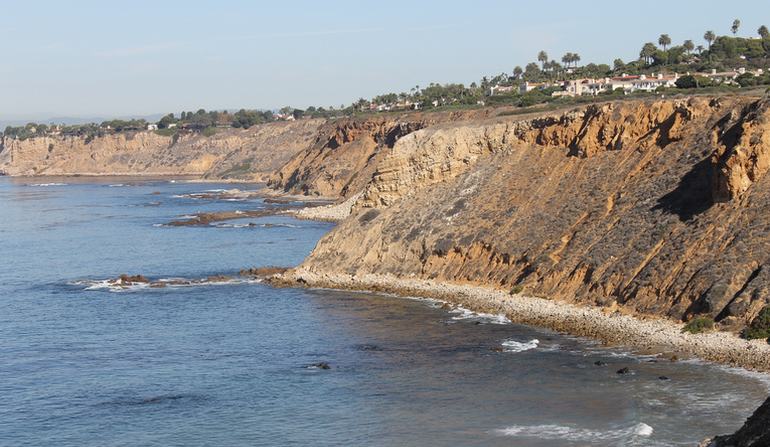 Get out your hiking boots and come explore the over 1,600 acres of open space on the Palos Verdes Peninsula. Ten of the area's largest preserves consisting of rolling hills, steep canyons, and rocky outcrops with natural habitat and views of the Pacific Ocean and Santa Catalina Island, occupies part of the peninsula that is owned by the city of Rancho Palos Verdes.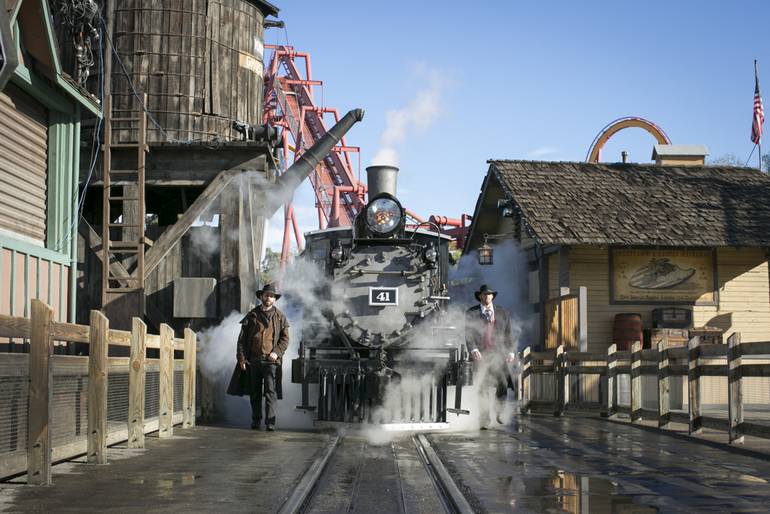 Knott's Berry Farm offers something for every age group, young children, teens, parents and even grandparents will all have a fun day. Enjoy an original chicken dinner, walk through a ghost town, and ride the latest thrill rides.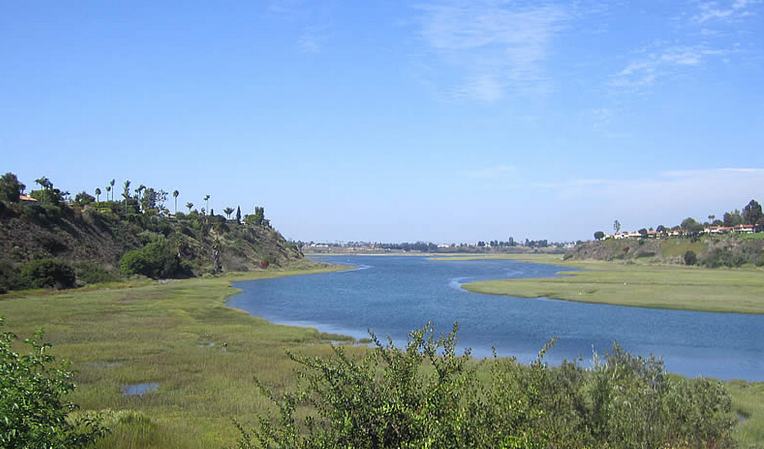 The Back Bay Loop Trail is a 10.5-mile route winding around Upper Newport Bay. It is well signed so don't worry about getting lost. Scenic stops include places like Upper Castaways Park. Newport Back Bay is enjoyed by hikers, runners, cyclists and nature lovers. Newport Beach Back Bay is the home of nearly 200 species of birds.  Orange County Day Trips.
Day Trips 2 Hours from Los Angeles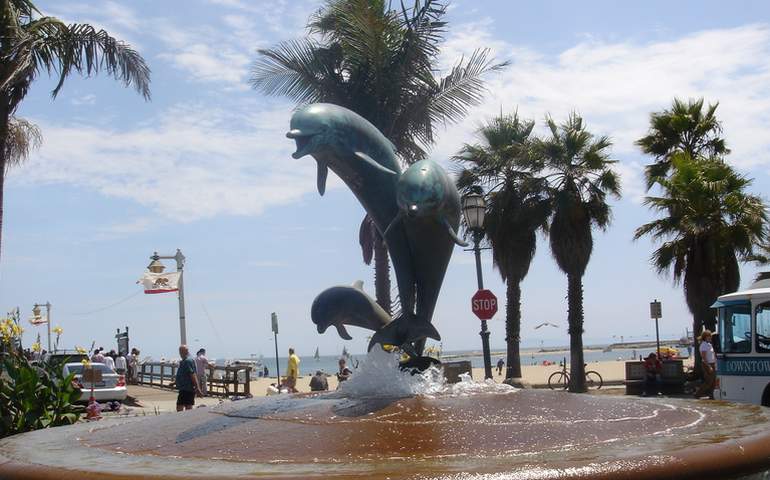 A great way to get acquainted with Santa Barbara is by renting a beach cruiser from one of the rental shops that line the beach near Stearns Wharf. There are miles of bike paths to explore however most people follow the trail from Stearns Wharf to Shoreline Park and back.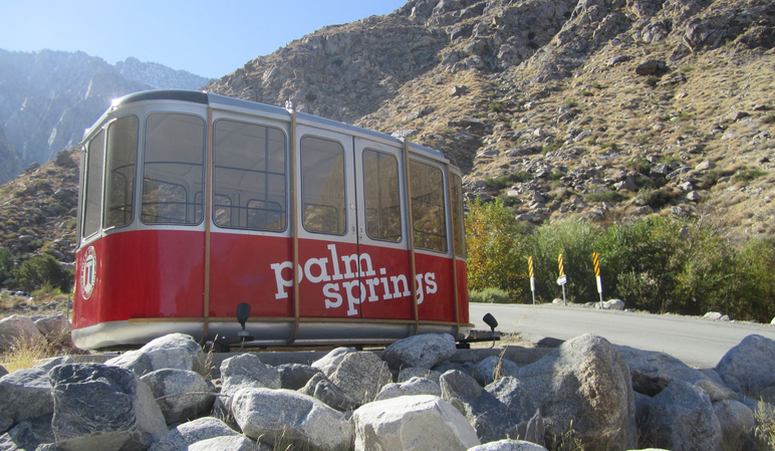 Palm Springs Day Trip
When you're checking off the list of reasons why you should plan a visit to Palm Springs, make sure to include, the sunshine, great resorts, shopping, outdoor adventures, museums, and spectacular scenery. This beautiful oasis in the Mojave Desert has it all.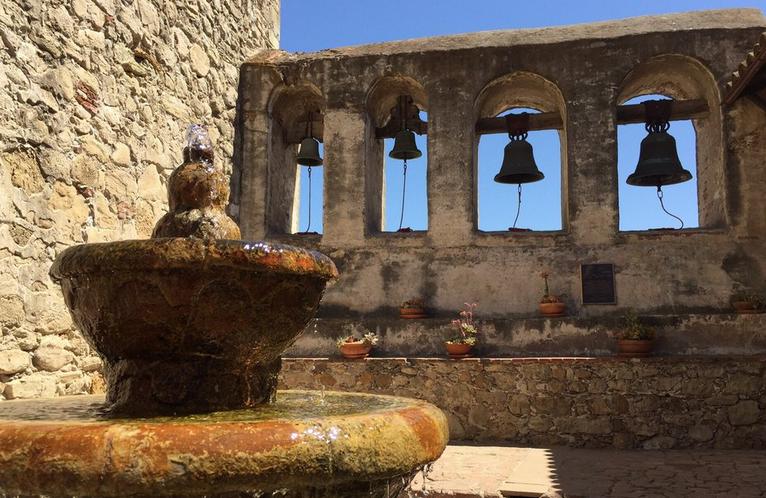 Misson Capistrano is a perfect family day trip. Getting to the mission is easy by train or car. A self-guided tour of the historic mission will take about two hours. Leaving you plenty of time to explore the region. Just a short walk from the mission is the Los Rios Historic District. Only a short drive from the mission is Doheny State Beach where you can picnic and soak up some rays.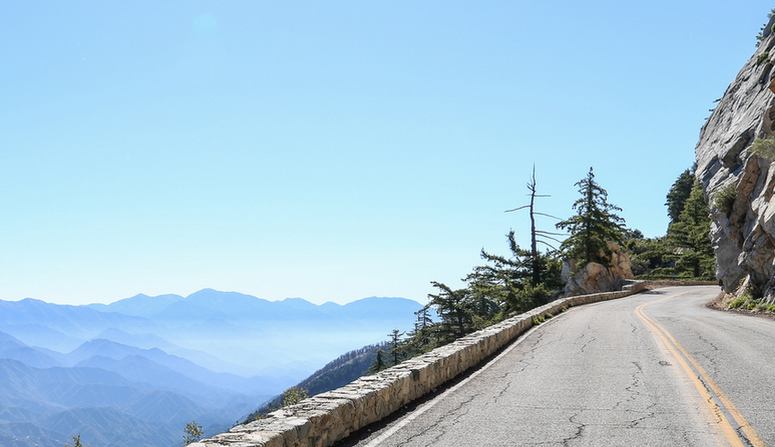 Starting at La Canada, the Angeles Crest Highway crosses the San Gabriel Mountains. The entire route is 66 miles and ends at Route 138 near Wrightwood. Points of interest along the way include Mount Wilson Observatory, Newcomb's Ranch Roadhouse, Mount Waterman and the Pacific Crest Trail. There are many turnouts to pull over and take in the amazing vistas.
Catalina is one of the most popular Los Angles day trips on this list. Getting to Catalina Island requires a trip on the Catalina Express Shuttle. Ships depart from several ports including Long Beach, San Pedro, and Dana Point. Activities on the Island are nearly endless. If this is your first trip we suggest you take Avalon scenic tour.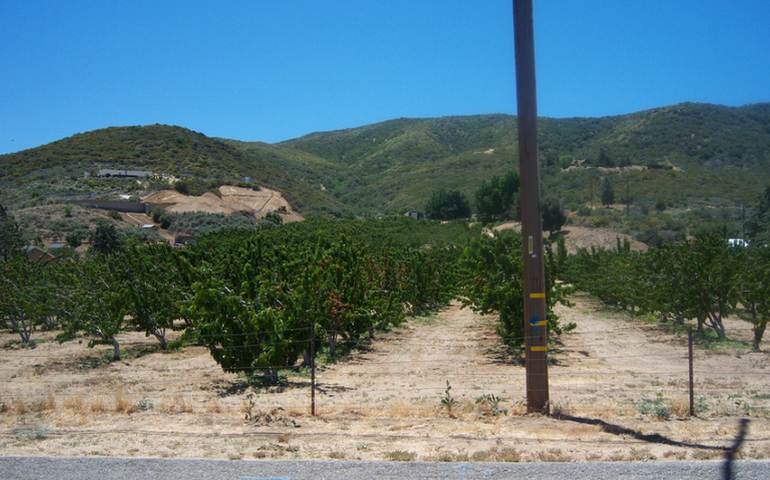 Leona Valley Day Trip Where to Pick Cherries. Set among the beautiful mountains of Northern Los Angeles County, just 10 miles west of Palmdale, California, is the town of Leona Valley. Cherry Picking season is May through mid-July and Leona Valley is a great place to take the entire family for a relaxing and inexpensive day trip.
Contrary to popular belief, some of the best things in life are free — like feeling the sun on your face, the sand between your toes and the water over your feet. And it's those things and more that await visitors in the City of Ventura.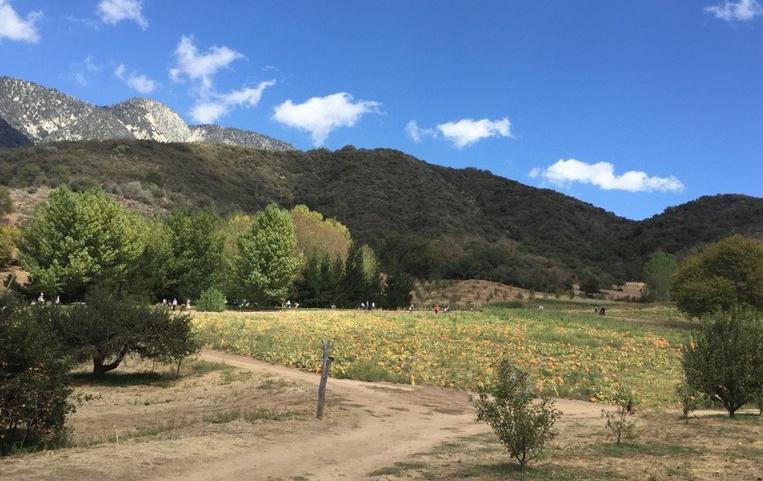 If you're looking for a weekend escape or a weekend day trip for the family close enough to the city, but still with a small town feel then Oak Glen would be a great place to slip away to. The small community is located 15 miles east of San Bernardino, at the foothills of the San Bernardino Mountains.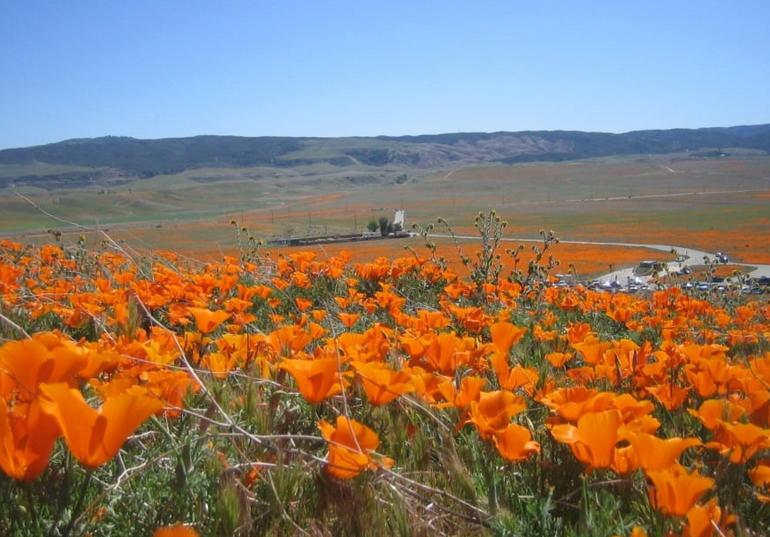 Antelope Valley Poppy Reserve is open year round but is most visited during the poppy season. April and May are usually the best viewing months depending on how much rain the fields get. While you are out visiting you might also see some of the native wildlife: hawks, meadowlarks, and lizards and snakes all seem to enjoy the sea of color as much as the human visitors do.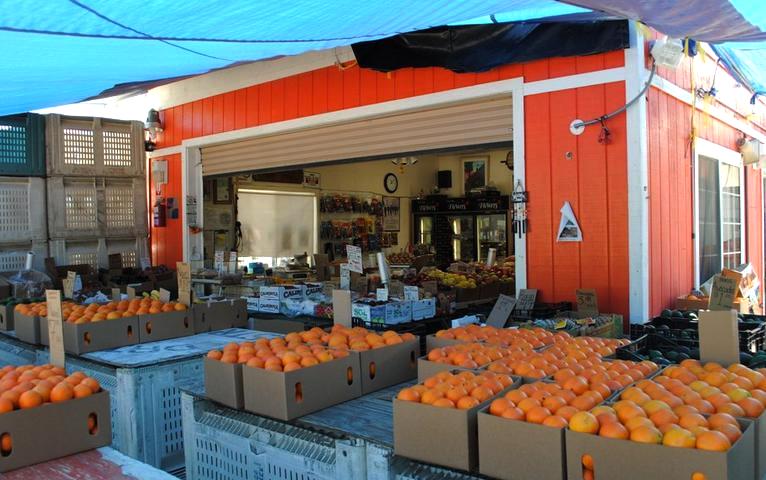 The Heritage Valley is located North of Los Angeles. Highway 126 runs down the center of the valley and makes a great place for a road trip. The highway passes through the towns of Piru, Fillmore, Santa Paula and Spanish Rancho Camulos.  The valley is bursting with citrus and avocado orchards and roadside stands.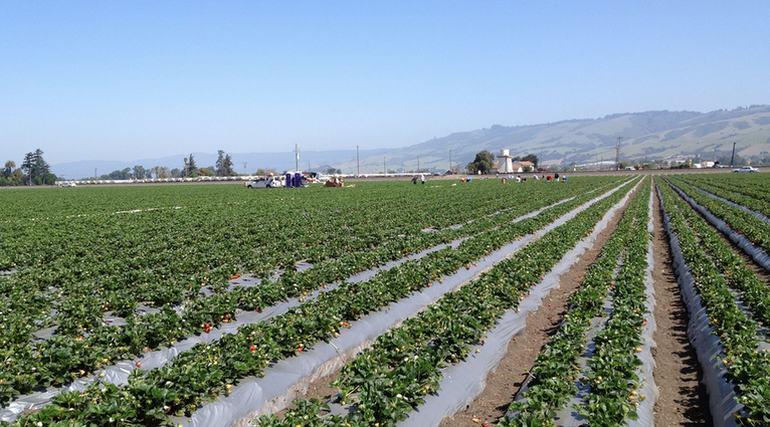 Nestled together in a 36 square mile ecological tapestry know as much as for being the strawberry and lima bean capital of California, as it the gateway to the Channel Islands that are located just 11 miles from its sandy shoreline.Although Oxnard retains the charm of a small rural town, the city has plenty of activities for visitors.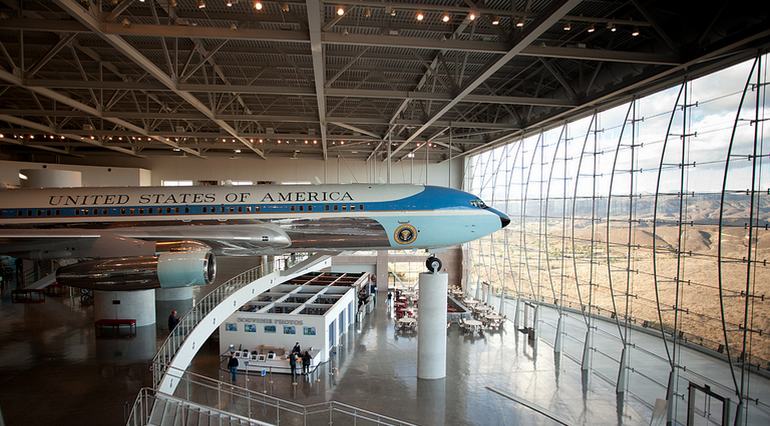 The library was built entirely with private donations, and costs of construction are estimated at $60 million. Each year, over 300,000 visitors come to view the archives, and ranks consistently as one of the most visited libraries. Visitors will start their tour with an exhibit that begins with Reagan's childhood in Dixon, Illinois.
Day Trips 3 Hours from Los Angeles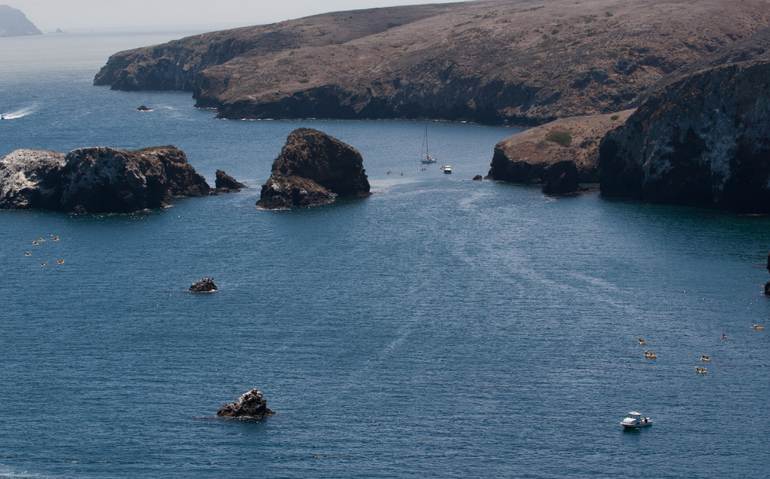 Often referred to as California's Galapagos, the northernmost islands of Anacapa, Santa Cruz, Santa Rosa, San Miguel, and Santa Barbara are teaming with more than 2,000 terrestrial plants and animals, 145 of which can be found nowhere else on earth.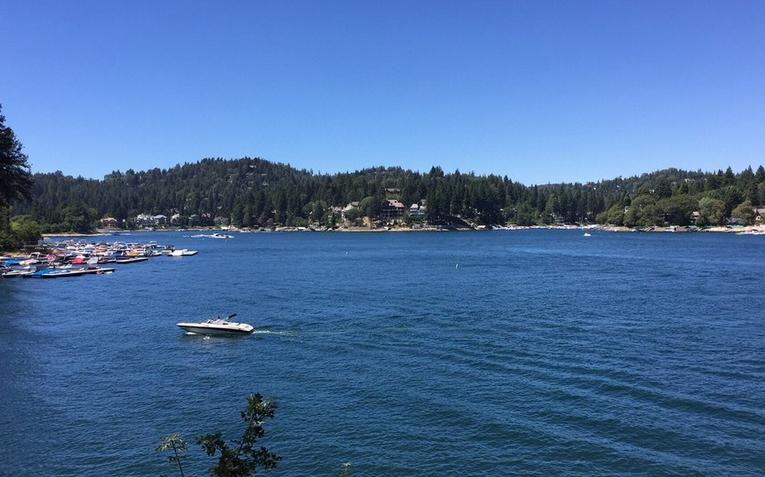 This small resort town is the perfect escape when Europe is not in the budget. Known as "the Alps of Southern California," Lake Arrowhead provides plenty of opportunity for outdoor adventure, or just the place to relax with a book to recover from your daily hassles. While the 782-acre lake is considered private property to those communities surrounding it, there are a number of ways for visitors to enjoy the wonders of the area.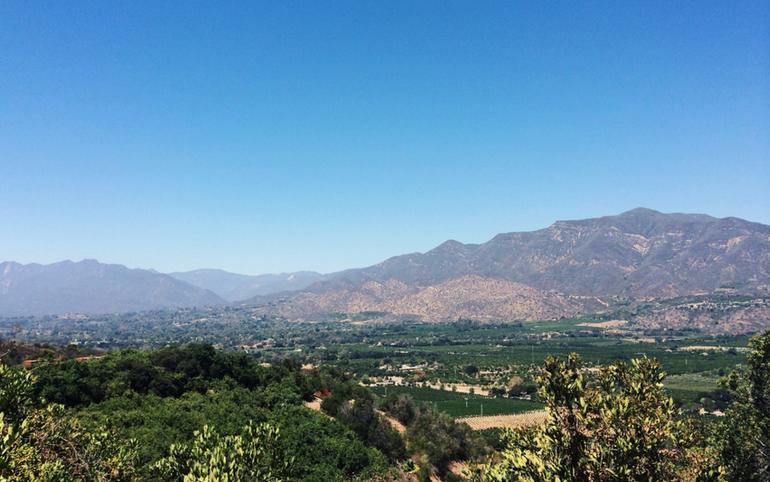 Ojai is centered within the east-west mountain range. This location creates a unique sunset that few other towns in the world offer called a "Pink Moment." Outdoor recreational activities are a large part of the culture in the Ojai Valley. Los Padres National Forest provides opportunities for camping and outdoor escapes. Matilija Creek is a favorite spot for locals to splash under waterfalls.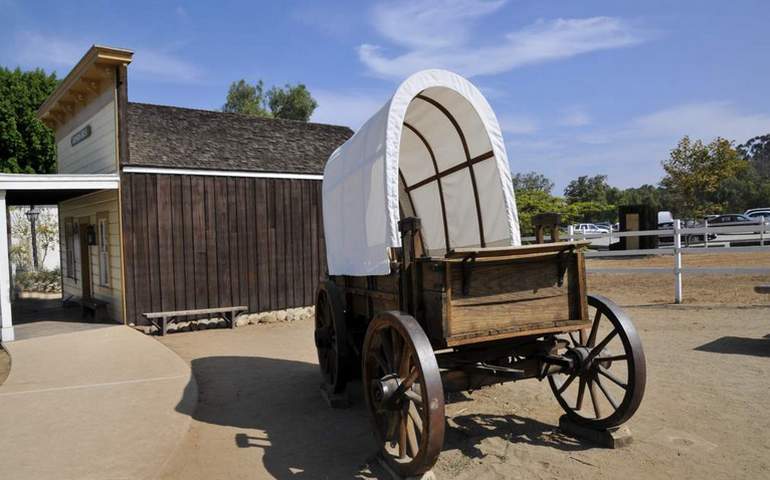 Visiting Old Town San Diego is like taking a step back in history. Often called the birthplace of California, Old Town is the location of the first Spanish settlement in the region and near the site of the first of California's 21 missions. Today, Old Town offers visitors a perfect jumping off point to explore San Diego.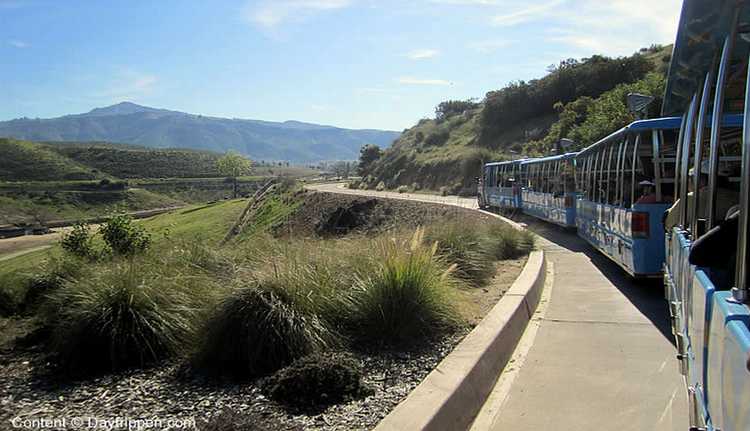 Safari Park is 1800-plus acres of exotic animals and botanical gardens galore, carved out of the hills and canyons of the picturesque San Pasqual Valley just outside of Escondido, California. There is no other safari park or zoo in the country that is as advanced in endangered research and development as the San Diego Zoo, and the Safari Park is an extension of that commitment.