We have put together a list of amazing Los Angeles Day Trips. All these destinations can be reached in one day or less from anywhere in the Los Angeles area. We left out theme parks, everyone knows them.  Our goal was simple. A list of fun unique attractions worthy of a weekend road trip. All mileage estimates are from downtown Los Angeles. It's best to get an early start when traveling on weekends and holidays. Weekday day-trippers can avoid rush hour traffic by traveling between 10 am and 2 pm.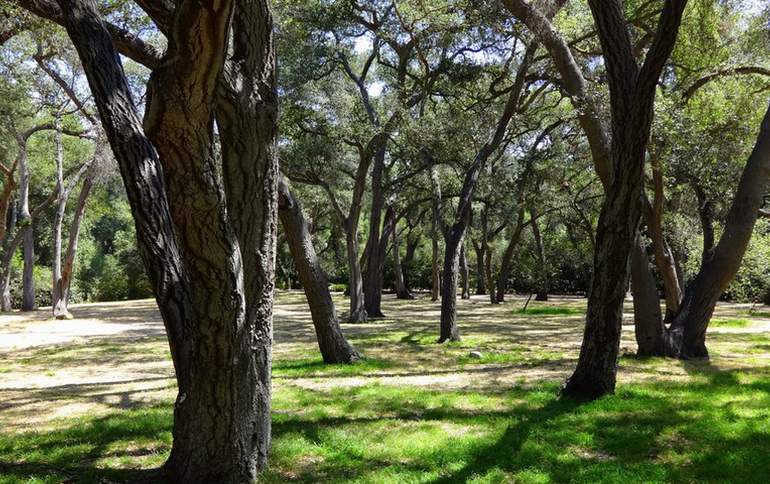 11 miles – Descanso makes a delightful day trip perfect for all ages. 150 acres of beautiful gardens, woodlands, and chaparral. The rose garden covers five acres and more boast more than 3,000 roses. There is also a Full Moon Tea House with Shinto bridge and a Japanese farmhouse. For kids the Enchanted Railroad with a 1/8th replica of a diesel train that travels around a section of the gardens. Open year round with seasonal events. A fun and relaxing Los Angeles day trip idea.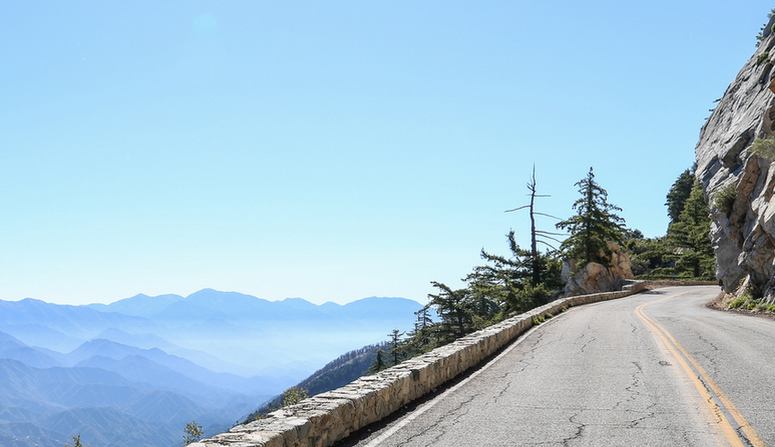 21 miles – Starting at La Canada, the Angeles Crest Highway crosses the San Gabriel Mountains. The entire route is 66 miles and ends at route 138 near Wrightwood. Points of interest along the way include Mount Wilson Observatory, Newcomb's Ranch Roadhouse, Mount Waterman and the Pacific Crest Trail. On weekends Angeles Crest Highway is popular with motorcyclist's that enjoy the winding mountain road. There are many turnouts along the highway to pull over and take in the amazing vistas.
22 miles –  One of the most popular Los Angeles day trips on our list. An automated cable-pulled tram that will take you on a scenic ride to the hilltop campus. From there you can explore numerous buildings brimming with artworks from around the world. The grounds of the Getty Center offer visitors an amazing view of the Los Angeles skyline. Admission is free although they do charge for parking. The museum opens at 10 am every day but Monday when it is closed to the public.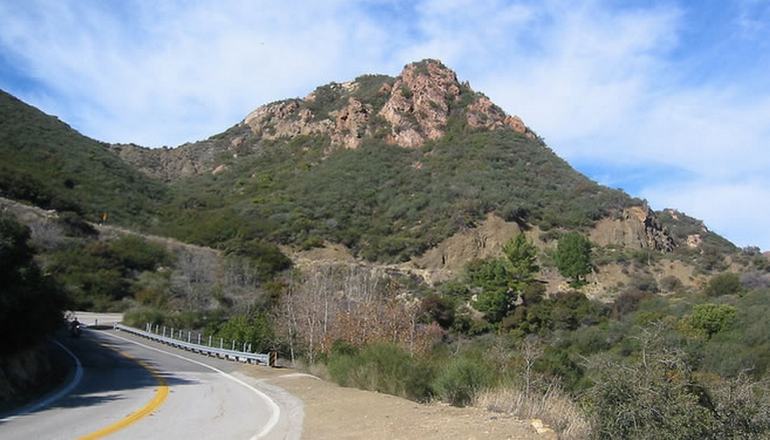 24 miles – Mulholland Highway twists and turns its way through the Santa Monica Mountains. Along the route are numerous points of interest. Starting in Calabasas, the first stop along the way is the 588-acre King Gillette Ranch. Just a few miles up the highway, Mulholland Highway  passes through"The Three Magical Miles." Next up is a stop at the world famous Rock Store.  From here the Mulholland Highway passes several vineyards before descending down to Leo Carrillo State Beach and Pacific Coast Highway.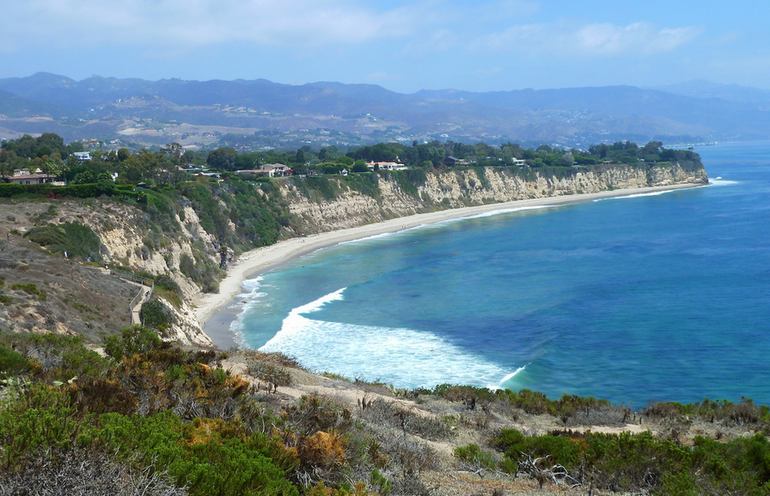 36 Miles – Point Dume Nature Reserve is situated on an undeveloped section of land along the Malibu Coast. The headlands offer an amazing view of Santa Monica Bay. On a clear day, both the Santa Monica Mountains and Catalina Island can be seen. A stairway on the bluff-top allows access to a secluded beach. Point Dume is the location of Pirates Cove, where the final scenes from the original Planet of the Apes movie were filmed.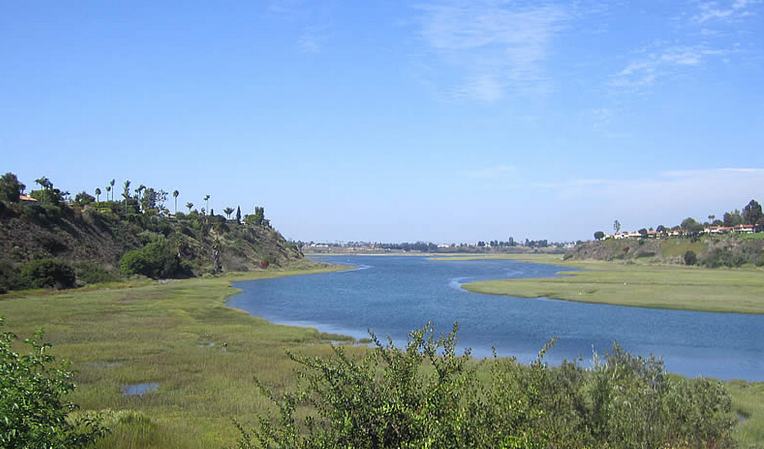 44 Miles – The Back Bay Loop Trail is a 10.5-mile route winding around Upper Newport Bay. It is well signed so don't worry about getting lost. Scenic stops include places like Upper Castaways Park. Newport Back Bay is enjoyed by hikers, runners, cyclists and nature lovers. Newport Beach Back Bay is the home of nearly 200 species of birds.  Back Bay drive is one way (for vehicles) and starts near the intersection of Pacific Coast Highway and Jamboree Road.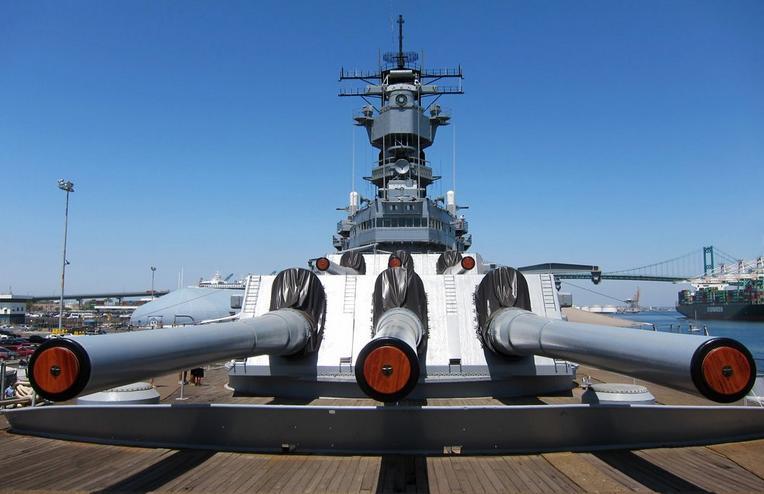 47 Miles – USS Iowa is a floating battleship museum berthed at the entrance to the Los Angeles Harbor. A self-guided tour takes visitors around many parts of the ship. Highlights include the ships huge 16-inch deck guns and the crews quarters. Plan on spending 2 -3 hours onboard this historic ship. San Pedro offers visitors several other attractions including its historic waterfront district, S.S. Lane Victory, and the Los Angeles Maritime Museum.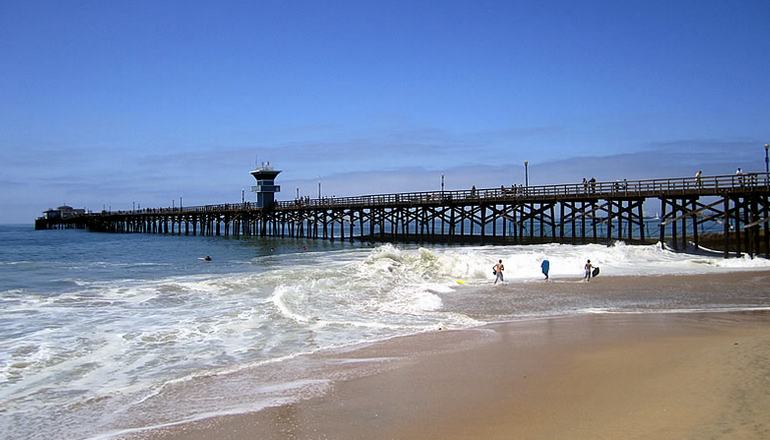 48 Miles – Seal Beach is a seaside town south of Long Beach. The main attraction here is the wide sandy beach, with the second longest wooden pier in the United States.  Seal Beach's main street is a throwback to a classic Southern California surf town. During the day, you can find free parking, grab an ice cream, or browse one of the many unique boutique stores. After the sun sets Seal Beach offers plenty of nightlife. Walt's Wharf, The Abbey, O'Malley's On Main and Hennessey's Grill offer up good food and drinks.
49 miles – Vasquez Rocks offer a far out adventure not too far from the city.  Vasquez rocks area is a popular backdrop for Hollywood studios. Just a few of the movies and shows filmed here include all Star Trek, Bonanza, Power Rangers, Friends, The Big Bang Theory, Planet of the Apes, and the Flintstones Movie. The rocks are a pretty easy climb for beginners. Bring a good pair of hiking shoes and plenty of water.  Be sure to pick out a landmark as a point of reference before heading off. It is easy to get lost.
50 Miles – Catalina is one of the most popular Los Angles day trips on this list. Getting to Catalina Island requires a trip on the Catalina Express Shuttle. Ships depart from several ports including Long Beach, San Pedro, and Dana Point. Activities on the Island are nearly endless. If this is your first trip we suggest you take Avalon scenic tour. This one hour tour will get you acquainted with Catalina's attractions. Another popular tour is the glass bottom boat voyage. You will be amazed at all the colorful fish that call Catalina Island home.
52 Miles – Beautiful running streams and chaparral-covered hillsides all within an hours drive of downtown Los Angeles. The park's rugged terrain was once used by filmmakers to create spectacular backdrops for films. The TV series M*A*S*H was filmed in the hills of Malibu Creek State Park. One of the most popular hikes in the park is to the M*A*S*H site. Most of the trails are well marked and graded for easy hiking. However, for those that seek a more challenging experience, there are plenty of single track trails.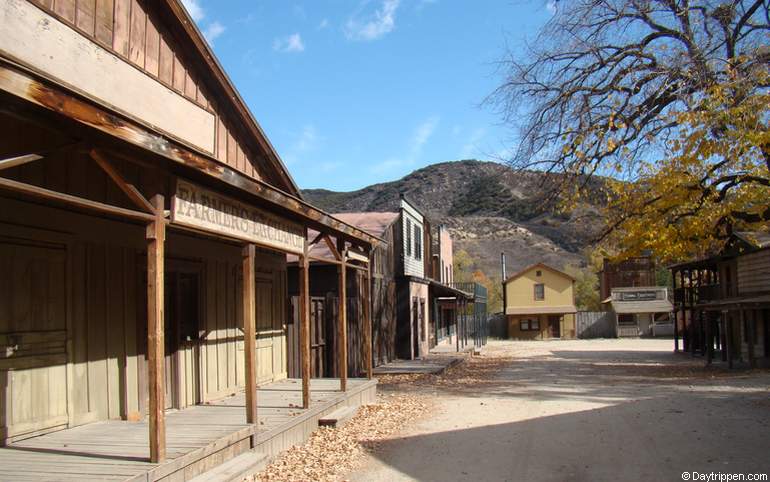 53 Miles – Paramount Ranch is located in the Santa Monica Mountains National Recreation Area. At one time the property was used as a movie ranch by Paramount Studios. Hundreds of films were shot on the property. Most of them were westerns. Today all that remains of the movie ranch is a western town that resembles a ghost town. On weekends, there is a volunteer staffing the western town that can go into detail about the history of Paramount Ranch. Miles of hiking trails and a fun little ghost town to explore.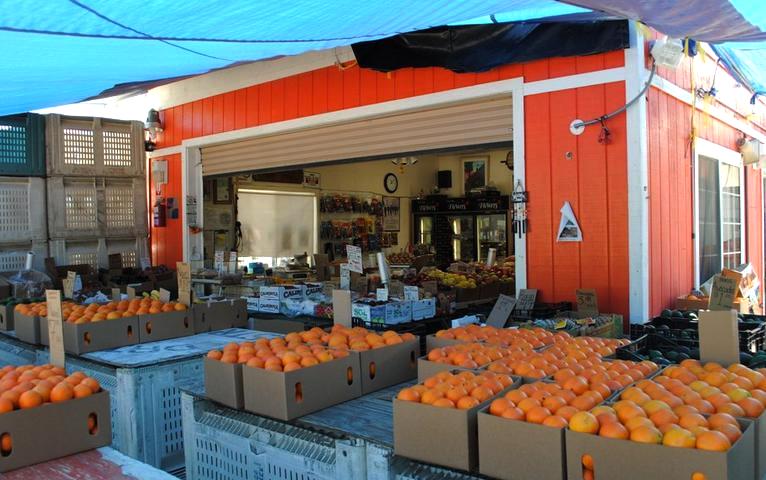 55 Miles – The Heritage Valley is located North of Los Angeles. Highway 126 runs down the center of the valley and makes a great place for a road trip. The highway passes through the towns of Piru, Fillmore, Santa Paula and Spanish Rancho Camulos.  The valley is bursting with citrus and avocado orchards and roadside stands. One of the highlights of a trip through the Heritage Valley is a ride on the Fillmore and Western Railroad.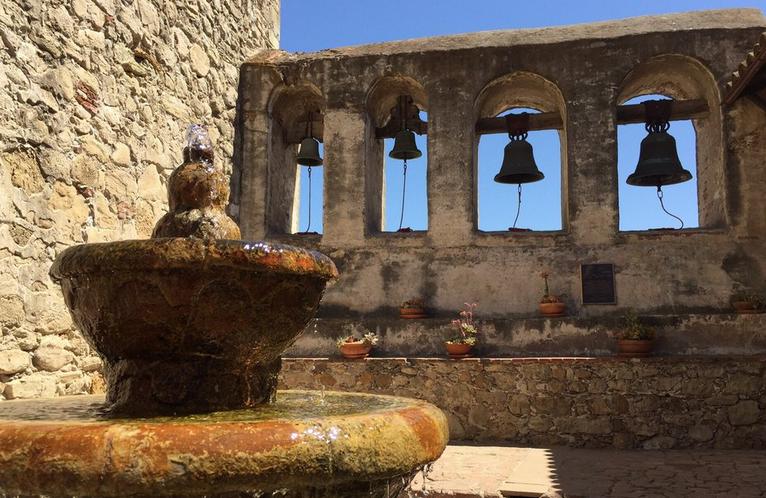 58 miles – Misson Capistrano is a perfect family day trip. Getting there is easy by train or car. A self-guided tour of the historic mission will take about two hours. Leaving you plenty of time to explore the region. Just a short walk from the mission is the Los Rios Historic District. Only a short drive from the mission is Doheny State Beach where you can picnic and soak up some rays on the beach.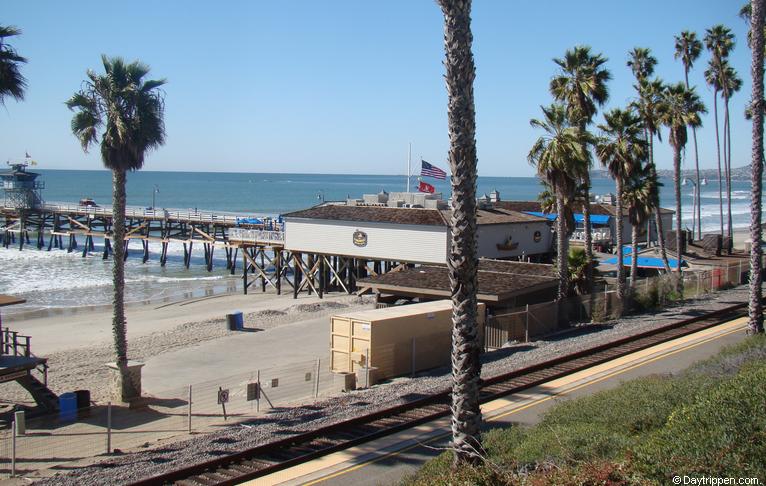 65 Miles – Main Beach is located at the end of Avenida Del Mar Main Beach and is San Clemente's top destination. The beach is crowned by it's 1928 the 1,200-foot long wooden pier. There is a large public parking lot along with metered street parking. Attractions other than the beach include the San Clemente Beach Trail and its Ocean view outlet mall. San Clemente is situated half way between Los Angeles and San Diego. Travel by train or car to San Clemente.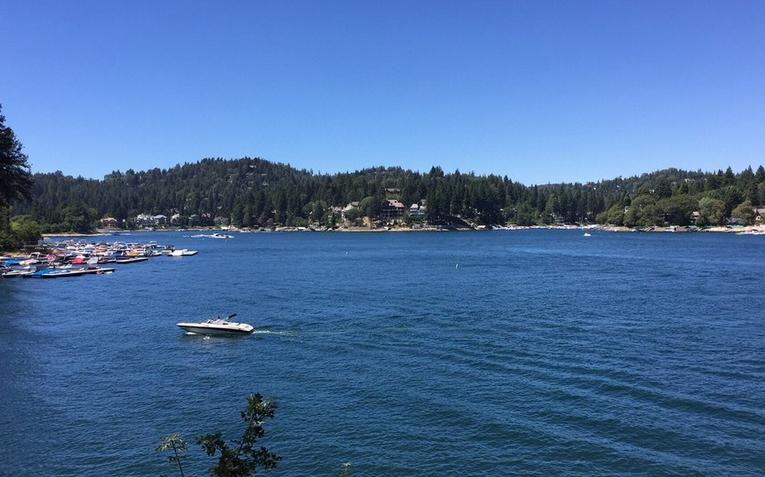 81 miles – This small resort town is the perfect escape when Europe is not in the budget. Known as "the Alps of Southern California," Lake Arrowhead provides plenty of opportunity for outdoor adventure, or just the place to relax with a book to recover from your daily hassles. While the 782-acre lake is considered private property to those communities surrounding it, there are a number of ways for visitors to enjoy the wonders of the area.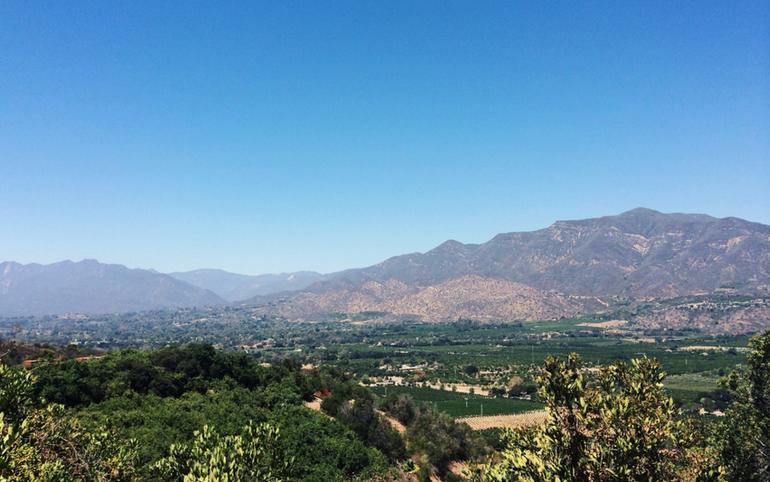 82 Miles – Ojai is centered within the east-west mountain range. This location creates a unique sunset that few other towns in the world offer called a "Pink Moment." Outdoor recreational activities are a large part of the culture in the Ojai valley. Los Padres National Forest provides opportunities for camping and outdoor escapes. Matilija Creek is a favorite spot for locals to splash under waterfalls, backpack, and soak in a hot spring.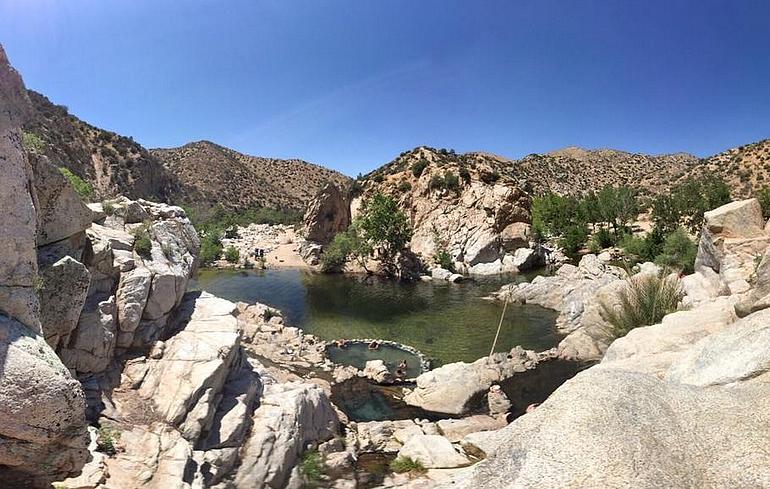 93 miles – This day trip is not for everyone. The last few miles are on unpaved roads and there is a fairly strenuous hike down to the hot springs. If you are up to it you will be rewarded by the best natural hot springs in Southern California. There are about five hot pools varying in size and temperatures. The pool next to the creek is barely warm, perfect for a hot day, while the pools higher up in the rocks can be up to 105 degrees. There is a private camping area (at the top of the hill) if you want to make this an overnight adventure.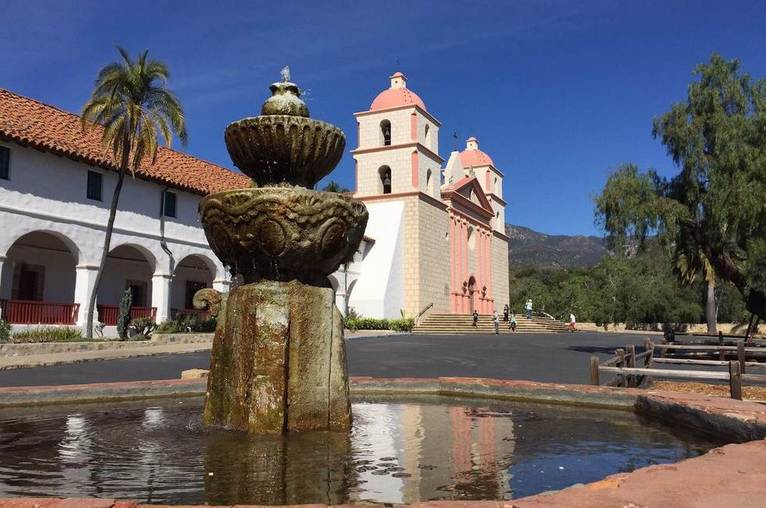 95 Miles – Santa Barbara is within easy day trip distance of Los Angeles as long as you get an early start. First-time visitors to Santa Barbara head to Stearns Wharf on the historic pier. There are several restaurants plus you can take in some really stunning views of Santa Barbara and the mountains beyond. Top attractions in Santa Barbara include the zoo, Mission, and beautiful Santa Babara Botanical Gardens. A good way to avoid weekend traffic is to take the Pacific Surfliner train to Santa Barbara.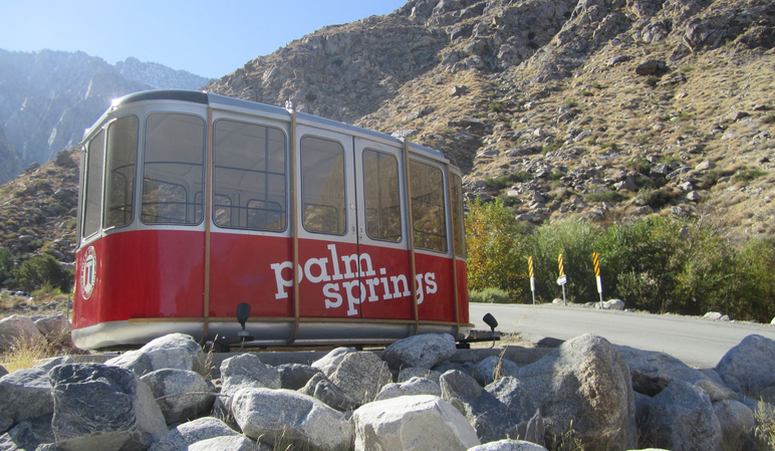 100 Miles – Palm Springs is the longest drive on our list of Los Angeles day trip.  Travel time is about two hours depending on traffic. Palm Springs and the surrounding area offer so many attractions you may want to consider making this an overnight trip. If you only have one day we suggest taking a ride on the Plam Springs Tram followed by a visit to Palm Canyon Drive for lunch or dinner. Palm Springs is an amazing place for a day trip, weekend getaway or entire vacation.